Getting ready to sell your house in Vermont? Our in-depth guide breaks the entire process down into 8 simple steps. Learn how to find a great agent, price your home, negotiate with buyers, breeze through closing, and more!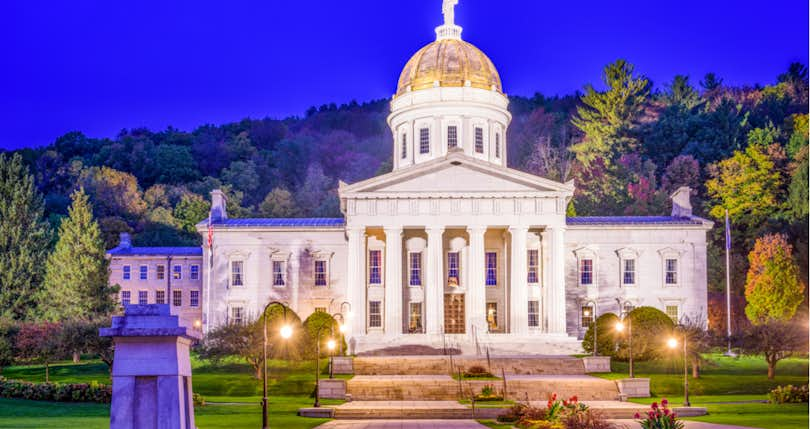 Now is a good time to be selling a house in Vermont! According to Zillow Research, property values in the Green Mountain State rose 3.42% in 2019, and are projected to rise a further 4.57% over the next year.
Of course, even the best Vermont properties will struggle to sell if you don't price the home properly, do a poor job of marketing it, or don't know how to handle the negotiations.
Read on to learn the eight steps to successfully selling your home in Vermont!
» MORE: Get a free, instant home value estimate now!
JUMP TO SECTION
1. Finding a Vermont realtor
Selling a home isn't easy. It's a high-stakes, complex transaction and requires a considerable amount of time and expertise to get a good outcome. If you're looking to sell your Vermont home for the best price — and minimize stress along the way — you need to find a top-rated real estate agent in your area.
The best Vermont listing agents know exactly what local buyers want and how to reach them. They'll offer expert advice, guidance, and support every step of the way, from the initial listing all the way through closing.
In fact, sellers who work with real estate agents net 33% more, on average, than those who list on their own. For a $255,983 home — the median home value in Vermont, according to Zillow — that's a premium of $84,474. In other words, hiring an agent is well worth the investment.
2. Deciding when to sell
Once you've come up with the initial selling price for your home, your next step will be to decide when to put it on the market. This is another exceedingly important consideration when it comes to selling your home; even if you've come up with the perfect price, your home could fail to sell if you put on the market at the wrong time.
Best time to sell a house across the U.S.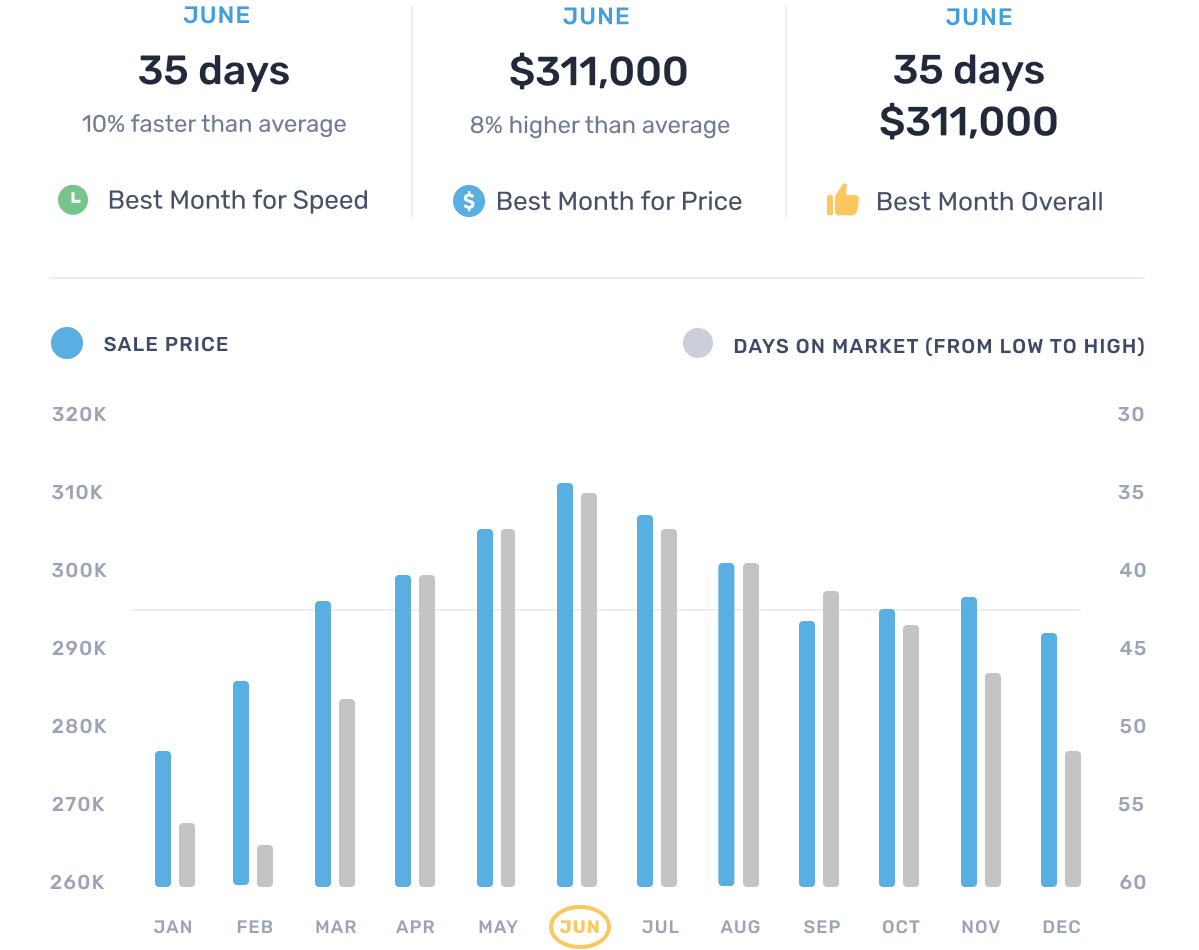 Source: 2019 Redfin Data Center
Best time to sell a house in Vermont
| | | | |
| --- | --- | --- | --- |
| Best Month to Sell for Speed in Vermont | July | 75 days on market | 40 days faster than average |
| Best Month to Sell for Price in Vermont | July | $236,000 median sale price | 5% more than average |
Vermont's market has its own unique seasonal fluctuations. Because of a million different factors, your home could attract dozens of buyers the first weekend or zero buyers the first month, all depending on when you list.
For example, in the Burlington real estate market, houses sold 12 days faster than average in June. On the other hand, February saw houses take a full 14 days longer to sell than the yearlong average. The upshot is that timing the market properly could mean the difference of almost a month.
Overall in Vermont, if you're shooting for the fastest sale possible, listing in July is your best option. Homes listed in this month spend 75 days on market — significantly quicker than the Vermont average of 115 days on market.
To get the highest sales price, July is also the best month. The median sale price of homes listed then is $236,000, which is almost $10,500 more than average.
Learn More: The Best Time to Sell a Home in Vermont
3. Pricing your home
Since the odds of your home selling decrease the longer it's listed, it's more important than ever to come up with a realistic and competitive initial sale price.
How do you do that? Many people, when they sell their home, go with their gut when setting a price, or they simply price it high, assuming that an interested buyer will initiate a price negotiation. But a conspicuously high price can be off-putting to potential buyers, many of whom may find haggling intimidating or distasteful.
The best way to arrive at a competitive initial price is a Comparative Market Analysis (CMA). A CMA uses existing data about recent sales to compare your home to similar properties in similar neighborhoods to come up with a solid, market-based price. The CMA takes guesswork and emotion out of the process to come up with an objective price supported by data.
Most agents can provide you with a CMA, though Clever Partner Agents will run a free CMA for you as part of their standard, full-service package.
But if you're earlier in the process and just want a general idea of what your house is worth, a free online home value estimator is a great place to start. Enter your address below to see your estimated sale price, as well as useful local real estate market trends. Find out how much your house is worth now!
💰 How much is your home worth?
Discover the true value of your home with our Home Value Estimator!
Find My Home's Value
4. Preparing, marketing, and showing your home
Before you list, there are several things you can do to make sure you're showing your home in the best light possible.
Number one is literally making sure you're showing your home in the best light possible. Remove all heavy window treatments like drapes, shutters, and blinds, to make sure that as much natural light as possible can penetrate into your home. Bad light is a home seller's greatest adversary.
A fresh coat of paint is always the most cost-efficient way to make your home look fresher, brighter and more appealing. Think calming, neutral tones, like off-white or light gray.
Next, you'll want to have professional photos taken of your home, and write up a colorful listing description. Try to see your home as a potential buyer would, and include those features and amenities that would most appeal to a buyer. If you have access to Vermont's world-famous skiing, or local attractions like farmer's markets and breweries, make sure you talk about them in the description!
You'll probably want to hold a few open houses, too. Consult your agent to decide on the best time to have buyers come to look at your property. Depending on their assessment of the market, they may even suggest a lockbox for after-hours showings, or even private showings for individual buyers.
Learn More: The Best Paint Colors For Selling A House
5. Fielding offers and negotiations
So you've got an offer. Congratulations! Your options at this point are to accept the offer, decline the offer, or make a counteroffer. If the offer is completely unacceptable, you can reject it by not responding, or you can have your agent tell the buyer's agent that you're not even going to bother with a counteroffer.
If you are going with a counteroffer, keep in mind that there are two general ways to handle the negotiations: asking for more money, or including fewer features. For example, you could add thirty grand to their initial offer, or propose that you don't include the appliances or fix the cracked driveway.
Generally, you have up to three days to accept an offer before it expires. If you've received multiple offers (wow!), the best course of action is to have your agent ask all prospective buyers for the best possible offers and then select among them.
This period between the offer and the purchase agreement is when you'll want to settle all the details of the deal; the split on closing costs, the earnest money, the contingencies. You'll also want to get your mandatory disclosures together. (More on those below.)
Once that's all settled, it'll be time to draw up the purchase agreement. This document simply spells out all the conditions of the home sale, from a final price to contingencies to what exactly is and is not included with the house. Think of it as a road map for the home sale.
Learn More: Real Estate Counter Offer Etiquette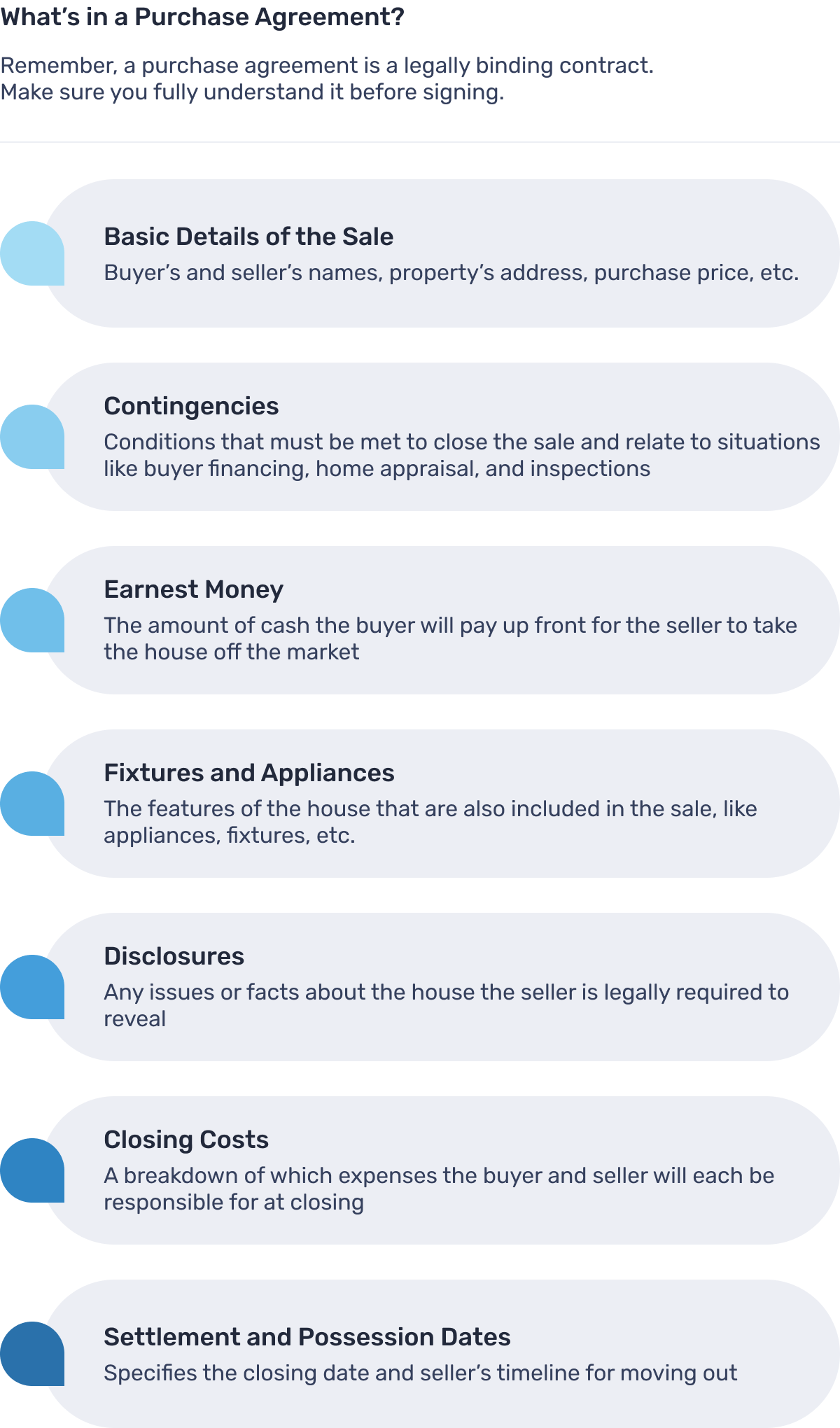 6. Appraisal and inspections
The next step is the home appraisal. This is largely for the benefit of the buyer's lender. If the appraisal comes in at less than the amount of the buyer's mortgage, they could lose their financing. But as long as it's equal to or greater than the amount of the mortgage, you shouldn't have any problems.
If the appraisal does come in low, don't panic. You can either lower your price, or the buyer can make up the difference in cash. This happens all the time in very hot markets, where the home price has been driven up by a bidding war.
Your buyer will also have your home inspected at this point. A licensed state inspector will check your home for structural integrity and contaminants; if he gives your home a clean report, the sale will go forward unimpeded. But if he discovers problems, further negotiations are likely.
The buyer will probably request that you either remediate the problems discovered by the inspector, or lower your price. You can decline, but if the sale is canceled, you're legally obligated to provide the inspector's report to the next buyer. It will likely be easier to go ahead and deal with the problems now, rather than explain to a future buyer how a bad inspection led to a canceled sale.
Learn More: Can the Seller Back Out of Contract Before Closing?
7. Paperwork and required Vermont disclosures
One of the final, and most important, steps for a home seller is making your mandatory disclosures. These are the issues that you're required, by law, to notify any prospective buyer about.
According to the standard disclosure form used in Vermont, these disclosures cover similar ground to most other states. There are sections for structural integrity, systems (including water, heating, electrical, etc.), the title, radon gas, and whether the property belongs to a common interest association.
There's also the federal requirement to disclose the presence of lead paint.
One thing to consider is that some sellers opt to hire their own inspector to uncover every possible defect; that way, they don't have to worry about any surprises years down the line, if the buyer discovers, say, a faulty foundation, and wants to sue the seller, alleging deceptive practices.
When it comes to additional forms and paperwork, always consult your agent or attorney before signing or filing paperwork. While it's good to be somewhat familiar with all the documents you might need to close on your home, a licensed professional should walk you through all the paperwork and ensure you have everything you need for your situation.
Forms and Documents for Selling a House in Vermont
Required for All Real Estate Sales in Vermont
2 Forms of ID
Copy of Purchase Agreement and Any Addendums
Closing Statement
Signed Deed
Bill of Sale
Affidavit of Title
Possible Additional Documents
Loan Payoff Information
HOA Forms and Guidelines
Survey Results or Survey Affidavits
Home Inspection Results
Proof of Repairs or Renovations
Home Warranty Information
Copies of Relevant Wills, Trusts, or Power of Attorney Letters
Relevant Affidavits (Name Affidavits, Non-Foreign Affidavit Under IRC 1445, etc.)
Closing Disclosure (for certain seller concessions)
Correction Statement and Agreement
Vermont Disclosure Forms
Seller's Property Disclosure
Flood Zone Statement
Lead-Based Paint Disclosure
Learn More: Disclosure Requirements in Vermont
8. The closing process
At the close of the home selling process is, well, the closing.
Before you attend the actual closing, which generally takes place across a table at an attorney's office or at the lender's, you'll want to do a final walkthrough. This is your last chance to move out your belongings, and make sure everything's ready to be handed over. Cancel your utilities, get your keys together, and clean your home out from top to bottom. Once you walk out that door, you probably won't be coming back.
At the closing itself, the buyer will be required to provide proof of one year of homeowner's insurance, as well as a cashier's check for their share of closing costs. The attorney will perform a title search to make sure your home is actually your home, and that there are no liens against it. Then both parties, buyer and seller, will sign the closing documents, the mortgage will be officially executed, and you'll hand the keys over. Once those keys leave your fingertips, the house officially becomes the buyer's property. Congratulations; you sold your home!
Learn More: How Much Are Closing Costs for the Seller?
Next steps: Sell your Vermont home and save thousands
Whether you're looking to list your Vermont home immediately or 6-12 months from now, it's never too early to start looking for an agent, getting advice, and making a plan.
Clever is here to help guide you through the home selling process — and save money along the way!
💰 Get a lower rate with a top local agent!
Want to find a top local agent without overpaying on realtor fees? Clever negotiates 1.5% listing fees with top-rated realtors from trusted brokerages like Keller Williams, RE/MAX, and Berkshire Hathaway.
Get guaranteed full service for a fraction of the 3% rate agents typically charge. Schedule a free, no obligation consultation with a top local agent today!
Top ways to sell your home in Vermont
Additional resources for Vermont home sellers
Related links