The life of an artist is fueled by creativity and freedom. This life requires a unique set of circumstances, particularly regarding the surroundings. For artists, areas with like-minded individuals may help spur creativity. Here are the best places for artists to live.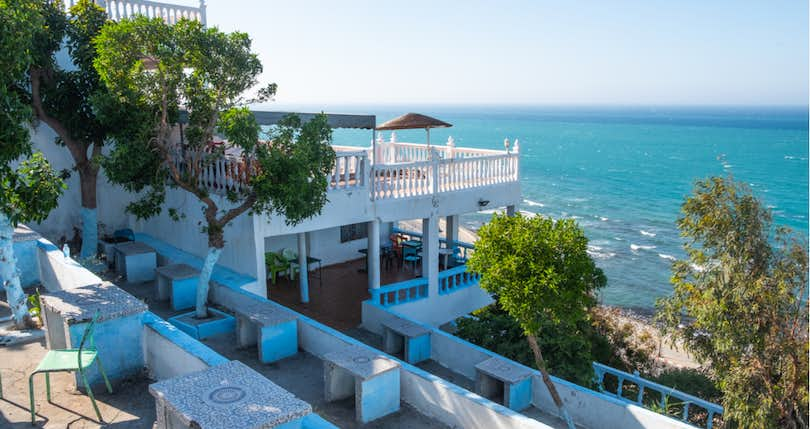 For artists, their place of residence serves as the inspiration for much of their work. The rustic surroundings of Chadds Ford, Pennsylvania inspired most of N.C. Wyeth's work. Claude Monet brought the colors of his native Normandy, France to life in his watercolor paintings. Frida Kahlo's work embraced her experience in her native Mexico City.
By connecting with a real estate agent, you'll have a guide who can find a home that aligns with your creative vibes.
But to get you started on creating a list of possible places to call home, here are the best places for artists to live.
The Five Best Places for Artists to Live
A combination of natural surroundings, culture, and a thriving art scene are all desirable for artists. Given the unpredictable nature of artists' income, affordable rent and home prices are also important.
Santa Fe, New Mexico
Santa Fe is a desert oasis for artists. Home to a thriving creative scene, Santa Fe boasts an array of art galleries and museums, including the Georgia O'Keeffe Museum. According to Neighborhood Scout, Santa Fe boasts an extremely high concentration of artists and designers, 90% more than the rest of the United States.
According to June data from Zillow, the real estate market in Santa Fe is very hot. Median home values in Santa Fe are $383,300. The median list price of homes is $500,588, while the median cost of rent is $1,900. Home values in Santa Fe have risen 11.1% since 2018, and are projected to rise another 3% by 2020.
Asheville, North Carolina
Situated amongst the Blue Ridge Mountains of North Carolina, Asheville is one of the South's most renown artistic cities. Known as the "Paris of the South," Asheville boasts a thriving art, food, and beer scene. With a relatively young population, short average commute times, and no shortage of good food, Asheville is a great place for artists who would like to experience what the French call "le bon vivant."
Median home values in Asheville are $282,700, while the median rent price is $1,600. These home values have increased by 3.7% since 2018, and are projected to rise another 0.8% by 2020.
Need a home that will support your creative juices?
A Clever Partner Agent will find you an artistic oasis.
Austin, Texas
The state of Texas' cultural epicenter, Austin is a city that embraces its vibrant artistic culture. Living by the slogan "Keep Austin Weird," Austin's art scene thrives on the city's many public art installations, arts-supporting non-profit organizations, galleries, and festivals.
For those looking to buy a home in Austin, the median home value is $368,300. Home values in Austin have risen by 6% since 2018, and are projected to rise another 3.2% by 2020. The median price for homes currently on the market is $399,990, while the median price for rent is $1,750.
Portland, Oregon
A haven for artists and art lovers in the Pacific Northwest, Portland is home to over 2,000 public art installations and three monthly art walks that highlight the city's many galleries and museums.
Portland's thriving creative scene rests amongst the stunning backdrop of the Cascade Mountains and the city's many parks. The many food vendors, restaurants, art galleries, and repurposed buildings make Portland a great option for artists looking for a change of scenery.
According to Niche, the proportion of renters versus homeowners is nearly even, with 47% of residents renting while 53% own their homes. The median home value is $352,700, nearly double the national average of $184,700. The median cost of rent is $1,109, which is more than the national average of $949.
Philadelphia, Pennsylvania
The birthplace of the United States, Philadelphia has a rich cultural and artistic history. Philadelphia is known for its abundance of murals commissioned by the Mural Arts program.
The city is also home to several world-renowned artistic institutions including the famed Philadelphia Museum of Art, the Barnes Foundation, the Art Institute of Philadelphia, and the Pennsylvania Academy of Fine Art. Philadelphia is also a quick bus or train ride away from New York City, bringing the best of both city's art scenes with a substantially smaller cost of living.
Philadelphia is an extremely hot real estate market with a median home value of $154,000. The median price of homes currently on the market is $239,900. Median rent prices in Philadelphia are $1,600.
For artists, location is extremely important to the outcome of their work. Finding the best homes and studio spaces is best done with the guidance of an experienced local real estate agent. Our Clever Partner Agents know their areas well, from the culture to local property laws. Regardless of what city you decide to call home, we'll make the home buying process a smooth one.
You May Also Like