From the iconic ferry, to the world-class parks, to some of the most sprawling estates on the East Coast, Staten Island is one of the most livable boroughs in New York. Here are our picks for the five best neighborhood in all of Staten Island.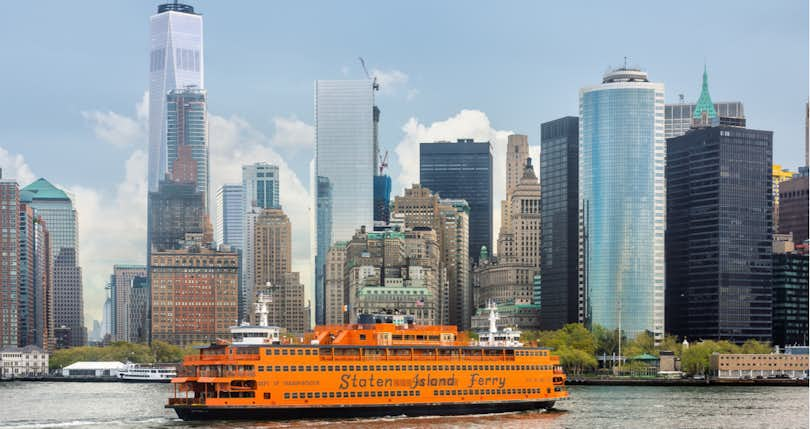 Ask people to name the five boroughs of New York, and Staten Island is by far the most likely to be the one they can't quite recall. But Staten Island is a gem that's hidden in plain sight, with awesome beaches, massive parks, and stately homes on huge, tree-lined lots. Where else can you find the amenities and features of living on a literal island, combined with the upsides of quiet suburbia, all a short ferry ride from the City that Never Sleeps?
Here are our picks for the five best neighborhoods in Staten Island for 2019.
Buying a home on Staten Island?
Find the perfect neighborhood with a Clever Partner Agent.
West Brighton
This idyllic neighborhood along the north shore of Staten Island boasts a low crime rate, and a robust but affordable housing inventory. While the residential areas offer a sleepy suburban feel, Forest Avenue is a central commercial strip, and features Italian groceries and restaurants, including some of the best pizza in New York.
As you might expect in a borough sometimes known as "The Borough of Parks," West Brighton sits alongside world-class green space. Clove Lakes Park offers hiking, boating, and sports fields, and the Snug Harbor Cultural Center features the Chinese Scholar's Garden, as well as the Staten Island Museum, and the prestigious Newhouse Center of Contemporary Art. The Staten Island Zoo is also here, so you'll always have plenty of options for recreation.
The median home value here is $483,091, and the median rent is $1,190. In West Brighton, 65% of residents own their homes.
St. George
Thanks to the Staten Island Ferry, which docks here, St. George is considered the gateway to Staten Island. As the closest point to Manhattan, it's also one of the most developed neighborhoods in Staten Island, with nightlife, dining, and retail that caters to the commuter crowd.
The waterfront is in the midst of a major revitalization, with new dwellings, a mall, and a massive new Ferris wheel in various stages of construction, so you can expect property values to continue their rise. Aside from the newly-constructed condos and lofts that are pouring onto the market, the historic district offers literal mansions and turn-of-the-century brownstones.
The median home value in St. George is $255,222, and the median rent is $1,108, and 76% of residents rent.
Todt Hill
Not only are the property values in Todt Hill high, the property itself is literally elevated; the neighborhood boasts the highest elevation on the East Coast outside of Maine. From the vantage point of Todt Hill, you can see all the way to Manhattan and Brooklyn.
Todt Hill offers a very private lifestyle, with large homes on oversized lots, often divided by trees and fences; in many areas, there aren't even any sidewalks. The neighborhood nestles alongside the Staten Island Greenbelt, which contains sprawling High Rock Park, and the world-class Latourette Park and Golf Course. The Jacque Marchais Museum of Tibetan Art offers culture as well as meditation classes, and nearby historic Richmondtown is a virtual open-air museum, with amazingly well-preserved 17th century buildings.
The median home value in Todt Hill is $867,500, with median rents of $739. In Todt Hill, 85% of residents own their homes.
---
Looking to buy your dream home? Finding the right realtor makes all the difference!
The first step in your home buying journey is to find a top local realtor who's an expert negotiator and has proven experience in your area. The right agent can help you find the best house for your budget and priorities — and craft a winning offer so you don't miss out on your dream home.
The easiest way to find a great local realtor is to use a free service like Clever Real Estate. Clever matches home buyers like you with top agents in your area so you can compare your options and choose a realtor who's the right fit for you.
You can interview multiple agents until you find the perfect fit, or walk away at any time - Clever's service is 100% free with no obligation. Fill out the form below to instantly request hand-picked agent matches now!
💰 Buy with a top agent, earn cash back!
Buy your dream home with a top local realtor from a trusted brand like Keller Williams or RE/MAX. Keep more money in your pocket by earning cash back on eligible purchases.
Enter your zip code to request hand-picked agent matches in minutes. Compare your options until you find the perfect fit, or walk away with no obligation. Try Clever's free service today!
Huguenot
Located on Staten Island's south shore, Huguenot is close to the island's beaches and other recreational areas. If you're really serious about your leisure, you can purchase a home right on the neighborhood's golf course and country club.
This tony neighborhood offers many relatively new single-family homes, as well as newer condos and apartment towers. Arbutus Woods Park offers hiking trails and playgrounds, and the Staten Island Railway has a station right in Huguenot.
The median home value in Huguenot is $566,567, with a median rent of $864. In this neighborhood, 84% of residents own their homes.
Midland Beach
Midland Beach is probably the most typical beach community on the island; many residents compare it to the Rockaways in Brooklyn. The vibe here is laid-back and outdoorsy, with easy access to fishing, swimming, boating, and, yes, even surfing.
Homes along Father Capodanno Boulevard are in sight of the water, and are in highest demand. Midland Beach is a popular swimming area in the high season, and Ocean Breeze Park is a preferred spot for local fishermen. Great Kills Park is close by, and offers 580 acres of woodlands, marshes, and some of the best beaches in the New York area. There's also Great Kills Harbor, where you can hire a boat for a day trip out on the Atlantic waves.
The median home value in Midland Beach is $392,632, and the median rent is $1,261, and 73% of residents own their homes.
No matter which Staten Island neighborhood you settle on, your first step should be to partner with a local real estate agent. A great Staten Island agent will have a deep and instinctive knowledge of the local market, and can guide you through every step of your home search and buying process.
Clever Partner Agents are from top brands and brokerages, and have proven track records in their markets. Whether you're looking to invest in a rental property in Midland Beach, or a retirement condo in St. George, a Clever Partner Agent can help guide you to the best possible outcome. Contact us today for a free, no-obligation consultation!
Related links