New York real estate closing costs for buyers are surprising to some people who are excited about their new home. In the chaos and excitement of buying a home, they might not realize they need to have money put aside to cover these out of pocket costs. Here's everything buyers need to know.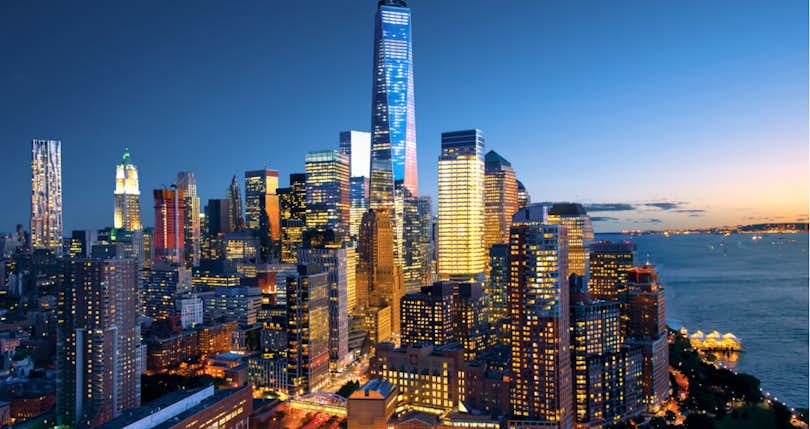 When thinking about the out-of-pocket expenses that come with buying a home, most people just think about the cost of the down payment. However, if your work with an experienced realtor, they'll tell you to put aside money for all of the closing costs, even if they've negotiated the price of the home down. Once you start calculating your potential closing costs, you'll realize it could cost you tens of thousands of dollars in New York real estate closing costs for buyers.
Connect with one of the top-rated New York buyer's agents around with the help of Clever. Fill out our online form and we'll pair you up with someone who is a perfect fit for you. We have Partner Agents scattered throughout the Empire State to offer you a no-obligation consultation to help get you into your dream home.
Closing Costs for New York Homes: What to Expect
Data from Bankrate states that origination fees average $1,021 and third-party fees $1,627 in New York, for a total of $2,648. However, that fails to paint a complete picture of what's required by buyers at the end of a transaction. There are taxes, fees, escrow costs, and more.
Most experts say buyer's closing costs total between 2% and 5% of the final closing price. That means that if you're buying a median-priced home in Westchester County, that $619,400 home is going to cost you between $12,388 and $30,970 just to get through the closing.
While closing costs can be expensive, one of the largest mortgage expenses is the interest rate. Over the life of the loan, a few small percentage points can result in hundreds of thousands of dollars in interest payments.
One of the best ways to lower your interest rate? Shop around and compare lenders! Fill out the form below for a quote from a licensed, local lender – even if you're pre-approved it pays to compare.
Common Closing Costs for New York Home Buyers
Like many other states, when buying a home in New York, you're required to have a real estate attorney in your corner. At the start of the closing process, you'll go through an attorney review. At this point, you'll be sitting down with the seller and their attorney while you exchange keys, funds, and the title.
Because these attorneys are required, their fees are going to add in to the total cost of the home.
You'll also need to pay for an appraiser before you close. You'll have to hire someone before any lender will allow you to take out a loan with them. They want to make sure that if they're giving you a $300,000 mortgage that the home is actually worth that much.
Sellers are usually responsible for paying the transfer tax on the home but in most deals, the actual cost is covered by the buyer, even though it's the seller who submits the cost. In New York, transfer taxes cost 1.8% of the sale price of a home under $500,000 or 1.4% of a home that goes over that mark.
For buyers who weren't able to cover the costs of 20% down payment, lenders might still allow you to get a mortgage but will require you to get private mortgage insurance. This protects them in the case that you end up defaulting on your loan. These fees add to your monthly mortgage costs but will need to be paid at the start before you can pay for your new home.
Other Costs to Consider
On top of the closing costs that seal the deal, you need to think about all of the recurring costs that come with a home. When you buy a home, it needs constant care and investment to stay valuable and comfortable. No housing material is built to last forever and every home will need repairs and replacements from time to time.
You'll be tasked with covering the costs of utilities every single month. This might seem like no big deal but if you're moving from a small home to a larger one, the costs could be exponentially higher. This is also why you should check out how well the home is insulated and how new the windows are before you buy.
This is another reason to take the time to check out that the electrical, plumbing, and roofing are all in great shape before you invest.
You also need to have homeowners insurance. This ensures that you're not going to lose out on your investment just because of a fire, natural disaster, or because of a break-in. You're still responsible for paying for a house even if it burns down, so make sure you've prepared for the worst.
Because there are so many additional fees that come with buying a home, it's important that you choose a home within your budget. If you go over your budget on your mortgage, you could end up digging yourself into a hole for the next few years in closing costs. This is all the more reason why you need an experienced local agent to help you navigate your home purchase.
How to Save on Closing Costs in New York When Buying a Home
When you're looking to save on the costs of closing in a New York home purchase, you can negotiate with sellers to bring the price down. There are even closing assistance programs available through the VA and FHA.
If you live in New York City, check out their HomeFirst program that allows prospective home buyers to get a certificate to get a loan of up to $40,000 to help with down payments or closing. After you take their course and if you meet the qualifications, you'll have six months to find a home with certification that you're an eligible buyer.
If you choose to work with a Clever, you could qualify for Clever Cash Back. With an experienced local agent from Clever, you get help during the whole buying process to ensure that you're able to minimize closing costs overall. They'll even work to find additional savings for you throughout the process.
Related Articles