Signing agreements and paperwork is a major part of buying a house, but don't let exhaustion have you signing everything you see. The purpose of these agreements is to protect you and your investment. Here's how an experienced local agent can help you deal with agency agreements.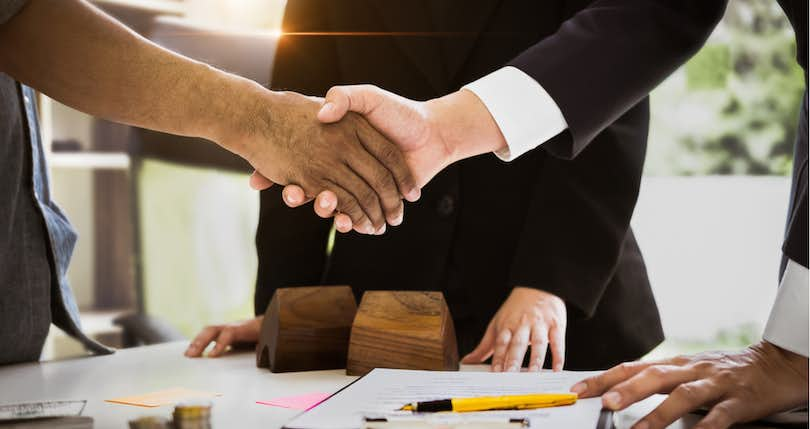 Year after year, real estate agents are ranked as some of the happiest professionals in the country. Part of this is the satisfaction of finding homes for people and another part is the kind of relationship building that the job is founded on. Buyer agency agreements help to protect these relationships and ensure everyone involved is happy by the end of the transaction.
While these agreements are negotiable, they create boundaries for how long the agent will work for their clients as well as geographical boundaries for their representation. Here's everything you need to know about these agreements.
1. What is a buyer agent agreement?
It's common to be presented with an agent agreement. Sometimes large brokerages will get you to sign an agency agreement and then send whichever agent is available your way. It can protect both parties to formalize the agreement between both of you before the agent represents your interests.
This keeps agents from wasting their time on a buyer who might fly the coop on them. It also ensures that buyer's agents will be held responsible for the work that they do. These agreements may outline the region that the agent will work for buyers in so that they can continue their search if they choose.
2. Do I have to sign a buyer agent agreement?
If you feel uncomfortable signing with an exclusive buyer agent, you don't have to sign their agreement. Not signing is your right as a consumer. Buyer agents introduce these contracts to ensure they get paid and to protect their interests, but they fail to realize that buyers can be turned off.
Buyers benefit from having an agency agreement with a brokerage because they'll get top priority. As a buyer, promising not to work with another agency with an exclusive buyer agreement also ensures that the agency won't represent the seller. When an agency works solely on behalf of buyers, agents and buyers never have to deal with a conflict of interest.
Having a buyer's agent is the best way to buy a home.
A Clever Partner Agent will keep your best interests in mind.
3. Are buyer broker agreements enforceable?
Depending on the terms of the contract that brokers offer, they might be tightly binding. Consulting an attorney before signing any kind of contract, especially when you're dealing with a large portion of your personal wealth, can help to protect you from a catastrophe.
Contracts are legally enforceable and establish expectations for either party in a transaction. While it might not be worth it for an individual agent or broker to pursue a lawsuit against a buyer, it's generally unethical to break an agreement if the broker did everything that was expected of them.
4. How do I get out of a buyer's agent agreement?
In most agreements and contracts, there are clauses to help buyers get out of the agreement with mutual consent. In these cases, if both parties sign on and agree to leave a contract, it's perfectly legal.
Talking to the agent should be the first step and if things can't be worked out the way that you want, then pursue canceling the contract. Ask if they have a termination of agreement and release form to allow you to get out of the contract. The termination form will detail the conditions of the termination and outline any fees.
If they don't agree to let you out, you may have to look into the contract and point out any duties they're failing to perform. You could go to the brokerage to settle disputes. However, you might have to pursue legal action if you can't get them to agree to let you out of the contract.
5. Should I get a buyer's agent?
Some buyers might prefer to work without an agent at all. However, since sellers are typically responsible for paying the commission fees for both parties, there's no good argument for going without one. This is especially important when a seller has their own agent to represent their interests and advocate on their behalf.
Buying a house without a realtor means that you won't have someone in your corner who knows which common issues to look for during a walkthrough. It also means that there's no one to help you craft an offer or negotiate with counter offers. Working with an experienced local agent helps buyers to save money, but some experienced home buyers might prefer to go solo.
The average buyer could benefit from the help in finding listings and recommending services that they need. Help with the paperwork involved is also, an overlooked but important reason for hiring an agent.
6. Can you get out of a home purchase agreement?
Buyers are often required to put some money down when they submit an offer on a home. This is part of the overall purchase agreement and is called an "earnest money deposit." It's a good faith agreement to let sellers know that the buyer is serious about their offer.
To get out of a contract without meeting the agreed upon terms, buyers risk losing their earnest money deposit or at least a portion of it. Contracts contain contingencies to protect buyers if an inspection uncovers a major issue or there is any kind of catastrophe. If contingencies aren't satisfied, buyers may get out of the contract but might have to forfeit some money.
7. Can you fire your real estate agent before closing?
As stated above, terminating a contract can be messy. However, switching agents at a brokerage or buyer agency shouldn't be. If you want to continue working with the agency, they will usually be happy to pair you with an agent better suited to your needs.
Most buyer agency agreements provide a protection period of the agency or the individual agent you're working with. The commission will be owed if a transaction is completed within this given timeframe. But to avoid any issues at all, make sure to ask your agent all the right questions before you sign an agreement with them.
Find the Best Agent for You
When you work with an agency, you should be paired with an agent who is there to help you no matter what. Working with a Clever Partner Agent offers you the chance to do just that. Our Partner Agents are top-rated agents based in every corner of the country.
Plus, buyers in eligible states can get Clever Cash Back at closing to help with moving or other home buying costs.
Connect with Clever and get paired with a Partner Agent from right in your backyard who knows how to find deals that other agents can't.
Related Articles
You May Also Like