Is your real estate agent asking you to sign an exclusive listing agreement or buyer-broker contract? Find out what that means and how it can be a benefit or a hindrance to your home search.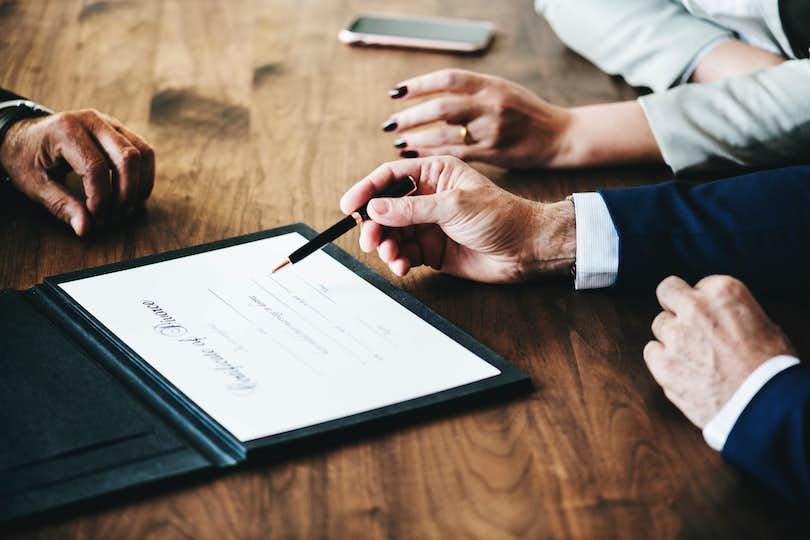 If you chat with anyone working in the real estate industry for a while, you'll hear some stories. Some good, some bad, some weird, some funny — they've seen it all.
One tale you might hear the story of an agent who wished they had signed their home buyer to a buyer's agreement. After a ton of work, the buyer makes an offer on a home. Unfortunately, it's with a different agent...
Can you believe that happens? It can also go the other way, where the agent drops the client, although that is less likely (since most agents work solely for commission).
Even the smoothest of real estate transactions can sometimes feel like an emotional roller coaster. Save yourself the drama and sign with a top agent, who will be professional throughout the whole process and make sure you sign an exclusive contract to protect both of you.
Why sign an exclusive contract with an agent?
An agent usually works with a buyer for a few weeks to several months — or even longer. The agent puts a lot of effort into including the buyer, including introducing the buyer to lenders and helping them get a loan or approval letters. The agent regularly sends emails that fit the buyer's requirements and call up listing agents to determine availability.
Next come the appointments and the showings, driving the buyer from one neighborhood to the next. Sometimes, however, despite all the work on a buyer's agent part, the relationship doesn't work out, and the buyer works with another agent.
Listing agents sign form exclusive listing agreements with sellers, so buyer's agents often offer formal contracts, too. Just like with a seller's agent, a buyer's broker agreement outlines the rights and responsibilities of both parties for their best interests. If the agent isn't serving the buyer, the buyer may fire the agent and break the contract. (Sign an exclusive contract with the wrong agent?
Find out how to change real estate agents here.)
Quick Tip: Explore all your options BEFORE you sign. It's a tough contract to crack.
Did you know?...
Real estate agent fees and commissions are negotiable
Full-service agents and limited-service agents often charge the same rates
In most states, the person buying the home can get cash back after closing

We know things. That's how we've help our customers save $140,000,000+ in fees.
At Clever, we offer a free service to negotiate with real estate agents for the best possible deals. We'll recommend top-rated, full-service agents in your area — so you can check out multiple agents for yourself before you make any decisions. There's zero commitment.
How do you find a buyer's agent?
Many potential buyers are referred to an agent by their friends, family, and co-workers. Referrals are often the best way to find an agent. But what if you're moving to a different city with a new real estate market? Look in certain neighborhoods to find listings for sale. You'll likely see one agent representing most of these listings. Are there online reviews? What do people have to say?
You can also search online. Type "top real estate agents/brokerages in my city," or search websites where agents maintain a national profile. Even getting out into your neighborhood will help you meet realtors experienced in home buying.
Find an open house and talk to the agent. If they appear knowledgeable and your personalities mesh, drop that you're in the market for an agent. Odds are you will leave the open house with a business card and be ready to sign an agency agreement soon.
What is an exclusive buyer-broker contract?
Contracts are legal documents, typically bilateral agreements. When the buyer signs a purchase offer, you are signing over a stated amount of money and the seller will hand over the deed.
Exclusive buyer-broker contracts are the same idea. The broker will locate and identify potential properties for the buyer to consider, review paperwork, prepare purchase offers, and provide other services. The buyer needs to seriously consider the homes, qualify to purchase the property, read all the materials, and cooperate with the broker. It sounds nice, right? It works well for many buyer-seller relationships. However, there are a few stipulations you should know about before you agree to enter the agreement.
What is buyer-broker exclusive agency?
The aforementioned situation mentioned earlier would not have occurred with a buyer-broker agreement. A buyer cannot ask another broker to show you a property — the buyer and the agent remain a team. If the buyer buys without an agent and opts for a For Sale By Owner (FSBO) property, new construction, short sale, or a family member's home, the broker will also earn a commission. This is an exclusive right to buy, ensuring your buyer's agent gets their money.
How does buyer-broker compensation work?
The broker or agent will make a commission on the property at the time of closing. However, if a hardworking agent has a buyer trying to flake and purchase a contract with another broker, the buyer may owe compensation. Remember, the exclusive agreement is bilateral, and one party cannot terminate it on their own.
How can you get out of an exclusive buyer's agent contract?
Buy a Different Type of Home
Is there any way out of this agreement? Yes, there is a way. Unfortunately for most buyers, it only is possible if they jump ship and purchase a different type of property than the one stated in the contract.
For example, if you wanted to buy a single-family home, you are free to buy a multi-family home with another broker. Also, perimeters are another fluid factor in the contract. You are free to buy as you please with whom you want outside of, say, a particular city or state, depending on the terms of your contract.
Wait Out the Term
Lastly, all contracts are based on a particular term. Exclusive broker agreements usually last three to six months. The stated time in the contract is how long it binds you to the agreement. Most agents will agree to a contract of thirty days at minimum.
As with any contract, carefully read the agreement. Ask questions and get answers. You might want to consult a real estate lawyer or professional for specifics before you sign the dotted line.
Also, take the time to ensure you're working with the best agent. Clever partners with top local real estate agents to lighten your load and help you save money. If you sell with a Clever Partner Agent, you'll pay 1.5%. If you buy with Clever, you could be eligible for Clever Cash Back. Form the right agency relationship and sign a real estate contract with a Clever Partner Agent so you stay with your first agent!
FAQs About Exclusive Contracts with Real Estate Agents
Can you work with other agents if you have an exclusive contract?
If you've signed an exclusive contract with an agent, you can't work with another agent until the contract expires. Once it does, usually between 30-90 days, you can work with another agent. If you've signed an exclusive buyer's agent agreement for a specific type of property (single-family homes), you can work with another agent to look for multi-family homes, for example.
What does an exclusive contract mean?
In real estate, an exclusive contract is usually between a buyer and a broker, not with a specific real estate agent. The purpose of this contract is to ensure that the buyer can't look for homes on other sources (such as Zillow or Redfin) and work directly with the listing agent or another buyer's agent, removing their agent from the transaction. A buyer's agent often spends months working with a client, helping them through the buying process and an exclusive contract protects them.
Can I cancel a contract with a real estate agent?
If you're looking to cancel either your listing agreement or your exclusive buyer-broker agreement, refer to the terms of the contract. Termination details should be spelled out and may require payment or commission. If you list your home or buy a new one without a written cancellation from your previous arrangement, you may owe them commission fees. Make sure you have a conversation and end the arrangement amicably.
Should I sign a buyer's agent agreement?
Some buyer's agent won't ever ask you to sign a buyer's agent agreement. However, if your agent does, it's not necessarily a bad thing. While many agents request a 90-day commitment, you can always ask for a shorter term of 30 days or even fewer. You can also specify a specific area, price range, or type of home, in case you change your mind and want to work with someone else. You can also place a guarantee request in the contract, allowing you to be released without penalty if it's not a good match, for example.
Related Articles