When you list your home with an agent, you'll sign a listing agreement. If you change your mind or aren't gelling with your agent and their efforts, you may wonder if you can get out of the contract. Read on to find out when that may be possible and when you might have to ride out the contract.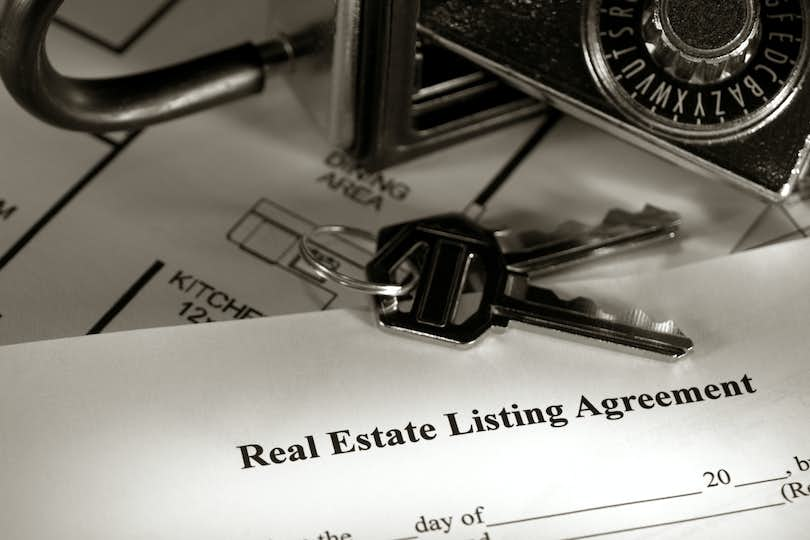 A listing agreement is a bilateral contract between you and your real estate agent's brokerage that ensures you'll pay them a commission if they sell your home within a certain timeframe.
You can often get out of this contract in writing if your agent is underperforming or unethical — but it's not always easy, or possible, without a good reason.
Work with a top local agent, researching them before signing anything. Choose the right agent out the gate and you can avoid ever needing to terminate the listing agreement.
Just in case you consider ending your relationship with your agent, here's how to go about it.
JUMP TO SECTION
Can you terminate a listing agreement?
It is possible to end a listing agreement with a real estate agent — and the terms of doing so should be laid out in your contract with the real estate agent. Your listing agreement is likely a bilateral contract — meaning the agent and the seller must both perform. While most contract with agents are exclusive agency or exclusive right-to-sell, there are several other types with their own guidelines.
There may be many reasons you may want to end the contract, the best ones (and the ones that will get you out of it the simplest) are related to the performance of the real estate agent — poor communication, bad marketing, no showings, unethical behavior, etc.
How do you terminate a real estate listing agreement?
First, look at your contract to see what it says about cancellations. Some include cancellation fees after you've worked with the agent for a certain amount of time. Others provide guidelines on how to get out of the contract.
Then, determine your reason for cancelling. You'll want to have a heart-to-heart with your agent and be honest about your experience. Put this in writing — email works well so you can have a record of the correspondence. If you're civil and don't list with another agent behind their back, you'll have a much better chance of your current agent letting you off the hook.
At this point, you can ask to be assigned to another agent within the same brokerage, or ask to get out of the contract altogether. Since your listing is technically with the brokerage — not the agent — you may have an easier time simply asking to find another real estate agent within that brokerage.
If the agent or the brokerage refuses to cancel the listing, your best bet is to hire a lawyer — but there's no guarantee they'll be able to make the magic happen either. And, you'll be out the money for hiring the lawyer.
Can I get out of an exclusive listing agreement?
There are two kinds of exclusive listing agreements. Exclusive right-to-sell agreements compensate a listing agent with a commission regardless of how the buyer was found. Exclusive agency agreements withhold compensation to the agent if the seller is the one who ultimately finds a buyer on their own.
Most exclusive listing agreements include a section on expiration or early cancellation. It is common for the agreement to expire on its own within a certain period — like six months — in which the seller can opt for another agent without penalty. The contract may also list a cancellation fee to end the contract early.
If you're trying to cancel the contract, determine your reasons and submit your request in writing as mentioned in the sections above.
Quick Tip: Interview 2 or 3 agents BEFORE you sign your next agreement.
You're offering a job here — and this time, you want to hire the candidate who's the right fit. The person with the right skills and experience, plus the right personality. Just like with any other job, that means phone calls and face-to-face interviews before you sign the dotted line.

Find the right real estate agent. And start with a plan.
At Clever, our free service matches you with top-rated local agents. We can help you hit the ground running and make up for lost time. Plus, there's no obligation to move forward with any agent we recommend.
Here's how Clever works:
We use custom data to match you with local agents
You interview our recommended agents for yourself
Choose your favorite agent — or get more matches based on your feedback
What are the top reasons to terminate a contract?
No Internet Exposure
Marketing is one of the top offerings provided by a real estate agent and that includes exposure online through sites like Zillow, Trulia, and multiple listing service (MLS) sites. If you hop on the Internet and can't manage to find anything about your home for sale, you should be skeptical that your agent is holding up their end of the bargain and consider jumping ship.
» MORE: How to access the MLS without a realtor
Bad Communication
An agent serves as your advocate during the home selling process, and they can't advocate for you if they're not communicating with you! Most good agents return calls promptly and seek your feedback before any decision related to your home, and providing regular updates about it progress on the market. Be upfront with your agent about what type of communication you prefer and how often.
If you're not getting the communication you desire after this conversation, think about switching agents.
» MORE: How to find a real estate agent
Subpar Photography
Photographs are likely the first thing a potential buyer will see in a listing and they could make or break the sale. If a buyer doesn't get a good feeling from the photographs, they aren't likely to bother coming to your open house or making an offer. Photographs should be clean, bright, and professionally done to provide your home in the best light. If they're not, you have reason to be dissatisfied.
Mismatched Personalities
Personalities can be tough. While it may be tempting to push through a major personality clash between you and your agent, consider that this is likely one of the biggest money exchanges you'll experience over your lifetime. You want it to run smoothly and that includes being in sync with the person who helps make it all happen — your real estate agent.
Unethical Behavior
While most real estate agents strive to be above board on ethics, occasionally a situation may arise that you deem unethical in your agent's behavior. This may include going back on their commission rates, or promising a buyer something you don't agree with. Either way, unethical behavior is definitely a top reason to cancel your contract and seek out a new agent.
Why would you not be able to terminate the agreement?
If you're far along in the process of selling your home and your agent has put a considerable amount of time into it through marketing and showings, you may not be able to terminate the contract. Especially if they have delivered on all fronts, it is unlikely you'll be able to show they didn't hold up their end of the deal.
It is (very) hard — not to mention in poor form — for a seller to get out of a contract with their listing agent to move to an agent who charges 1% commission, sell to a family member or friend and try to avoid paying commission altogether, or renegotiate commission with the same agent.
Most listing agreements have an expiration date — commonly two to six months from signing of the contract. Regardless of whether you're still working with an agent during this time, if your contract hasn't expired and your home sells to someone who was shown the home by your listing agent, that agent is entitled to their commission.
How can you avoid needing to terminate a listing agreement?
The best way to avoid needing to terminate a listing agreement is to fully vet your real estate agent in the first place. It is perfectly acceptable to put off signing a listing agreement until you've met with an agent several times and they've fully answered any of your questions or concerns. You'll want to ensure your agent's personality, strategy, and suggested listing price fits with your expectations.
By choosing to use Clever's Partner Agent network, you have the option of choosing the best fit from multiple agents in your local area, while saving money on commissions in the process.
Clever Partner Agents are top-rated real estate agents from major brands — like Keller Williams or Century 21 — who are experts in their local markets. They offer the same full services as other agents, but for a lower commission of 1.5%.
Fill out this form to get connected with top agents in your area for a no-obligation consultation about selling your home in your current market.
Top FAQs About Terminating a Real Estate Listing Agreement
Can I take my house off the market before my contract expires?
Whether you can take your house off the market depends greatly on the details of your listing agreement. If you and your real estate agent and their brokerage mutually agree in writing to terminate the contract early, you can take the home off the market without paying the agent a commission.
If they do not agree, you will likely need to wait it out until your contract expires, usually two to six months from the time you signed it — but check your contract for specifics. Some contracts include an early termination fee that allows you to buy your way out of the agreement.
Can I sell my house privately (FSBO) after listing with a realtor?
Most listing agreements with a real estate agent stipulate the type of listing. If it is an open listing or an exclusive agency listing, if you find a buyer yourself (and they have not had any contact previously with your agent), you will not need to pay the agent a commission.
However, if you are in an exclusive right-to-sell agreement, you must pay your agent a commission regardless of how a buyer was found. So while you could sell your home privately as a for-sale-by-owner, you'd still be legally obligated to pay a commission or face legal action for the agent's brokerage.
While you can't access the MLS without a real estate agent, there are flat fee MLS companies that provide this service. However, that requires you to go with another broker, and will be against your contract.
Does death terminate a listing agreement?
There are three surefire ways to terminate a listing agreement according to real property law — death, insanity, or bankruptcy of either the broker or the seller. Depending on the contract, someone who has power of attorney for the seller may be able to continue the sale of the home. Otherwise, the home may go to probate upon the seller's death or be dispersed according to the seller's will.
In this case, it is always best to consult an estate attorney to determine the next steps based on your specific case in your local area.
Can you fire your real estate agent?
In some cases, you can fire your agent if they are underperforming or not holding up their end of the deal. But, it's not as simple as it may sound. When you sign a listing agreement with a real estate agent, you sign a bilateral binding contract.
Unless you have good reason to fire them, and you can get released from the contract in writing from the broker, you may have to wait it out until it expires. However, most agents won't want to risk hurting their reputation and may be willing to release you even if they don't have to. Or, you may need to get an attorney involved.
Before entering into any contract agreement, it's important to find a real estate agent that fits your needs.
You May Also Like