Finding the best neighborhood in Maryland can have a lot to do with how much you enjoy your new home. The state is filled with great restaurants, quality schools, and plenty of things to see and do, so be close to all the things you love. Here are our picks for the best Maryland neighborhoods.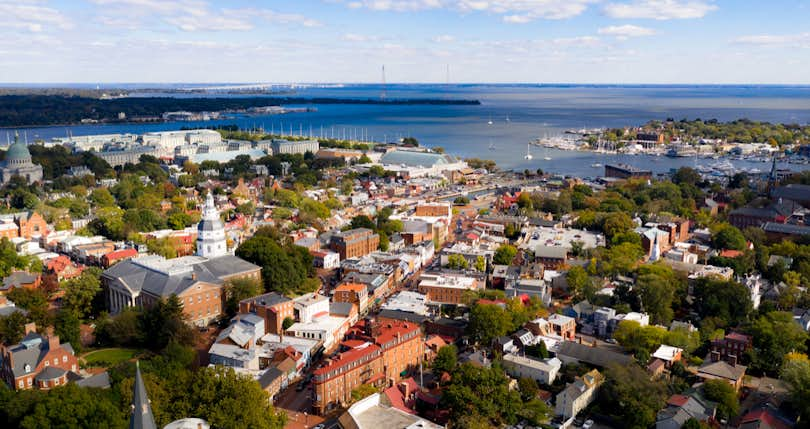 Maryland is known as America's crab capital, a pioneer in railroad transportation, and home to the 2013 Super Bowl Champions, the Baltimore Ravens. No matter what you're looking for in life or work, you'll find it here, starting with a great home in one of the best cities in the state.
The state's cities and suburbs are as unique and diverse as the people who call Maryland home, many of which are ideal for families, students, young professionals, and anyone that craves fresh seafood!
We've narrowed the focus to five of Maryland's top-rated neighborhoods, based on safety standards, school ratings, walkability, and housing.
And in the meantime, check out our Ultimate Guide for Moving to Maryland to help you prepare for your home buying adventure!
Considering moving to Maryland?
Check out the best neighborhoods in the state with a Partner Agent.
1. North Potomac
Tucked right outside of Washington, D.C., North Potomac has been rated as the single best suburb to live in Maryland. The city attracts families and young adults alike, thanks to its highly rated school system and an abundance of parks and outdoor activities. Virginia is just an hour's drive from here, while a nearby metro station makes D.C. just a short ride away.
Most residents own their homes in Potomac. The median home value is $656,000, significantly higher than the national average. The job market and economy are promising, with a median household income of $161,000 and the majority of residents holding at least a bachelor's degree.
2. Bethesda
Close to Potomac, Bethesda has been ranked as the second-best place to live in Maryland (second only to Potomac, of course). Most of the schools here have earned top ratings, making it a popular choice for young families. The residents have mentioned that investments are continually being made in the city to expand walkability, recreation, and retail.
Similar in size and vibe to Potomac, residents may find the lower home prices more favorable here. The median home price is $550,000, with a strong economy and job market to keep values high. Companies like Lockheed Martin and Marriott International have made their homes here, which makes for a promising future.
3. Garrett Park
Garrett Park is one of the smaller suburbs in Maryland just outside of Washington, D.C. Home to just over 1,000 people, the area largely consists of families and retirees that enjoy the amenities of city living with a residential vibe. Stores and restaurants are common here but don't go looking for nightclubs and bars. This is a more laid-back part of Maryland that takes things slow, appreciates tradition, and takes pride in its community.
Given its proximity to D.C., home values here are a bit higher than in other areas of Maryland. The median home value is about $810,000 and is touted as a safe, low-crime area.
---
Looking to buy your dream home? Finding the right realtor makes all the difference!
The first step in your home buying journey is to find a top local realtor who's an expert negotiator and has proven experience in your area. The right agent can help you find the best house for your budget and priorities — and craft a winning offer so you don't miss out on your dream home.
The easiest way to find a great local realtor is to use a free service like Clever Real Estate. Clever matches home buyers like you with top agents in your area so you can compare your options and choose a realtor who's the right fit for you.
You can interview multiple agents until you find the perfect fit, or walk away at any time - Clever's service is 100% free with no obligation. Fill out the form below to instantly request hand-picked agent matches now!
💰 Buy with a top agent, earn cash back!
Buy your dream home with a top local realtor from a trusted brand like Keller Williams or RE/MAX. Keep more money in your pocket by earning cash back on eligible purchases.
Enter your zip code to request hand-picked agent matches in minutes. Compare your options until you find the perfect fit, or walk away with no obligation. Try Clever's free service today!
4. Ellicott City
Situated west of Baltimore, Ellicott City is rated as the best area around Baltimore to live in. Home to just shy of 72,000, the city is large enough to offer lavish amenities like parks, recreation, stores, restaurants, and bars, yet small enough to maintain a low crime rate, strong school system, and be able to travel anywhere in the city within minutes. The big cities of Baltimore and D.C. are just 30 and 45 minutes away, respectively, while mountains and hiking trails are just minutes away.
Most people own their homes in Ellicott City, so there's a strong sense of pride in maintaining properties and improving the appearance of the community. The public school system is top-notch, which attracts many families to the area.
5. Chevy Chase
This small Washington D.C. suburb of 10,000 people is more than an interesting name. It's known as one of the best places to retire in Maryland, as well as one of the best places to live for all ages. The median household income is $173,000, while the median home value is $897,000. Most people own their homes and have at least a bachelor's degree.
Folks love living here because of the easy access to big-city amenities with a safe, residential feel. Shops, restaurants, and bars are within arm's reach, as well as the Metro into D.C.
Explore the Best Maryland Neighborhoods with Clever!
Maryland is filled with exciting, interesting places to start in a new city, and finding the one to call home starts with working with an experienced local real estate agent.
Clever can help! Our Partner Agents are top-rated agents in local markets with invaluable knowledge about Maryland's cities and suburbs. Not only will they help you find a great home in a great location, but can also help you save on your home purchase with Clever Cash Back. Once the deal is done, we send qualifying buyers an actual check.
Connect with Clever today for a no-obligation consultation and let us help you find your new Maryland home in the right neighborhood for you and your family!
Related Articles