Thinking about making a big move to Durham, NC? We've made a list of some of the best neighborhoods for you to consider when venturing on the house hunting journey.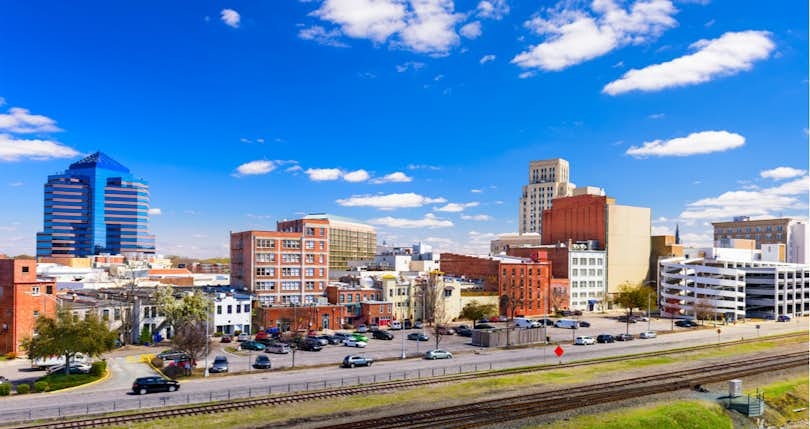 When searching for the perfect home, there are so many factors to consider. One of the first decisions you'll need to make in the process is where you want to live next — which tends to get overwhelming.
To make things easier on you, we've compiled a list of the five best neighborhoods in Durham, NC. Find out about key neighborhood factors, such as top school districts, affordability, and things to do in the surrounding areas. You'll be on your way to discovering your ideal neighborhood in no time at all.
Moving to Durham, NC?
Find the best neighborhood with a Clever Partner Agent.
1. American Tobacco District
Tobacco warehouses and factories were once considered iconic for fueling Durham's early economy. Today, the neighborhood looks a bit different, having transformed into rows of condos, shopping stores, museums, and restaurants.
The area has an average home prices of $477,274, and is considered the urban, industrial hub that represents the top end of Durham's housing market. But don't be fooled about housing affordability; homes and condos still fall well below the national average, and hold immense untapped investment and appreciation potential as this neighborhood continues to flourish.
With easy access to Duke University's medical campus and downtown Durham's industrial hub, the American Tobacco District is one of the best places to buy for established professionals who are aiming to settle down in Durham, NC. Over the next 5 to 10 years, resale values are anticipated to skyrocket, as this area of Durham becomes one of the city's highly sought after neighborhoods.
2. Downtown Durham
For first-time home buyers, Downtown Durham is a great place to settle down in. The median age of residents in this neighborhood is 35 years old, and average housing prices typically range anywhere between $175,000 and $347,372.
Downtown Durham offers many benefits to homeowners in the area, such as plentiful amenities and affordable pricing. The downtown area offers some of North Carolina's most popular attractions; it is the home of the Durham Bulls AAA baseball team and is considered a budding craft beer scene. The area also sees new restaurants opening on a near weekly basis, and has plenty of nightlife.
Downtown Durham truly has something for everyone. Combining this locational perk with the area's affordable housing market, Downtown represents a perfect place to live as a young homeowner, with flexible options to sell or lease as your housing needs continually grow.
3. Duke Campus Neighborhood
Duke University is ranked as the seventh best university in the nation. The school's town is known for attracting an elite crowd of students, researchers, scholars, and professionals accordingly.
Duke Campus Neighborhood is one of the best areas to live in Durham. It is the epicenter of the city's emphasis on education and culture, with an influx of lecturers, music, and theater bolstered by Duke's illustrious reputation.
Housing is within reach for young home buyers, graduate students, and researchers. For investors that are ready to capitalize on the low median income of $136,204 and demand for university housing, this neighborhood is nothing short of attractive. Let's not forget about Duke's beautiful, walkable campus and gardens, which adds additional amenities for students and investors alike.
---
Looking to buy your dream home? Finding the right realtor makes all the difference!
The first step in your home buying journey is to find a top local realtor who's an expert negotiator and has proven experience in your area. The right agent can help you find the best house for your budget and priorities — and craft a winning offer so you don't miss out on your dream home.
The easiest way to find a great local realtor is to use a free service like Clever Real Estate. Clever matches home buyers like you with top agents in your area so you can compare your options and choose a realtor who's the right fit for you.
You can interview multiple agents until you find the perfect fit, or walk away at any time - Clever's service is 100% free with no obligation. Fill out the form below to instantly request hand-picked agent matches now!
💰 Buy with a top agent, earn cash back!
Buy your dream home with a top local realtor from a trusted brand like Keller Williams or RE/MAX. Keep more money in your pocket by earning cash back on eligible purchases.
Enter your zip code to request hand-picked agent matches in minutes. Compare your options until you find the perfect fit, or walk away with no obligation. Try Clever's free service today!
4. Research Triangle Park
Research Triangle Park (RTP) is often referred to as the second most important tech hub in the United States, located just outside of San Francisco. Housing options typically range from low to high. With a wide array of job opportunities, and easy access to Durham proper, Raleigh, and Chapel Hill, this central neighborhood boasts some of the most exciting long-term potential for home buyers.
Research Triangle Park is one of the best areas to live in Durham, due to it's high median income of $75,043, compared to Durham's overall average of $53,492. And we certainly can't forget to talk about the town's exponentially increasing population. RTP fuels the majority of Durham's research and technical professions, and draws from the many nearby University's to create a decidedly cosmopolitan blend of residents.
5. Southpoint
The Southpoint neighborhood offers many locational perks to its residents. When you combine the Streets at Southpoint walking mall, easy access to family-friendly Jordan Lake, and the peace of suburbia, it's no wonder at all to us that Southpoint is considered to be one of Durham's most sought-after family neighborhoods. With median home prices averaging about $169,115, and townhouse prices coming in around $256,550, families will find plenty of housing options where they can settle down and call home for years to come.
Southpoint is a largely residential neighborhood, offering remarkably affordable housing options, even despite its high safety ratings, access to top schools, and amenities. It's safe to say that South Durham is one of the best-kept secrets, and best areas to live in Durham for families and couples looking for a great quality of life.
If you're looking to find the perfect neighborhood to move to in Durham, NC, get in touch with Clever to be connected with a top-rated Partner Agent for guidance and support throughout the home buying process.
Related Articles