Home buyers are often taken by surprise at how much it can cost to close the purchase of a home. Closing costs can constitute as much as 5% of the selling price. We take a look at the fees and taxes that you will spend money on while closing a real estate deal in North Carolina.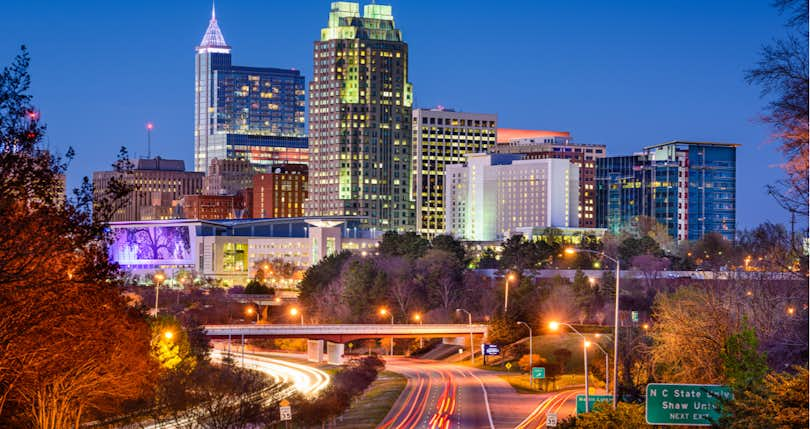 Most home buyers account for a down payment while drawing up a budget. However, many are unaware of the large chunk of money that will be spent on closing costs. These costs come in many different forms paid to lenders, service providers, and the government.
It's essential buyers take closing costs into consideration before setting out to purchase a house. A local real estate agent can help you understand what your costs will be and the average costs in your county or city.
Finding a top-rated real estate agent in your area is easy with Clever. All you need to do is fill out this online form and we'll connect you to a Clever Partner Agent in your city.
Closing Costs for North Carolina Homes: What to Expect
A report by BankRate showed that the closing costs in North Carolina add up to $2,242 on average. That's a combination of $915 in origination fees and $1,327 in third-party fees.
It's important to note here that BankRate did not account for variable costs like government fees, taxes, title search, and escrow fees. You will end up paying a lot more if you factor in all those expenditures. — typically, between 2% and 5% of the price of the selling price of a home.
Let's say you're buying a house in Raleigh, where the median value is $273,400. You can expect to pay between $5,468 and $13,670 cumulatively on closing costs.
While closing costs can be expensive, one of the largest mortgage expenses is the interest rate. Over the life of the loan, a few small percentage points can result in hundreds of thousands of dollars in interest payments.
One of the best ways to lower your interest rate? Shop around and compare lenders! Fill out the form below for a quote from a licensed, local lender – even if you're pre-approved it pays to compare.
Common Closing Costs for North Carolina Home Buyers
There are a myriad of different services and fees that contribute to your closing costs. Here are some of the ones that most home buyers have to deal with.
Lender Fees
This is money paid to the lender to process a loan application and release funds. That includes things like application fees, underwriting fees, and recording fees. There are also cases where lenders require payment for discount points so borrowers can be assigned lower interest rates.
Home Inspection
It is imperative buyers hire an inspector to assess the home they are about to buy along with the various home components. The amount you pay in inspection fees will depend on the size of the property and how extensive the report is. The average cost of a home inspection in Raleigh is $325 for a house under 2,000 square feet and $725 for a house over 4,000 square feet.
Home Appraisal
A home appraisal is used to arrive at the value of a piece of land along with the construction that stands on it. Lenders use the appraised value to determine the value of the loan a borrower is eligible for. You will have to hire a professional appraiser to conduct an assessment of your house to receive an appraisal. The average price for a home appraisal in North Carolina is between $300 and $400.
Title Insurance
This is a form of insurance that covers any issues with the title issued for your property. It protects buyers from losses that could be incurred from outstanding taxes or mortgages that were a responsibility of the previous owner of the home. Title insurance rates in North Carolina start at $2.45 for every thousand dollars for a coverage amount up to $100,000.
Escrow Fees
An escrow is a third party that holds and impartially distributes funds to cover various expenses during a real estate transaction. That includes money paid to real estate agents, taxes, and loan fees. The escrow fee is paid to the attorney or escrow company that overlooking the closing of the deal.
Other Costs to Consider
In addition to the aforementioned costs, there are also some recurring payments you will need to sign up for in order to complete the purchase of your home.
Homeowners Insurance
Homeowners insurance protects you from the costs that you could incur from damage to your property from a destructive event. The coverage could also include protection from liability for damage caused to you or your family from such an occurrence. Homeowners insurance rates vary based on your provider. The average annual premium for homeowners insurance in the country is $1,083.
Property Taxes
These are taxes collected by the local governing body to fund public services and amenities like roads and parks. Your property tax bill each year depends on the tax rates in your area. The average property tax rate in North Carolina is 0.86%. On a house with an assessed value of $250,000, that's $2,150 in property taxes every year.
Fire Insurance
In the four-year period between 2011 and 2015, 358,500 home fires were reported in the United States. Fire insurance covers all the losses caused by a fire on your property. That includes all expenses that go towards repairing home components, replacements where required, and reconstruction.
How to Save on Closing Costs in North Carolina When Buying a Home
Compare Lenders
A majority of the money you spend on closing costs will be paid to your lender. One of the ways you can save big at this stage is by carefully comparing the offerings of different lenders. An easy way to do this is by using the Loan Estimate report that lenders provide once you have applied for a mortgage. You can use the document to check all the different fees a lender imposes and your total cost.
Negotiate with The Seller
This is a tactic you can use if you're in a buyer's market and have a degree of leverage over the transaction. Depending on the state where you're located, the seller may be able to contribute to certain closing costs. You can negotiate with the seller to have them cover some of the closing costs. A real estate agent can help when it comes to negotiating these costs with sellers.
To mitigate your costs even further, you may qualify for Clever Cash Back when your work with a Partner Agent. Depending on the state you're in and your home's value, you may receive a check in the mail after your purchase.
Related Articles