Colorado is home to a vast number of unique towns, bustling cities, and charming neighbors, making it all the more difficult to decide where you want to live. Here are some of Colorado's best neighborhoods that offer something special for all desires, budgets and goals.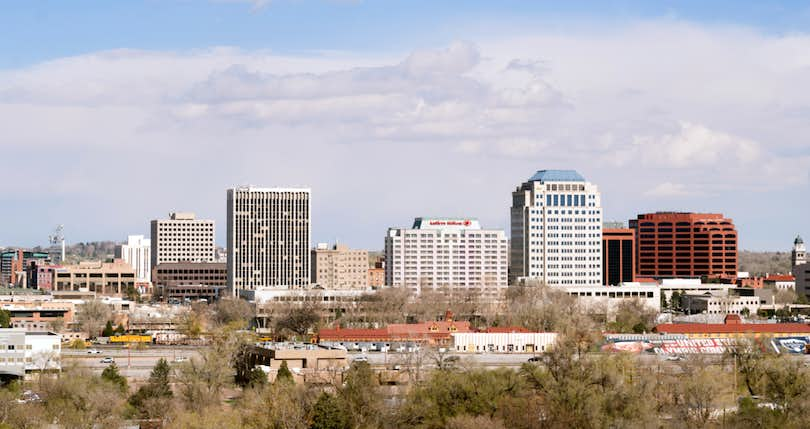 It's hard to select the five best neighborhoods throughout Colorado, because, quite frankly, Colorado is home to some of the most beautiful and unique towns in the country. Rich in mining, ranching, and western expansion history, and split down the middle by the snow capped peaks of the Rocky Mountains, Colorado is a state unlike any other. Here are the top five neighborhoods to call home throughout this distinctive state.
»FIND: Top Real Estate Agents in Colorado
Moving to Colorado?
Find the right neighborhood for you with a Clever Partner Agent.
Briargate, Colorado Springs
Colorado Springs has seen massive growth over the past decade, with a variety of industries relocating or developing secondary locations in this booming town. Briargate has a livability score of 72, making it the perfect place to call home if you're looking to live in The Springs.
Home prices are high but the Colorado Springs market has seen huge growth over the past few years. Briargate median home values sit at $371,500 and are projected to grow by 4.3% over the next year.
The cost of living is 2% higher than the US average but you get more than what you pay for. Crime is extremely low and the high school graduation rate is 96%. This neighborhood is great for all types of homeowners. Retirees benefit from milder winters while families can send their kids to great schools and still be close enough to commute into downtown Colorado Springs for work.
University North, Fort Collins
Fort Collins has recently entered a cooling off period and buyers may want to strike soon. This sleepy college town is quieter than its southern neighbors of Boulder and Longmont. University Park offers residents the perfect mix of college town vibes and charming suburbs, while providing residents easy access to some of Fort Collins most beloved areas.
This family-friendly neighborhood is within walking distance of City Park and Old Town Square. The neighborhood itself dates back to 1889 and features a mix of mid-sized homes in varying architectural styles.
»FIND: Top Real Estate Agents in Fort Collins
Downtown Durango
Less of a designated neighborhood, this central location of Durango is nestled in a lush valley alongside the Animas River. The entire town is truly a nature lover's paradise but the downtown in particular grants residents access to cool restaurants, bars, and events.
Downtown is quaint and charming with old west style buildings, boutique shops, and a quieter suburban feel that a bustling downtown. With a population of 17,986, you're likely to get to know everyone in the community but still be able to seek respite in the nearby mountains.
Schools are top rated, crime is relatively low, and activities abound, thus housing prices are high compared to nearby cities. The median home price is $459,200 and values are expected to continue their steep climb by an additional 6.7%. It's a hot seller's market in Durango, Colorado as the location is ideal.
---
Looking to buy your dream home? Finding the right realtor makes all the difference!
The first step in your home buying journey is to find a top local realtor who's an expert negotiator and has proven experience in your area. The right agent can help you find the best house for your budget and priorities — and craft a winning offer so you don't miss out on your dream home.
The easiest way to find a great local realtor is to use a free service like Clever Real Estate. Clever matches home buyers like you with top agents in your area so you can compare your options and choose a realtor who's the right fit for you.
You can interview multiple agents until you find the perfect fit, or walk away at any time - Clever's service is 100% free with no obligation. Fill out the form below to instantly request hand-picked agent matches now!
💰 Buy with a top agent, earn cash back!
Buy your dream home with a top local realtor from a trusted brand like Keller Williams or RE/MAX. Keep more money in your pocket by earning cash back on eligible purchases.
Enter your zip code to request hand-picked agent matches in minutes. Compare your options until you find the perfect fit, or walk away with no obligation. Try Clever's free service today!
Five Points, Denver
Denver has a plethora of cool neighborhoods, good schools, and popular restaurants, making it difficult to choose a favorite neighborhood. However, Five Points is Denver's equivalent of multicultural New York and Chicago neighborhoods. A historical blend of styles mark this neighborhood as one of Denver's most eclectic.
Compared to its neighbors, Five Points still remains relatively affordable. It's still in the heart of Denver making it a perfect location for those working in the Central Business District or Capitol Hill. 1-bedrooms saw a price drop of 8.7% this past year and sit at a value of $363,875.
Orchard Mesa, Grand Junction
This unincorporated community of Mesa County is equal parts beautiful and lively. Just a hop, skip, and a jump away from downtown Grand Junction, Orchard Mesa puts residents right up against the earthy red rocks of Colorado National Monument. The neighborhood is also situated between the Gunnison River and the Colorado River.
Nature lovers and those seeking solitude not far from traditional modern amenities will love this area of Grand Junction. This area is best suited for downtown commuters, families, and sports enthusiasts, providing quick access to the heart of GJ, mountain bike trails, and spacious homes. Sprawling mansions and ranch style three-bedrooms dot the hills and they all have one thing in common — epic views.
If you're planning a move to Colorado, it might be time to consult with a local realtor in your desired locale. Clever Partner Agents have immense knowledge of area markets and can advise you on the best time to buy and offer support throughout the home buying process. Contact Clever and get started with a no-obligation consult — you could be on your way west in no time.
Related links