Brooklyn very well might be the most livable borough in New York City. From the hip avenues of Williamsburg to the historic brownstones of Clinton Hill, these are the five most livable neighborhoods in Brooklyn.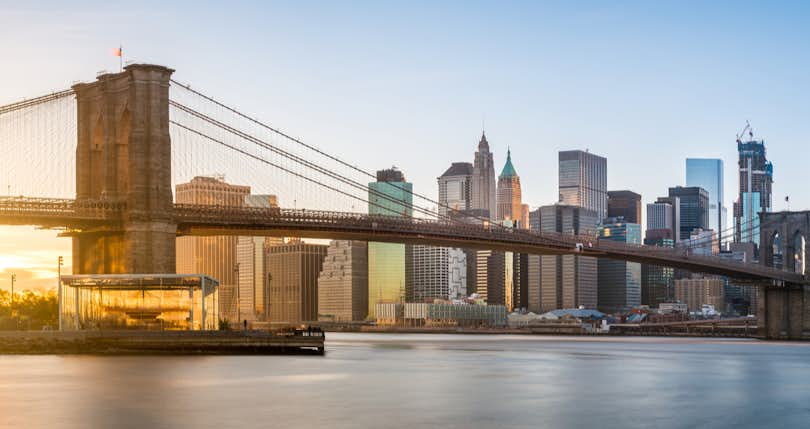 After living in the shadow of Manhattan for, well, basically always, Brooklyn is now arguably a more desirable borough to live than its big, glamorous sibling. Where Manhattan has empty storefronts, fifteen CVSes a block, and the Naked Cowboy, Brooklyn has nightlife, culture, and even some pockets of affordability. Let's take a look at five of the most livable neighborhoods in Brooklyn.
JUMP TO SECTION
Williamsburg
Although many sections of Williamsburg are now more expensive than Manhattan, you get a lot for your money. The main strip, from Bedford to Metropolitan, is the platonic ideal of a hip, walkable urban area, and its dotted with world-class bars and restaurants. (There are plenty of hole-in-the-walls and dives, too.) McCarren Park is like Central Park, but cool, and there are amenities galore, from bikeshares to dog parks to green spaces.
Of course, world-class neighborhoods come with sky-high prices. The median home value in Williamsburg is $903,500, and they've gone up 1.2% over the past year. They're projected to further increase by 2% in the next year.
Bedford-Stuyvesant
Just "Bed-Stuy" to the locals, this central neighborhood is smack in the middle of north and south Brooklyn. Though it's geographically a bit farther north, it has much more in common, culturally, with the southern part of Brooklyn, with archetypal brownstones and a less edgy feel to its commercial strips. But there's plenty of nightlife and dining here, as well as bike lanes and those mom-and-pop corner stores where you can buy a single cigarette for a dollar (if you don't look like a cop).
About those brownstones, though; they really are the most iconic houses in all of New York City. If you can live in one, you should jump at the chance.
Median home value in Bed-Stuy is $798,500; home values have increased by 0.9% in the past year, but are forecast to fall 1.2% in the next year.
Greenpoint
Williamsburg's less expensive neighbor to the north was, for years, also less hip, but that's changed. There are artist's studios and galleries up and down the avenues, and small boutiques and restaurants. Large expanses of the neighborhood are entirely residential, with most of the commercial activity concentrated along major strips like McGuinness and Manhattan Avenues. There's also a large Polish community, so you can get pierogies at every deli, though Lord help you if you ever get involved in a parking dispute with an old Polish guy. You'll be arguing until sunrise.
Greenpoint is many things, but it isn't cheap. The median home value there is $1,023,300, and have increased only 0.1% in the past year. Experts predict they'll fall 1.5% in the next year.
---
Looking to buy your dream home? Finding the right realtor makes all the difference!
The first step in your home buying journey is to find a top local realtor who's an expert negotiator and has proven experience in your area. The right agent can help you find the best house for your budget and priorities — and craft a winning offer so you don't miss out on your dream home.
The easiest way to find a great local realtor is to use a free service like Clever Real Estate. Clever matches home buyers like you with top agents in your area so you can compare your options and choose a realtor who's the right fit for you.
You can interview multiple agents until you find the perfect fit, or walk away at any time - Clever's service is 100% free with no obligation. Fill out the form below to instantly request hand-picked agent matches now!
💰 Buy with a top agent, earn cash back!
Buy your dream home with a top local realtor from a trusted brand like Keller Williams or RE/MAX. Keep more money in your pocket by earning cash back on eligible purchases.
Enter your zip code to request hand-picked agent matches in minutes. Compare your options until you find the perfect fit, or walk away with no obligation. Try Clever's free service today!
Clinton Hill
Clinton Hill is the slightly more affordable alternative to the adjacent neighborhoods of Prospect Heights and Fort Greene, but it also has its own unique personality. Home to the Pratt Institute of Art, the neighborhood sports enough murals and sculptures to give it an artsy edge, but at its core, it's a quiet, residential neighborhood of apartment buildings and parks.
There's a gorgeous historic district featuring mansions from the Gilded Age, but the rest of the neighborhood is a mix of row houses, brownstones, Victorians, and apartment buildings. Clinton Hill also has the most green space of almost any neighborhood in Brooklyn, as well as many tree-lined avenues.
Clinton Hill's median home value is $955,200, but home values have declined 6% in the past twelve months, and are forecast to sink a further 0.8% in the next year.
Sunset Park
It's hard to say that any Brooklyn neighborhood is really obscure, but Sunset Park is a bit of a well-kept secret. One of the most diverse neighborhoods in all of New York, Sunset Park is located between Park Slope and Bay Ridge. Its profile is rising due to overspill of families being priced out of pricey Park Slope, and to the revitalization of its waterfront area.
Sunset Park's home to Brooklyn's Chinatown, and there's a Latin American quarter too. Industry City, the aforementioned waterfront area, is quickly becoming revitalized, and may soon rival other hip outposts like Gowanus or even Williamsburg.
One of the more affordable neighborhoods on this list, the median home value in Sunset Park is $533,000. Home values there have declined 1.5% over the past year, but are predicted to rise 2% in the next year.
Buying in a high-priced city like Brooklyn can be intimidating, but with the guidance of an experienced real estate agent, you'll be able to navigate the buying process to arrive at your ideal outcome. In a city where neighborhoods are almost independent markets unto themselves, the experience of a good agent is even more important to find your dream home, and get a good price on it.
Clever Partner Agents are top performers in their markets, and come from elite brands and brokerages. Whether you're looking for a brownstone in Bed-Stuy, a loft in Williamsburg, or a single family home in Sunset Park, we can help you close on that dream home! Contact us today for a no-obligation consultation!