Is Oregon a good market for house flippers? And where should they invest? Our article has an overview of the Oregon housing market, including price appreciation trends and the best cities for investment, with information on the numbers you should know to get the best deal.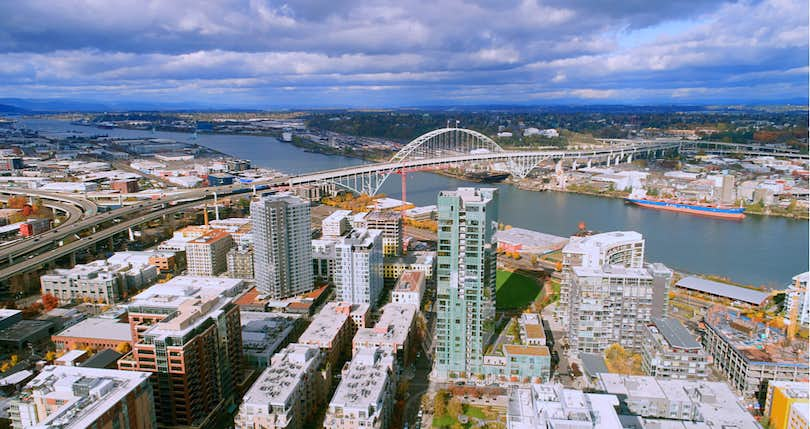 If you enjoy reality shows about house flipping, you might have thought it would be fun, and profitable to try yourself. It's rewarding to transform a neglected home into its full potential, or to dream about large payouts that are more than many people make in a year.
Becoming a successful house flipper is trickier than it looks on TV. Even if you have the money to buy a home in cash, underestimating repairs could destroy your budget and potential profits. If the home doesn't sell fast enough, additional loan payments could also put you in the red on the investment.
Think about and plan for everything that could go wrong before purchasing a property to fix up and flip in Oregon. If it's your first time flipping a house, assemble a team of professionals to help make it a success. From a mortgage company to contractors, to a realtor to help you find potential properties, don't get started until you have the right people on your side.
2019 Oregon Housing Market Analysis
The median home value for homes in Oregon is $346,100. They've risen 5.6% in the last year and are predicted to rise another 3.9% in 2019.
Home values vary in different cities and towns in Oregon. In Portland, the median home value is $425,700, which was a dip over the prior year. Homes in Eugene have a lower median home value, at $310,200, but they grew 7.3% in value last year and are expected to grow another 4.5% this year. Gresham home values are at $337,400 after rising 3.7% in 2018.
Before making an offer on a potential flip, partner with an experienced, local agent who knows the market and who can guide you to the best cities and neighborhoods for investment.
How to Tell if a Oregon Property is a Good Investment
If you overpay for a potential flip you not only won't make money, you could lose money. When looking for a property, focus on the cheapest homes in desirable neighborhoods. In Oregon's wet climate, look for dry basements and clean roofs, and avoid houses with mold issues.
Carefully evaluate the home's current condition before deciding to add it to your fix and flip portfolio. Flippers should pass on homes which require major structural repairs such as roof or foundation work. These can take longer to fix, eating into your margin, and quickly become more expensive than planned. Your goal is to find a home that primarily needs cosmetic repairs.
Ask your realtor to prepare a comparative market analysis on nearby homes. The data it contains on recent home sales and the time it took for them to sell can help you plan your potential timeline and profit. A novice flipper will need expert guidance when assessing prospective properties.
How to Turn a Profit When Flipping an Oregon House
Profit should be front and center when considering a potential house flipping investment. Crunch your numbers, and double-check them, before bidding on a house.
In flipping houses, the 70% rule states that you should never pay more than 70% of the home's after repair value or ARV less the cost of repairs.
If a home in Gresham is worth $310,200 after repairs, multiply it by .70 to get $217,400. Then deduct a $30,000 estimate for repairs, and you'll have $187,140. According to the 70% rule that's all you should pay for the home.
Expressed as an equation, this would be $310,200 (ARV) x 0.70 = $217,400 – $30,000 (repairs) = $187,140.
This is your starting point. If you can't buy a house in that market for a price that fits the 70% rule, invest elsewhere.
Your return on investment is the amount you'll make for the money you invest. Calculate it by taking the current value of the investment, subtracting the investment's cost and then dividing that amount by the investment's cost.
With the hypothetical house in Gresham, it would be $310,200 less the cost of $247,400 for the mortgage and repairs, divided by the $247,400 for an ROI of 0.25%. When calculating your own ROI don't forget to add in realtor's commissions, closing costs, and any loan payments during the period you own the house. Think about working with a low-commission realtor to save on costs.
Paying Cash vs. Taking Out a Loan
Before you can dream about remodeling the kitchen, you have to buy the home. Financing options for house flippers include traditional mortgages, HELOCs, and loan products designed for house flipping.
Fix and flip loans, designed for flippers, are offered primarily by hard money lenders. Their rates start at 12% and go up from there. They're short-term, interest-only loans which you're meant to cash out of in a few months. This can lead to trouble if the home doesn't sell quickly. Many fix and flip lenders won't work with inexperienced or new flippers due to the risks.
Buyers with excellent credit and cash for a down payment might be able to finance the purchase with a mortgage or home equity line of credit. But it can take months to be approved for a traditional bank loan, and you'll need at least a 20% down payment.
The best financing option for a flip is to pay cash for the property. If the market slows while you're fixing up the property, you won't feel pressured to sell at a loss to pay off your fix and flip loan. If you got a mortgage through a traditional lender, the payments you make while waiting to sell will eat into your profits.
Taking out a loan increases the risk in your investment. Let's say you purchased that house in the Gresham example above. You paid $187,400 and took out a renovation loan at 12% interest for the repairs. Your rough monthly payments for this financing could be around $1,200.
Repairs cost $5,000 more than expected and it takes longer to get the house on the market, so you've now paid four months of payments instead of two. Then it takes five months to sell the house when you'd budgeted for three. Your numbers now look like this;
Purchase loan $187,140
Renovation loan $30,000
Estimated payments $10,800
Extra repairs $5,000
Closing costs of 2% $6,204
That nets you profit of $71,056, instead of what you'd planned on of $80,856. It's still a profit, but if anything else goes wrong you could watch your profits shrink even more. And it now took nine months to make that profit, too.
4 Best Cities in Oregon for House Flippers in 2019
Despite its high home values, Portland is still a good city for investors. More supply is emerging the market, which means more inventory for investors to choose from. The city is also utilizing private capital in two neglected districts, Pearl and the Central Eastside, to encourage growth and development. Investors could seize opportunities in those areas.
A coastal town, Astoria has the charm and simplicity of a small town. Median home values are $269,800, much cheaper than Portland, and rose 11.3% last year. Homes are listed at $309,000, however, and selling for a median value of $318,400, a nice premium over their value.
The largest city in Central Oregon, Bend's housing market presents investors with a lot of opportunity. Median home values are $439,100, a rise of 10.6% year over year, but the median price of listed homes is $510,000. In 2018, it was the fourth fastest-growing city in the United States.
Eugene's home values rose 7.3% last year, and Zillow thinks they'll rise another 4.5% in 2019. The median home value is $310,200, but the median price of sold homes is $324,500. Its population has been steadily increasing, which has driven the increase in housing demand.
Next Steps for Oregon House Flippers
The risks of house flipping are commensurate with the rewards. Novice house flippers should work with an experienced agent to help them calculate an investment's return.
Clever Partner Agents work for much less than a realtor's typical commission, so you get the highest possible margin on your flip. They still offer full-service and will market your property to get you the best price and guide it through a smooth sales process. If you're ready to learn more about flipping houses in Oregon, contact Clever today to be put in touch with one of our expert agents.
Related Articles
You May Also Like