North Carolina is a flipper's dream. Several of its cities have ranked high on national flipping hotspot lists. It may sounds easy, but not doing your research could lose you thousands of dollars. Here's everything you need to know about flipping houses in North Carolina.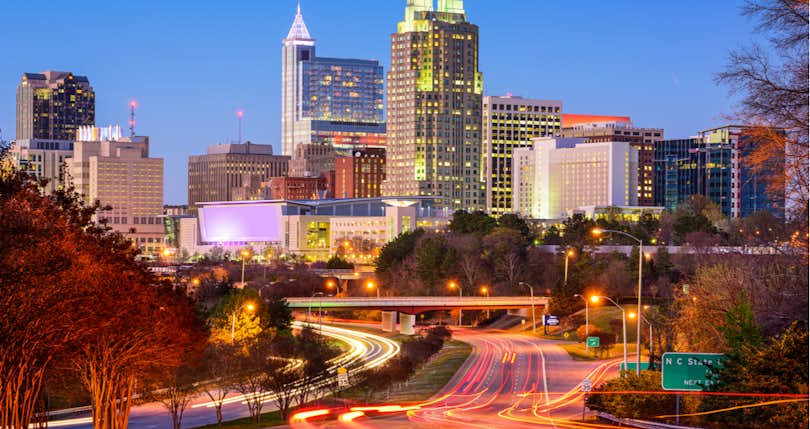 Real estate investing can often build wealth quicker than traditional routes like stocks. Flipping is just one of several ways to invest in property, but a great option as long as you know what you're doing.
"Flippers" purchase a fixer-upper at a price well below market value, make needed repairs and sell for a profit. This may sound like easy money, but it's a lot trickier than you might think. If you haven't done your research and pay too much for the property, underestimate needed repairs, or overestimate your ultimate selling price, you "cash cow" could end up costing you thousands. Here are a few considerations you need to take into about if you're trying your hand at flipping in North Carolina.
2019 North Carolina Housing Market Analysis
By all accounts, the North Carolina housing market is hot. According to Zillow, the median home value statewide is $183,400 and values have gone up 8.5% over the past year. Median listing price is $264,864 and several of the larger cities in the state are often featured in national real estate hotspot lists.
Home values and pricing can fluctuate significantly region to region, city to city or even neighborhood to neighborhood in North Carolina. For example, Raleigh has a median home value of $266,300, according to Zillow. However, Goldsboro — just an hour outside the city — has a median home value of only $86,000.
This wide range emphasizes the importance of finding an experienced, local real estate agent who knows your market of choice inside and out to help you find an investment property.
How to Tell if a North Carolina Property is a Good Investment
Purchase price is the most important decision when buying a North Carolina home to flip. Since the location of a property is one of the few things you can't change, opt for the cheapest house on the street in a great neighborhood.
After you've chosen an area in which to invest, run the numbers. Determine the current condition of the home and the cost of any repairs you'll need to do. Then, a comparative market analysis to estimate the amount you expect to get from a buyer when you sell the home and account for any closing costs. The difference between the two should be the profit you'll make on your investment.
Since valuing a home and estimating repairs is an inexact science, lean on an expert to guide you through assessing prospective investment properties, especially if you're a novice house flipper.
How to Turn a Profit When Flipping a North Carolina House
Experienced flippers use to 70% rules to make sure they get enough return on their investment for the time and energy they put into a flip. They also use this rule to analyze a home's profitability and determine how much they're willing to pay for a fixer-upper.
Investors shouldn't pay more than 70% of the after-repair value (ARV) of the home after the cost of needed repairs. We'll use the median home value in North Carolina as our example.
If the home is worth $183,000 after repairs and you'll need to pay $40,000 for those repairs, you'll want to pay no more than $88,100.
$183,000 (ARV) x 70% = $128,100 - $40,000 (repairs) = $88,100
The 70% rule is an incredibly simplified guide for assessing a property. Other factors may play into your purchase, including the time of year — buying a home in the summer means it may be winter before you've made repairs and are ready to list. However, you'll likely sell for a lower price in the winter than you would in spring, for example.
The average time to flip a house in North Carolina is 180 days, so you'll also want to factor in payments you'll need to make during this time, like property taxes, utilities, liability insurance, and any loan interest you're paying. These expenses can add up and are often overlooked by new investors.
Paying Cash vs. Taking Out a Loan
If you can afford cash, it is by far the most profitable and least stressful option for paying for a flip. If you finance the property, you're paying interest on the loan each day that passes. This may pressure you into taking a lower offer. If you pay with cash, you can wait out a slow market and get maximum selling price.
Consider the average North Carolina example above. You purchase a fixer-upper for $88,100 plus $5,000 in closing costs, and put in $40,000 for repairs. You're in it for $133,100 and finance it all. You list at $183,000 but the home sits on the market in the winter so you drop the price to $170,000. After the buyer's inspection you must put in another $5,000. You close a month later, 180 days after your first purchased it. You pay $3,000 in closing costs and end up paying $3,000 in interest and $3,000 for bills (insurance, property taxes, water, trash, etc.) in that six months. You make a profit of $22,900. If you would have paid cash and waited out the market, you could have gotten the full $183,000 asking price and avoided paying interest, making $38,900 in profit — $16,000 more!
If paying cash isn't a viable option for you, you can look at the following financing options:
Home Equity Lines of Credit
Home equity lines of credit (HELOCs) are similar to a credit card, but use a home's equity you as collateral. If you are flipping a house, you won't have any equity built up yet so you would need to use your personal residence or another property you own as the collateral. This can be risky, especially if it's your family's residence. Failing to make the payment could result in your losing your home through a foreclosure. Interest rates of HELOCs are also variable, meaning they could increase at any time.
Home Equity Loans
A home equity loan (HEL) is similar to a HELOC but payments are more like a mortgage — a fixed interest rate and a fixed monthly payment. Traditional mortgages aren't typically used for flips since lenders like to loan out at just 80% loan-to-value (LTV). Plus, you'll need extra money to fund needed repairs in order to list the house again.
Traditional Mortgage
If your personal residence is fully paid off, a traditional mortgage could be an option for financing a flip. But just like a HELOC, this can be risky as it uses your current home as collateral. More experienced investors also look at private loans through family, friends, or hard money lenders.
If you're looking to finance a flip, make sure you understand all the costs and risks associated so you don't fall into the trap of a negative return on your investment (ROI). Loans often come with strict terms and conditions and additional closing costs or fees.
5 Best Cities in North Carolina for House Flippers in 2019
Raleigh
Median home value in Raleigh is $266,300, with an annual increase of 6.9%. Median list price is $319,000. A study this year by realtor.com rated Raleigh as the best city for flipping in the U.S and found a difference between purchase and sales price as 32%.
Charlotte
Charlotte was ranked by realtor.com as the second best city for flipping and the average difference between purchase and sales price was 36%. New jobs are bringing homebuyers to the area. Median home value in Charlotte is $207,600 and have gone up 9.8% in the past year. Median list price is $296,500.
Durham
In 2017, Durham had the highest rate on return in the state for flippers, but the market is still hot. The median home value in Durham is $242,100 and values have risen 7.4% over the past year. Median list price is $342,600.
Greenboro
The median home value in Greensboro is $134,500 and have increased 8.1% over the past year. Median list price is $185,000. Given it's low entry cost, this would be a great city to invest in for a flipper with limited capital.
Winston-Salem
Another great market for new flip investors is Winston-Salem. Median home value is just $144,100 and has increased at an annual rate of 6%. Median list price is $194,900.
Next Steps for North Carolina House Flippers
If you're looking to buy a flip in North Carolina, work with an experienced agent who can help you properly time your purchase and your sale, and ensure your purchasing in a neighborhood with the highest return.
Clever Partner Agents are also able to offer on-demand showings — sometimes in less than an hour — so you know you won't miss out on a good property. Speed is key in finding a good flip deal.
When it's time to sell, Clever Agents also work for a fraction of the typical commission rate — for a flat rate of just $3,000 if the house sells for less than $350,000. This helps you maintain the highest possible margin on your flip while also bringing in a great price and ensuring the sale goes through without a hitch.
Related Articles
You May Also Like