Flipping homes in Kentucky can lead to large profits in a small amount of time, but it's not without risk. There are many factors to consider, such as where to purchase and how to finance your investment. This guide will walk you through all the key house flipping considerations for Kentucky homes.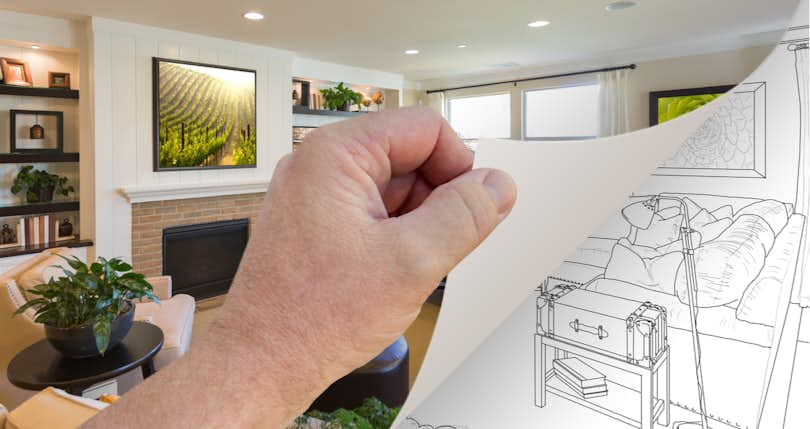 Flipping homes can be a rewarding real estate investment strategy — but it's trickier than it may seem. As far as real estate investments go, flipping homes is one of the riskiest forms of investing. However, when done correctly, it can also bring the greatest reward.
In general, flipping a home can help investors turn a quick profit if they are well-prepared, understand the market, and purchase the right property. Investors in Kentucky looking to flip homes will need to have a solid understanding of market trends in order to be successful.
Before jumping into flipping homes in Kentucky, use this guide to ensure you're as prepared as possible.
2019 Kentucky Housing Market Analysis
Knowing the average price points for homes on the market in Kentucky is important for potential investors, home flippers, especially. Across the state right now, the market in Kentucky is hot, favoring sellers over buyers.
According to Zillow data, the average home value in the Bluegrass State is $144,800, and expected to increase by 2.4% over the next year. The average listing price in Kentucky right now is $192,900, though it's important to note that prices can vary greatly across the state.
For instance, right now in Louisville, the market is hotter than the state average, with median home values as high as $159,800 and the potential to increase another 1.9% this year. Median listing prices are also higher than the state average at $215,000.
In Frankfort, however, the market is only slightly warm, with median home values averaging $135,700 — well below the state's average. Median listing prices are also fairly low, at $165,000.
It's important for potential investors looking to flip homes to partner with a local real estate agent who can offer insight into local markets and help investors make smart buying, renovating, and selling decisions.
Want to get started in flipping homes in Kentucky?
Let Clever Partner Agent find you a great investment property.
How to Tell if a Kentucky Property Is a Good Investment
One of the most important decisions you'll need to make when flipping a home is where to buy property in Kentucky. While it's often tempting to purchase the first cheap property in decent condition that you find, knowing how the local market is doing will help you make smarter decisions that will minimize your investment risk.
For starters, investors in Kentucky should look for affordable homes in hot areas of the state, like Louisville, Lexington, or even Paducah, where the market is warm but homes are selling for higher than their value. Finding the cheapest home in a hot market will improve your chances of reselling the property for a profit.
It's important to search for homes listed above value in your local market to see what features local buyers are interested in. This will give you an idea of what updates to make. In Kentucky, many city dwellers are more interested in location than specific features, but homes with 1.5 to 2 bathrooms, for instance, might be in larger demand than those with only one.
Your agent can help you better determine what features help a home sell more quickly, depending on the specific market area. You can then either search for affordable homes in need of repair that have these features or try to include them in your renovation plans.
How to Turn a Profit When Flipping a Kentucky House
The ultimate goal of anyone flipping a home in Kentucky is to produce a sizeable ROI. Planning ahead to ensure you can afford the home, renovations, and are likely to turn a profit quickly are all important when purchasing an investment property.
But how can a would-be home flipper ensure they're able to generate ROI before purchasing a property? The most recommended strategy is the 70% rule. This rule helps investors better judge if an investment property is worth flipping.
Understanding the 70% Rule
The 70% rule states that investors should pay only 70% or less of the after repair value (ARV) minus the costs of renovations and repairs. This formula can help reduce risk on investment properties.
Let's take a look at a real life example for the median listing property in Louisville: $215,000.
If your home's ARV is $215,000 and requires $40,000 in repairs, you shouldn't pay more than $110,500 for the property.
$215,000 x 70% = $150,500 - $40,000 = $110,500
You can help determine what your ARV will be by researching similar properties in good condition and using the median listing price in your city as a guide. You'll also need to partner with a good contractor or repair company to estimate your repair costs. Your agent should also be able to help you determine your ARV and decide if a home is a good investment for flipping.
Other Factors to Consider
Even if a home is likely to generate a profit, it's important to estimate not only how long the flipping process will take, but how long the home sale will take. Since your ROI depends on the home sale, it's important to predict how long you'll wait without seeing a profit.
It's estimated that homes being flipped across the country take an average of 180 days to complete the process. This number will vary depending on your specific market but is a good guideline to keep in mind when planning your budget.
If you're flipping a home in Louisville, for instance, it's important to note that homes sit on the market for an average of 65 days. While this process can often go more quickly with the aid of a good agent if your home takes 65 days to purchase and 65 days to sell, that will leave you with only 50 days to make all necessary repairs if you want to complete the process in 180 days.
Planning accordingly will help you stay on track financially.
Paying Cash vs. Taking Out a Loan
When it comes to deciding on the best way to finance a property, paying in cash will always yield a greater reward that taking out a loan. There's always the risk that renovations go long and if you need to borrow more money, it can potentially lose your ROI.
When unexpected repairs pop up, you not only have to pay more money up front and take out additional financing, you also pay more in interest and extend your flipping period.
This can lead to your home sitting on the market longer, and you'll likely have to decrease the listing price. If this happens, your $215,000 listed home, might drop to $195,000. While this may still seem okay at first glance, here's how everything adds up:
Purchase loan amount - $110,500
Renovation loan amount - $50,000
Interest paid over four months - $8,620
Repairs - $8,000
Closing Costs, $15,000
This leaves you with only a $2,880 profit after months of work!
Of course, there are scenarios where you can make better money by using a loan, but it's always riskier. When using cash, you can leave your home on the market longer, without incurring interest fees and if you sold your home for $205,000 you'd earn a profit of $21,500 instead.
If you do decide to finance your investment property, you should learn more about home equity loans and lines of credit (HELs and HELOCs) as well as potential mortgage options from your real estate agent.
Best Cities in Kentucky for House Flippers in 2019
Since it was determined that it's best to find investment properties in areas that are hot right now, it's good to know which cities in Kentucky are experiencing the hottest markets. Here are the top five areas to flip properties in Kentucky in 2019.
Louisville
This well known Kentucky city is experiencing a very hot market, hotter than the statewide average, with prices well above state averages and expected to keep increasing.
Median Home Value = $159,800
Median Listing Price = $215,000
Projected Home Value Growth = 1.9%
Lexington
Another top city in the Bluegrass State experiencing a hot market is Lexington. Home values have risen by 5.2% over the past year and are projected to continue going up.
Median Home Value = $183,300
Median Listing Price = $259,000
Projected Home Value Growth = 2.9%
Richmond
Though Richmond is a little less widely known, the market is very hot right now, favoring buyers. Home values have increased by 4% over the past year and are expected to continue increasing.
Median Home Value = $172,500
Median Listing Price = $182,500
Projected Home Value Growth = 1.7%
Florence
Another Kentucky city experiencing a real estate market boom is Florence. This city saw a huge increase in home values of 9.8% over the past year and values are predicted to continue increasing.
Median Home Value = $162,500
Median Listing Price = $189,900
Projected Home Value Growth = 4.4%
Nicholasville
This city in Kentucky has a hot seller's market right now, home values have increased by 8.5% over the past year, and the trend expected to continue throughout 2019.
Median Home Value = $160,100
Median Listing Price = $259,950
Projected Home Value Growth = 4.9%
Next Steps for Kentucky House Flippers
Flipping homes can be a great way for investors to turn a quick, substantial profit, though it's not without risk. If you're looking to start flipping homes in Kentucky, it's important to team up with an experienced, local investment agent.
If you don't already have a local real estate agent, Clever can help. Clever Partner Agents are top-rated, experienced full-service agents who can help you both buy and sell your Kentucky property. Clever Partner Agents can help you find the perfect property in your ideal location.
Best of all, when it comes time to sell your property, Clever Partner Agents only charge $3,500 or a 1.5% listing commission on homes over $350,000, as opposed to the traditional 3%. If you're selling your home for $215,000, you'll only pay your agent $3,500, as opposed to $6,450, saving $2,950.
Related Articles
You May Also Like