Is Kansas a good market for house flippers? And where should they invest? Our article has an overview of the Kansas housing market, including price appreciation trends and the best cities for investment, with information on the numbers you should know to get the best deal.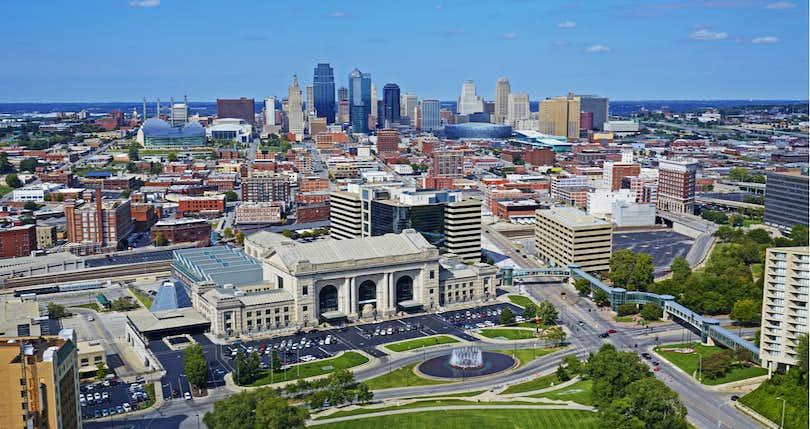 Have you dreamed about joining the ranks of house flippers cashing in on amazing profits? Successfully flipping houses has more pitfalls than you might think, so it's a good idea to do your research beforehand.
Repairs can cost more than anticipated, the local economy could crash, or a builder could erect new homes just down the block. Any delay in selling the house once it's ready to list also adds additional loan payments to your costs, which eats into your profits.
It's hard to predict everything that could go wrong when flipping a house in Kansas, which is why you want to consult with experts when deciding to enter the business. Put together a team of professionals before you buy an investment. A realtor can help you find potential properties while you're also shopping around for a loan officer and contractors.
2019 Kansas Housing Market Analysis
The median home value for homes in Kansas is $140,700. They've risen 6.8% in the last year and might rise another 3.2% in 2019.
Digging deeper, beyond the statewide metric, the home values in different areas can help you focus your house flipping search.
In Topeka, the median home value is $112,200, which was a rise of 6.8% year-over-year. Homes in Kansas City have a slightly lower median home value, at $103,200, but values grew 14.5% last year and are expected to grow another 9.3% this year. Wichita home values are at $128,000 after rising 6.7% in 2018. Where you decide to invest in Kansas will affect how much money you'll need up front and your potential profits, so choose wisely.
Before deciding on a city, partner with an experienced, local agent who can provide insight into the best cities and neighborhoods for investment.
How to Tell if a Kansas Property is a Good Investment
When looking at homes for potential flips keep in mind that you want to pay under market value for the home and try to stick to a house that only needs cosmetic repairs.
Start by looking for underpriced homes in an area where the overall housing stock is priced much higher. Then analyze the home's condition and potential repairs. Try to avoid homes needing structural repairs such as roof or foundation work, no matter how cheaply the home is priced. Unless you're an expert, it's difficult to predict their eventual cost or how long those repairs will take. You want to find a home that primarily needs cosmetic repairs.
After your Clever Partner Agent prepares a free comparative market analysis on nearby homes, you can sit down together and determine if the house is a good investment. The data compiled in the CMA on recent home sales and how quickly they sold can help when planning your potential timeline and profit. Experienced real estate agents know how to help novice flippers make sound investment decisions.
How to Turn a Profit When Flipping a Kansas House
Memorize and internalize the calculations for the 70% rule and return on investment. They're two of the most important metrics when deciding on a potential flip. Similar to purchasing stock, you want a clear picture of the financial picture before buying.
The 70% rule is used by many real estate investors to guide the decision to buy a flip. According to the rule, never pay more than 70% of the home's after repair value or ARV less the cost of repairs when buying a home to flip.
If a home in Topeka is worth $112,200 after repairs, multiply it by .70 to get $78,540. Then deduct an estimate of $15,000 for repairs, and you'll have $63,540. According to the 70% rule that is the most you should pay for the home.
Written out as an equation, this would be $112,200 (ARV) x 0.70 = $78,540 – $15,000 (repairs) = $62,540.
If you can't buy an investment property at a price that fits the 70% rule, look at other properties or neighborhoods. No matter what the homes in the neighborhood are selling for, you need to protect your profit margin.
The other good ratio that every investor should know is your return on investment or ROI. The percentage expresses the amount generated by the money you've invested. Calculate it by taking the current value of the investment and subtracting its cost, and then divide the remaining amount dividing by the investment's cost.
With the hypothetical house in Topeka, it would be $112,200 less the cost of $98,540 for the mortgage and repairs, divided by the $98,540 for an ROI of 14%. Once you start calculating ROI on specific properties, you'll have to add in realtor's commissions, closing costs, and any loan payments during the months you hold the house to your expenses. To cut some of those expenses, work with a low-commission realtor when selling the house.
Paying Cash vs. Taking Out a Loan
Before you can start ripping up old carpet and painting the walls, you need to buy the property. Financing options for house flippers range from traditional mortgages and HELOCs through banks to loan products designed for house flipping. Each of them will have a different impact on your deal, so be sure you understand their terms.
Hard money and alternative lenders primarily offer fix and flip loans, though some banks will grant them to experienced flippers. Fix and flip loans are short-term, often interest-only loans, intended to cover the period you repair the home and a few months to sell. They have higher rates than traditional mortgages, starting at 12% and going up from there.
If you want to borrow from a bank or traditional lenders, you'll need to have excellent credit and cash for a down payment. They'll offer mortgages and home equity lines of credit on flips but it can take months to be approved for a bank loan. By that time, another flipper could have bought the property. Mortgages and HELOCs for a flip will require at least a 20% down payment, if not more. The bank could ask you to pay interest upfront, making the deal unprofitable.
The best pay to buy a house to flip is to pay cash. Market conditions can shift while you're fixing up a house, but if you paid cash you can afford to hold onto it until the market is once more in your favor. If the due date is coming for your fix and flip loan, you could feel pressured to sell at a loss just to satisfy your lender.
Taking out a loan increases your investment's risk. If you purchased that house in the Topeka example above for $98,540 in a mortgage and with a renovation loan your rough monthly payments could be around $900.
If things go wrong and repairs cost $5,000 more than expected it will also delay the time until you can list the house, so you've now paid four months of payments instead of two. Then what if it takes six months to sell the house when you'd budgeted for three. Your numbers on the house now look like this;
Purchase loan $78,540
Renovation loan $15,000
Estimated payments $9,000
Extra repairs $5,000
Closing costs of 2% = $2,244
You'll still make a profit of $2,416, but if nothing had gone wrong you would have realized a profit of roughly $11,916. Not many people would consider this a great paycheck for ten months of work. Knowing and monitoring your numbers is the key to success in house flipping.
3 Best Cities in Kansas for House Flippers in 2019
Kansas City made the list of top places to invest for real estate investors in 2019, due to its population growth and fewer new housing projects. Home values grew a lot last year, and will continue to grow, but are still quite affordable for investors. The home flipping rate in Kansas City has grown in recent years, but there is still room in the market.
Wichita's home values have also been rising, and it ranked 25th cheapest out of 170 cities for remodeling and repair costs, with one being the cheapest.
Overland Park made the same list of best places to flip in 2019, though repair costs are higher. Median home values, which rose 7.7% in 2018, are $319,600 so it's a more expensive market for a flipper to enter.
Next Steps for Kansan House Flippers
Talk to an experienced agent to get advice and help calculating an investment's return and shopping for flips. Even if you've bought your own residence, it's a different experience.
Clever Partner Agents work for less than a realtor's typical commission so that you get the highest possible margin on your investment. But you don't sacrifice service when working with them, as they are full-service agents ready to market your flip and get you the best price. If you're ready to learn more about flipping houses in Kansas,contact Clever today and we'll put you in touch with a local agent.