The Georgia housing market is desirable, and would-be house flippers who want to invest in the area have a good reason to do so. But being prepared is critical for a successful flip. Here's what you need to know before you start flipping houses in Georgia.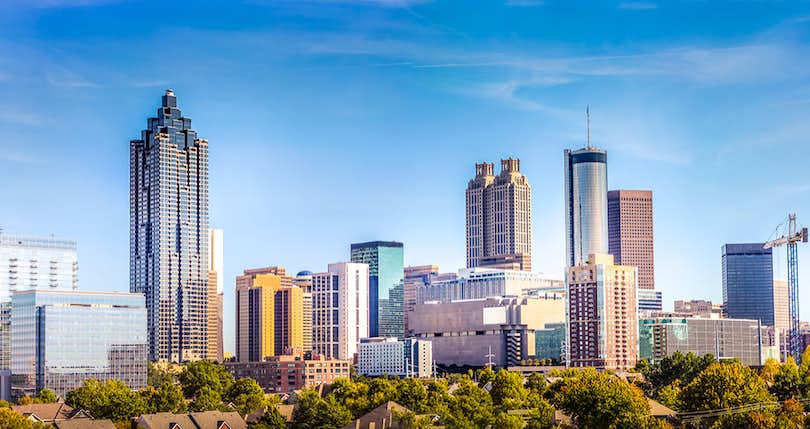 House flipping is a popular trend in real estate development and the investment world. Flipping a home typically entails purchasing a property at a low cost, quickly conducting any necessary repairs, and reselling it for a profit.
It can be a lucrative business opportunity for some, and many people are so adept at this type of investment that they've made it a career. However, you can also end up losing a lot of money if you're not careful.
While this type of investment carries more inherent risk than others, you can still turn a quick profit and have a positive experience flipping your first house. The key is to be prepared. Here are just a few of the considerations you should take into account if you're thinking about trying your hand at house flipping.
2019 Georgia Housing Market Analysis
The outlook for those looking to purchase homes in Georgia, especially investment homes, is strong. The median home value in the state is $187,700, with a median listing price of $252,000 and a median sale price of $186,700. With so many homes selling at prices close to the median value, it's a good sign that you should be able to turn a profit if you're careful about how you purchase the property you wish to flip.
While these are median figures, it's also important to note that values vary from region to region. Top tier properties in Georgia have a home value of around $357,000 while the lowest tier shows values of around $199,400. That's a dramatic difference, meaning your investment decisions will be different, too.
It's important for any prospective house flipper to work closely with an experienced,local real estate agent who knows the market inside and out and can help you make the best possible decisions.
How to Tell if a Georgia Property is a Good Investment
There are many important things to look for when determining if a property is a good investment or not.
First, it's important to check for any liens or zoning issues. For most savvy investors, the existence of either of these makes the property a no go.
Second, be sure to keep a realistic set of goals and expectations. Don't expect a television-style renovation that seem effortless. It's hard work and it's best to start with a smaller property and build your portfolio from there. Be conservative, gain experience, and then go for bigger fish.
Third, if you can get a selling price below the county value assessment, you'll almost be guaranteed a profit. The fair market value of a home is the county's appraisal value plus 10-20%, so buying below that value is a good bet.
Finally, look for general indications of a desirable neighborhood such as good school districts, quiet areas (or areas with an atmosphere that suits your target buyer), and low crime rates.
In Georgia specifically, it's important to have a thorough inspection done on any home you plan to purchase. With the extreme weather and hurricanes that Georgia often sees, it's easy to find homes with rot, mold, and mildew.
Homes that have stucco are even more susceptible to hidden damage because stucco doesn't show this kind of damage until it's already destroyed much of the structure underneath. Always hire an inspector before investing to avoid losing your profit to renovations.
The current condition, cost of repairs, and comparative market value are also important to weigh.
There's a lot to take into consideration, so you'll definitely want to partner with an experienced local real estate agent who is knowledgeable of flipping houses in the area.
How to Turn a Profit When Flipping a Georgia House
There are many ways to turn a profit, and while none of them is a guarantee, it's helpful to follow some best practices. Doing so can put you ahead of the game and help you gain a competitive advantage.
Learn Your Market
Do the research necessary to understand what people in your chosen Georgia market are looking for. Partnering with a real estate agent who has experience in the area can help you get on the fast track. They already know the market, they know what your buyers want, and they can help you make data-based decisions.
You can't afford to speculate in an investment like this.
Know Your Financial Options
Be sure to plan your finances when you're preparing to flip a home. Understand your financing options, as well. More about that in the next section.
Follow the 70% Rule
In house flipping, there's a rule that helps you understand what you can afford to spend on a property. It's called the 70% rule, and it goes like this.
Investors shouldn't pay any more than 70% of the property's after repair value (ARV) less the costs of repairs to acquire a property.
The formula looks like this: Max Investment = ARV(0.70) — Repairs
In Atlanta, the median home value is $281,000. If you plug that into the formula, you can get a decent estimate on what you'd typically be looking to spend on an investment property to flip. Let's assume the repair costs are $25,000.
$281,000(0.70) — $25,000 = $171,700
The maximum you'd want to spend on a property with these metrics is $171,700.
Understanding this rule can help you budget and help ensure you're not going to end up with a negative ROI.
Other Considerations
Make sure you leave time for all the phases of the flipping process. Consider how much time you'll need for repair, the average time required to flip (about 150 to 190 days), and other similar factors. Also, make sure to take the time to understand your financing options.
Paying Cash vs. Taking Out a Loan
There are many options for financing your initial purchase once you find a house you want to flip. Cash is an option, but so is using the equity in your home to obtain financing.
Home Equity Line of Credit (HELOC)
When you apply for a HELOC, you're asking to borrow from the equity in your home by means of a flexible credit line. You can use this credit line to finance your initial investments, repairs, and other expenses as they come up.
The flexibility of being able to tap into the credit line so long as you haven't maxed it out is beneficial for renovation projects since you often don't know how much you'll need until you start.
Home Equity Loan (HEL)
A home equity loan is similar to a home equity line of credit except that instead of taking out a credit line, you're only taking out a fixed amount. This can be a good financing option for a down payment since you'll know exactly how much you need to take out.
Cash Still Wins
That being said, cash is by far the safest option of financing for house flippers. Flipping homes is inherently risky as an investment, and adding debt to the equation just heightens that risk. You can use a loan, but you have to know both the loan terms and your own financial situation inside and out in order to avoid winding up with a negative ROI or substantial loss.
5 Best Cities in Georgia for House Flippers in 2019
If you're ready to get started but are unsure of where to begin your search, you're not alone. While the options are plenty, here are five of the best cities to start your property search in 2019.
Atlanta
Atlanta is gaining residents at two times the speed of most US cities, which means there will be plenty of people looking for a home once you're ready to sell. It's still an affordable city, though, which is also in your favor on both the buying and selling fronts. The median sale price for homes in Atlanta is $224,100, and the Year-over-Year sale price growth is 9.7%.
Columbus
Another growing Georgia market, Columbus has a one-year growth forecast of 6.2% and has seen 15.3% growth in the last year alone. The median home value is $94,200, and the median listing price in the area is $109,900.
Savannah
In this lovely and historic city, the market has seen a growth of 8.1% in the last year and is projected to grow another 6.3% in the coming year. The median home value is $136,000 with a median list price of $220,272 and a median sale price of $172,200.
Gainesville
Another city with a rich history and southern charm, Gainesville is also a growing market that prospective flippers can benefit from. It's grown 6.6% in the last year and is forecasted to grow another 6.2% in the next. The median home value is $182,900, the median list price is $299,925, and the median sale price is $202,700.
Marietta
Finally, the city of Marietta is a great place to find a property to flip. With a rich and vibrant community and many of the amenities that home buyers seek, you have a good chance of selling your property in a decent amount of time. It's seen a 7.4% growth in the last year and is projected to grow another 5.6% in the coming year. The median home value here is $287,700 with a median list price of $349,000 and a median sale price of $275,500.
Next Steps for Georgia House Flippers
There are many critical decisions you have to make when you're looking to purchase a home to flip. Investing in real estate is a viable option for many, but it takes skill and knowledge in order to make a smart investment that will end in success.
Given that house flipping is a high-risk investment, it's important to partner with an experienced real estate agent in order to make sure you have the best chance of success.
Clever Can Help
When it comes time to sell, Clever Partner Agents can work with you and guide you through the entire process. Particularly beneficial is the fact that Partner Agents work for a fraction of the typical commission rate, which helps you maintain the highest possible margin on your flip. They can also work with you to help you bring in the best price and make sure the sale goes through without a hitch.
Related Articles
You May Also Like