Investment opportunities to flip homes can be plentiful in the right Alabama cities. As long as you carefully select properties in key neighborhoods and accurately identify and budget your cots, you can make a healthy profit flipping homes in Alabama.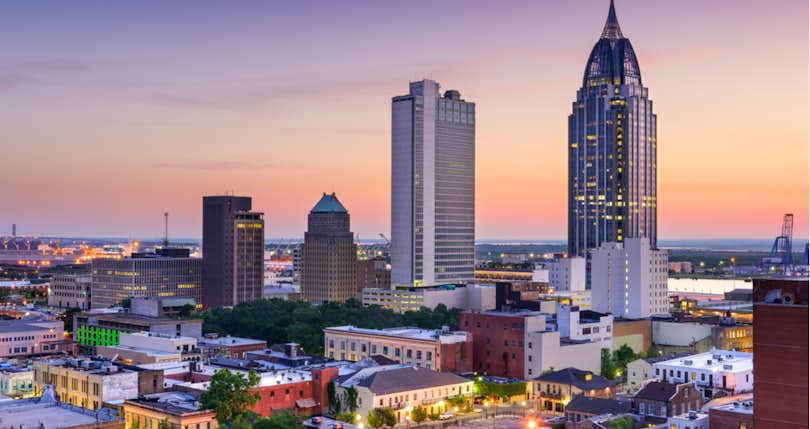 Flipping houses is one way many get started investing in real estate, and has the potential to be a lucrative business in Alabama. The state has many older towns and growing metros with existing housing stock that would benefit from renovation and repair. If you can learn to identify the right opportunities, you can make a healthy profit flipping homes here.
However, real estate markets are highly localized, and Alabama is no exception. Paying attention to current market conditions, and knowing how to act quickly will be a big part in recognizing a profit or a loss.
2019 Alabama Housing Market Analysis
Homes in Alabama grew saw their values rise just over 5% in 2018, and are expected to go up another 2.5% in 2019. However, these projects vary across the state, and show how localized housing markets are.
Tuscaloosa, home to the University of Alabama, saw almost double the growth. Home values went up 8.6% last year, and should increase another 5.5% in 2019. However, in smaller metro areas, like Huntsville, expected growth is less than 1% in the coming year.
Alabama grew by over 44,000 jobs in 2018 and is hoping to see similar growth in the next year. The economy expanded by 2.2% over, and particularly strength was seen in the manufacturing and a growing tech industry.
Honda, Mazda, and Airbus all expanded operations in Alabama and created jobs along with investing billions of dollars in new facilities. In fact, Alabama is on pace to be the second largest vehicle manufacturing in the United States in the next few years.
To fully understand what is happening in these local markets, get the latest inventory reports, and to uncover investment opportunities you should always partner with an experienced, local real estate agent. They will know the local market inside and out, and be able to walk you through every step of the way through the transaction.
How to Tell if an Alabama Property is a Good Investment
After considering the overall economic and housing market trends in Alabama, you probably will want to focus on a few specific local markets to find prospective properties. Not every market will present the same type of opportunities.
In a general sense though, knowing if a property is a good investment to flip comes down to several key factors.
Stay away from markets with lots of inventory, and listings that have been active for a long time. These are going to take more time to flip, and when flipping time is money, so always look for neighborhoods where homes are selling quick.
With that said, even when markets are lackluster there are things that can be done to make an investment property sell faster. Looking for homes that are significantly priced below recent sales in the neighborhood is one way to identify potential value. You will likely need to do a quick comparative market analysis to get a good idea of what these properties are.
Once you identify properties that are selling below market value, you can evaluate the desirability of the neighborhood. The golden rule of house flipping is finding a good neighborhood. While recent transactions and sales prices are a good idea of how neighborhoods are valued, you will want to look into other factors, such as the quality of schools.
The next step, and an important skill to quickly master, is identifying how much you will need to spend on improvements and renovations, and how long they will take. Learn which improvements will add the most value and how likely it is to attract buyers. For example, simply adding air conditioning and energy efficient upgrades to a home can quickly increase value for those wanting to avoid hot and humid Alabama summers.
Lastly, finding a trusted contractor or repairman can be difficult if you are new to the area, local zoning code and regulations vary from city to city, and market trends are constantly shifting. Working with an agent or contractor you trust can help you be prepared for problems that may arise.
How to Turn a Profit When Flipping an Alabama House
Turning a profit from your home flip can be quite lucrative if you account for all the steps and their potential cost. In today's maturing housing market it can be more difficult, but even in a down market, a well capitalized investor can make a great profit.
Knowing the cost of acquisition, renovation, and properly estimating your finished listing price are the three most important estimates when deciding to flip a home. By working backwards, we can estimate how much we should be able to make.
For example, the median listing price in Huntsville, one of Alabama's fastest growing cities, is around $257,000. By taking this number we can follow the general rule of thumb that you should never pay more than 70% of the after repair value for a home.
So, if we expect we can get the market price of $257,000 for our flipped home, we shouldn't pay more than $180,000 for our initial acquisition. But, we also need to account for the money we will spend repairing the home.
There may be a wide range of repairs necessary depending on the current state of the home, but let's assume we will spend $30,000 fixing up the home. That should also be deducted, leaving our purchase price at $150,000.
It won't be hard to find homes at that price point in the Huntsville area, but remember you will want to compare the purchase price to comparable sales in the same neighborhood. Then you can run your own calculation.
Also, homes being sold for bargain-basement prices aren't always a sign of a good investment. Carefully evaluate which repairs are necessary, and which repairs add value. Avoid houses with mold or that need substantial electrical, roofing, or foundation work, as these repairs can be quite expensive.
A few other tips to be aware of include properly accounting for permitting and building costs in the city you invest in. These can be expensive and could take time to obtain.
Paying Cash vs. Taking Out a Loan
Having access to cash will also help you maintain the 70% cushion on your investment. Relying on a loan, or other types of financing, for the purchase and repairs, can quickly decrease the profit on your flip. Having cash allows you to avoid financing costs, mortgage payments, and any other closing costs or fees that could occur.
If you took out a loan for the $150,000 purchase price and the $30,000 repair costs, you will be making loan payments until the home is sold. A small 5% down payment on the home comes out to $7,500, but if you also have to finance the construction costs you'll likely be required to put 20-25% down. That is an extra $37,500 in cash you will need to have.
Unfortunately, repairs never seem to get done on time or under budget, so that $30,000 is also likely to go up another 20%. That extra time also means paying the mortgage for a longer amount of time than anticipated, and worse, potentially missing a seller's market.
Once you factor in property taxes, utilities, building permits, and other payments associated with flipping a home in Alabama, along with closing costs on both transactions, home insurance, realtor commissions, and taxes you could miss out on your entire profit.
Now all of a sudden that return on investment has shrunk greatly. If that 30% profit all of a sudden gets cut in half, it may not be worth your time. Having cash can help save on all of these costs, and keep as much of the profit in your pocket as possible.
If you don't have access to all cash to flip homes, there are still some alternative ways to finance your flip. A home equity line of credit (HELOC), or home equity loan, is one popular way to get access to finance at an affordable interest rate.
This is essentially a line of credit taken out on the home, or sometimes another property, you already own. However, you need to do your due diligence on your flip, because the credit on a HELOC is limited and if you exceed your budget you will need to find other financing.
5 Best Cities in Alabama for House Flippers in 2019
Huntsville is one of the fastest growing cities in Alabama, and has a history as a manufacturing and industrial center. Over $4.1 billion in job growth is expected to be injected into the greater Huntsville area in the next few years, and for a region that has a cost of living below the national average, opportunities for investment should be plenty.
>>MORE: Top Huntsville, AL investor agents
Birmingham is another area that has been known for manufacturing success, but recently has become known for high tech growth. Amazon has recently expanded there, and several startups, most notably Shipt, have grown quite rapidly and have been the target of large acquisitions.
>>MORE: Top Birmingham, AL investor agents
Tuscaloosa is also a target for real estate investors for entirely different reasons. The University of Alabama has 40,000 students and will always drive demand for rental housing. Opportunities abound for those interested in flipping houses to long term investors, or fixing up homes for professors, faculty, and other professionals who work there.
>>MORE: Top Tuscaloosa, AL investor agents
Hoover is one of the more expensive suburbs of Birmingham, but provides a more suburban style of living. Oak Mountain State Park is nearby and the local school districts are among the best in the state.
>>MORE: Top Hoover, AL investor agents
Mobile is known as a tough, blue collar city, but it has seen some of the largest gains in real estate over the past year in Alabama. Home values went up 8.4% annually and are expected to rise another 4.5% in 2019. Recent plants were also announced to dredge and expand the Port of Mobile, which should further boost economic activity in Mobile and throughout the state.
>>MORE: Top Mobile, AL investor agents
Next Steps for Alabama House Flippers
To get started flipping homes in Alabama you should first contact a local real estate agent. They will be able to help you identify investment properties to flip that fit your budget and preferences. An expert agent will have the latest trends on local markets, be able to update you on the current home inventory, and be able to connect you with quality contractors and home repair services.
Clever Partner Agents are from major name brand brokerages (RE/MAX, Keller Williams, and Century 21) and are experts in their local market. A Partner Agent will not only support and advise you during your transaction — they'll guide you through the entire investment process, from identifying properties to closing on your final sale.
Related Articles
You May Also Like