If you're looking to buy a home in Oklahoma, there is a very specific trend when it comes to home prices. During certain times of the year, the prices drop considerably. So, if you time your buy in Oklahoma, there's quite a lot of savings to be had. Read on to know how to capitalize on this trend.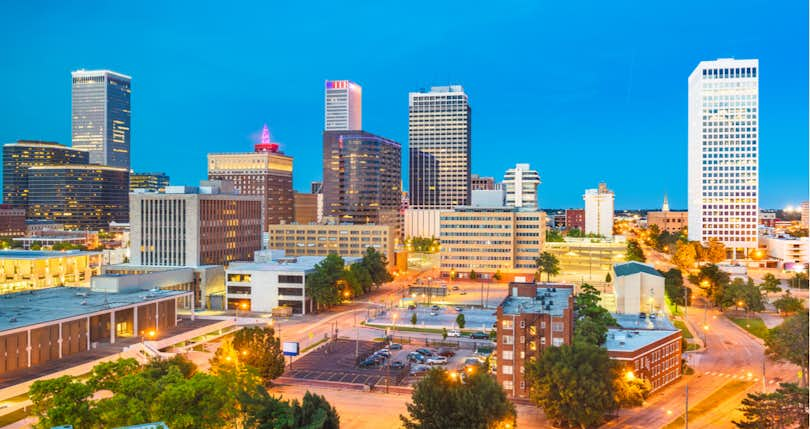 Buying a house is a stressful and emotional process. You'll likely have to spend weeks touring properties, fill out hundreds of forms, and invest a large chunk of your savings to secure the right house.
One way to make buying a house easier is starting the process at the right time. In Oklahoma, housing inventory, mortgage rates, and market trends vary from month to month.
For example, this year listing prices for homes in Oklahoma were lowest in February. On average, homes were $20,698 less expensive. While in July — the month with the highest prices — the listing prices were $14,717 more than the annual average.
In truth, the best time to buy a house really depends on your priorities and situation. Read on to find out which time of year will give you the most options and the biggest savings when buying a house in Oklahoma.
If you're interested in buying a home, the first step in your home buying journey is to find an experienced realtor who's an expert in your local market. The right agent can help you find the best house for your budget and priorities — and negotiate a winning offer so you don't lose out on your dream home.
The easiest way to find a great local realtor is to use a free service like Clever Real Estate. Clever matches home buyers like you with top agents in your area so you can compare your options and choose a realtor who's the right fit for you.
You can interview multiple agents until you find the perfect fit, or walk away at any time - Clever's service is 100% free with no obligation. Fill out the form below to instantly request hand-picked agent matches now!
👋 Find your perfect agent now!
Finding a great local realtor is the first step in making your home buying dreams a reality. Our free service matches you with top agents from trusted brands like Keller Williams and RE/MAX.
Enter your zip code to request hand-picked agent matches in minutes. Compare your options until you find the perfect fit, or walk away with no obligation. Try Clever's free service today!
What's the Best Time of the Year to Buy a Home in Oklahoma?
Obviously, when you're buying a home, you want to pay as little as possible. While there are a few exceptions, there is a clear trend when it comes to prices in Oklahoma. The best time to buy a home in Oklahoma is in the winter. Prices fall considerably during this time.
The months of November and December record the lowest home pricing in a year. If you're willing to brave the cold temperature when hunting for a house, there are very real profits to be made.
In December, before the year ends, every home seller will try to take advantage of the festivity season and offer massive discounts. You can even get a good home in some of the posher areas in Oklahoma at a lower price.
That being said, err on the side of comfort than on the side of price. Always consider your family needs and the proximity to the social amenities such as schools, hospitals, and shopping centers before you zero-in on a home and decide to buy it.
The best places to buy a home in Oklahoma
When looking for better deals as a home buyer, make sure you get your dream home within your budget. However, going for cheaper houses or discounted ones doesn't mean you should sacrifice your needs or some of your wants.
There are plenty of beautiful cities and neighborhoods in Oklahoma that balance comfort and prices effectively. In these places, you'll get everything that you want, at the prices that you want.
Edmond
If you want a house with a beautiful and spacious garden together with a private driveway, then you should consider buying one in Edmond. Here the homes range from 2-bedroom to 3-bedroom and you can buy a home at very reasonable prices.
Edmond offers the best locality for middle-class Americans, and it also hosts the best schools and shopping centers.
Jenks
Jenks is also another place you might have on your radar, considering that it's close to Tulsa's Airport (popularly known as the Richard Lloyd Jones Airport). This is among the most economically active areas with many businesses in this area.
The average home price here is about $200,000, but you can negotiate and get a better deal.
Bixby
Bixby is a lovely and quiet Tulsa suburb where you can also consider buying and residing with your family. One of the unique features of Bixby city is the balance between peace and amenities. You can live in a quiet neighborhood and yet know that a big shopping mall is just a few miles away.
The people here are also friendly, and there are also various outdoor activities that keep you and your family active and healthy. Your kids will also go to some of the best schools in the area.
Nichols Hills
Unlike other mentions on this list, Nichols Hills isn't a city. It's just an area in Oklahoma City. It has a population of just 3,800 people. But, it also happens to be one of the safest places to buy a home in Oklahoma.
The entire neighborhood has excellent safety records is also very close to some of the best schools and hospitals in Oklahoma City.
Stillwater
Despite being a small town in Oklahoma, Stillwater is an area that offers value for your money. The city hosts some of the best facilities and amenities you'd wish to have around you. Houses here are available for rent and being a town, buying a home here is also an excellent investment.
Get a Great Deal on a Home in Oklahoma
As a home buyer, it's natural that you want the best deal when purchasing a home. However, it's your effort, and the steps you take that will determine if you will get a raw or the best deal.
Hire an Expert Local Real Estate Agent
If there's a single most important way to get great homes at great prices, it's by hiring a real estate agent. And not just any random agent. You should be hiring an expert local real estate agent who has worked in the area for a long time.
A good agent does a lot more than just searching online for homes. They also help you with paperwork and the legal and procedural side of a home purchase. Great agents always know where the best homes are, and more importantly, they know exactly the sort of home that you want.
»FIND: Top Real Estate Agents in Oklahoma
Evaluate Your Goals and Lay Out Your Needs
Have a sit-down with your real estate agent and determine what you need and analyze your needs against your budgets. It's important to understand exactly what you want and what you can do without.
It's from here that your actual house hunt begins. Your real estate agent should now show the exact homes that you need given that both of you now know what your needs are. This way you aren't spending time looking at houses that you actually don't want.
Find the Best Lender and Secure Financing
Unless you plan to buy your home with cash, you'll need to apply for a mortgage. For most home buyers in Oklahoma, interest rates are among the biggest factors when choosing a lender. Doing a little upfront research and comparing options to find the best rates could save you tens of thousands of dollars over the life of your loan.
For example, in Oklahoma a typical house is worth $140,000. Assuming a 20% down payment, if you took out a 30-year mortgage for 3.5%, your monthly payment would be $500. But if you shopped around and found a 3% mortgage, your monthly payment would drop to about $472.
Getting a mortgage is a big decision – and it pays to shop around! Keep shopping until you find a lender with competitive rates who also understands your goals. Don't get pressured into taking on a bigger loan than you're comfortable with – work with a lender who explains what you're really signing up for.» Get instantly matched with a lender who works in your area.
Negotiate to Get The Best Price
This is where an experienced real estate agent can help you out a lot. Unlike most other industries, there's no "right price" in real estate. The price you pay for that dream home ultimately rests on how well you negotiate for the property you buy.
Real estate agents negotiate for properties day in and day out. Good agents are great at negotiating on your behalf.
They understand how to bring down the price and they do it well. Make sure that your agent has been in these situations before and knows how to negotiate.
One way to hire a great local real estate agent is to get in touch with a Clever Partner Agent. They are full-service agents who will help you with every step during your buy. From paperwork to negotiations — they do everything.
Clever only partners with the very best agents in any given area. This way, you know that the person representing you is one of the best in the business.
You May Also Like