North Dakota's rugged beauty, Midwestern wholesomeness, and recent fracking boom have made it one of the most attractive housing markets in the nation. But there are still deals to be found, if you know when to look.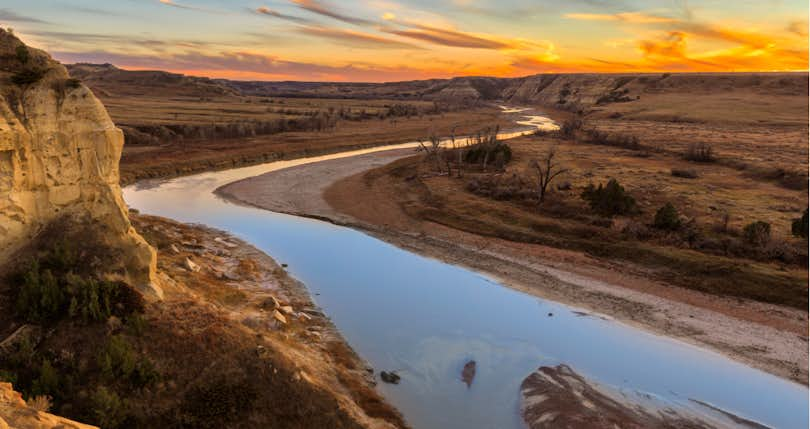 Buying a house is a stressful and emotional process. You'll likely have to spend weeks touring properties, fill out hundreds of forms, and invest a large chunk of your savings to secure the right house.
One way to make buying a house easier is starting the process at the right time. In North Dakota, housing inventory, mortgage rates, and market trends vary from month to month.
For example, this year listing prices for homes in North Dakota were lowest in January. On average, homes were $6,906 less expensive. While in August — the month with the highest prices — the listing prices were $8,064 more than the annual average.
In truth, the best time to buy a house really depends on your priorities and situation. Read on to find out which time of year will give you the most options and the biggest savings when buying a house in North Dakota.
If you're interested in buying a home, the first step in the home buying journey is to find an experienced realtor who's an expert in your local market. The right agent can help you find the best house for your budget and priorities - and negotiate a winning offer so you don't miss out on your dream home.
The easiest way to find a great local realtor is to use a free service like Clever Real Estate. Clever matches home buyers like you with top agents in your area so you can compare your options and choose a realtor who's the right fit for you.
You can interview multiple agents until you find the perfect fit, or walk away at any time - Clever's service is 100% free with no obligation. Fill out the form below to instantly request hand-picked agent matches now!
💰 Buy with a top agent, earn cash back!
Buy your dream home with a top local realtor from a trusted brand like Keller Williams or RE/MAX. Keep more money in your pocket by earning cash back on eligible purchases.
Enter your zip code to request hand-picked agent matches in minutes. Compare your options until you find the perfect fit, or walk away with no obligation. Try Clever's free service today!
The Best Time to Purchase a Home in North Dakota
If you're looking to buy a home in North Dakota, you'd probably get the best deal in the month of March, when listings linger on the market for 13 days longer than the yearlong average.
There are likely many factors leading to a consistently sluggish March, but the post-holidays malaise is a common phenomenon in most markets across the nation. In addition to that, North Dakota has notoriously harsh winters, which naturally discourages people from going to open houses and looking at properties.
Knowledgeable sellers are aware that the longer their home is on the market, the less likely it is they'll sell the place. If March adds almost two weeks to this listing time, that means sellers will be especially motivated to strike a bargain. If you're looking for the best possible deal, bundle up and get out there!
The Best Places to Buy a Home in North Dakota
Fargo
Made famous (sort of) by the Coen Brothers' classic offbeat crime thriller, Fargo is a small city (population 118,000) that feels like a small college town. Though the winters are harsh and spring almost always brings flooding, Fargo's job market is very strong, and household incomes are nearly on par with the national average.
Bismarck
The North Dakota state capital boasts the lowest unemployment rate in the nation (2.6%), thanks to the fracking boom that's poured millions of dollars and thousands of jobs into the local economy. Its location right on the Missouri River means there are plenty of opportunities for outdoor activities including kayaking, boating, and hiking, and home values here are slightly below the national average.
Grand Forks
Like the rest of North Dakota, the job market is very strong in Grand Forks, with low unemployment and lots of jobs. Grand Forks is home to the University of North Dakota, so it has plenty of dining and culture, including the most green space of any city in the state, as well as a major airport.
Minot
Home to Minot State University, and a virtual stone's throw from the Canadian border, Minot combines a small town feel and the warmth of both the Midwest and Canada. Home to a US Air Force Base and a major beneficiary of the recent fracking boom, home values in Minot are nearly on par with the national average despite a population of just under 48,000.
Williston
Fueled by the fracking boom, tiny Williston (population 22,000) boasts median household income almost double the national average, and home values on par with the national average. If you're in the oil business, this is a great place to live.
Four Ways to Get a Great Deal On a Home in North Dakota
Find a Great North Dakota Real Estate Agent
Confidence is a great thing, but don't let it blind you to the value of experience. An experienced local agent will know the market like the back of their hand, will be able to anticipate fluctuations and obstacles, and will have pre-existing relationships with many of the people you'll need to work with on your home-buying journey, from lenders to seller agents.
Can you buy a home all by yourself? Sure. But it'll be a lot easier and faster with a good agent, and you'll likely end up paying a lot less.
Assess Your Needs and Lay Out Your Goals
But no matter how good your agent is, it's going to be hard for them to find your dream home, if you don't even know what your dream home is. It's easy to get caught up in the general process of buying a home without actually getting into all the specific details of what you're actually looking for.
Do you need a lot of parking? How much outdoor space? What's your realistic upper limit for bids? Don't just tell yourself that "you'll know your dream home when you see it." Knowledge is power.
Find a Lender and Secure Financing
Unless you plan to buy your home with cash, you'll need to apply for a mortgage. For most home buyers in North Dakota, interest rates are among the biggest factors when choosing a lender. Doing a little upfront research and comparing options to find the best rates could save you tens of thousands of dollars over the life of your loan.
For example, in North Dakota a typical house is worth $238,000. Assuming a 20% down payment, if you took out a 30-year mortgage for 3.5%, your monthly payment would be $849. But if you shopped around and found a 3% mortgage, your monthly payment would drop to about $803.
Getting a mortgage is a big decision – and it pays to shop around! Keep shopping until you find a lender with competitive rates who also understands your goals. Don't get pressured into taking on a bigger loan than you're comfortable with – work with a lender who explains what you're really signing up for.» Get instantly matched with a lender who works in your area.
Negotiate for the Best Possible Price
You've got an agent, financing, and you found that dream home. Now it's time to make an offer.
Your agent will help you arrive at that initial number, using a combination of feel and market knowledge. They'll know how much similar properties in the area sold for, and they should have an idea of the seller's mindset. Are they eager to sell, or are they in no hurry? Are there flaws with the home that can be used to knock a few thousand off the price? How many competitors, if any, do you have, and what's their situation?
If you and your agent make it through the negotiations and your offer is accepted, you'll be the proud owner of your dream home. Congrats!
Clever Partner Agents are elite performers in their markets, and come from top brands and brokerages. Contact us now to set up a no-obligation consultation!
You May Also Like