If you're a real estate investor looking at North Dakota for potential investment opportunities, where should you concentrate your search? In a college town, or near the oil fields? Depending on your investment strategy, you'll have options in North Dakota.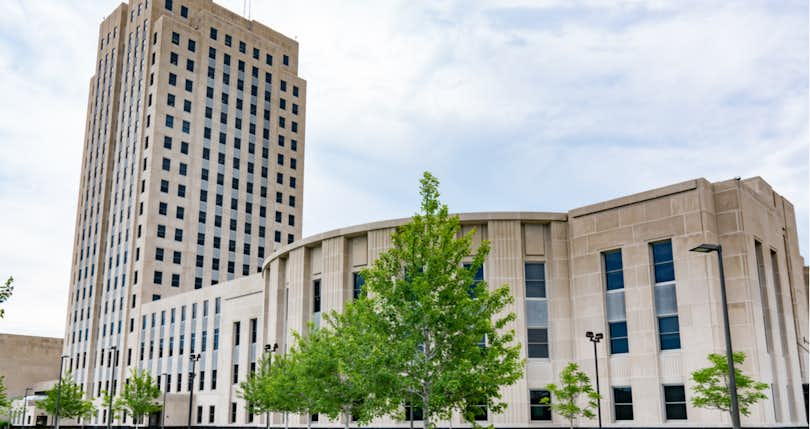 The best area for you to invest in North Dakota depends upon your real estate investment strategy. Investors who follow a buy and hold strategy want to find price appreciation in a market, whereas investors building a rental portfolio which cash flows will look at home prices, rent and cap rates.
The rental property vacancy rate in North Dakota is at 16.7%, which is an all-time high. This figure is heavily influenced by seasonal labor on the oil fields and college students in the rental market. The state also has the third-smallest population in the country.
Some areas of the state, such as Cass County, have shown growth but there is a continued movement away from rural areas. North Dakota is 30th in the nation for property taxes, making it an affordable state for investors. Overall, the state is extremely tax-friendly.
Our top five list contains a variety of areas within North Dakota, with something for every type of investor. Before beginning to invest in North Dakota, consult with an experienced, local real estate agent to get a better market overview.
» FIND: Top Real Estate Agents in North Dakota
Fargo
Homes values dipped last year in Fargo, and will only recover losses this year. Median rents are around $1,350, and rents have only been increasing by about 1% a year. Located in Cass County, Forbes has called it the economic center of southeastern North Dakota and parts of Minnesota.
Fargo has low unemployment and a cost of living below the national average. Homeownership is at 43.1% for the city, so over half the city rents. It's one of the fastest growing cities in the U.S., so now would be the time to buy and hold.
» FIND: Top Real Estate Agents in Fargo
---
Looking to invest in real estate? You need a realtor who specializes in investment properties.
The first step in your real estate investing journey is to find a top local realtor with experience helping real estate investors find great deals. The right agent can help you find the best property for your goals and budget — and craft a winning offer so you can stop looking at houses on Zillow and start building wealth.
If you need help finding a realtor who specializes in investment properties, Clever Real Estate can match you with an experienced local agent so you can find the right property and get a great deal. You can also earn cash back when you close on your purchase!
Requesting agent matches is free, and there's no obligation. Just fill out the form below to get agent recommendations sent straight to your inbox!
💰 Buy an investment property, earn cash back!
Buy your investment property with a top local realtor from a trusted brand like Keller Williams or RE/MAX. Get cash back on eligible purchases.
Enter your zip code to get personalized agent matches sent straight to your inbox. Compare your options until you find the perfect fit, or walk away with no obligation
Grand Forks
Grand Forks has reasonably priced homes, with a median home value of $205,200 and rents of $1,198. It's a college town, home to the University of North Dakota, so rental demand is concentrated among students. If you can find a property near the University which appeals to this demographic, you're guaranteed to always have it rented during the school year.
Grand Forks job growth dipped last year but is expected to be higher than the United States' overall job growth for the next ten years, at 33.9%. The Grand Forks school district is third in the state, which both draws people to the city and support property values. 45.5% of Grand Forks' population owns their home, from which one can deduce that a fair amount of the population rents.
Bismarck
If you like to buy low and sell high in real estate, look at Bismarck. Home values dropped 3.1% last year and will drop another 1.1% this year. Bismarck has the highest homeownership in North Dakota, likely due to its excellent cost of living. Residents enjoy access to miles of trails, golf courses, and nearby forests.
There are five colleges in Bismarck, which again leads to demand for rental properties among students.
Williston and Watford City
These two towns which have been completely changed by the oil boom. Their population has grown exponentially, and new businesses have sprung up to cater to the oil workers. Home values in Williston grew 8.8% last year, with another 5.8% expected in 2019.
When deciding to invest in these towns, be aware of several realities. An oil boom can often lead to an oil bust. These towns have limited economies. It's also advised to rent to the oil company and have them be responsible for damages. And crime has risen proportionately with the surge in population. Take this into account when weighing the potential profit.
Whenever investing in a new market, partner with a real estate professional familiar with the area. Clever draws the agents in its network from nationally recognized brokerages such as Keller Williams and Century 21. They're the top sellers at their offices. For more information, contact Clever today.
👋 Find your perfect agent now!
Finding a great local realtor is the first step in making your home buying dreams a reality. Our free service matches you with top agents from trusted brands like Keller Williams and RE/MAX.
Enter your zip code to request hand-picked agent matches in minutes. Compare your options until you find the perfect fit, or walk away with no obligation. Try Clever's free service today!
Related Articles
You May Also Like