Overall rating | Quality of service | Cost | Marketing | Customer experience | User friendliness | Methodology
Savvy Lane is a flat fee multiple listing service (FFMLS) that lets homeowners selling without an agent in Oregon and Washington list onto a local directory of for-sale properties. It charges $195 for basic services, and more advanced packages can cost $399 to $3,000+. The company has positive customer reviews and an easy-to-use seller's platform that can help you manage your listing.
Bottom line: Do we recommend Savvy Lane?
Savvy Lane is worth considering if you're set on a FSBO sale. Even its most basic plan will give you maximum exposure, both on the MLS and on over a hundred other listing websites. You'll also get a simple and easy-to-use seller dashboard that organizes all your documents, forms, and offers. And at $195, its basic service is affordable and well within the range we'd expect for an FFMLS ($189–299).
In addition to its FSBO services, Savvy Lane offers two advanced plans that will connect you with a licensed real estate agent. If you want help from a real estate agent, however, we recommend shopping around other low-commission real estate companies first.
Are you sure you want to sell FSBO?
Selling FSBO requires a lot of time and effort. Companies like Clever Real Estate negotiate with top-performing agents who provide full service for only 1.5% in listing fees. Save thousands today! Learn more.
Savvy Lane vs. top FFMLS alternatives
| | | | |
| --- | --- | --- | --- |
| FFMLS company | Locations | Avg. customer review | Listing fee |
| Fizber | Nationwide | 3.9 | $295 |
| Homecoin | CA, FL, GA, MI, MO, NY, NC, SC, TN, VA, WI | 4.9 | $95+ |
| Houzeo | Nationwide | 4.9 | $199-999+ |
| Beycome | AL, CA, CT, FL, GA, MN, NC, SC | 4.3 | $99-499 + 1% |
In-depth breakdown
Quality of services
📊 Our rating: 4.5/5
All must-have FSBO services included
Some expensive add-ons
Some nonessentials
Savvy Lane does an excellent job providing FSBO sellers with a variety of essentials. Here's what each FSBO plan includes:
Plan (price)
Basic
($195)
Extended
($395)
Full
($595)
Premium
($995)
Listing term
3 months
6 months
12 months
Until sold
MLS listing
✅
✅
✅
✅
Zillow, Trulia, and Realtor.com
✅
✅
✅
✅
Max # of photos
8
16
25–32
25–32
Selling forms and disclosures
✅
✅
✅
✅
Free unlimited changes
❌
✅
✅
✅
Virtual tour
❌
❌
❌
✅
Professional photography
+$350
+$350
+$350
Free
Yard sign
+$150
+$150
Free
Free
Open house scheduling
+$25
Free
Free
Free
Most Savvy Lane plans provide essential services at good value, though two plans are overpriced. Its Basic package is one of the lowest prices we've seen, and Premium includes helpful features: professional photography, a virtual tour, 25–32 photos (depending on the MLS), and an unlimited listing term.
Hybrid has a low value for the sticker price. It'll connect you with a listing agent, but you'll still do most of the selling yourself — and at a high premium: $3,000. At that cost, you're better off paying a little extra for Full Service (1% of your home's sale price). This will put your home in the hands of a licensed real estate agent from the get-go. It's not FSBO, but it might be worth considering if you don't want to sell your home on your own.
Cost
📊 Our rating: 4.5/5
Affordable, good value basic plan
Additional valuable services available
Some packages not worth the cost
Most MLS listing services will charge between $189 to $299 for basic services. Savvy Lane's Basic package falls on the lower end of this range ($195). Premium has a high sticker price ($995), but for the extra services, you're getting a good deal.
Here's a brief overview of the six packages:
Plan
Price
Plan
Price
Basic*
$195
Premium*
$995
Extended
$395
Hybrid
$3,000
Full
$595
Full Service*
(not FSBO)
1% paid at closing
* Best value
The Extended package is a bit more expensive than what we've seen for a second tier-plan, but unlimited changes to your listing and a 16-photo allowance provides some balance. The Full package will give you the least value for your money. Spending nearly $600 is a high markup to JUST post more photos and stay up longer. We recommend shopping around other FSBO websites first, as you can get other features (like professional photography and virtual tours) for under $500.
We weren't impressed with all of Savvy Lane's services. Some of its expensive add-ons:
Yard signs ($150) — like For Sale, Directionals, Open Houses — are overpriced and your info is in small print
Expediting changes to your listing ($100)
E-signature for documents outside Savvy ($75)
Flyer box ($50)
Will you get a refund if your home doesn't sell?
No, Savvy Lane will not issue refunds once your home is listed on the MLS, even if your home doesn't sell. If your term expires without a sale, you'll have to renew your plan.
If it takes longer than 90 days for a home to sell in your market, reconsider buying a higher plan than Basic. With Premium, you'll get unlimited time on the MLS and pay $1 for every additional year you keep your home listed.
💰 Incredible savings — none of the risk
Selling your home FSBO is challenging. Add in a lower selling price and out-of-pocket expenses, and you'll save WAY less than you planned — but still be stuck with most of the work.
There's a better option. Clever pre-negotiates cheaper listing fees with the top agents in your area. You pay just a 1.5% listing fee, while getting the support of a full-service agent.
Marketing
📊 Our rating: 4.5/5
MLS listing
Exposure on 100+ listing sites
No marketing plans
Every Savvy Lane plan will list your home on your local MLS and syndicate the listing across hundreds of national and local brokerage sites (like Century 21 and Coldwell Banker). You'll also get exposure on the top real estate websites like Zillow, Realtor.com, and Trulia. That's the main service you want from an FFMLS.
Savvy Lane is missing one feature: you won't get any social media marketing or search engine advertising, not even as an add-on. This seems like a major miss on the company's part, especially since regional brand servicing in only two states is relatively simple.
Is Savvy Lane available nationwide?
No, it's not available in every state. Right now, Savvy Lane provides FSBO services only in Oregon and Washington.
Customer experience
📊 Our rating: 4.5/5
Customer service team highly praised
No red flags
Some complaints around CMAs
Based on public reviews, it appears that customers are very pleased with Savvy Lane's service. The company has a 4.6 average on both Google (based on 103 reviews) and Zillow (with 187 reviews).
We wanted to dig a little deeper, so we ran these reviews through a program that identifies emotional language. Here's what we found:
🟢 Top positive themes
🔴 Top negative themes

Options
Customer service
Responsiveness
While most clients were satisfied with the platform, services, and cost, they were disgruntled with how the company priced their homes. In fact, one major reason Savvy Lane started offering agent services was to help sellers get a more accurate price tag.
Despite one complaint in the past three years, Savvy Lane still maintains an A+ rating on the Better Business Bureau.
User friendliness
📊 Our rating: 5/5
Powerful software
Easy steps for listing
Few how-to videos or articles
We took Savvy Lane for a quick test drive, and we liked what we saw. Its technology is robust and fast, while the listing steps are simple, intuitive, and in plain language.
Savvy Lane, however, allows you to sign up and share information from Google or Facebook. It makes the process feel like it's moving quickly. (Most listing services require you to fill out numerous fields, sometimes with duplicate information, before you can access your account.) It takes roughly 2 minutes to reach your profile page. Your documents and forms are kept separate and both sync with your to-do list to help you stay organized.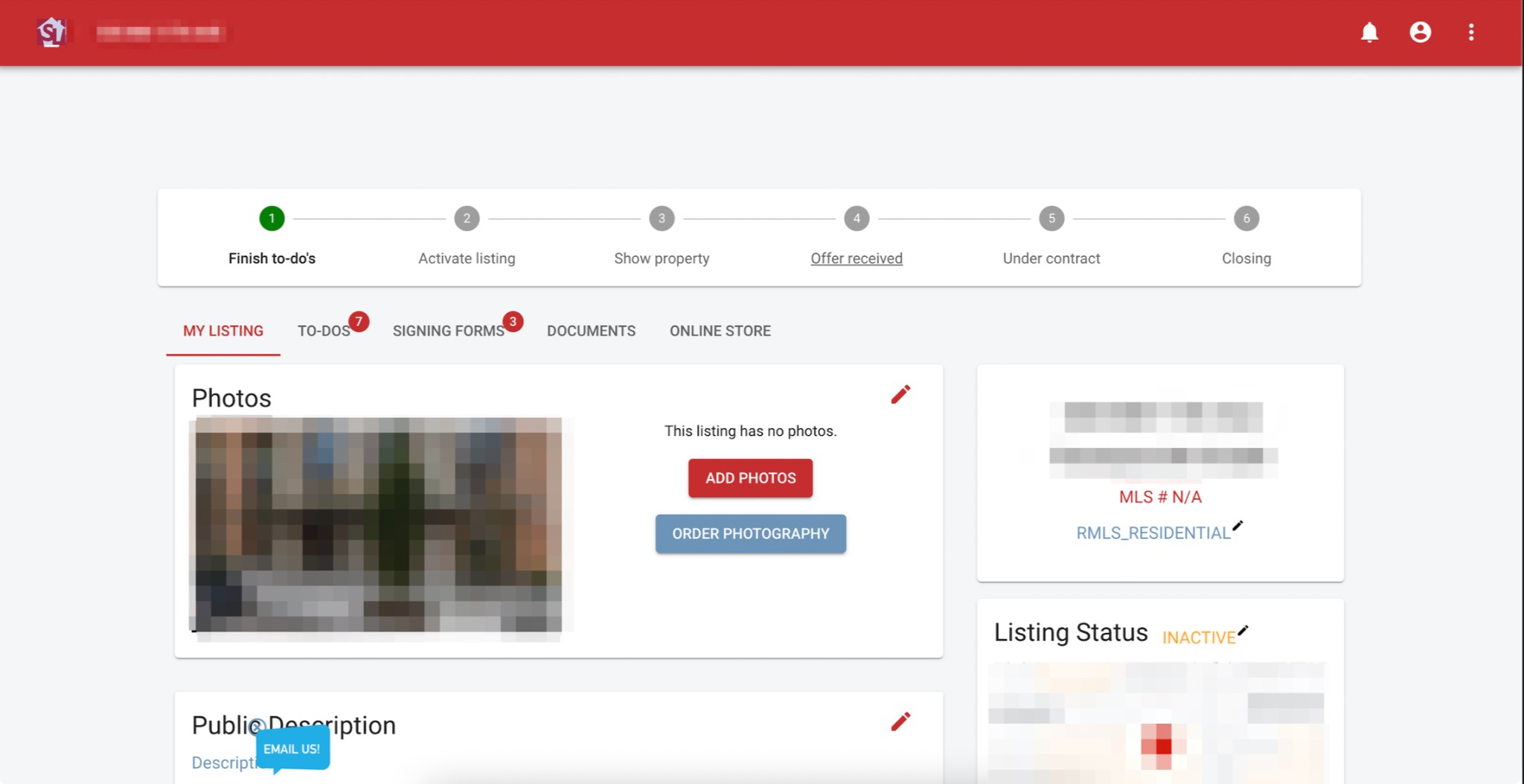 You won't find any helpful articles or videos on FSBO selling, though. Other companies will give at least some guidance for those who are doing this for the first time.
Savvy Lane contact info
Next steps
If you're an experienced FSBO seller who doesn't need fancy add-ons or services to sell your home, then it might be worthwhile to look at Savvy Lane's "Basic" and "Extended" packages. For first-time FSBO sellers, we recommend comparing plans from numerous companies before deciding on one.
Finally, if you're considering using Savvy Lane for its agent services, it's worthwhile to explore other low-commission real estate brands first. Many of these companies are full-service agencies and can help you list and sell your home for a discounted commission: 2% or less!
👋 Skip the DIY: Get a better agent AND bigger savings
Why do all the work of selling FSBO only to end up with less money than you would have with an agent? Clever offers you bigger savings without sacrificing the service you expect from a traditional realtor.
With Clever:
✅ You'll only pay 1.5% to list your home
✅ You'll work with a full-service realtor from a top broker
✅ It's free, with zero obligation — you can walk away at any time
Saving on realtor fees doesn't have to mean sacrificing service. Find a top local agent today!
Methodology
We evaluated the value and quality of flat fee MLS (FFMLS) and for sale by owner (FSBO) listing services based on five core criteria:
Quality and range of services
Brand recognition and marketing methods
Customer reviews and experience
Cost value
User friendliness
Quality of service
FFMLS companies should provide basic services, including:
Listing to your local MLS
Pushing listings to sites like Zillow and Trulia
Maximum allowable photos
Unlimited free listing changes
Keeping an listing active until you cancel or close on your home
We noted add-on services that actually help you sell and manage your sale, like professional photography or an online dashboard. We didn't give credit for fluffy offerings, such as video tours that are just photo montages or listings on Craigslist.
Marketing
We assessed how each company's services actually makes your listing visible to buyers, compared with the MLS, which is the baseline. Additional marketing services (via social media, digital ads, etc.) count to higher visibility, as does the company's website traffic.
Customer experience
Our evaluation:
Aggregated customer reviews from across the web and created a weighted average rating
Ran reviews through a sentiment analysis program to identify key themes
Checked for complaints with the Better Business Bureau
Cost
We checked the actual costs of the company's services and compared them with other brands and national averages.
User friendliness
We checked how easy the company app or portal was to use, and how easy it was to upload and manage the listing.