Maybe you're not 100% sure it's time to sell your home right now. Zillow Make Me Move lets you tests the waters by creating a listing, setting your price, and allowing buyers to contact you directly. Here's everything you need to know about the free service, as well as some pros and cons.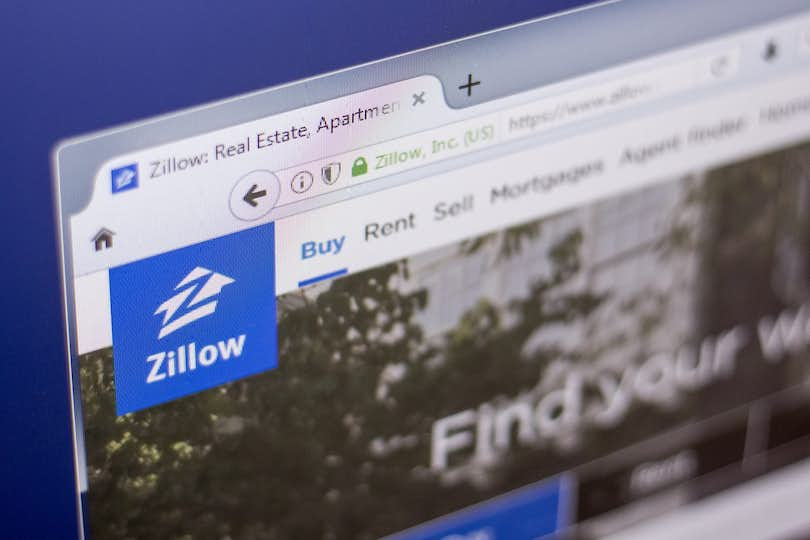 Zillow's Make Me Move allows home sellers to test their market's waters without officially listing their home. Unsure homeowners can "tentatively" list their home to gauge the interest of their local market. If they get an attractive offer, they can choose to sell without ever "officially" listing their homes.
However, it's unlikely that Zillow's Make Me Move will produce any quality offers in a reasonable timeframe. Motivated buyers don't want to waste their time putting in an offer on a home that isn't truly an option.
If you're considering selling your home — even if you're on the fence — your best option is to speak with a local real estate agent. They can let you know what's going on in your market and whether it's a good time to sell your home for a great price.
Get in touch for no-obligation referrals to top-rated agents in your area.
In the meantime, here's everything you need to know about Zillow's Make Me Move: what it is, how it works, the pros and cons for sellers, how it generates money for Zillow, and other options to consider.
What is Zillow Make Me Move?
Zillow now offers a free listing option called Make Me Move. For whatever reason, you may be unsure about selling your home right now. Maybe your significant other isn't yet on board or you're worried there won't be enough interest to get the price you want.
With Zillow Make Me Move, you can gauge buyer interest in your home. Sellers can list their home as potentially available to give buyers a chance to contact the seller with questions. By figuring out what price people are willing to pay for it, you may be more inspired to go through with the sale.
How does Zillow Make Me Move work?
The free Make Me Move option allows you to post your house as a potential listing, along with a listing price, photos, and details about the home, all while remaining anonymous. Buyers are able to contact you with questions and set up a time to view your home if you'd like.
How to Post a Zillow Make Me Move Listing: A Step-By-Step Guide
To post your home with Make Me Move, follow these simple steps:
Visit the Make Me Move page.
Enter the full address of your home and click "Continue."
You'll be prompted to either create or log in to your Zillow profile.
Verify the location of your property. If Zillow's database has the correct location, select "Yes, it's a correct location." If not, click "No, let me change it," drag the orange dot to the correct location on the map, and click "Save and continue."
Now, you'll be able to set the price of your Make Me Move listing and upload photos. You'll need to upload at least one photo with your submission. You can also edit your home facts, add additional information about your home, and enter a contact phone number.
Next, accept Zillow's Terms of Use and click "Post Make Me Move."
Your listing will then be submitted for review. It can take up to 72 hours for your listing to be moderated by Zillow's verification team.
Can you change your Make Me Move listing to a For Sale By Owner listing?
It's simple to change your Make Me Move listing to a For Sale By Owner (FSBO) listing or to being listed by an agent. Log into your Zillow account, navigate to your Make Me Move listing, and click "Post for sale by owner for free." You'll be asked to confirm you decision before the change is saved. All the information you entered previously will be carried over to your new listing, including any photos you uploaded.
Zillow Make Me Move Pros & Cons
Pros
You can do a test run before making any final decisions.
For indecisive sellers, Make Me Move is an excellent way to test the waters before officially putting their home on the market. Realizing that there is indeed interest in your home may be just the motivation you need to actually sell.
It's free.
Perhaps the biggest perk of Make Me Move is that the service is free-of-charge and has no strings attached. You can change or remove the posting at any time with no consequences. After potential buyers begin contacting you, you can make the decision whether to sell your home yourself or hire a real estate agent and try to get a better price.
Cons
Only Zillow buyers see your listing.
The biggest drawback to the Make Me Move tool is that listings are only visible on Zillow. And while Zillow is the most popular real estate website in the United States based on monthly visits, this can still cut out lots of home buyers — especially those already working with a real estate agent. In most cases, these buyers will only hear about homes on the multiple listing services (MLS).
Serious buyers might not consider your listing.
Serious buyers may not consider potential listings for a couple reasons. They may assume the home won't be available soon enough for their timeline, or they may think Make Me Move sellers will drag their feet and closing would take several months.
On the fence about selling your home?
Clever can help you decide if now is the right time!
How does Zillow make money?
Zillow has three main avenues for making money:
Ad Sales
Similar to other free online sites you use everyday (news sites, Facebook, Google, etc.), Zillow gets paid by property management companies, mortgage lenders, and other businesses to serve up ads on the site. After you log in, these ads may directly relate to you or your recent search history
iBuying
Zillow recently entered the home wholesaling arena — also known as iBuying — and has announced it'll be ramping up its model even more. A homeowner sends Zillow details about their home, then receives a cash offer within days. If the owner accepts the offer, Zillow purchases the home, rehabs it, and then relists it in hopes of making a profit.
Premier Services for Real Estate Agents
Zillow also makes money by charging real estate agents a fee for becoming a premier agent. These agents get their own personalized profile page, ads targeted at users in their local markets, and increased visibility of their listings. These agents also get a customer relationship management system to help them track those who have expressed interest in using an agent through the site. Premier Agent services remain Zillow's main source of revenue.
Other Options to Make Me Move to Consider
If you have any inclination to sell your home, consider getting free advice from a real estate agent. Most are willing to meet with you one-on-one for free, without any obligation to sign a listing agreement.
Real estate agents can give you a true sense of how much you can expect to get for your home, current local market demand, recent sales of similar homes in the area, the best time to sell, and a good idea of how long it will take to sell.
Should you list your house on Zillow Make Me Move?
If you're toying around with the idea of selling your home, it certainly won't hurt to make a Make Me Move listing. But, you probably won't stay on the platform from start to finish. Once you start generating some interest, a real estate agent can help you get the best price at the best terms.
Even if you're in the process of a Make Me Move negotiation with a potential buyer, it's not too late to enlist the help of a professional, especially when negotiating repairs and closing dates.
Clever Partner Agents are top-rated real estate agents from major brands — like Keller Williams or Century 21 — who are experts in their local markets. They offer the same full services as other agents, but for a lower listing fee of just 1.5% — about half the typical commission rate.
Fill out this form to get connected with top agents in your area for a no-obligation consultation about selling your home in your current market.
Top FAQs About Zillow Make Me Move
Will Zillow buy your house?
Zillow began buying homes in 2018 through its iBuyer service, Zillow Offers. Zillow will pay cash for your home, gets it ready for resale, and then quickly lists it using local real estate agents and those in its Premier Agent directory.
Zillow is adding more markets to Zillow Offers program in 2019.
Can anyone post on Zillow?
Anyone can post a home for sale, a Make Me Move listing, or a home for rent on Zillow — you don't have to be a real estate agent or a property manager. You simply create an account on the website, find the home you'd like to post and complete some basic information.
Real estate agents with an account have additional features like client reviews and adding a headshot to their profile that appears on all their listings.
Is it free to list on Zillow?
It is free to list a home for sale by owner or by a real estate agent, and to post a home for rent on Zillow. Since Zillow makes the bulk of its money through ad sales, it's iBuyer program, and it's Zillow Premier Agent option for real estate agents, they are able to offer these services free-of-charge to users.
Potential buyers can also browse or search for homes on the site for free.
Can I sell my house without a realtor?
You can certainly sell your home without a realtor, and it's called a for sale by owner sale — or FSBO. However, a real estate agent can give you professional advice and expertise like knowing the best listing price, getting your home on the multiple listing service (MLS), staging your home, and conducting open houses. Not to mention the tedious and sometimes tricky part of negotiating the sale.
But, if you're comfortable doing all of this on your own, a title company can provide you with the paperwork you'll need to complete the legal side of the sale. And, keep in mind that if your buyer is using an agent on their end, it's still typical for the seller (you!) to pay for that agent's commission.
Is Zillow accurate?
Zillow Zestimates are an estimated range of your home's value — it is not an appraisal or comparative market analysis. A Zestimate's accuracy depends on how much data Zillow has access to for your particular home. Some counties and cities have more publicly available data than others, and the more data there is, the more accurate a Zestimate will be.
A Zestimate is intended to give a range of values for a given property, not replace an appraisal or the professional opinion of a local real estate agent. These numbers are automatically calculated using a proprietary formula, as well as public and user-submitted data. Zillow pulls in county assessments, the property's purchase history, and any other public information it can get its hands on, as well as user-submitted date from its site.
The Zestimate formula takes specific factors into consideration like location, size, features, amenities, and local market conditions, as well as recent sale prices for similar homes in the area.
What are Zillow potential listings?
Zillow's potential listings are those that may come on the market soon but aren't yet listed. These listings include three types of homes: foreclosures, pre-foreclosures, and Make Me Move postings.
Foreclosures are properties taken over by a lender after the foreclosure process. They are likely to be listed for sale soon, but are not yet found on a multiple listing service (MLS).
Pre-foreclosures mean the lender has initiated foreclosure proceedings on the properties because the owner defaulted on their loan. Pre-foreclosures also include properties for which a foreclosure auction is scheduled and are not found on an (MLS).
Related Articles