Zillow FSBO fees | Zillow Offers fees | Zillow rental listing fees | Tips for listing on Zillow | FAQ
It's free to list a home for sale on Zillow, whether you're selling for sale by owner (FSBO) or with a real estate agent. Zillow does charge a one-time fee of $29.99 for premium rental listings.
If you're considering selling FSBO on Zillow, know that there are drawbacks to selling FSBO vs. listing with a realtor, which can cause your home to sell for a lot less money.
For one, listing on Zillow doesn't automatically get your home on the multiple listing service (MLS), meaning most buyer's agents won't see it. And Zillow separates FSBO listings from agent listings in its search results — making FSBO homes hard to find unless a buyer is specifically looking for them.
Even though Zillow is a popular real estate website, sellers can list on Zillow for months without getting a single showing.
If you plan to sell FSBO to save on commission, you'll likely get more money overall by selling with a low-cost realtor. Low-commission real estate companies like Clever negotiate huge savings on listing fees with agents from top brokerages like Berkshire Hathaway and RE/MAX. You'll get the support of a full-service agent for a fraction of the typical cost.
Get a top local agent for half the typical listing fee!
Why you should trust us
I've been writing about real estate professionally for nearly a decade. I've written and edited dozens of guides about discount real estate brokerages, agent matching services, and real estate technology.
To create this guide, I drew on over 100 hours of collective research from Clever's editorial team — including analysis of the service offerings and business models of various real estate technology companies.
I also interviewed Clever's in-house real estate experts who have expertise in listing homes on Zillow:
We also drew heavily from the research of real estate tech analyst Mike DelPrete. If you're interested in learning more about Zillow (and other real estate tech platforms), we particularly recommend the following reads:
About Clever Real Estate
Clever is a free online platform with the goal of educating consumers about real estate and helping them save money when buying or selling a home. We strive to give 100% objective advice to help you make better real estate decisions.
Learn more about Clever's editorial policy and how we make money.
If you have more questions about finding realtors (or Clever's service), our licensed Concierge Team is standing by seven days a week, 7 a.m.–9 p.m. CST, at 1-833-225-3837.
Zillow listing fees: For sale by owner (FSBO)
There are no Zillow for sale by owner fees. If you're selling without a realtor, you can post your listing on Zillow free of charge. But there is a catch. FSBO listings are harder for buyers to find on Zillow. That's because FSBO listings are hidden under a separate "Other listings" section, while agent listings are displayed by default.

Many buyers don't realize Zillow features a separate part of its site for FSBO listings. Research has shown that a property listed by an agent gets over 500 views for every one view a FSBO property under "Other listings" receives.[1]
So, if you're selling FSBO on Zillow, you'll almost certainly get fewer potential buyers looking at your listing than if you had an agent.
❓ Why does Zillow hide FSBO listings?Zillow began hiding FSBO listings in January 2021 to comply with a controversial National Association of Realtors (NAR) policy that prohibits MLS listings from being mixed with non-MLS listings.That meant that for Zillow to repost listings from the MLS — the property listing platform used by most real estate agents — it had to keep those listings separate from non-MLS listings.

The change is currently the subject of an ongoing antitrust lawsuit. We'll update this page if and when the situation changes.
Is listing FSBO on Zillow worth it?
If you're only considering FSBO to save money on realtor fees, you're probably better off using a low-commission real estate agent. Research shows that FSBO homes sit on the market longer — and sell for an average of 6–26% less than homes sold with a realtor.[2][3] That's about the same as what you'd pay in realtor fees for a traditional real estate transaction.
» MORE: Important FSBO vs. Realtor Facts and Statistics to Know
The good news is that you can get the benefits of working with a full-service agent without the high commission fee and without having to negotiate realtor fees.
Clever negotiates discounted commission rates with top-rated local agents from major brands like Keller Williams, RE/MAX, and Coldwell Banker. As a home seller, you pay a listing fee of just 1.5% — compared to the 2.5–3% that traditional realtors charge.
Clever only partners with full-service agents, so you get all the same services you'd expect from a traditional realtor. Your agent will help you set a listing price, show your home, negotiate, navigate contracts, coordinate professional photography, and post your listing on the MLS, Zillow, and hundreds of other real estate sites, and more — all for half the typical cost. Get matched with agents near you today — it's free and there's no obligation.
👋 Skip the DIY: Find a top agent for less
Why do all the work of selling FSBO only to end up with less money than you would have with an agent? Clever offers you bigger savings without sacrificing the service you expect from a traditional realtor.
With Clever:
✅ You'll pay only 1.5% to list your home
✅ You'll work with a full-service realtor from a top broker
✅ You get a free service, with zero obligation — you can walk away at any time
Saving on realtor fees doesn't have to mean sacrificing service. Find a top local agent today!
How does Zillow make money?
It's free to list on Zillow, but just like many other "free" online services — Google, Facebook, and more — the reality is that YOU and your data are the products Zillow is selling.
Zillow primarily makes money by charging real estate agents money to connect them with home buyers and sellers who aren't currently working with a realtor. Zillow knows that FSBO sales rarely work out — data shows that 70% of FSBO sellers end up hiring an agent eventually.[4]
When you list FSBO on Zillow, you can expect two things to happen:
You'll get phone calls from local Zillow-affiliated listing agents trying to convince you to ditch FSBO and sign with them instead.
On your listing, Zillow will advertise local buyer's agents who are part of its Premier Network and direct interested buyers to them, not you.
But it's not just Zillow you have to worry about. Third-party lead generation companies pass along your information to local real estate agents as well. When you put your home on Zillow as FSBO, you'll get plenty of calls — only they'll be from realtors, not interested buyers.
In other words, Zillow isn't offering a free service — rather, when you enter your information, you're simply becoming a lead it (or a third party) can turn around and sell to the highest bidder.
» MORE: How Does Zillow Make Money?
Pros and cons of listing a home on Zillow for sale by owner
| 👍 Pros | 👎 Cons |
| --- | --- |
| 💸 There are no costs or fees — listing FSBO on Zillow is free for sellers. | 🔍 There's less visibility for listings that don't have an agent. |
| ⚡ Your listing is automatically syndicated to Trulia.com, the second most popular real estate site in the U.S. | 📊 You're competing with thousands of other local listings, most created by experienced agents, which gives them an upper hand. |
| | 📱 Without an agent screening inquiries on your behalf, expect to field a ton of calls and emails from casual or unqualified parties. |
| | 💰 If a buyer finds your house through Zillow, they'll probably be using a realtor, so you'll likely still have to pay the buyer's agent commission. |
| | 🗨 You'll get inundated with phone calls from agents trying to convince you to ditch the FSBO route and go with them instead. |
How to list on Zillow for sale by owner
If you do decide to move forward, here's how to publish your FSBO listing for free on Zillow:
Create a Zillow profile or log in.
Find your home by looking up your address on Zillow (chances are it's already in the company's database).
In the Public view, click "More" → "List For Sale By Owner." If you haven't already claimed this property as your own, you'll be prompted to do so before continuing.
On the FSBO Listing page, set a list price, upload photos, write a listing description, edit home facts, and add your contact information.
Once everything is ready, click "Post For Sale By Owner" and submit your listing for Zillow's review.
Before publishing your listing, Zillow will verify the information you provided — and that you actually own the property. This can take up to 72 hours.
» MORE: How to sell your house for sale by owner
6 tips for listing your home FSBO on Zillow
1. Invest in professional photos
In real estate, first impressions matter, especially online. Including professional photos that highlight your property's best features — such as a recently renovated kitchen or bathroom — in your listing can help you sell up to 32% faster. Usually, the cost of hiring a pro with the right gear and expertise is well worth it.
2. Use a flat fee MLS service
FSBO listings are usually listed in a separate, less popular section of the Zillow site than agented listings. One workaround to get your FSBO listing on the main listing section is to use a flat fee MLS service.
Like an agent, a flat fee MLS company can get your house on the MLS — and, in turn, on Zillow's main listing directory — but it offers few of the other services agents typically provide. A flat fee MLS can cost $100–1,000 depending on the level of service.
» MORE: Flat Fee MLS Listings: Find the BEST Services Near You
3. Write a great listing description
Your listing description is one of the best opportunities you have to make a compelling pitch and sell people on the idea of your home. Be descriptive and highlight all of your home's best features.
Make sure you're honest and accurate, and be sure to use your spell-checker or have someone proofread your work!
4. Price your home well
Pricing your home right is key. Set the price too high and you'll struggle to find a buyer. Too low and you could leave thousands of dollars on the table. Unfortunately, pricing a home is something that's very hard to do without a realtor, but you can try.
An online home value estimator, like Zestimate, is a good place to start, but don't rely too much on these tools — they all have large error rates! And keep an eye on what other homes are selling for near you — especially those that are similar to yours in terms of size, age, and renovations.
You should also factor in that most people on Zillow search using price filters. When setting your list price, keep it right under common price thresholds — i.e., if you list at $300,000, you miss out on anyone that sets their threshold at < $300,000. A $299,999 price point will likely increase your audience substantially.
5. Accept offers only from pre-approved buyers
This is very important. One of the biggest problems with Zillow for those selling FSBO is that it's open to the public.
Unlike on an MLS, where buyers are working with licensed agents and are presumably somewhat qualified, Zillow is effectively the wild west of real estate. There are countless horror stories from sellers who accepted an offer and got through inspections, negotiations, and paperwork, only to have the deal fall through because of the buyer's financial situation. Learn the difference between pre-approved and pre-qualified.
6. Don't just rely on Zillow
Approximately 91% of sellers list their homes with a licensed real estate agent. That means most of your competitors' listings are likely getting published across hundreds of other websites and advertising channels, which gives them a much better chance of capturing the attention of your ideal buyer.
If you're trying to sell your home FSBO, you'll need to hustle — that means posting on as many sites as possible, spreading the word on social media and among family, friends, and co-workers, posting signs and passing out flyers, and doing anything else you can do to boost your home's visibility and attract local buyers.
Should I list my house FSBO on Zillow?
We usually don't recommend selling FSBO, but if you're committed to doing it, you should absolutely list your house on Zillow. Doing so doesn't cost you anything, so it's a free and obvious opportunity to reach potential buyers in your area. Just remember that your FSBO listing isn't going to get the same amount of exposure on Zillow than it would if you had an agent.
Zillow's parent company, Zillow Group, owns a number of other popular real estate websites, including Trulia.com. Together, Zillow and Trulia represent an approximate 36% share of the entire online real estate market.
Of course, just because millions of people visit these two websites every month doesn't mean millions of people are going to see your listing.
Here are a few key things to keep in mind about listing on Zillow for sale by owner:
Only about 18% of Zillow's traffic represents users who intend to buy a house.

[5]

Your audience will be limited to buyers in your local market who are interested in your specific price range and are looking specifically for FSBO properties.
You'll be competing with thousands of other Zillow listings for these buyers' attention — and many of these sellers will be working with professional real estate agents who are leveraging other marketing channels (e.g., MLS, social media, brokerage websites, local newspapers) to give their clients the upper hand.
Listing on Zillow should be part of any home seller's marketing strategy. However, it certainly shouldn't be the only thing you do.
The best realtors will not only list your home on hundreds of real estate websites — Zillow included — they'll also run digital and print ad campaigns, send out flyers, tap into their local professional networks, and more.
They have the resources and expertise necessary to find highly qualified, motivated buyers quickly and negotiate the best deal possible on your behalf.
Is it free to list with an agent on Zillow?
Yes, listing your house on Zillow with an agent is free. So long as your agent posts your listing on the local MLS — which is a listing platform only agents and brokers can access — your property will automatically get reposted to Zillow and other major listing sites for free.
Listing with an agent is the best way to post on Zillow because MLS listings are automatically reposted to Zillow's default listing section. Listings that aren't posted through the MLS get put on a smaller, harder-to-find listing section on Zillow. Properties listed with an agent on Zillow get 500% more visitors than properties that don't have an agent.
Zillow is free — but your agent isn't
Of course, when you list with an agent — regardless of whether or not you use Zillow — you'll need to pay the realtors' commission. The current average real estate commission rate is 5.37%, with half going to your listing agent and the other half going to the buyer's agent.
But here's some good news: you can lower the commission you pay without sacrificing service by using a discount real estate broker. A discount broker offers the same or similar level of service that a traditional realtor offers, but at a fraction of the cost.
Clever, for example, has pre-negotiated discounted listing fees with its partner agents, who all offer full service and will know exactly what features to highlight in your listing that buyers want.
You can get an agent and get a listing on Zillow that buyers will love, AND you can still save money.
👋 Get the same agents for less
Clever matches you with top local realtors from trusted brands — like Keller Williams and RE/MAX — for a discounted listing fee of just 1.5%. You get the same full service and support, but for about half the usual rate!
Ready to find the perfect agent and save thousands on commission? Enter your zip code below to get started.
Pros and cons of listing a home on Zillow with an agent
| 👍 Pros | 👎 Cons |
| --- | --- |
| 🌟 There's more visibility for agent-listed homes on Zillow than for FSBO homes. | 💰 You'll have to pay real estate agent commission. |
| 🎯 Your listing automatically posts to Zillow via the MLS, so it's less work for you. | |
| ✅ An agent can ensure your listing better appeals to what buyers are looking for. | |
| 🛠 There's less DIY work, like photographs, staging, and negotiations. | |
How to list on Zillow with an agent
Listing on Zillow with an agent is super easy because all of the work is done for you. Once your agent adds your listing to your local MLS — a listing service that only agents and brokers can access — it automatically gets reposted to Zillow (plus hundreds of other real estate sites).
In other words, your agent will handle getting your listing on Zillow. You don't have to do a thing.
Plus, agents are experts at managing aspects of your listing that can be a struggle for sellers who don't have agents. For example, your agent can:
Get photographs that highlight your property's most appealing aspects
Write a property description that shows off your home's most in-demand features
Communicate with prospective buyers so they can determine which buyers are serious and which aren't
All of this expertise matters when it comes to creating a great Zillow listing. It can often be the difference between your house getting few interested buyers and getting a ton of them.
🚨 Do I need to use a Zillow-recommended agent?Zillow has an agent matching service where it recommends an agent for you. However, we don't recommend using it. Every agent with MLS access will get your listing on Zillow — regardless of whether they've been referred to you by Zillow or somebody else.Plus, Zillow's agent matching service isn't nearly as good as many of its competitors. It has little quality control over agents — so you might get matched with a bad agent — and it doesn't offer any discounts. The best agent matching services combine top-rated local agents, excellent customer service, and discounted rates.
Should I list my house with an agent on Zillow?
Absolutely. Listing your house on Zillow with an agent is arguably the best way to take advantage of Zillow's massive audience. By listing with an agent, a lot more potential buyers on Zillow will see your listing.
Sellers who list on Zillow with an agent get their properties posted to Zillow's main listing section. Sellers who don't have an agent are relegated to a separate, harder-to-find list.
Plus listing on Zillow with an agent is easier. If you list with an agent, your home will almost certainly end up on Zillow automatically, so you won't have to worry about posting it yourself. Your agent will do all the hard work for you, like arranging for photos, producing video tours, and writing property descriptions that help listings stand out.
How much are Zillow Offers fees?
On Nov. 2, 2021, Zillow announced it permanently shut down Zillow Offers, its iBuyer service where you could sell your house directly to Zillow. When it was active, Zillow Offers' fees were usually in the range of 9–22%.
While iBuyers are notorious for their high fees, Zillow Offers' were especially high. They were also way higher than traditional real estate agents' commission, which is usually around 5–6%.
That meant that Zillow Offers was rarely a good deal for sellers — except those who needed to sell quickly no matter the cost. Plenty of other iBuyers still exist — but beware that while they're fast and convenient, they usually come with high fees and low offers.
» LEARN: What Is an iBuyer? (And Should I Sell My House to One?)
If you're looking to save money on your real estate transaction and still get a higher sale price, you're better off ditching the iBuyer and working with a discount agent instead.
Clever, for example, pre-negotiates discounted rates with all of its partner agents, so you get all the advantages of a full-service agent — including a Zillow listing — but at a fraction of what you'd pay elsewhere.
👋 Clever can help you sell fast and for top dollar!
Before selling your home to an iBuyer like Zillow Offers, it pays to talk to a real estate agent about your options.

Our licensed concierge team can connect you with top-rated agents who know how fast homes are selling in your area — and how to find a buyer quickly while earning the most money from your sale.


Alternatives to Zillow Offers
Zillow Offers is no more, but lots of other iBuyers still operate. Keep in mind that iBuyers offer speed and convenience, but they typically have high fees and make lower offers than traditional buyers.
If you're comfortable with sacrificing savings for the sake of convenience, here are two top iBuyers to consider, plus a home trade-in service:
Offerpad

Closing date window
8–60 days
Average rating
3.7 (319 reviews)
✍ Editor's take
Pros and cons
Locations
Reviews
Contact
Offerpad promises the certainty of a cash offer and a fast closing on a date you choose. Of all the iBuyers, Offerpad has the most flexibility when it comes to closing (8–60 days) and is liked by customers for its personalized customer service and perks like a free local move.
Pros
There's a longer closing window compared to competitors.
The late checkout option gives sellers up to three days to move out after closing.
You can access additional services, such as free local moves within 50 miles.
Cons
There's a 1% cancellation fee if you back out of the sale.
It's not as widely available as competitors like Opendoor.
Offerpad is currently purchasing homes in 25 locations, including:
AL: Birmingham
AZ: Phoenix, Tucson
CA: Riverside, Sacramento, San Bernardino
CO: Colorado Springs, Denver, Fort Collins
FL: Jacksonville, Orlando, Tampa
GA: Atlanta
IN: Fort Wayne, Indianapolis
KS: Kansas City
MO: Kansas City, St. Louis
NV: Las Vegas
NC: Charlotte (+ neighboring parts of SC), Raleigh
OH: Columbus
SC: Columbia
TN: Nashville
TX: Austin, Dallas-Fort Worth, Houston, San Antonio
As of August 17, 2022, Offerpad's average customer rating is 3.7 based on 319 reviews.
Opendoor

Closing date window
14–60 days
Average rating
4.3 (2,733 reviews)
✍ Editor's take
Pros and cons
Locations
Reviews
Contact
Opendoor is a good option for home sellers who need a fast, predictable sale with minimal hassle. While the price that Opendoor pays might be slightly below the value of comparable homes on the open market, the difference might be worth it for people who value convenience and speed.
Pros
The 5% service fee is lower than some competitors.
Many customer reviews rate the company highly.
Cons
Offer prices may vary by market.
You have a limited ability to negotiate.
Buyers may find Opendoor's repairs insufficient.
Opendoor is currently purchasing homes in 47 locations, including:
AZ: Phoenix, Tucson
CA: Los Angeles, Riverside, Sacramento, San Diego
CO: Denver
FL: Jacksonville, Orlando, Tampa
GA: Atlanta
MN: Minneapolis–St. Paul
NV: Las Vegas
NC: Asheville, Charlotte, Raleigh-Durham
OR: Portland
TN: Nashville
TX: Austin, Dallas–Fort Worth, Houston, San Antonio
UT: Salt Lake City
As of August 17, 2022, Opendoor's weighted average is 4.3 based on 2,733 reviews.
Orchard

Closing date window
14–60 days
Average rating
4.8 (361 reviews)
✍ Editor's take
Pros and cons
Locations
Reviews
Contact
Orchard is a home trade-in service that allows you to purchase a new home by getting access to your current home's equity. You can then list your old home on the market with an Orchard listing agent.
If you need to move quickly but still want top dollar for your home, Orchard is worth considering. However, Orchard only accepts homes built between 1920 and 2020 and worth between $200,000 and $1 (or $1.5 million, depending on the market).
Pros
You can use Orchard's Offer Boost program to make a cash offer on a new home.
If your home doesn't sell in 120 days, you can accept Orchard's guaranteed cash offer.
Cons
Homes must be relatively new compared to what competitors accept (built after 1972 vs. 1930–1960).
Orchard's cash offers will likely be much lower than what you could sell for on the open market.
Orchard is currently operating in these locations:
CO: Denver
GA: Atlanta
TX: Austin, Dallas–Fort Worth, Houston, San Antonio
As of August 17, 2022, Orchard's average customer rating is 4.8/5 based on 361 reviews.
Does Zillow charge for rental listings?
According to Zillow's Rental Manager site, listing a rental property is free. But you can choose to upgrade to a premium listing for a one-time fee of $29.99. With the premium option, you get:
More exposure for your listing
Tools to price your listing more competitively
Recommendations to make your listing more appealing to buyers
Customized insights on leads and listing performance
» MORE: The Ultimate Rental Property Calculator
How to list a rental property on Zillow
1. Create a Zillow account
Create a Zillow account and check the box "I am a landlord or industry professional."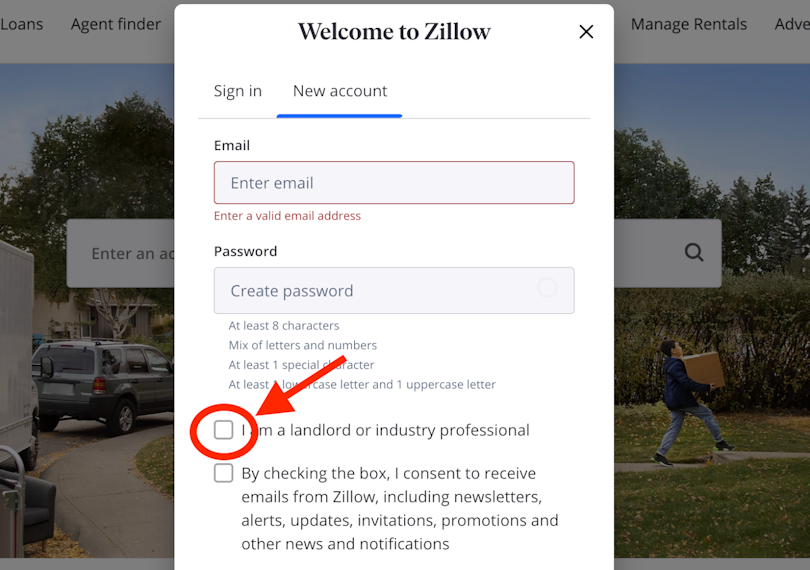 2. Find the Rental Manager
Post a rental on Zillow through Zillow's Rental Manager, which you can find at the top of Zillow's homepage.

3. Create your listing
Click on "Post your properties for free," and add the address and some other basic info about your rental property. Click "Create listing."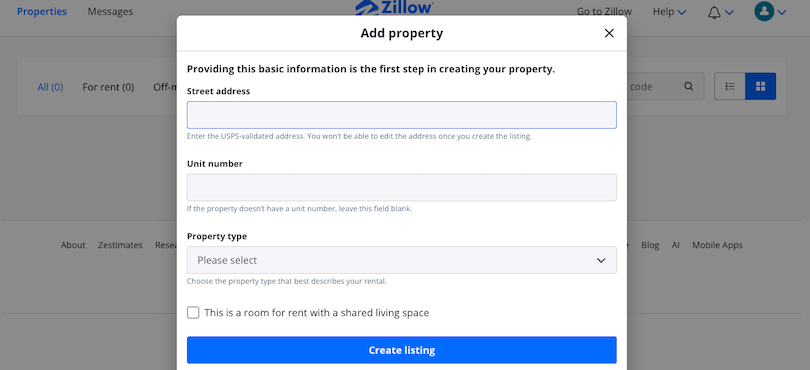 4. Upload photos and key info
Add more specific details about your listing, such as the monthly rent, size of the property, rules, tour availability, and amenities. You can also add photos and videos.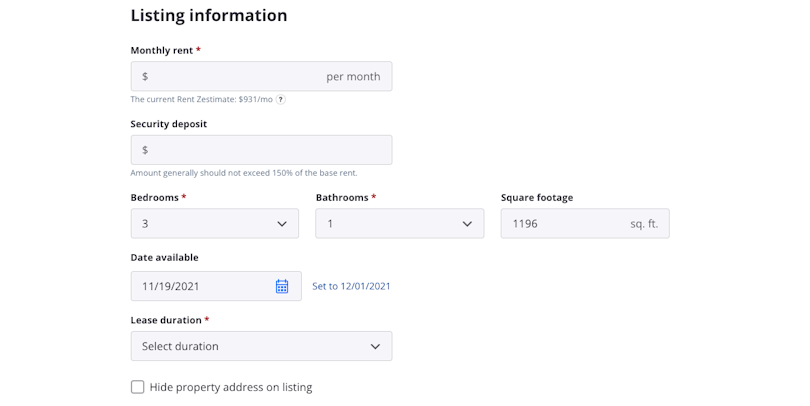 5. Publish your listing
After you verified your phone number, click "Publish Listing" at the bottom of the page. Your listing will be published to Zillow, Trulia, and HotPads.

FAQ about listing a home on Zillow
What is Zillow?
Zillow is the nation's leading online real estate marketplace, based on monthly website traffic.
Zillow offers a wide array of products and services. However, its foremost is a massive real estate database, consisting of more than 135 million U.S. properties for sale, for rent, or off-market.
Unlike many other real estate websites, Zillow is accessible to the public. Agents, buyers, sellers, and casual browsers can use the site to view listing information, look up estimated property values (which Zillow calls "Zestimates"), assess local market conditions, and more.
How much does it cost to list on Zillow?
Listing a house on Zillow is free. But Zillow gives more visibility to homes listed on the multiple listing service (MLS), so keep this in mind if you're selling for sale by owner. A flat fee MLS listing service will put your home on the MLS for as little as a few hundred dollars, or you can sell with a low-commission real estate agent to get the benefits of a traditional realtor for a fraction of the price.
Is it free to list for sale by owner on Zillow?
Yes, if you're selling a house without an agent you can post your listing for free on Zillow. However, your listing will be in a separate and harder-to-find section of Zillow's website, meaning it won't get as much buyer interest as agent listings.
How accurate are Zestimates?
Zestimates aren't very accurate. According to Zillow, "the vast majority of Zestimates are within 10% of the selling price of the home." Zillow's algorithm for estimated home value relies on square footage, lot size, number of bedrooms, and other data.
Remember, anyone can post a listing on Zillow with almost zero oversight or verification. If any of the information in a listing is incorrect or inaccurate, Zillow's estimated fair market value could be off by much more than 10%. Learn how to get a free home valuation.
Should you claim your home on Zillow?
If you're planning on selling your home now or in the near future, claiming your home on Zillow is a good idea. Even if you plan on holding onto the property, claiming your home allows you to edit the property details, ensuring higher accuracy and a better Zestimate for when you are ready to list. Thinking about selling? Find the best ways to save on real estate commission.
Will Zillow buy my house?
No, Zillow no longer buys houses. Zillow formerly had an iBuyer program called Zillow Offers where homeowners could sell their houses directly to Zillow. This program was shut down in November 2021.
How to list on the MLS through Zillow?
You can't list on the multiple listing service (MLS) through Zillow. Only a person or company with a brokerage license — like a real estate agent — can list on the MLS. However, all MLS listings get reposted on Zillow, so as long as you list with a realtor or you use a flat fee MLS company, your listing will be posted to both the MLS and Zillow.
How much are Zillow for sale by owner fees?
There are no Zillow for sale by owner fees. However, if you list your house without a realtor on Zillow, you won't get the same visibility as houses that do have agents. So, while it's free to list FSBO on Zillow, it's also a lot harder to attract buyers.
Related articles