What is Zillow Offers? | How it works for sellers | How it works for buyers | Fees | Locations | Zillow Offers reviews from customers | Alternatives | Should I sell to Zillow Offers?
Zillow Offers was the iBuying division of popular online real estate marketplace Zillow.
An iBuyer is a company that makes quick cash offers on houses, then resells them on the open market. Zillow Offers once had the second-highest transaction volume, with a total of more than 6,000 transactions in 2019. It was available in 25 cities across the U.S.
Despite its popularity, Zillow Offers wasn't available in as many locations as other iBuyers — and its potentially high fees could drain sellers' profits. Compared to its competitors, it was also surprisingly difficult to find Zillow Offers reviews from customers.
To figure out which iBuyer is the best choice for you, check out our iBuyers guide and see what the top companies have to offer. We recommend starting with Offerpad, a top iBuyer that offers flexible closing dates and has great customer reviews.
Enter your ZIP code to see if you qualify for an instant cash offer from Offerpad. 👇
Or you could save thousands by listing your home with a Clever partner agent.
If you're ready to learn more about your options for selling your home, Clever can connect you with full-service agents who know how quickly homes are selling in your market and how to get the best price possible on your sale. Best of all, if you list with Clever you'll pay just $3,000 or 1% in listing fees!
» MORE: Find a great local agent with Clever and save thousands on commission!
Why did Zillow Offers shut down?
On Nov. 2, 2021, Zillow announced it was leaving the iBuyer business and shutting down Zillow Offers. Zillow continues to work with current sellers under contract until closing, but it won't make any new offers on homes.
Zillow admitted its home-buying model was flawed, and it bought too many homes at too high a price.
Zillow CEO Richard Barton said the proprietary algorithm the company developed to buy and sell houses caused it to overbid, and Zillow ended up with thousands of homes worth less than what they paid for them. On an earnings call, Barton said the company was "unintentionally purchasing homes at higher prices."
From the beginning of July 2021 through September 2021, Zillow Offers lost more than $420 million, which is approximately as much as the company earned overall through the 12 months prior to July.
What if Zillow already agreed to purchase my home?
If Zillow agreed to purchase your home before Nov. 2, 2021, the company will probably still buy it. However, a small number of purchase contracts have been cancelled as Zillow Offers winds down.
If you have a home under contract with Zillow Offers, you should log in to your Zillow account for details or
contact Zillow
directly.
Zillow says on its website that it's focused on helping existing customers and selling its remaining inventory. When the company announced in October 2021 that it was pausing new contracts to buy homes, it said it will "focus operations on purchasing homes with already-signed contracts, but have yet to close."
Despite that promise, Zillow cancelled 400 of approximately 8,172 contracts with closing dates later in 2022. Zillow offered compensation — in the form of returned earnest money and variable bonuses — to sellers who agreed to terminate their contracts by Nov. 30, 2021. Zillow said they don't anticipate cancelling any more contracts beyond the 400 who have already been notified.
What is Zillow Offers?
Zillow Offers, at a glance


💰 Zillow fees


1.5–9% (7.5% on average)


📍 Locations


25 metro areas across AZ, CA, CO, FL, GA, MN, NV, NC, OH, OR, TN, and TX


⏱️ Time to close


Sellers: 7–90 days | Buyers: Negotiable


☎️ Contact

In 2018, Zillow launched its iBuying service, then called Zillow Instant Offers. Until it shut down in November 2021, Zillow Offers provided a fast, hassle-free option for eligible home sellers by providing a cash offer in just two days.
In exchange for this convenience, Zillow Offers charged a service fee that ranged from 1.5–9% — a wide range, with an average service fee of 7.5%.[1] The service fee covered Zillow's carrying costsⓘwhen reselling homes.
Unlike other major iBuyers, Zillow Offers was intended to help its existing network of premier agents close more deals. For example, if a premier agent's client wanted a quick, predictable sale, the agent may have recommended Zillow Offers. Then, sellers paid Zillow Offers' fees, plus their agents' commission (usually another 3%).
In this case, Zillow could collect fees from:
The premier agent (for marketing)
The home seller (for commissions and service fees)
The home buyer when it resells the house
Put simply, Zillow Offers was not great for home sellers. In total, Zillow Offers fees could soar as high as 22% of your sale price!
Looking for Zillow Offers reviews from customers? Find them here!
✍️ Editor's take
Zillow Offers could be a quick, convenient option for home sellers, but its service fees were nearly double competitors' rates. If there are multiple iBuyers in your area, we recommend comparing offers — or hiring a qualified real estate agent who can make sure you get the best price for your home.

Zillow Offers vs. Zestimate
The Zestimate is Zillow's proprietary home value estimation tool. In February 2021, Zillow began using the Zestimate as a starting point for their cash offer through Zillow Offers. But the final offer was likely to be lower than the Zestimate after taxes, fees, and information from the home inspection was taken into account.
The Zestimate uses public information, MLS listings, and user-submitted data to place a value on a home. Zillow cautions that it's not an appraisal, nor should it be used in place of a physical appraisal.
The Zestimate tool isn't perfect. The company says[2] that the nationwide median error rate for the Zestimate is 1.9% for on-market properties, but this varies greatly by location. For off-market properties, the median error rate jumps to 6.9%.
Incomplete or flawed data will lead to an inaccurate Zestimate. This is why talking to a local real estate agent with an in-depth knowledge of your home and the area is the best way to find an accurate market value for your home.
How does Zillow Offers work?
If you wanted to sell your home to Zillow Offers, the process was very simple:
Apply online. To start, Zillow Offers collected basic information, such as your address and the condition of your home, through an online form. Data from Zillow transactions suggests Zillow only purchased around 2% of the homes submitted for offers.

Review the initial offer. If your home was eligible, your home's Zestimate served as the initial cash offer in most markets. (Keep in mind: This was not the final offer, which would likely have been thousands less after a home inspection. Zestimates can be thousands of dollars off.)

Complete an inspection. If you decided to move forward, Zillow Offers scheduled an on-site home inspection to identify any necessary home repairs.

Review the revised offer. Zillow Offers presented a final cash offer that included deductions for repairs. At this point, you could accept and sign a purchase agreement, or decline with no penalty or obligation.

Close the deal. Once you signed the sale contract, you could schedule a closing date in as little as seven days, or up to 90 days if you need more time.
⚡ Quick tip
You didn't need a real estate agent to request a cash offer from Zillow. In fact, we recommended against it. If you had already signed a listing agreement, you would still have to pay your agent's commission — usually around 3% of the sale price — plus fees. That's a lot of money to pay someone who's essentially submitting an online form!

Buying a home from Zillow Offers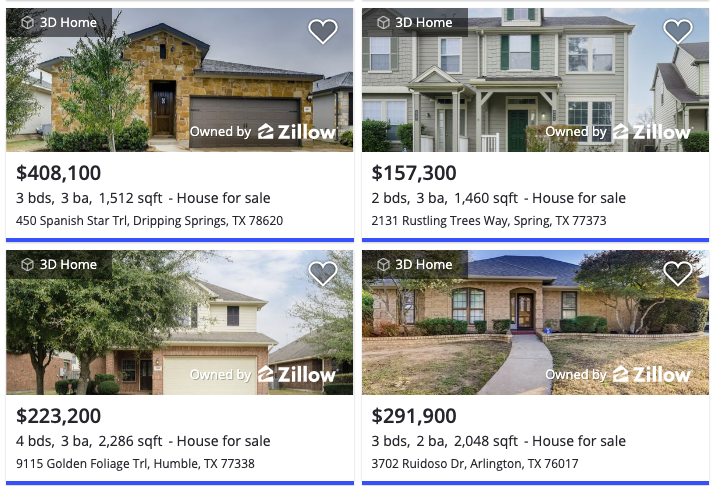 If you were browsing homes on Zillow and saw the "Owned by Zillow" icon, it meant the home was purchased and repaired by Zillow Offers and was then up for resale.
In fact, if you wanted a move-in ready home with a flexible closing date, you could have shopped Zillow-owned homes exclusively instead of sifting through all of the listings on Zillow.
You (or your real estate agent) could have submitted an offer and heard back as quickly as within 48 hours. Plus, Zillow-owned homes were vacant — so you didn't have to worry about coordinating the move-in timing with an occupant.
If you ended up purchasing a Zillow-owned home, Zillow paid your agent's commission when the deal closed.
⚡ Quick tip
If you want to buy an iBuyer-owned home, ask for a short closing time! The faster the iBuyer can resell the home, the lower its carrying costs will be — so a quick closing could help your offer stand out.

Additional Zillow services
Zillow has partner lenders in every state, so you can apply for a mortgage through Zillow Home Loans and get prequalified in just a few minutes.
While interest rates may vary based on the amount of your loan, one benefit of using Zillow Home Loans is that you'll get a $1,500 lender credit when you buy a Zillow-owned home.
Further, Zillow Closing Service provides title and escrow services during a real estate transaction, which can speed up and simplify the process if you're doing a transaction with Zillow.
While this service streamlines the transaction, it's also an added cost that nets Zillow more money during a sale, so it may be worthwhile for customers to shop around and compare prices.
Zillow Offers fees
In total, Zillow Offers fees usually ranged from 9–22% of your home's purchase price. That's substantially higher than competing iBuyers' fees — for example, Opendoor fees range from 5–10%.
Here's a full breakdown of Zillow fees if the company had bought your home:
Fee

Percent of purchase price

🤝 Service charge


1.5–9%*


🛠️ Repairs


1–2%


💰 Closing costs


1–2%


💵 Realtor commission (if applicable)


3%


🏡 Resale costs


6%


Total

9.5–22%


*The average seller paid 7.5%
It was impossible to know exactly how much you would have paid in fees until you received a line-by-line breakdown after Zillow Offers completed your home inspection.
By comparison, sellers who list with Clever can work with a top-notch agent at a fraction of the traditional cost. For just $3,000 or 1% (depending on your home value), a Clever agent will provide full-service support so you can reach your selling goals — whether that's a fast sale, the best possible price, or both.
Where is Zillow Offers available?
Zillow Offers was available in 25 cities across 12 states.
| State | Metro areas |
| --- | --- |
| Arizona | Phoenix, Tucson |
| California | Los Angeles, Riverside, Sacramento, San Diego |
| Colorado | Colorado Springs, Denver, Fort Collins |
| Florida | Jacksonville, Miami, Orlando, Tampa |
| Georgia | Atlanta |
| Minnesota | Minneapolis-St. Paul |
| Nevada | Las Vegas |
| North Carolina | Charlotte, Raleigh |
| Ohio | Cincinnati |
| Oregon | Portland |
| Tennessee | Nashville |
| Texas | Austin, Dallas-Fort Worth, Houston, San Antonio |
» Thinking about using an iBuyer? Find the best Zillow Offers alternatives.
Zillow Offers reviews by customers
Most online reviews focus on Zillow's website, app, or agents — so it was hard to find Zillow Offers reviews. This made it difficult to determine exactly how customers felt about the service.
Positive Zillow Offers reviews did mention the service's fast, hassle-free alternative to listing on the open market.

However, other Zillow Offers reviews came from sellers who felt they'd been duped by a bait-and-switch.
For example, one customer's cash offer was slashed by $23,000 after Zillow Offers completed the inspection.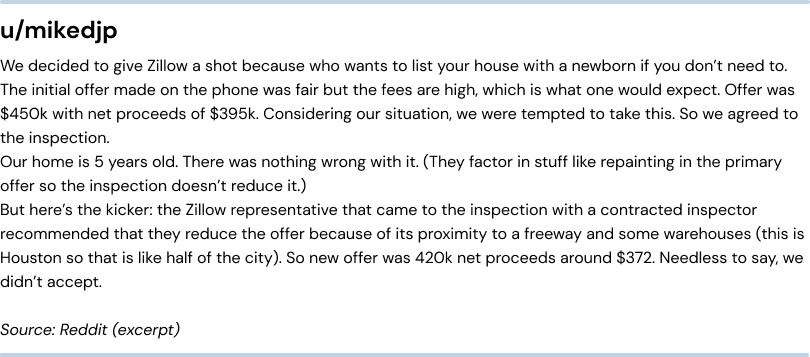 Another customer had the same experience according to this Zillow Offers complaint. Because of their experience, they ended up selling with a real estate agent.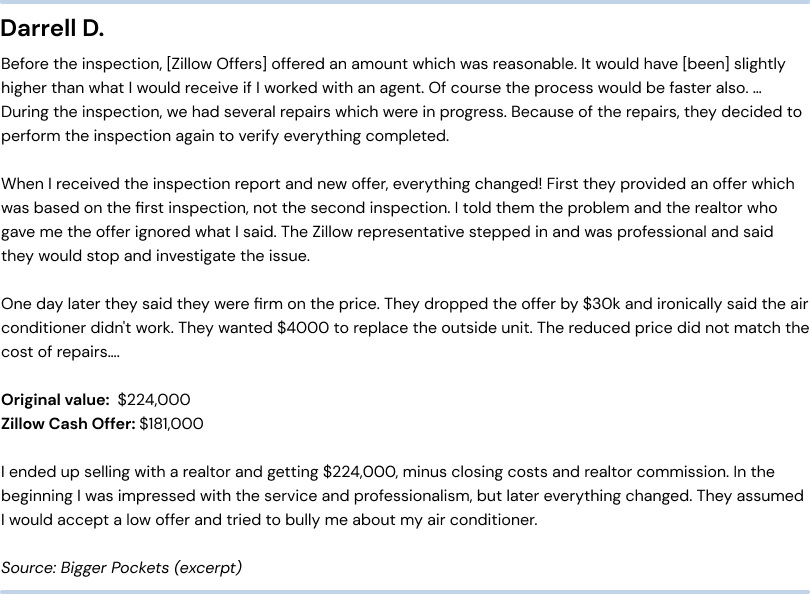 You can also browse customer reviews and testimonials on Zillow Offers' site — but since these are curated by Zillow, we can't consider them to be truly objective.
Between potentially high fees and Zillow Offers reviews that document inaccurate price estimates, we suggested that it often made more sense to work with a traditional real estate agent. If you don't have to sell immediately or live in an area where homes are selling fast, Clever can help you save thousands on commission while getting top-quality service!
Zillow Offers alternatives
Even though Zillow Offers is no longer available, there are plenty of alternatives to explore.
For example, Opendoor is another leading iBuyer that's available in more locations and charges lower fees than Zillow Offers did. You can also sell to a traditional real estate agent.
Or, if you don't need to sell immediately and want to save on fees, a discount company like Clever may be a better choice. You'll get the support of a full-service agent and likely sell for a higher price than you could with an iBuyer.
Zillow Offers vs. selling with a real estate agent
Though Zillow Offers delivered speed and convenience, sellers usually ended up compromising on price.
According to Zillow, the difference between its cash offers and what sellers could earn on the open market was "typically less than 1%." Another study from iBuyer expert Mike DelPrete found that Opendoor and Zillow Offers purchased homes for 1.4% less than market value.
However, even if this was true, Zillow Offers' fees were substantially higher than what you would have paid with an agent who listed your home on the open market.
The total cost of selling to Zillow Offers could have been as much as 9–22% — compared to the 7–10% average cost of listing with a realtor.
If you sell with a discount company, you could save even more. Sellers who list with Clever pay just $3,000 or 1% in listing fees — keeping thousands of dollars in their pocket without compromising on service.
| | Zillow Offers | Traditional realtor | Listing with Clever |
| --- | --- | --- | --- |
| 💰 Fees to sell | 7.5% avg. service fee + up to 3% commission | 3% buyer's agent commission + 3% listing fees | 3% buyer's agent commission + $3,000 or 1% listing fees |
| 🏡 Sale price | Fair market value at most | What the highest bidder is willing to pay | What the highest bidder is willing to pay |
| 📅 Closing date | Flexible | Negotiated with buyer | Negotiated with buyer |
» MORE: With Clever, you can sell fast, for top-dollar, AND save thousands on commission!
Opendoor vs. Zillow Offers
Along with our deep dive into Zillow Offers, we also reviewed Opendoor — the largest iBuyer in the business.
» READ: Opendoor Reviews: What REAL Customers Think
| | |
| --- | --- |
| 📍 Locations | Opendoor is more widely available, serving more than 47 locations |
| 💰 Fees | Opendoor fees cost 5.5-10% of a home's sale price — far less than Zillow Offers |
| 🔎 Specialty | Opendoor's main focus is on iBuying — unlike Zillow, which uses iBuying as one of many strategies for turning a profit |
| 📊 Volume | In 2019, Opendoor purchased 3x more homes than Zillow Offers |
Below is a quick breakdown of some of Opendoor's key services and benefits compared to what Zillow Offers once provided:
| | | |
| --- | --- | --- |
| | Opendoor | Zillow Offers |
| No showings, listings, open houses | ✓ | ✓ |
| Pick your own closing date | ✓ | ✓ |
| Cancel the sale at any time with no penalty | ✓ | ✓ |
| Offer valid for 5 days | ✓ | ✓ |
| Free offer within 24 hours | ✓ | X (48 hours) |
| Home trade-in program | ✓ | X |
| Partnerships with major homebuilders | ✓ | X |
| 14-day "late checkout" option | ✓ | X |
Other iBuyers vs. Zillow Offers
Zillow Offers is gone, but Opendoor isn't the only remaining iBuyer on the market. Zillow's fees were among the highest in comparison to competitors, but it did offer perks that other iBuyers didn't — like no cancellation penalties. Find out how Zillow Offers stacked up against other iBuyers.
Closing Date Window
8–90 days
Average Rating
3.7 | 292 reviews
✍ Editor's Take
Pros & Cons
Locations
Reviews
Contact
Offerpad promises the certainty of a cash offer and a fast closing on a date you choose. Of all the iBuyers, Offerpad has the most flexibility when it comes to closing (8—90 days) and is liked by customers for its personalized customer service and perks like a free local move.
Pros
Generous closing window compared to competitors
Late checkout option gives sellers up to 3 days to move out after closing
Access additional services, such as free local moves within 50 miles
Cons
You might face a 1% cancellation fee if you back out of the sale
Not as widely available as competitors like Opendoor
Offerpad is currently purchasing homes in 25 locations, including:
AL: Birmingham
AZ: Phoenix, Tucson
CA: Riverside, Sacramento, San Bernardino
CO: Denver
FL: Jacksonville, Orlando, Tampa
GA: Atlanta
IN: Indianapolis
KS: Kansas City
MO: Kansas City, St. Louis
NV: Las Vegas
NC: Charlotte (+ neighboring parts of SC), Raleigh
OH: Columbus
SC: Columbia
TN: Nashville
TX: Austin, Dallas-Fort Worth, Houston, San Antonio
As of April 7, 2022, Offerpad's average customer rating is 3.7 based on 292 reviews.
Website: www.offerpad.com
Phone: 844-388-4539
Email (Sellers): info@offerpad.com
Email (Buyers): buyers@offerpad.com
Closing Date Window
10–30 days
Average Rating
Not available
✍ Editor's Take
Pros & Cons
Locations
Reviews
Contact
Compared to its competitors, RedfinNow handles a relatively small volume of iBuyer sales and has high service fees (up to 13%). However, RedfinNow shines in several niches, thanks to its willingness to accept older homes and its availability in a wide range of California cities.
Pros
Expanded presence in cities across California, including several not served by other iBuyers
Large and trusted corporate brand
Older homes (built after 1930) are eligible in select cities
Cons
Relatively expensive services fees (up to 13% of the offer price)
Relatively limited flexibility on closing window, compared to competitors
RedfinNow is currently purchasing homes in 31 locations, including
AZ: Phoenix
CA: Inland Empire, Los Angeles, Orange County, Palm Springs, Sacramento, San Diego, San Francisco
CO: Denver
TX: Austin, Dallas, Houston, San Antonio
WA: Seattle
As of April 7, 2022, RedfinNow does not have any verified customer reviews on reputable third-party review sites.
Should I sell my home to Zillow Offers?
| | |
| --- | --- |
| ✅ Pros | ❌ Cons |
| Free, zero-obligation offer, with no penalty if you decline | Fees can be as high as 22% depending on the market and whether you have an agent |
| Flexible closing date (7-90 day window) | Little to no negotiation on sale price or repairs |
| Personalized customer service from a dedicated Zillow Offers Advisor | Homes that need significant repairs aren't eligible |
| Zillow-owned homes are move-in ready | Only available in 25 markets |
iBuyers offer a fast, convenient solution for sellers who want an instant cash offer and a flexible closing timeline.
However, Zillow Offers lagged behind competitors in both its availability in nationwide markets and its unusually high fees. There also weren't many Zillow Offers reviews from customers, making it difficult to gauge people's experiences with the service.
Depending on where you live, homes may also be selling fast on the open market. It's always best to speak with a few real estate agents to make sure you're getting the best possible solution for your goals — whether that's selling fast, earning the most cash from your sale, or both!
FAQs
Why did Zillow offers shut down?
The company was losing too much money. Zillow said its buying model was flawed, which caused it to overpay for homes from July through September 2021. The company ended up losing $420 million and owning thousands of homes worth less than what it paid.
How much are Zillow fees?
Zillow purchased homes through its iBuying service, Zillow Offers, which has since shut down. Eligible sellers received a cash offer within 48 hours — but Zillow Offers fees were as much as 9-22%. For FSBO sellers, it's free to list your home on Zillow — but you'll still need to pay a flat-fee MLS company to get maximum visibility. Because of that, working with a low commission agent may be a better choice for some sellers.
Is Zillow Offers legitimate?
Now shut down, Zillow Offers was a legitimate service that purchased homes for cash. However, some Zillow Offers reviews warned of high fees and repair costs that could eat into sellers' profits. Read Zillow Offers reviews from customers.
How does Zillow Offers work?
If you wanted to sell your home to the now-shuttered Zillow Offers, the process was very simple. You submitted your information online to get an initial cash offer within 48 hours, then scheduled an inspection. After the inspection, Zillow adjusted its offer to account for repairs. Learn more about how Zillow Offers worked.
Is selling your house to Zillow worth it?
Does Zillow give good offers?
A study from Zillow found that sellers who rejected a Zillow Offer only sold for 0.09% more on the open market. However, given Zillow's hefty service fees, sellers may have netted more on the open market. Keep in mind that if Zillow agreed to purchase a home, it's because the company believed it could resell the house for more.
Can you negotiate with Zillow Offers?
When Zillow Offers was operational, Zillow claimed it made its best offer upfront to simplify the process and speed things up for sellers. Because of this, you couldn't really negotiate since Zillow's offer factored in the costs it anticipated having to pay to resell the home.
Does Zillow buy homes at market value?
In some cases, Zillow paid close to market value for homes — but there's no simple answer to this question. To establish a price for your home, Zillow evaluated a variety of factors, such as:
The estimated time to resell

The cost of repairs to the home

Market conditions

Potential for profit from resale

Closing costs

Holding costs
What is a Zillow cash offer?
A Zillow cash offer was an offer from Zillow to purchase your home. The offer took into account Zillow's service fee, selling costs, and repairs that Zillow had to make before reselling the home. Zillow cash offers were valid for five days from the date of your initial request.
Related articles