Partnering with an honest, professional real estate agent is one of the best things you can do when buying or selling your home. Employing a dishonest or sneaky realtor could end up costing you thousands of dollars and add time to your real estate transaction.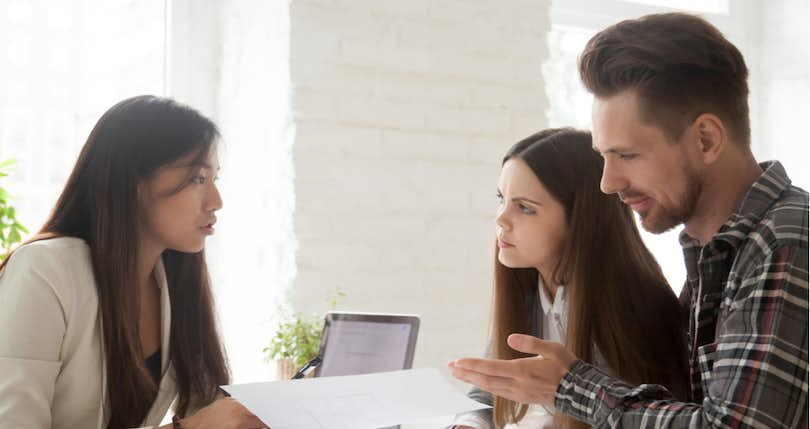 If you're new to the home buying or selling experience, shopping for a realtor can feel overwhelming. There are a ton of real estate agencies out there and finding an honest, savvy realtor can end up making or breaking your real estate transaction. In order to spot the good, you must first be aware of the bad. Here are a few tricks that dishonest real estate agents play, so you can be sure to avoid them during your next real estate transaction.
JUMP TO SECTION
Do you think your real estate agent might be dishonest?
Learn the worst tricks and work with a trustworthy Partner Agent instead.
Acting as a Dual Agent
It may seem like the easiest solution to have your real estate agent also represent the other party. Then, the transaction is straightforward, communication is quick, and no one drags their feet, right? Wrong.
Unfortunately, a dual agent can't completely have both parties best interests in mind. While real estate transactions aren't cutthroat, negotiations can get lengthy and intense. How can the buyer's agent drive a hardline negotiation for a fair price while also helping the seller make a substantial profit? We're sure it can be done, but one party usually sacrificed more than they would have if they utilized separate agents.
What's worse is laws in certain states regarding dual agents. A dual agent cannot jeopardize the best interests of their clients — you and the other party. Therefore, the seller will end up paying double commission for a realtor that doesn't totally live up to their job description.
Leaving Up Old Listings as Bait
To cast a wider net for would-be clients, shady real estate agents leave up old listings, many that have sold months or even years prior, to attract buyers. These listings contain a vague address, referencing the area or neighborhood instead of the house number and street.
This forces the would-be buyer to call and inquire directly about the property, opening the door for the realtor to show them other properties or hound them until they've earned the business. At the end of the day, this isn't downright despicable, it's just false advertising.
It's also an admonishment that the realtor is down to cut corners or use cheap tricks to get business, and therefore may also implement shortcuts during your partnership. If the realtor has to utilize this sort of business tactic, then they probably aren't the best at their job anyway.
Manipulating the Comparative Market Analysis
Good realtors should provide clients with a comparative market analysis (CMA) that shows the seller what they could realistically expect for their home, based on other area sales. A great realtor will analyze this information and explain it, piece by piece to the client, so they can understand why their home should be priced at a certain number.
A dishonest realtor can remove certain data from the CMA, creating a report based on selected sales in the area, not all sales. This could manipulate the price of your home up or down, depending on the realtor's motives. If they want a quick sale, they might frame the CMA to show cheaper median home sales, ensuring your home is snatched up quickly.
Making Poor Referrals
Throughout a real estate transaction, the buyer and seller will rely on additional parties to facilitate a smooth purchase or sale. Buyers rely on lenders, inspectors, and appraisers while sellers might need to preemptively utilize contactors, handymen, or painters.
A sneaky realtor might suggest their friends, colleagues, or contacts that give them a kickback for referrals even though the suggested party may not be the best deal for you. Check to make sure your realtor is helping you get the best deal by seeking out multiple quotes or loan options.
Promising More
This relates to the listing and the final sale price. An honest real estate agent will be upfront with expectations and will truthfully market the house, even if certain aspects of the property leave something to be desired.
To land the contract, a sneaky realtor might promise you more for your home than you should actually expect. Knowing sellers are eager to capitalize on profits, the realtor may market themselves as having the expertise and prowess to secure your desired sale price. However, this could cause your home to languish on the market and instigate an eventual price drop.
Shady agents may also embellish the language used when listing your site, promising potential buyers more than your home will deliver. Dilapidated fireplace in desperate need of repair? Well-loved, rustic brick fireplace that has warmed the living space for years through cold, New England nights.
When buying or selling your home, do your own research on the front in for a better understanding of the area housing markets, available lenders, and the home's true value.
If you're coming up on an impending real estate transaction, employing a knowledgeable, honest realtor is a vital initial step. Clever Partner Agents are top-rated and will always act in their clients' best interests. Whether you're a potential home-buyer or looking to sell your current property, call Clever today to connect with a Partner Agent in your area.
Related Articles