Selling a home can be challenging under normal circumstances — when you're on a tight timeline, it's on a whole other level. If you need to sell your home fast, check out these five must-read tips to ensure you get the best possible outcome.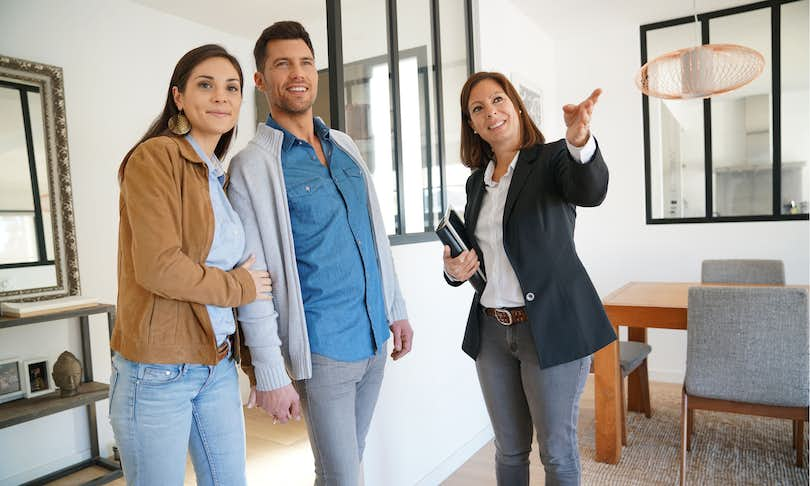 Whether it's a new job, family emergency, or some other major life change, situations often arise that require people to sell their house fast.
The good news is that despite what you may have heard, being in a hurry doesn't necessarily mean taking a major loss on the transaction.
If you need to sell your house fast, your best bet is to work with a top-rated real estate agent.
Get in touch to learn more and connect with a top-rated agent near you for a no-obligation consultation.
In the meantime, here are five tips that will help you sell your house fast for market value — or more!
1. Avoid Cash Buyers and Other Equity Purchase Companies (if Possible)
Cash buyers like "We Buy Houses For Cash" are willing to pay cash for houses in almost any condition.
On the surface, it seems like a faster option than listing with an agent; however, the truth is that the timelines are actually pretty similar (at least for sellers working with top-rated agents).
While cash buyers may offer a marginal advantage in regards to speed, rest assured that if you choose to go this route, you'll be leaving a sizable chunk of your equity on the table. These companies operate on a buy-low-sell-high model, so chances are you're going to get a lowball offer — often 20-50% below fair market value.
The only time this option might make sense is if you're selling a seriously rundown property in a cold market or undesirable neighborhood — but even then, it's worth talking to an agent first to make sure they can't help you sell within your required timeline for a better price.
If you're entering foreclosure, have inherited property, are getting divorced, or have to relocate for work and you MUST sell immediately, consider selling to an iBuyer over a local cash buyer or house flipper.
Most iBuyers charge service fees, but because they're buying and selling at a higher volume, many are able to offer closer to fair market value than local cash buyers. What's more, they typically move faster — many make preliminary offers in 24 to 48 hours and can close in as few as 10 days.
2. Don't List For Sale By Owner
Many home sellers looking to save will attempt to sell their homes themselves — also known as a for-sale-by-owner (FSBO) listing.
If you need to sell quickly, this approach is not recommended. While nearly 36% of home sellers attempt a FSBO sale each year, only 11% ever actually close a deal.
The reality is that most FSBO-listed homes sit on the market for months before the sellers give up and seek professional assistance from a licensed agent.
This is because most FSBO sellers simply don't have the expertise, time, or resources necessary to sell a house quickly. Top agents work long hours, including nights, weekends, and holidays, to ensure their houses sell quickly, and for top dollar.
Sell with a Top Agent, Save Thousands!
List with Clever, get full service, save up to 50%.
3. Stage Your Home to Sell Fast
You can increase your chances of attracting a buyer's attention by presenting your home in the best possible light.
Potential home buyers want to be able to see themselves in the space. If your personal touches are rampant, potential buyers may be less inclined to buy. If they do make an offer, it may be well below asking price.
Stage your home by hiring an interior decorator or professional stager. They can use your current furniture and select decor to present the home in a neutral yet attractive light.
In addition to removing personal touches, repairing or replacing obvious aesthetic accents can foster larger profits and a faster sale.
Repainting interiors, repairing visible damage, replacing burnt-out light bulbs, mowing your lawn, and making other curb-appeal improvements are vital to a quick sale.
4. Sell Your Home at Auction
Though slightly unorthodox, listing your house with a home auction service can be an incredibly convenient way to offload a property fast.
Homes sold at auction have closing dates between 30 and 90 days from the initial offer.
Plus, your home will only be bid on by pre-qualified buyers who are serious about purchasing your property. You'll save time by forgoing staging and omitting showings.
In addition to the speedy nature of property auctions, would-be sellers don't have to negotiate with the buyer.
Naturally, this convenience does come with a cost. You can expect your home to sell for 10-15% less at auction than it would through a traditional listing.
While it's a great way to offload property quickly, you'll often earn less than market value.
5. Find an Experienced Local Real Estate Agent
The best move to ensure a speedy and profitable home sell is to connect with a real estate agent who knows the local housing market.
They will advise home sellers on an appropriate listing price, advertise the home via MLS, and act as an invaluable resource throughout the home selling process.
A top-rated agent will have experience marketing and negotiating, and will offer guidance throughout the closing process to ensure all necessary paperwork is complete.
They will even negotiate who pays closing costs with the potential home buyer. There's a reason that 91% of home sellers choose to list with a real estate agent.
Clever Partner Agents are all top-performing real estate agents with extensive home selling experience. They'll sell your home for an industry-leading flat fee of $3,000, or just 1.5% if the home sells for more than $350,000.
This means the total commission on the sale will be thousands of dollars less than when working with a traditional agent — and better yet, you will only pay when your home sells.
If you're on a tight timeline but want to walk away with the best price possible, get in touch today to connect with one of our top-rated Partner Agents in your area!
(For more tips for selling your home fast, read here.)
Top FAQs About How to Sell a House Fast at Market Value
1. Should I sell my house to an investor?
If you need to sell your home fast and are considering selling to an investor, the investor will most likely offer you below market value. The investor will have to pay closing costs, repairs, taxes, and holding costs until they flip the property. Considering these additional costs, investors are most likely going to offer less than market value for your home.
2. Can I walk away from my mortgage?
If you walk away from the mortgage and stop paying, the lending party is able to sell the home for less than the mortgage amount then return to you for the difference, plus legal costs and additional fees. In order to release yourself from the financial burden of the mortgage, you'll need to settle up with the bank for the remaining home value.
3. Is carpet or laminate better for resale?
It depends on the buyer but in most cases, laminate flooring is preferable. Hardwood is the most preferable, but is costly. For a quick floor update to increase the aesthetic appeal of your home, opt for a laminate wood floor instead of new carpet. In many areas, carpet is less desirable due to weather, dirt, or potential buyers with allergies.
4. What should you not fix when selling your house?
You don't need to overhaul your entire home to ensure a fair market value sale. Minimum improvements like patching holes, repainting, fixing appliances, and updating visible hardware improve the overall aesthetics of the house. You do not need to gut the bathrooms and kitchen but minor touch ups can help. There is no tangible value added by installing superfluous touches like crown molding, backsplashes, or bead-board.
Related Articles
You May Also Like