Chicago is filled with unique neighborhoods that can either make living here a dream come true or a nightmare experience. If you're living the single life, you have a little more flexibility on where to live. Use this guide to explore the five top neighborhoods in the Windy City.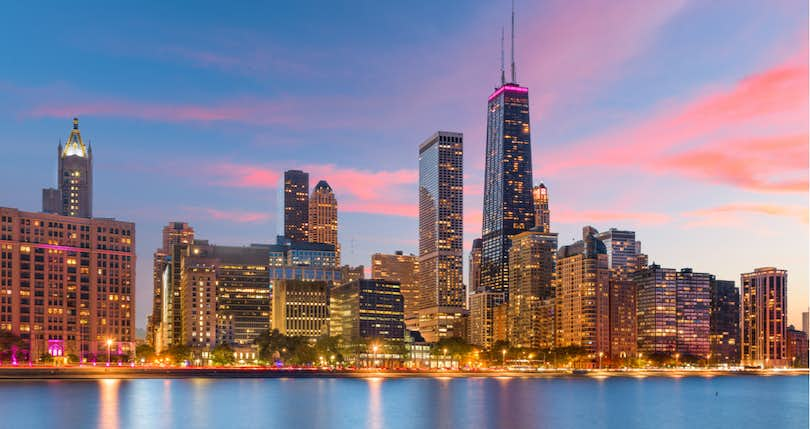 Whether you're moving for work or just want a fresh start, it's easy to see the allure of Chicago. The Windy City is growing its reputation as a hotspot for young professionals and singles, with a healthy job market, several colleges and universities, and a strong economic outlook.
There are 77 individual neighborhoods that make up this amazing city, many of which are ideal for singles that want to take advantage of everything Chicago offers. We've done the research for you and narrowed down five of the best neighborhoods, based on affordability, walkability, proximity to area attractions, and general look and feel.
The Loop
Named for the train tracks that circle the business district, the Loop is home to many of the city's most iconic companies and buildings. It's been ranked as one of the top three neighborhoods for young professionals, given its proximity to stores and businesses. Only 8% of the population here has children, so, for the most part, you'll be among educated singles like yourself.
One of the major selling points is that many of the city's attractions and activities are within walking distance. Museums, theater, nightlife, dining, and shopping can all be reached within minutes, so traffic isn't usually an issue.
Home prices and rent in this neighborhood aren't the most expensive in Chicago, but they're not the cheapest either. The average monthly rent is around $2,000, while the median home value is $448,000. The majority of people in this neighborhood rent their homes, but given the abundance of things to see and do in the area, you'll likely want to stick around for longer than the typical lease.
Printers Row
This old, affluent neighborhood has been touted as the best place to live in Chicago for many reasons, particularly in lower housing costs. It offers an urban-like look and feel complete with bars, restaurants, shops, and parks that are within walking distance of its residents.
Compared to population-dense neighborhoods like the Loop and River North, Printers Row is relatively small with just under 9,000 residents. Home values are nearly half the price of the Loop, while rent is also lower than in other areas in Chicago. Young professionals and singles are attracted to this neighborhood for the city experience without the high price tags of other neighborhoods near the waterfront.
River North
If you're looking to get inspired by your neighborhood, River North is the place to live. This is Chicago's fashion and art district, with tons of trendy boutiques, galleries, and restaurants lining its streets. People who live here say that just about anything they could need or want is conveniently located and mostly within walking distance.
Rent and home prices are a bit lower than other standout Chicago neighborhoods, with rent averaging $1,771 and a median home value of $370,565. The median income is just under $90,000, with the majority of residents having a college degree. The lower cost of living is particularly attractive to the younger crowd looking to relocate and grow their careers in Chicago.
---
Looking to buy your dream home? Finding the right realtor makes all the difference!
The first step in your home buying journey is to find a top local realtor who's an expert negotiator and has proven experience in your area. The right agent can help you find the best house for your budget and priorities — and craft a winning offer so you don't miss out on your dream home.
The easiest way to find a great local realtor is to use a free service like Clever Real Estate. Clever matches home buyers like you with top agents in your area so you can compare your options and choose a realtor who's the right fit for you.
You can interview multiple agents until you find the perfect fit, or walk away at any time - Clever's service is 100% free with no obligation. Fill out the form below to instantly request hand-picked agent matches now!
💰 Buy with a top agent, earn cash back!
Buy your dream home with a top local realtor from a trusted brand like Keller Williams or RE/MAX. Keep more money in your pocket by earning cash back on eligible purchases.
Enter your zip code to request hand-picked agent matches in minutes. Compare your options until you find the perfect fit, or walk away with no obligation. Try Clever's free service today!
Old Town
Stores, restaurants, and robust transit make this place a highly desirable area to live among singles. Step outside of your home and you could be at any number of retail stores, bars, or a baseball game within minutes.
Old Town is a bit on the expensive side, with a median home value of $471,000, but in this case, you're getting what you pay for. It's just a stone's throw from the highly coveted Gold Coast neighborhood and all the prime waterfront that goes with it. The neighborhood itself tends to be safe, with residents touting it as a clean, friendly place to live.
West Town
Bordering Goose Island and the Chicago River, West Town is brimming with opportunities for singles and young adults. This is one of Chicago's largest neighborhoods and has everything you could need in the city: restaurants, markets, parks, entertainment, and coffee shops, to name a few. Though expansive, it gives off a small-town vibe that gives you the best of a quiet neighborhood and big city living.
The median home value is on the pricier side at $431,000, especially considering the median household income is just $87,000 (lower than many of Chicago's equally impressive neighborhoods). The beautiful blend of historic and modern architecture and abundance of activities lend much to its desirability.
Exploring the Best Neighborhood in Chicago
Are you craving views of Chicago Harbor, deep-dish pizza, and some of the best arts and culture in the country? Before you start packing, make sure you've done your research on the best Chicago neighborhoods that will make every moment you live there feel like home.
If you're thinking of relocating to Chicago, the first step is to partner with an experienced local real estate agent. Clever Partner Agents are full-service agents that can provide guidance and support throughout the process. In addition, you may even be eligible for Clever Cash Back!
Connect with Clever today for a no-obligation consultation and let us introduce you to an experienced Chicago Partner Agent to make your transition into the Windy City a rewarding one.
Related Articles