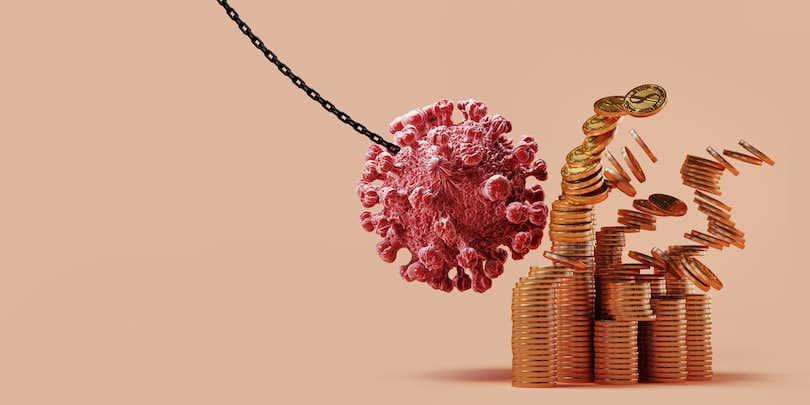 Have Americans' lives and finances returned to normal in the aftermath of the COVID-19 pandemic? Has recent inflation impacted their financial situation even more than the pandemic did?
To answer these questions, Real Estate Witch surveyed 1,000 Americans to see how they're faring three years into the pandemic. Although some people have recovered, others are still living paycheck to paycheck. Plus, the pressure of debt and other financial demands are forcing some to miss rent or mortgage payments. Here's what we learned about how Americans view the current state of financial recovery.
70% of Americans say recent levels of inflation impact their finances more than the pandemic
From groceries to gasoline, the price of everyday essentials has fluctuated, often hitting record highs. Most Americans say this type of inflation has had an impact on their financial outlook even more than the pandemic. Another 70% think it's more impactful on the stock market than COVID-19. That said, Americans are split evenly at 50% for inflation and 50% for COVID-19 when it comes to the job market and supply chain issues.
Renters are 10% more likely than homeowners to say they are financially worse off than before the pandemic
Whether you pay rent or a mortgage, a substantial chunk of your monthly budget goes to housing. For people living in expensive metro areas, this may be even more of a burden. Renters are more likely than homeowners to say they are struggling due to the ripple effect of the pandemic. But are homeowners really better off? Last year, one-third of homeowners (33%) missed or deferred a mortgage payment, and 33% of renters also reported missing rent payments.
69% of renters don't think they can afford a home in 2023
In light of how renters feel about their financial situation, it's understandable that the majority of them don't think they can afford a home. Renting has historically been seen as more affordable. While renting, Americans are expected to save money to start searching for a home. But with monthly rent prices also increasing because of inflation and a competitive housing market, that's becoming more difficult to do.
» MORE: Americans' Pessimism Darkens 2023 Economic Outlook
One-fourth of renters want to continue renting
Remaining a renter during a period of high inflation and interest rates can be a smart financial decision. Although monthly mortgage payments tend to be lower than monthly rent prices, homeowners typically have other expenses, many of which are unforeseen. In addition to maintenance and repairs, they also have to consider several different types of insurance policies.
Nearly 1 in 6 Americans believe it will take three years or more for their finances to recover
If Americans feel unsure about their finances, how long will it take to recover? It's tough to predict but 18% of Americans say three years or more. This could inevitably have a long-term impact on the housing market as people make strategic decisions about the right time to buy or sell.
16% of Americans believe their finances will never recover from the pandemic
Three years later, 72% of Americans still haven't recovered from the COVID-19 pandemic as it relates to finances. Stress due to money concerns is one of the most common forms of stress. Record inflation and unforeseen circumstances like the pandemic have not helped the situation.
Americans are 60% more pessimistic about the housing market than they were a year ago
Three years into the pandemic, Americans are 60% more pessimistic about the housing market than they were only a year ago. Americans state that inflation is a crucial factor in their home-buying decisions. Nearly 3 in 4 Americans (73%) cited inflation and high interest rates as the main reason they won't buy a home. Fortunately, discount real estate agents and buyer rebates can be incredibly helpful for those who do decide to buy, leading to savings.
» MORE: 25 Things to Know About U.S. Workers' Mental Health During COVID-19
15% of Americans delayed plans to sell their home indefinitely due to COVID
For homeowners, the pandemic definitely had a way of impacting plans. About 15% of Americans decided not to sell their home due to COVID-19. Although many Americans feel that the pandemic is over, a significant portion is remaining cautious and taking time to consider their long-term plans.
11% of homeowners say they're still planning to sell their home this year, regardless of inflation
Inflation seems to take slightly more of the blame when it comes to impacting the housing market, but 11% of homeowners say it won't stop them from selling this year. On the other hand, 9% say inflation is causing them to accelerate their plans. This is underscored by the fact that 22% of Americans are moving to seek a lower cost of living in states like Texas and Arizona.
» MORE: Ways High Inflation Could Impact Your Next Move
Only one-third of Americans (33%) believe they can pay off their debt within a year
Debt is nothing new for most people. In fact, three-fourths of Americans (75%) have non-mortgage debt. Unfortunately, 6% of them don't think they will ever be able to pay off their debt. A whopping 73% of those who have non-mortgage debt report being stressed about their current financial situation.
73% of Americans have lived paycheck to paycheck at some point during the pandemic
Three-fourths of Americans lived paycheck to paycheck at some point during the pandemic, including 44% who are currently living paycheck to paycheck. Although fewer Americans are living paycheck to paycheck, they're working more and spending less.
82% of Americans support the government distributing more stimulus checks
Stimulus checks are a controversial topic, but they're a top financial relief program with 60% of Americans saying it provides the most peace of mind. That said, Americans weren't particularly thrilled that the amount of money for both rounds of stimulus checks was the same across income classes. Three-fourths of Americans (74%) say the government should distribute stimulus checks scaled by income level.
Nearly half of Americans (49%) consider the COVID-19 pandemic a leading cause of the historic inflation we're experiencing
Relief checks aside, nearly half of Americans still believe the COVID-19 pandemic was a leading cause of today's historic inflation rate. Despite debate about suggested protocols, 55% of Americans believe the Centers for Disease Control (CDC) reacted adequately to the pandemic, even if it will have more of a long-term economic impact on their lives.
45% of Americans have no emergency savings
As they attempt to cope with financial hardship, Americans are dipping into emergency funds to cover living expenses. Roughly 38% believe they will run out of savings in 2023. It's recommended that adults have three to six months of expenses saved at any given time. Unfortunately, nearly 2 in 3 Americans (65%) can't afford an unexpected bill of $1,000.
Although 24% of Americans say they're more stressed about pandemic-related issues than they were last year, most are less stressed (45%)
Three years later, the pandemic is becoming less stressful for many people. Despite new variants, 45% of Americans say they are less stressed about COVID-19 than they were a year ago. This number will probably continue to grow as the general population learns to live with a new normal in the aftermath of the height of the pandemic.