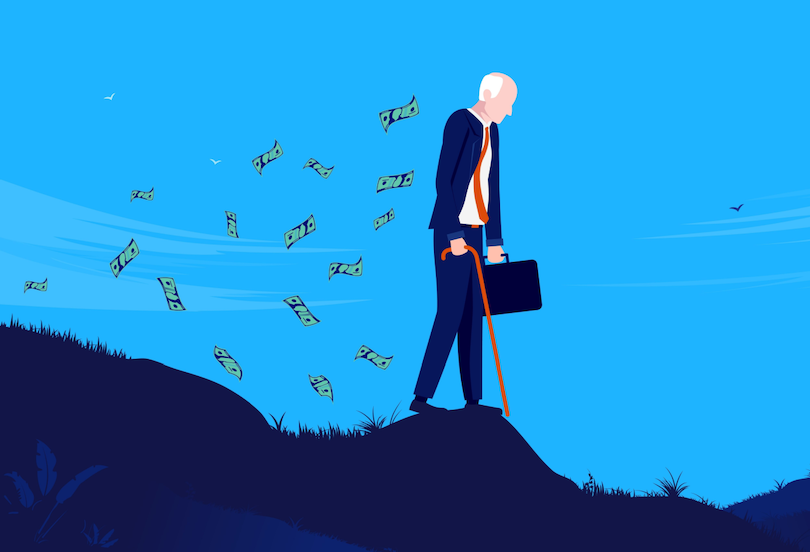 💸 Retirees Lost 10% of Their Savings in 2022 💸
The average American retiree has $170,726 saved for retirement — about 10% less than the $191,659 they had at the start of 2022.
Average Retirement Savings | Retiree Pessimism | Retirees Blame ... | Retirement Regrets | Inflation & Retirement | Retirement & the Cost of Living | Retiring Too Soon | Retiree Debt | Retirement Income | How Much Will I Need to Retire?
A comfortable retirement is more out of reach today than it was a year ago.
Faced with rising prices and stock market setbacks, the average retiree has $21,000 less in savings than they had at the start of 2022 — dropping from $191,659 to $170,726. What's more, the share of retirees with nothing saved jumped from 30% to 37%.
The consequences are clear. The latest Census data puts the share of U.S. seniors living in poverty at a 20-year high, and the economic turmoil of 2022 threatens to raise the number even higher[1] .
Seniors are already feeling the ramifications. Just 1 in 8 American retirees (12%) have at least the recommended $555,000 in savings, according to a new Clever Real Estate survey of 1,000 retirees.
The COVID-19 pandemic led some to retire early because of health problems or concerns, and many retirees have come to regret that decision, with 48% saying they believe they'll outlive their current savings.
Inflation has forced many retirees to make drastic sacrifices to preserve their savings, with 18% saying they've skipped meals and 24% saying they've skipped medical treatments to make their money last longer.
Clever's survey asked retirees about their savings, spending habits, and debt, as well as their opinions and regrets related to retirement. Keep reading to learn more.
Key Retirement Savings Statistics 💰
The Average Retiree Has $171,000 Saved — Less Than One-Third of What They'll Need
The average retiree has just $170,726 saved for retirement — 31% of the recommended $556,400. The recommendation is based on Fidelity guidelines[2], which suggest having 10x one's income saved when entering retirement, with the median U.S. income at $55,640[3].
Sadly, only about 1 in 8 retirees (12%) say they have at least the recommended $555,000 in savings.
The $170,726 that retirees have saved is particularly troubling when compared to previous years. That figure is 10% lower than it was in 2022, when retirees said they had an average of $191,659 stowed away.
Just as concerning is the growing share of retirees with nothing saved.
Nearly 2 in 5 Retirees Have Nothing Saved
About 37% of retirees say they have no retirement savings, up from 30% in 2022.
The lack of savings is not unique to retirees. Due, in part, to inflation, the U.S. personal savings rate is the lowest it has been since 2005, according to Federal Reserve data[4]. However, unlike working Americans, retirees have few opportunities to raise their income.
That may explain why Americans 65 or older were the only demographic group to have a statistically significant increase in its poverty rate in 2021, according to Census data[5].
Retiree Pessimism: 48% of Believe They'll Outlive Their Savings
Retirees often enter their later years without realizing how much money they'll need to spend in retirement. Nearly 3 in 5 retirees (57%) say the cost of retirement surprised them.
The average retiree's household spends $51,048 a year — $4,254 each month, according to U.S. labor statistics[6]. The high cost of retirement may explain why 48% of retired Americans believe they'll outlive their savings.
Retirees Blame Government, Former Employers for Financial Struggles
As saving for retirement becomes more difficult, an overwhelming 87% of retirees say the government should do more to help retired Americans.
Many are still waiting for the economy to recover from the COVID-19 pandemic, and more than half of retirees (53%) say their finances aren't yet back to what they were before the pandemic.
Also catching blame from retirees are their former employers:
60% of retirees say their employer didn't help enough with retirement.
53% of retirees say their income wasn't high enough to afford saving for retirement while working.
47% of retirees say their employer did not offer a pension or other retirement plans, such as a 401(k).
Retirees' Regrets: 3 in 5 Say They Waited Too Long to Start Saving
Most retired Americans, however, do accept some responsibility for their lack of retirement savings. Despite complaints about not receiving enough help, 51% of retirees admit they did not adequately prepare for their retired years.
The most common regrets among retirees are:
They wish they better understood retirement savings when they were working (67%).
They should've managed their money better before retirement (63%).
They didn't know how much money they'd need to retire (58%).
They waited too long to start saving for retirement (57%).
They didn't know how their savings would be taxed when they retired (40%).
They have already spent too much of their retirement savings (34%).
They pulled from their retirement savings early (29%).
Interestingly, many retirees wish they would have been more aggressive investors when they were younger. They are more than twice as likely to say they didn't make enough high-risk investments (40%) than they are to say they made too many (18%).
5 in 6 Retirees Say Inflation Has Impacted Their Retirement Savings
Not only do retirees admit they haven't saved enough money — but the money they have saved has become much less valuable.
Much of the developed world saw unusually high inflation in 2022. In the U.S. for example, the true value of $1 million is about $130,000 less than it was two years ago ($868,500).
As a result, 83% of retirees say rising costs have impacted their retirement savings.
43% say inflation has had a major impact.
40% say inflation has had a minor impact.
17% say inflation has had no impact.
Inflation has been even more costly for those who retired in 2022, with 89% saying rising prices have had an impact on their retirement savings. About 41% of retirees, including 57% of those who retired in 2022, say they would have delayed retirement had they known inflation would become so high.
Those impacted by inflation say:
They had to decrease spending on nonessentials (e.g., dining out, vacation, recreational activities, etc.) (45%).
Their purchasing power has declined (44%).
They are worried their investments will decrease in value (25%).
They no longer have enough saved (23%).
They are worried they might have to earn more income/go back to work (23%).
They are running out of money (22%).
44% of Retirees Struggle to Afford Basic Living Expenses
About 54% of retirees say they have trouble affording expenses, including 44% who struggle to pay for basic living expenses, such as groceries, housing, utilities, and medical expenses.
The most common expenses retirees have difficulty paying are:
Groceries (31%)
Utilities (e.g., electric, water, etc.) (26%)
Gasoline (24%)
Credit card bills (22%)
Phone/internet/cable bills (19%)
Medical bills (17%)
Mortgage/rent bills (16%)
Insurance bills (16%)
Debt repayment plans (9%)
Car payments (9%)
Subscriptions (e.g., streaming services, newspaper, etc.) (6%)
As costs rise, some retirees have gone to extreme measures to stretch their savings. About 18% of retirees say they have skipped meals, and 24% say they have skipped medical treatment or appointments to preserve their savings.
How Retirees Change Their Spending After Leaving the Workforce
About 45% of retirees say their standard of living has declined since they stopped working, causing many to cut back on spending.
The most common expenses retirees spend less on post-retirement are:
Entertainment (e.g., movies, concerts, etc.) (56%)
Travel (55%)
Clothing/apparel (54%)
Dining out (54%)
Gifts and celebrations (48%)
Nonessential spending in general (46%)
Home improvements (42%)
Gasoline (38%)
Cable/streaming services (31%)
Housing (29%)
At the other end of the spectrum, retirees are most likely to say they've spent more on groceries (42%), gasoline (38%), and medical costs/health care (27%) — all of which inflation has impacted.
Compared to the previous year, the average retiree household annually spends[6]:
$699 more on food ($5,862 to $6,561)
$587 more on health care ($6,526 to $7,113)
$422 more on gas ($965 to $1,387)
Nearly 2 in 3 Retirees Stopped Working Sooner Than Planned — Often Citing Health Concerns
One finding that remains unchanged from last year's report on retirees: Most are leaving the workforce sooner than they initially expected. Just 30% of retirees say they stopped working when planned, and 65% of retirees say they retired earlier than planned.
By an overwhelming margin, health problems are the most common reason for retiring earlier than planned. Overall, retirees stopped working early due to:
Health issues (50%)
Taking care of family (16%)
Being tired of working (15%)
Being laid off or fired and choosing not to find a new job (11%)
Accepting an early retirement plan (e.g., a buyout, good severance, etc.) (10%)
Having enough saved (7%)
Having an unexpected financial gain (3%)
The economy/stock market being good (2%)
The fact that many left the workforce sooner than planned because they were tired of working or because their company offered early retirement plans highlights how, in many ways, the Great Resignation was also a Great Retirement.
With Little Saved, 3 in 10 Retirees Regret Retiring Early
Just under one-third of all retirees (30%) — and 39% of those who retired earlier than planned — say they regret leaving the workforce so soon, in many cases because they failed to save enough money.
The most common reasons they wish they would've delayed retirement include:
They didn't save enough for retirement (40%).
They are bored not working (37%).
They wish they had more money to pay for necessities (37%).
They wish they had more discretionary income (i.e., money to spend on nonessentials) (34%).
They claimed Social Security too early (32%).
They didn't realize how much their standard of living would change (29%).
They could have paid off more debt (29%).
They wish they had better health insurance (13%).
Notably, nearly 1 in 3 (29%) say they could have paid off more debt if they kept working.
71% of Retirees Have Non-Mortgage Debt — Averaging $20,000
The high cost of living for retirees is compounded by the fact that many still owe money to credit card companies, medical providers, or other institutions. Overall, about 7 in 10 retirees have non-mortgage debt, with an average balance of $19,888 — up from $17,136 in 2022.
Medical debt is among the most expensive debt obligations hanging over retirees' heads.
Just under 1 in 5 retirees (18%) have medical debt, with an average balance of $10,259.
Overall, the most common forms of debt for retirees are:
Credit card debt (49%)
Mortgage (24%)
Car payments (20%)
Medical debt (18%)
Personal loans (14%)
The high rate of credit card debt is also a problem because of high balances. A 2022 study on Americans' credit card debt found that the average baby boomer in credit card debt owes $8,208 — about $2,000 more than the average millennial in credit card debt [7].
30% of Retirees Rely Solely on Social Security Payments
Social Security serves as a source of income for about 79% of retirees in 2023. The payments are often not enough to meet all of retirees' needs, and yet 30% of retired Americans say Social Security is their only form of income, lacking even personal savings or retirement accounts.
Overall, the most common sources of income for retirees are:
Social Security (79%)
Personal savings (35%)
Retirement fund (e.g., 401(k), Roth IRA, or other retirement savings) (34%)
Company/employer-funded pension plan (26%)
Investments (e.g., CDs, stocks, etc.) (17%)
Inheritance (7%)
Financial support from a government agency (not including Social Security) (6%)
Part-time employment (4%)
Real estate investing (3%)
Financial support from children (3%)
Income from consulting or owning a business (e.g., Etsy, small business, etc.) (2%)
Cryptocurrency (e.g., bitcoin, NFTs, etc.) (2%)
In the long term, 36% of retirees fear Social Security will run out during their retirement. They're partially right — Social Security Administration officials have said that by 2034, the agency could have to cut benefits by about 20% [8].
1 in 3 Retirees Have Considered Going Back to Work
With the cost of living climbing, about one-third of retirees (32%) say they've considered rejoining the workforce, either through part-time employment, full-time employment, or freelancing.
The most common options retirees are considering as a way to save and earn more money are:
Spending less on nonessentials (45%)
Part-time employment (27%)
Selling their possessions (18%)
Picking up occasional paid tasks (e.g., yard work, babysitting, etc.) (16%)
Moving to a more affordable area (15%)
Investing (e.g., real estate, stocks, etc.) (14%)
Selling their home to downsize (10%)
Consulting/freelancing (6%)
Full-time employment (5%)
How Much Will I Need to Retire?
It's never too soon to start figuring out how much money you'll need to retire comfortably. Use our calculator to determine approximately how much money you'll need to afford an adequate retirement.
Methodology
The proprietary data featured in this study comes from an online survey commissioned by Clever Real Estate. One thousand Americans were surveyed Nov. 17-18, 2022. Each respondent answered up to 21 questions related to their financial situation, retirement preparations, and worries surrounding retirement and financial planning.
About Clever
Since 2017, Clever Real Estate has been on a mission to make selling or buying a home easier and more affordable for everyone. 12 million annual readers rely on Clever's library of educational content and data-driven research to make smarter real estate decisions. To date, Clever has helped consumers save more than $160 million on real estate fees. Clever's research has been featured in The New York Times, Business Insider, Inman, Housing Wire, and many more.
More Research From Clever
Articles You Might Like
Frequently Asked Questions About Retirement Savings
How long will my money last in retirement?
The average U.S. retiree's household spends about $51,000 each year and receives about $31,000 in Social Security payments annually. Learn more.
How much do retirees need to save?
Experts recommend that by your late 60s, you have 10x your salary in savings. Based on the median U.S. salary, that equals about $556,400 in 2023. Learn more.
Are retirees investing during retirement?
About 18% of U.S. retirees rely in part on investments, such as real estate investing, to generate income for retirement. Learn more.