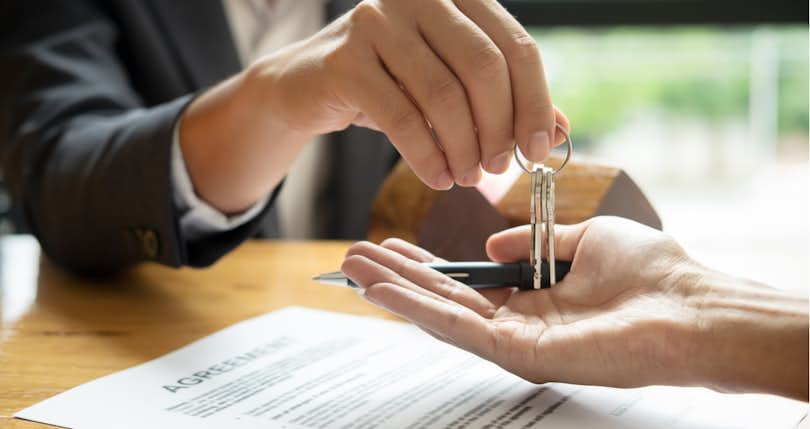 Have you received a letter, email, or postcard from someone offering to buy your property? If you have not put your house up for sale, this is considered an unsolicited offer.
An unsolicited offer is an offer made by an individual, investor, or We Buy Houses company to purchase a property from someone not actively seeking a buyer. These types of offers are more common in hot real estate markets.
If you're considering an unsolicited offer to buy your property, the first step is to make sure you're getting a fair price. Talk to an experienced local realtor to see what your house is worth on the open market, then decide whether the offer is actually a good deal.
👋 Get a free comparative market analysis!
Match with top-rated agents from brand-name brokerages, like Keller Williams and RE/MAX, and request a free CMA today! Sellers will save thousands in realtor commissions with pre-negotiated 1.5% listing fees.
Clever's service is 100% free with zero obligation. Interview as many agents as you like until you find the perfect fit — or walk away at any time.
Why do Buyers Send Unsolicited Offers?
There are many reasons why a buyer would choose to send an unsolicited offer. If the interested buyer is an investor, they might see your property as highly valuable to resale. Investors tend to look for low cost property or properties that appear distressed. This is because they can usually buy it for cheap, fix it, and then resell for a profit.
If the unsolicited offer comes from a regular buyer, this might mean they've been looking for houses and haven't had any luck. Desirable homes tend to get snatched up quickly in a hot market, leaving buyers back to square one.
What ultimately leads buyers to put in unsolicited offers is not wanting to wait for good houses to hit the market. Not to mention, a growing number of homes sell in response to unsolicited home purchase offers.
Are Unsolicited Offers Scams?
Understandably, it might seem like unsolicited offers are scams. The truth is that the majority of them are not scams. In fact, you might even walk away with a profit. But, it's important to identify a scam before deciding to make a deal.
One way to tell if an unsolicited offer is a scam is first seeing how they're offering to pay you. If their offer involves paying in cash up front, they're most likely sending an offer that is 70-80% of what the fair market value would be. The last thing you want to do is accept an offer only to find out afterward that you could have walked away with $50,000 more.
Another easy way to tell if an offer is a scam is by looking up the company who is offering to buy your house. You'll want to look at the reviews and see what other sellers have said about working with them. Unfortunately, this only works if the buyer is an investment company or "we buy houses for cash" company with an online presence. You can always consult a real estate agent to help you determine which offers are legitimate.
Advantages of Accepting Unsolicited Offers
There might be a few circumstances that make accepting an unsolicited offer worthwhile. If you inherited property because of a death or divorce, you might not want to deal with the hassle of taking care of it. This can be especially hard if the value of the house is not enough to pay off an existing mortgage and cover selling fees.
You might also want to accept an unsolicited offer if you want to avoid using a real estate agent and going through the process of listing your house. It's important to note that choosing to take the for sale by owner route is very lengthy and requires a lot of research.
Disadvantages of Accepting Unsolicited Offers
One of the main disadvantages is that the buyers who send these offers out will often ask for the house at a price way under value. As stated previously, this can be as much as 70-80% of what the house is actually worth. Let's say your house is worth $300,000 on the market. An unsolicited offer would most likely be around $210,000 to $240,000. This means you would be missing out on as much as $90,000.
If you were to work with a real estate agent and list your home for sale, you'd be able to get fair market value or more. You might also miss out on any potential negotiations that might increase your profit margin. Buyers that send unsolicited offers are not looking to negotiate, but instead, want to have a quick and cheap sale.
Keep in mind when you accept unsolicited offers, you get locked into an exclusivity agreement. An exclusivity agreement means you can't negotiate with other buyers or accept any other offers. If you want to try to get as much money from selling your home, your best bet is to list it and work with an agent.
What to Do About Unsolicited Offers
There aren't many ways to ensure you don't receive unsolicited offers. But if you aren't interested in selling your home or selling without an agent, you don't need to receive constant offers. This means you'll want to block phone numbers, emails, and ask to have your name taken off their contact list.
A hot real estate market tends to bring out more unsolicited offers than usual. Once your local market cools down, the amount you receive should lower significantly.
Final Thoughts
Accepting an unsolicited offer is entirely up to you and your current situation. It's always recommended that you work with an experienced, local real estate agent so you aren't taken advantage of.
If you're ready to sell your home with or without accepting an unsolicited offer, Clever can help. Clever partners you with a top-rated, full-service real estate agent who will offer guidance every step of the way.
The best part? Clever also pre-negotiates low rates for you, so you can save big on commission without sacrificing service.
» SAVE: Sell with a top local realtor for just 1.5%
Related Articles