If you're selling your home, you've likely wondered what sorts of repairs you'll be on the hook for after a home inspection is performed. In this article, we're going to go over what fixes are mandatory after a home inspection is performed.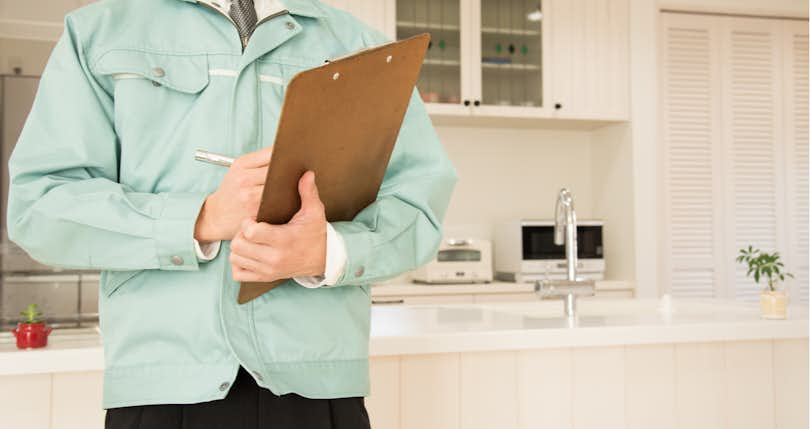 So, you've received an offer from a buyer, signed a purchase agreement, and it looks like everything should be smooth sailing from here on out. However, just as you sit back and relax with the knowledge that you've successfully sold your house, you remember that the buyer is going to hire someone to do a home inspection.
The panic begins to set in: wasn't there a weird sound coming from the water heater? Is it normal for the air conditioner to make a clicking sound when it turns on? And didn't you smell something funny in the basement the other day that could be related to some article you read that said something vague about mold?
Selling your home?
List with Clever, sell faster, save thousands on commission.
As your mind races, you sink into the realization that your home sale is either going to fall through or you're going to be stuck with a major repair bill if you want to keep it afloat. Everything is a disaster. You're about to go into financial ruin.
...or are you? Take a deep breath. As a seller, home inspections can be one of the most stressful parts of a sale because they carry the most uncertainty with them. While you may know of some issues your house has, there's hardly any way to predict what will turn up during the inspection, even if you've had one performed recently yourself.
Luckily, most repairs can be negotiated with the buyer to prevent the deal from falling through and and to save you from needing to spend an inordinate amount of money on fixes. So, what repairs will a buyer expect you to make, and what fixes are mandatory after a home inspection? Let's find out.
What Fixes Are Mandatory After a Home Inspection?
Legally speaking, there are no mandatory home fixes. Assuming the purchase agreement you signed was fairly standard, there was likely a contingency that stated the buyer can annul the purchase if flaws are discovered upon inspection. So, in the worst case scenario, the buyer can just walk.
However, while you may not be on the hook as far as the law goes, that doesn't mean that there aren't other considerations to keep in mind. While you may have some leeway in a seller's market, if you're in a buyer's market, having your house go back on the market after being taken off spells trouble — and it's a particularly long and awkward way of spelling it, at that, so best to just avoid the whole ordeal and reason with the buyer.
When it comes to major problems like structural defects and safety issues, lenders may require that the issues be resolved before they provide the buyer with a mortgage. This means that even if a buyer wants to buy your home without repairs, they simply may not be able to do so.
In most cases, sellers are responsible for fixing major issues that compromise the structural integrity of the home and the safety of the residents. Building code violations are also something you'll likely need to take care of as a seller.
What Fixes Aren't Mandatory After an Inspection?
In general, cosmetic issues and minor problems that come from everyday wear and tear are not the seller's responsibility. In fact, some purchase agreements will specifically state that the seller isn't on the line for fixes like these.
Things get murky when it comes to defects that aren't grave enough to affect the safety of the would-be homeowner, but serious enough that they can't be overlooked. Issues of this nature could include faulty appliances, defective plumbing, or an HVAC system that needs to be repaired. These types of issues can usually be negotiated between the buyer and the seller.
All in all, you'll want to be reasonable about what repairs you're willing to make as having a deal fall through does not bode well for your home's future selling potential. It's better to work with the current buyer than to try to find a new one — once your home goes back up on the market, buyers will wonder why the last deal fell through and generally try to avoid your home.
However, deciding what's reasonable and what isn't can be difficult if you're not experienced in real estate. That's where an experienced real estate agent from Clever can come in: they'll be able to use their years of real estate and negotiating experience to work out a deal with the buyer that will keep them happy and keep your finances smiling as well.
So, if you're stressed about the home inspection process, make yourself a cup of chamomile tea, take a deep breath, and fill out our form to get in touch with a Clever Partner agent who can help you navigate the home selling process. Say it with me: om.
Related Articles
You May Also Like