Looking to sell your house but not sure what improvements are necessary? Many homeowners wonder if replacing their HVAC system is worth it. Here's everything you need to know about replacing your HVAC system before you sell.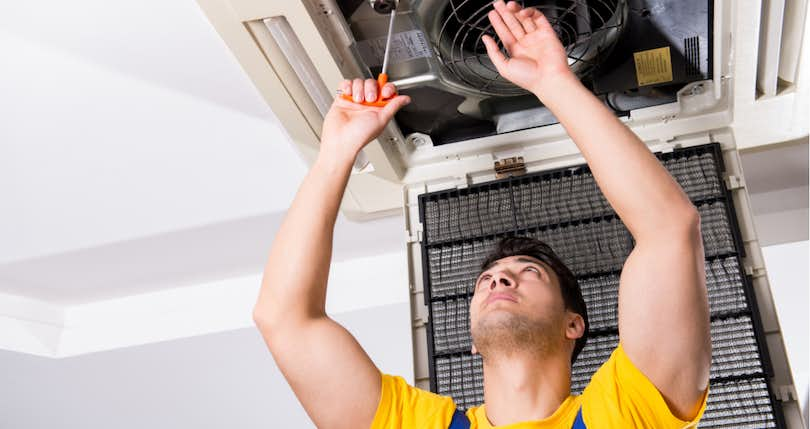 If you're looking to sell your home you've probably thought about some potential upgrades or renovations to make. There is a decent amount of profit to be made from the sale of your home if it's gone up in value or you've paid it off. Chances are, making some changes to your house can increase that number.
There are so many options that homeowners have when choosing to upgrade their home, but a lot of them will debate on whether or not they should replace their HVAC system. There are a lot of benefits to upgrading your HVAC system and it could prove to be a great investment on the home seller's end. Here is everything you need to know about replacing your HVAC system and if it will help you turn a profit when you sell your house.
Does Your HVAC system Need to be Replaced?
Before you potentially spend a few thousand dollars on a new HVAC system, you'll want to check it for any air leaks. This could be what is causing your high energy bills or inefficient heating and cooling of your home. Also, this is a much cheaper repair than replacing the entire system.
One of the first steps to doing this is having an energy assessment done on your home by an energy efficiency professional. Some of these can be quite simple and just require a walk through with a checklist on a clipboard. Or, you can go with a more comprehensive review that entails a blower-door test that pressurizes the house so energy leaks can be detected.
In some areas, the cost of the assessment will be subsidized by electric companies. Also, some states even offer rebates or discounts on having insulation installed or other work done to make your home more efficient. In some cases, the problem isn't the HVAC system but instead is due to poor insulation. Typically, your HVAC system will run better if you seal windows and have your insulation checked out.
Costs of Replacing Your HVAC System
If you determine that your HVAC system does need to be replaced, here is what you can expect as far as costs. The cheapest installation you'll find is around $1,500 and is for an electric furnace. Most likely, the most expensive option would be for a geothermal heat pump installation. This system does both heating and cooling, and the system plus installation is around $27,000 in some areas.
Of course, most residents will lean more towards something a little more simple like a central air conditioner. The price ranges anywhere from $3,600 to $7,600, including installation.
Benefits of Replacing Your HVAC System
Replacing your HVAC system does come with some benefits which can make the cost worth it. If your house is around 10 years old or more, you are needing an upgrade anyways. This can be a great way to incentivize someone to buy your home because they'll know the HVAC system won't need an upgrade for a long time.
This will also make your house energy efficient because a new system will work better. An upgrade will save you on your energy bills and prevent you from spending thousands of dollars on multiple repairs.
Review Your Options
Not many people have a few thousand dollars to drop on a new HVAC system, or it might not be entirely necessary. Just know if you don't have the budget to replace your HVAC system you do have a few choices.
Inspect your HVAC system to see if everything is running properly. If any issues arise that could warrant a costly repair, replace it. Or, you can have a professional come out to take a look and give you more budget-friendly options such as minor repairs or insulation upgrades.
So, should you replace your HVAC system before selling your house? The answer really depends on the quality of the HVAC system you already have and your budget. Assess the quality of your HVAC system and any damage to fix or small improvements you could make.
When in doubt, ask a Clever Partner Agent. They'll know exactly what it takes to get your house sold. If you're looking for a real estate agent who is an expert in your market and charges a low flat rate, you need Clever.
Related Articles
You May Also Like