It's only natural that many home buyers are tempted to hold off on buying a home when prices are lowest. But when exactly is the perfect time? Here's your guide to the best time to buy a house in South Dakota.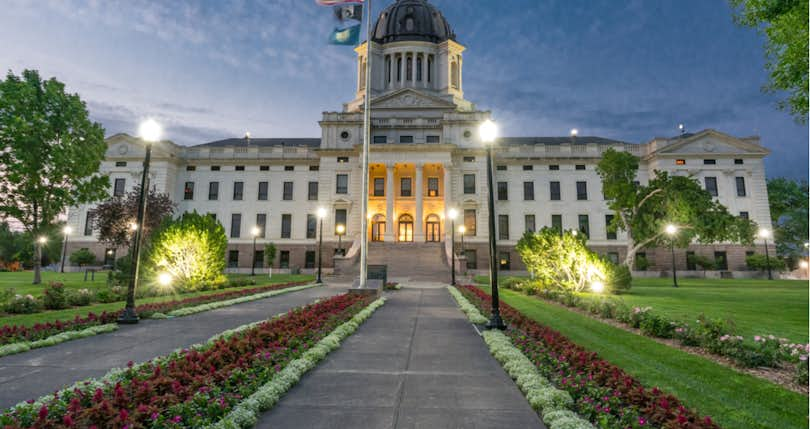 Buying a house is a stressful and emotional process. You'll likely have to spend weeks touring properties, fill out hundreds of forms, and invest a large chunk of your savings to secure the right house.
One way to make buying a house easier is starting the process at the right time. In South Dakota, housing inventory, mortgage rates, and market trends vary from month to month.
For example, this year listing prices for homes in South Dakota were lowest in January. On average, homes were $14,285 less expensive. While in July — the month with the highest prices — the listing prices were $11,344 more than the annual average.
In truth, the best time to buy a house really depends on your priorities and situation. Read on to find out which time of year will give you the most options and the biggest savings when buying a house in South Dakota.
If you're interested in buying a home, the first step in the home buying journey is to find an experienced realtor who's an expert in your local market. The right agent can help you find the best house for your budget and priorities - and negotiate a winning offer so you don't miss out on your dream home.
The easiest way to find a great local realtor is to use a free service like Clever Real Estate. Clever matches home buyers like you with top agents in your area so you can compare your options and choose a realtor who's the right fit for you.
You can interview multiple agents until you find the perfect fit, or walk away at any time - Clever's service is 100% free with no obligation. Fill out the form below to instantly request hand-picked agent matches now!
💰 Buy with a top agent, earn cash back!
Buy your dream home with a top local realtor from a trusted brand like Keller Williams or RE/MAX. Keep more money in your pocket by earning cash back on eligible purchases.
Enter your zip code to request hand-picked agent matches in minutes. Compare your options until you find the perfect fit, or walk away with no obligation. Try Clever's free service today!
Best Time of Year to Buy in South Dakota
Just like in North Dakota, South Dakota's best time for home buyers is January. It's not surprising that there are few home buyers looking for properties during the state's coldest time of the year. As we noted earlier, you may also have a more difficult time finding your dream home because of a lower supply than in summer.
Overall, the median home value in South Dakota is $188,600. It's been increasing steadily over the past few years. Last year, it went up by 5% from 2017. The state is expecting further growth this year, so you may want to enter the market sooner rather than later.
The Best Places to Buy a Home in South Dakota
Sioux Falls
This is one of the state's most beautiful cities. It is also relatively affordable for a city its size with a median home value of $191,000. But there are many family homes in the city that are priced much lower.
In fact, there are always a fair amount of four and five bedroom homes in excellent condition priced in the $160,000 range. The median price that a home sells at is $176,000.
Brandon
This is the perfect mix of small-town and urban life. Brandon is a great place to raise a family with good schools, shopping, and recreational opportunities.
The median home value is $240,500 and it may be a good time to buy. It rose by 6.1% last year over the previous year and the growth is continuing into 2019.
Madison
This picturesque town is close to an airport that connects to major U.S. hubs, including Chicago, New York, and Washington, D.C. Madison is also one of the most affordable towns in South Dakota.
The median home value is $103,100 and it has one of the lowest costs of living in the U.S (nearly 10% lower than the national average). It has an unemployment rate of just 3.5% and is expecting recent job growth to continue into 2020.
Madison is a town for people who want to be near an urban center but not in one. It has some of the best schools in the state, and the average commute is under 10 minutes.
TEA
In addition to having a really cool name, the city of Tea also boasts an incredibly low unemployment rate (below 3%). It has a relatively high median income at $76,000 and its median home value is $169,000.
Dell Rapids
The median home value in Dell Rapids is $214,900. Home prices have been rising over the past few years. Last year, they rose at about 8.4% in 2017. This year, they're expected to rise at half that rate, so it may just be the right time to enter the market if you're thinking of buying.
Four Ways to Get a Great Deal On a Home in South Dakota
1. Find a Great South Dakota Real Estate Agent
One of the most important resources you can have as a home buyer in South Dakota is a professional real estate agent. A great realtor will be up-to-date on the most recent market trends, and they can help you find your ideal home at the lowest possible price.
Buying a home can be stressful. After all, it is usually not a home buyer's regular job and there are many parts of the process that are confusing and complex. You are also about to buy what is likely the most expensive item of your life.
A real estate agent can help relieve the stress of buying a home so you don't have to make such a big financial decision by yourself. You will be guided by a person who buys and sells houses for a living.
He or she will be able to walk you through the myriad of national, state, and local regulations of buying a home. He or she will represent your best financial interest, and they will point you to home inspectors, lenders, and other professionals that you can trust when buying a home.
»FIND: Top Real Estate Agents in South Dakota
Learn More: What Does a Real Estate Agent Do for a Buyer?
2. Assess Your Needs and Lay Out Your Goals
A great realtor will be able to negotiate a price that is within the budget you set. But just as importantly, they will be able to assess your needs and goals for your home purchase.
Many people have an idea about what their ideal home is. But often times, they can't list what they want in a home. Your Clever Partner Agent will talk to you about what you require in your new home.
Maybe you want to be close to work or live in a particular neighborhood. You may require a neighborhood with an elementary school. Or perhaps, you want a particular style of house. Your real estate agent will discuss all of these options with you and then find a selection of homes that are suitable.
3. Find a Lender and Secure Financing
Unless you plan to buy your home with cash, you'll need to apply for a mortgage. For most home buyers in South Dakota, interest rates are among the biggest factors when choosing a lender. Doing a little upfront research and comparing options to find the best rates could save you tens of thousands of dollars over the life of your loan.
For example, in South Dakota a typical house is worth $221,000. Assuming a 20% down payment, if you took out a 30-year mortgage for 3.5%, your monthly payment would be $789. But if you shopped around and found a 3% mortgage, your monthly payment would drop to about $745.
Getting a mortgage is a big decision – and it pays to shop around! Keep shopping until you find a lender with competitive rates who also understands your goals. Don't get pressured into taking on a bigger loan than you're comfortable with – work with a lender who explains what you're really signing up for.» Get instantly matched with a lender who works in your area.
4. Negotiate for the Best Possible Price
Negotiating requires a lot of practice. Your Clever Partner Agents buy and sell homes on a daily basis. When it comes to finding the right person to help you get the price you want for your dream home, remember the old adage, "practice makes perfect."
All Partner Agents also have up-to-date information about the local market. Understanding the trends in any given neighborhood will help you negotiate the best possible closing price.
Buying a home is an art form in many ways. There are many subjective aspects to it, not least of which is that you have to like the home you buy for more than just its price. But once you have found your perfect home, you will want a Clever Partner Agent to be on your side when it comes to negotiating the perfect deal for your dream home.
Learn More: How to Find a Buyer's Agent That's a Good Negotiator
You May Also Like