Overall rating | Customer experience | Agent quality | Brand visibility and reach | Service value | Locations | Methodology
Headquartered in Chantilly, Virginia, Samson Properties is one of the fastest growing real estate brokerages in the eastern United States. Its 32 offices and 5,000+ agents are located across Maryland and northern Virginia, and it's licensed in Delaware, Maryland, Pennsylvania, Virginia, Washington, DC, and West Virginia.
Bottom line: Do we recommend Samson Properties?
Yes, Samson Properties might be worth considering, but only after you've interviewed your local agent and decided for yourself.
The company has a full fleet of experienced agents covering a relatively dense area of Maryland and Virginia: approximately one agent for every square mile. Its agents are backed by an overwhelming amount of positive reviews, with a 4.7 rating on Google.
Unfortunately, Samson Properties doesn't list its services on its website, so we don't know what buyers and sellers can expect. That's why it's important to interview your local Samson agent first. The most important thing is that your agent and their services are the right fit for you, no matter what the brand is.
🏡 Compare agents, save money! Try Clever's free agent matching service. Choose from top local agents from the best brokerages, get built-in savings. Learn more.
Samson Properties: Our in-depth breakdown
Reputation and customer experience
📊 Our rating: 4.5/5
4.7 rating from 500+ reviews
F rating on BBB (2 complaints)
The company has a stellar reputation on third-party review sites. With 518 reviews on Google, it boasts a 4.7 rating — very good for a company that completes over 20,000 transactions per year.
We decided to lift the hood on these reviews and see what emotional themes we could find. After running them through an AI program that identifies emotional language, here's what we found:
🟢 Top positive themes
🔴 Top negative themes

Customer service
Photography
Professionalism

Experience
Services
Mistakes
Samson Properties has two complaints and a 1-star review on its Better Business Bureau profile. Since the only review is negative, it brought the company's total rating to an F. While we don't think the negative reviews are false, it may not be representative of the general customer experience.
Agent quality
📊 Our rating: 4.5/5
Avg. 12+ years of experience per agent
$9.6 billion in total sales volume
The agents at Samson Properties appear to be very experienced, and the brokerage ranks 19th in the U.S. for sales volume, with $9.6 billion in sales in 2021.
Based on 52 agents we have data on, the average Samson agent has 12.8 years of experience (higher than the industry median) and roughly four transactions per agent. As a whole, there are over 5,000 agents on staff and 20,240 transactions completed in one year.
Regardless of how experienced Samson agents are, we still recommend evaluating them on an individual basis. Interview your local Samson agent first before you decide to work with the brokerage. Ask your agent for sales numbers, references from past clients, their commission rate, and the services they provide.
Brand reach and visibility
📊 Our rating: 5/5
Average online visibility
Super dense network of local agents
Samson Properties has a strong brand name that attracts new agents to its workforce. That said, according to our analytics tool, traffic to its main website and listing pages is only slightly above average:
1,500 active listings
5,800 visitors per month
6,500 Google searches per month
While these numbers aren't terrible, they're also lower than what we've seen on other brokerage websites.
Samson Properties' main strength is its local network, which is more likely to connect you with buyers and listings quickly. Its 32 offices are concentrated in the DC–Maryland–Virginia area — roughly 4,940 square miles. With 5,000+ agents on staff, that means the brokerage has about one agent per square mile.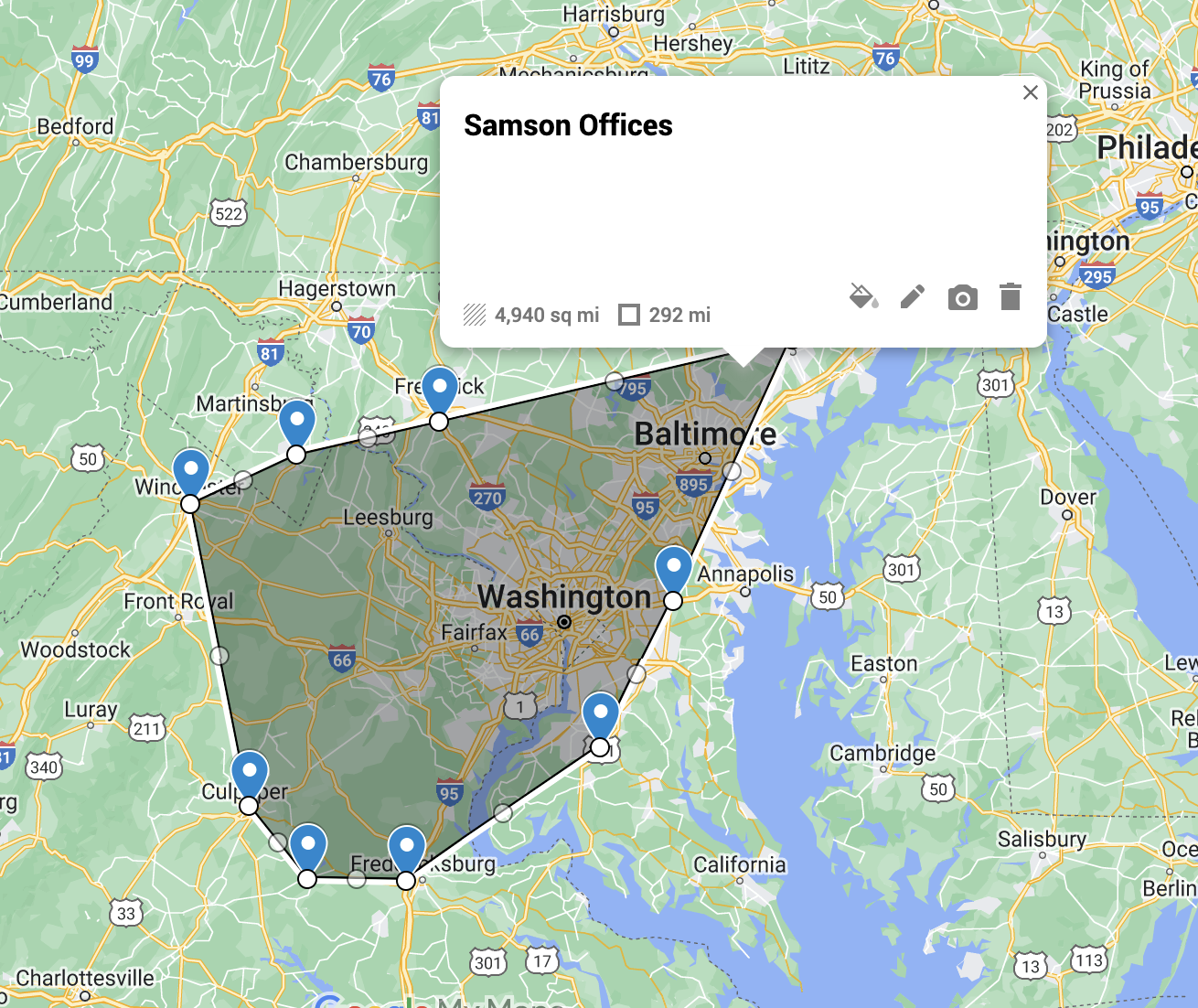 Service value
📊 Our rating: N/A
No transparency on services provided
Services will likely vary agent to agent
Samson Properties doesn't provide a fully fledged list of services that it offers to buyers and sellers. Since the brokerage relies on recruiting agents from all over the states where it's licensed, the services provided will likely vary by agent. Both sellers and buyers, then, should ask their local Samson agent up front the services that they provide.
» LEARN: What is a full-service realtor?
A listing agent should provide a professional home valuation (ideally with a CMA), an MLS listing and syndication, high-quality photography and staging, and assistance managing open houses, negotiations, and paperwork.
Likewise, a buyers agent should be able to help you find homes on the MLS that you're actually interested in, as well as give you tours, connect you with the seller, and stay with you until you close on a home.
Keep in mind if you hire an agent from Samson Properties to help you sell, you might pay full commission, no matter what local competitive rates are. To give you an idea of local rates, here are the state averages for the DC–Maryland-Virginia markets:
» MORE: Average Commission Rates Across the U.S. 2022
💰 Top agents, big savings:
Clever's free service matches you with top local realtors from the best brokerages (like Samson Properties) but negotiates big savings.
Sellers list for just 1.5%. Buyers can get thousands in cash back after closing.
Additional info about Samson Properties
General contact info (corporate office)
📍 Address
1140 Third St. NE
Ste. 405
Washington, DC 20002
☎️ Phone
(703) 378-8810
📱 Social media
Facebook
Twitter
Next steps: Start interviewing agents!
Interview multiple agents (ideally two to three) to ensure you get the best fit and value. Remember: always hire the agent, not the brand. When you're ready to start searching, check out our guide on how to choose the right real estate agent. Clever's free agent-matching service makes agent shopping fast and easy, and it can save you money.
🚀 Ready to get started?
Sign up below to get matched with top-performing agents in your area! Compare options, choose the best fit, and save money.
Sellers get pre-negotiated 1.5% listing fees (avg. seller savings is $9,600.)
Buyers can get 0.5% cash back after closing ($2,000 on a $400,000 house)
Clever is 100% free with no obligation. Give it a try today!
Rating methodology
We evaluate brokerages based on four core criteria we think will help readers make informed decisions. We broke those criteria down into discrete metrics so we could make the score as objective as possible. Here's a quick breakdown of that criteria and methodology:
Customer experience
Do most people who work with this brokerage have a generally positive experience? Are there any red flags?
What we looked at:
Average customer ratings across various third-party review sites, like Zillow, Realtor.com, and Google
The content of those reviews, via sentiment analysis tools and manual reading, to pull out key positive and negative themes and summarize key risks and benefits
The Better Business Bureau profile for formal complaints
Overall agent quality
How strong is the agent team? What are the chances of ending up with a solid realtor that will meet different needs, preferences, and availability?
What we looked at:
Total number of agents vs. offices to gauge how wide the selection is
Average experience of the entire team, based on public agent data on sites like Realtor.com and Zillow
Average annual transactions per agent, sourced from RealTrends or brokerage-provided data, compared with the industry average
Visibility and reach
How much "brand power" does this brokerage have? Does it increase awareness and get more eyes on your listings, more showings, or quicker offers?
What we looked at:
Social media presence across all major consumer-facing social platforms (Facebook, Twitter, and Instagram)
Online audience size through web traffic volume and monthly Google searches for the brand name
Marketing reach, like listings on all major MLSs and populator listing sites like Zillow and Realtor.com
Value and service quality
How does the brokerage compare with other conventional brokerages? How does it compare with the market rates for commission (~3% listing fees)? Are you getting too little, the right amount, or more service for the tentative fee?
What we looked at:
What we consider "full service" for a real estate brokerage:
Professional home valuation
Advice on how to stage your home
High-quality professional photography
Listing on a multiple listing service (MLS) and home-buying websites
Open house management
Negotiation
Assistance with paperwork