Trying to save money when selling your home is always a great move. Plenty of listing sites — like realtor.com — offer various deals and packages to help you do just that. But, before you list on your own, you should know when to cut corners and when it's in your best interest to pay that little extra.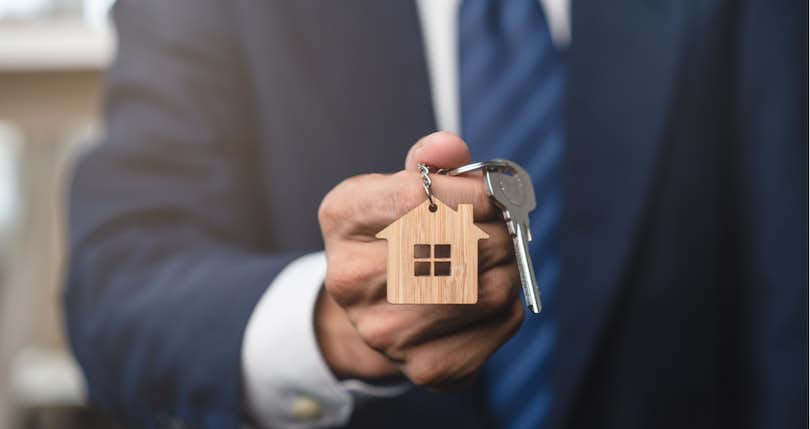 One of the most effective ways to market your home is online, as this is where the majority of buyers begin their home search. Realtor.com is one of the biggest real estate sites in the game and understandable, most sellers want their listing to be on the website.
But unless you work with a local real estate agent, you can't get your home on realtor.com. Luckily, there are plenty of additional benefits of hiring a listing agent. They can assist you during every step of the selling process and ensure you get top dollar for your home. Find a top agent near me today!
In addition to finding the right agent for your home selling experience, here's everything you need to know about listing your home on realtor.com.
Can you list your home on realtor.com?
As a seller, you can't just post or share a listing on realtor.com. When it comes down to who can list on their site, realtor.com is pretty stringent, only allowing licensed real estate professionals and realtors to utilize and take advantage of their site.
These restrictions don't come as a complete surprise since realtor.com is the official website for the National Association of Realtors (NAR), a national organization of real estate agents and brokers that holds its members to a specific code of ethics.
With the NAR behind realtor.com, it makes more sense why they actively promote and advocate for real estate agents and realtors, highlighting to sellers and buyers the advantages of working with an agent.
So if you're a FSBO seller, unfortunately, you're out of luck with realtor.com; they do not permit FSBO listings on their site.
How does realtor.com get listings?
While FSBO listings don't make the cut, realtor.com acquires all of their listings from the Multiple Listing Service (MLS). Realtor.com works directly with over 800 different MLS databases around the country allowing them to showcase 99% of all MLS-listed properties in the nation.
Because realtor.com only takes listings directly from MLSs, their data and property information is typically more accurate than other sites that glean listing information from other sources.
According to realtor.com, the majority of its listings update every 15 minutes, and the rest within 24 hours, guaranteeing buyers see the latest and most up-to-date information about your home.
What is the MLS?
The MLS, short for Multiple Listing Service, is a large private database used by real estate professionals to share and exchange information on properties to help agents connect sellers and interested buyer.
There isn't just one MLS database. There are over 900 MLS databases representing specific regions and local markets, each enforcing a strict set of rules and guidelines to make the MLS the most accurate and up-to-date resource for home listings.
While it's a great tool, the MLS is only available to licensed real estate professionals. And to get around this hurdle, many third-party listing sites like Zillow enter an agreement and pay to gain access to multiple MLSs and post the information on their own sites.
While FSBO sellers can't list homes on the MLS themselves, flat-fee MLS companies will put your home on your local MLS without offering additional services.
Clever can give you more visibility and list your home on the MLS!
Learn how a Partner Agent can list your home for less.
Using a Free Listing Site
If you're selling your home, you want to have your home seen by as many potential buyers as possible. Granted, this is made much more difficult as a FSBO seller because you don't have direct access to the MLS.
In addition to the MLS and realtor.com, free listing sites like Zillow, Trulia, and Craigslist, can help you get more eyes on your listing. But these options are far from perfect.
Pros
Cost
Of course, the biggest perk of using a free listing site is that it's, well, free. There's no cost to you to list your home on some of the most popular sites like Zillow, which sees more than 165 million visitors to their site each month.
Tailored to FSBO Sellers
You can also opt to list your home on websites tailored-made for FSBO sellers. On these sites you'll find more support and resources for how to sell your home without a realtor. One of the more well-known FSBO sites is For Sale By Owner that offers both free and paid service packages.
Large Pool of Potential Buyers
Popular free sites like Zillow, Trulia, Facebook, and Craigslist see a lot of daily and monthly web traffic. While listing on these sites can't guarantee a sale, you'll definitely reach a wider range of potential buyers.
Cons
Less Support on Free Sites
You're pretty much on your own when listing on a free site. You'll be responsible for pricing your own home, posting your own high quality photos, a good description, and fielding any potential buyers.
Some sites will also limit your capabilities to market (such as no video tour or a limited number of photos) unless you switch to a paid package.
Also keep in mind, you'll have to post your listing separately each time on every individual free listing site which can be time-consuming.
Potential Scams
Because these free listing sites are available to everyone, you'll need to keep an eye out for potential scammers, especially on social media sites and Craigslist.
Sellers can be led along by buyers who aren't really interested and even end up losing money because of scam artists on these sites.
Using a Real Estate Agent to List Your Home
The majority of homeowners turn to a real estate agent to list their home, relying on their experience, network, and MLS access to successfully market their home. But having access to a professional's skills and knowledge does come at a cost.
Pros
Access to the MLS
With exclusive access to the MLS, your real estate agent will connect directly with other realtors and buyer's agents who have clients looking for homes.
And any offers and inquiries you receive through the MLS are more likely to turn into a sale — these buyers are already working with an agent and are more serious about finding a home. You won't have to weed through as many lookie-loos or unqualified buyers to seal the deal.
Professional Photos, Compelling Description, and Support
Your real estate agent knows your market and what potential buyers are looking for in homes. They'll know exactly what features and amenities to highlight in your description as well as in your photos.
But the services don't end there. Before any photos or open houses, your agent will also help stage your home to draw in more buyers and showcase your home in its best light.
Once your agent lists your home they'll handle any buyer inquiries, home showings, and make any needed updates on the MLS listing site.
Listing on All the Major Sites
Once you're listed on the MLS, your listing will automatically be funneled to major third-party sites like Zillow and Trulia increasing the visibility on your home. You won't have to post your listing separately on each individual site, saving you time and energy.
Cons
Commission fees
Naturally, commission fees are the main concern when it comes to selling your home with an agent. With the standard commission rate at 6%, your agent's commission can make a decent dent in your total sales profit. High commission rates are one of the biggest reasons sellers try the FSBO route.
However, fortunately it's not an either/or scenario. You can still benefit from all the services of a real estate agent and pay less in commission.
Clever's partnered with top agents across the country and they'll list your home for fee of 1.5%, saving you thousands in commission.
With Clever, our top-rated, local Partner Agents will list and market your home providing all the same benefits and full services of a traditional agent but at a fraction of the cost. If you'd like to learn more about how you can save with Clever simply fill out this form.
FAQs About Listing with Realtor.com
How do I add a listing to realtor.com?
Realtor.com only allows licensed real estate professionals and realtors to post listings on their website. To get your listing on their site you'll have to work with a real estate agent who has access to your local MLS as realtor.com pulls all MLS listings and posts them on their website.
How are realtor fees calculated?
Realtor fees, or commissions, are based on a percentage of the total sales price of your home. Traditionally, the standard commission rate is 6% which is then split between both the seller's agent and the buyer's agent, who may then have to give a cut to their brokerage.
As an example, if your home sells for $250,000 at 6%, your commission fee will add up to $15,000 total. However, 6% isn't a fixed rate. You can attempt to negotiate with your agent or work with a flat fee agent who works for a straightforward, set rate no matter how much your home sells for.
Does it cost money to list on Zillow?
It costs you nothing to list your home on Zillow making it a great platform for FSBO sellers to expand their listing's visibility. Granted, FSBO listings do have their own section and don't pop up in the same place as the other listings that have agent representation.
Related Articles