Thinking about using Craigslist to sell your home? Learn the pros and cons and why you may want to consider other options for real estate ads or listings.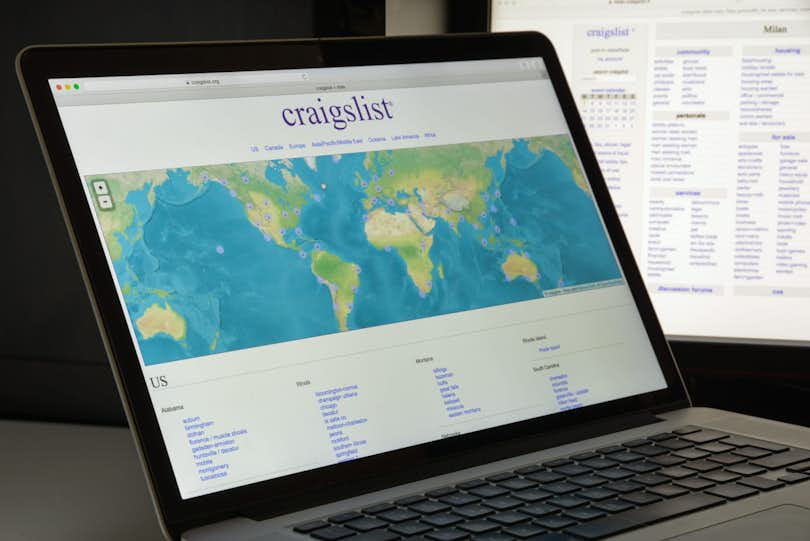 Many sellers try to avoid paying the standard 6% realtor commission by selling their homes without an agent. This is commonly known as listing for sale by owner, or FSBO for short.
Two of the most popular listing sites for FSBO sellers are Zillow (learn more about listing on Zillow here) and, of course, Craigslist.
While it's free to sell a house on Craigslist, that doesn't mean it's easy to do.
When you list FSBO, you'll be responsible for every aspect of the home selling process (e.g., pricing, photos, communications, showings, negotiations, paperwork, and more).
You'll also have to compete with thousands of other local sellers who are likely working with experienced agents and listing on hundreds of other high-visibility real estate sites.
If you'd still like to try your hand at a FSBO listing, go for it! Read on for a step-by-step overview of the process, as well as some key advantages and drawbacks of this particular approach.
But for most sellers, the best way to get a great offer is to work with an experienced, local realtor.
if commission fees are a concern, Clever negotiates low commission rates with top-rated, full-service agents nationwide. Sellers who work with Clever pay a low 1.5% listing fee — and pay just a fraction of what traditional realtors charge. Find top local agents near you today!
💰 Thinking about selling your home on Craigslist?
List with Clever instead and sell for a better price while saving thousands in realtor fees!
How to sell a house on Craigslist
Getting your house listed on Craigslist in the United States is almost as easy as buying something on Amazon.
The first step is to go to the website and click "create a posting." After that, just follow the prompts and fill in the information. Just select "real estate — by owner" as the category. You'll want to be thoughtful about the ad.
Keep reading for tips on how to create the best FSBO listing on Craigslist.
What makes a good Craigslist listing?
There are some important things to include in a Craigslist ad so you have the best chance of selling your house.
First is to write a good description. Include details about your home that make it special and let potential buyers know about any improvements you have made to the property.
Make sure you include all the relevant details about the property in your Craigslist listing buyers want to know. This will save you from answering a ton of questions.
Tell people about the parking and laundry situation, and the yard. Use keywords you think people might search for when looking for a home.
Next, include at least four (or more) quality photos, taken in a good light, and showing different areas of the home.
These photos should be clear, bright, and in focus. Be sure to show both inside and outside areas of the property. The best time to take photos is midday when the sun is not super bright. You want to make sure things don't look dark but also don't have a glare.
Another important thing to include in your ad is a way for potential buyers to contact you! Unless you want your phone ringing constantly, the best advice is to include your email address (and not your phone number) in the ad.
This way, people can contact you whenever they want, but you won't be bothered by midnight phone calls.
Once you create your ad, you will want to renew it as frequently as allowed so it always appears at the top of searches.
💰 Incredible savings — none of the risk
Selling your home FSBO is challenging. Add in a lower selling price and out-of-pocket expenses, and you'll save WAY less than you planned — but still be stuck with most of the work.
There's a better option. Clever pre-negotiates cheaper listing fees with the top agents in your area. You pay just a 1.5% listing fee, while getting the support of a full-service agent.
Pros of FSBO on Craigslist
One of the biggest reasons that sellers decide to sell their home on Craigslist rather than working with a real estate agent is to save on commission.
On a $300,000 house, the commission can be $15,000 or more. On a $1 million dollar house, the commission could be $50,000! However, it's important to remember that you'll only save on listing agent commission this way. Chances are you'll still be on the hook for the buyer's agent commission, which is approximately 3% of the final sale price.
Assuming your buyer has a realtor; as the seller, you must offer a buyer's agent commission for the work the agent does. If the buyer has no agent, you can pay a real estate transaction coordinator to draw up the contracts, but this will still cost some money.
Selling your house on Craigslist also requires less of a commitment. Many realtors require sellers to sign an agreement committing to multiple months. With Craigslist, if you change your mind, you can just delete the ad!
Cons of FSBO on Craigslist
When you list your house for sale on Craigslist, you must do all the work an agent would normally do for you. You have to answer all inquiries, possibly give out your personal phone number, and schedule all showings and host open houses. This can take a lot of time and can be a major inconvenience.
You also won't have the professional marketing and signage you would get when working with a real estate agent. Many agents can publish homes for sale in local papers, in property databases, on social media, and with their professional networks. Posting on Craigslist won't get you this much exposure.
Without access to your local MLS, you're less likely to get qualified home buyers and get into your new home quickly. If you decide to use Craigslist, also consider listing on sites like Zillow and Trulia, which are free, and can increase your exposure beyond the classified ads platform.
The scam problem
Craigslist has a scam problem, including fake buyers and listings, bogus rental properties, and lies about square footage for home. Additionally, many buyers on Craigslist aren't serious about purchasing a home.
Sifting through all the responses you get on Craigslist can take a lot of time and effort. As an inexperienced seller, it may be difficult to find out which buyers are serious and which are just window-shopping (or phishing).
If you don't have a background in real estate, you may be better off working with a professional realtor. An experienced real estate agent can protect your best interests and vet potential buyers, ensuring that you don't waste your time with fake offers.
👋 Skip the DIY: Get a better agent AND bigger savings
Why do all the work of selling FSBO only to end up with less money than you would have with an agent? Clever offers you bigger savings without sacrificing the service you expect from a traditional realtor.
With Clever:
✅ You'll only pay 1.5% to list your home
✅ You'll work with a full-service realtor from a top broker
✅ It's free, with zero obligation — you can walk away at any time
Saving on realtor fees doesn't have to mean sacrificing service. Find a top local agent today!
Is there a better option than selling on Craigslist?
Although trying to sell your home on Craigslist will save you from paying listing commission, there is a better way which is almost as cost conscious. It allows you to work with an agent and get all the benefits, but costs far less.
Working with Clever gets you the same full-service experience you want, but with a flat listing fee of 1.5%. Clever Partner Agents are top agents in their local marketplaces and will list, market, and sell your home for the best possible price.
They are there to support you throughout the entire process and are professionally trained to answer all questions and provide the best advice. In many cases, a Partner Agent can sell your home for more than you could by selling FSBO, more than making up for their reduced commission.
If you're thinking about selling your house on Craigslist but want something better, give Clever a call today to get a premium experience for less and without the hassle of going the FSBO route.
FAQs about selling a house on Craigslist
1. How do I post a real estate listing on Craigslist?
Step 1. Navigate to your local Craigslist page.
Step 2. After you get there, choose the option, "Post to Classifieds."
Step 3. Next click, "Housing Offered."
Step 4. Choose which type of property you're listing — "for sale by owner" if you're going it alone, "Real Estate by Broker" if you're working with an agent.
Step 5. Select the community closest to you.
Step 6. Craigslist will take you to the listing details page — note: all fields in green are required.
Step 7. Enter the required information, include a map, and add up to eight photos of your property.
Step 8. Confirm the ad once Craigslist emails you — and you're listed!
How much does it cost to sell on Craigslist?
Listing a home on Craigslist is free, as are most Craigslist postings. The only relevant exception is brokered apartment rentals in the NYC area, which cost $10.
How do you successfully sell a home on Craigslist?
There's no one right answer to successfully selling a home on Craigslist, but it starts with writing a good listing description, keeping your home clean, and having excellent photography. Even if you're saving money by choosing Craigslist, that doesn't mean your buyers won't want an appealing home to walk through. It's also important to price your home right. Use online tools to get a good estimate and perform your own comparative market analysis to get the best valuation.
Related articles
You may also like