Overall rating | Quality of service | Marketing | Customer experience | Cost | User friendliness | Methodology
FSBO Madison's main offer is its listing site — fsbomadison.com — which markets your home to other Wisconsinites for $150. This is unlike other listing sites, whose main offer is to put your FSBO home on the MLS and Zillow.
FSBO Madison is one of the oldest listing services on the web, founded in 1998, and claims its listing site is "the most heavily trafficked regional FSBO website in the world" that's consistently "ranked at the top of search engines." Claims these grandiose, however, deserve a much closer look. Before you sell your home with FSBO Madison, let's dig deeper together and see if it's as big as it purports to be.
Bottom line: Do we recommend FSBO Madison?
We don't think FSBO Madison is a good deal. The price for a basic plan is steep ($150) and lacks the essential features of a good listing service, such as exposure on the multiple listing service (MLS) and popular real estate sites.
To its credit, FSBO Madison was one of the first websites that gave Wisconsinites an alternative to selling with a real estate agent. Circa 2006, it represented 25% of home sales in Madison. It was even the subject of research by three professors at Northwestern University.
But the site has since then fallen out of favor. It doesn't get much traffic and has very few listed properties. Its basic plan (Go Organic) is expensive and doesn't even put your property on the local MLS. These days, most buyers — especially out-of-staters — will use Zillow, Trulia, Realtor.com and other popular sites to browse listings, which pull data from the MLS. If you choose not to list your home on the MLS, you'll miss out on this larger pool of buyers.
If you're looking for an MLS listing for your FSBO, you might be served with another flat-fee listing service. Check out our analysis of some of the best listing service companies for a better understanding of what's out there.
Are you sure you want to sell FSBO?
Selling FSBO requires a lot of time and effort. Companies like Clever Real Estate negotiate with top-performing agents who provide full service for only 1.5% in listing fees. Save thousands today! Learn more.
FSBO Madison vs. top FFMLS alternatives
| | | | |
| --- | --- | --- | --- |
| FFMLS company | Locations | Avg. customer review | Listing fee |
| Fizber | Nationwide | 3.9 | $295 |
| Homecoin | CA, FL, GA, MI, MO, NY, NC, SC, TN, VA, WI | 4.9 | $95+ |
| Houzeo | Nationwide | 4.9 | $199-999+ |
| Beycome | AL, CA, CT, FL, GA, MN, NC, SC | 4.3 | $99-499 + 1% |
In-depth breakdown
Quality of services
📊 Our rating: 4.0/5
Essential services
36 photos per listing
Unlimited edits
FSBO Madison offers what we would expect from a good FFMLS company, though the prices are steep. Every FSBO Madison plan offers a six-month listing on its website, a max of 36 photos, and the option to edit your listing whenever. This is more than other flat fee listing services, which often max your photos at 6 or 10 or charge you a fee for every edit.
The basic plan lists only to fsbomadison.com, while the upgraded plans list to the South Central Wisconsin MLS — pushing the listing to Zillow and other popular listing sites — and offer assistance with pricing and a free consultation with a broker.
The most expensive plan (Get More Help) connects you with a personal broker who will help you with every step in the FSBO selling process, including hiring a photographer, managing offers, hiring appraisers and inspectors, and closing on the home.
Marketing
📊 Our rating: 3.0/5
No MLS exposure for basic
Web traffic is weak
Some social media marketing
FSBO Madison's biggest shortcoming is that you have to pay extra just to list your home on the MLS. Truthfully, fsbomadison.com doesn't get enough traffic to justify the basic plan price. According to our analysis, the brokerage's webpage gets roughly 2,200 visitors per month. In addition, "FSBO Madison" is searched 600 times each month. (In comparison, Realtor.com gets 50.2 million, Trulia receives 20.4 million, and Zillow gets roughly 93.2 million monthly visitors.)
The two upper-tiered plans have steeper fees but will put your home on the local MLS, Zillow, Realtor.com, Trulia, wisconsinhomes.com, and other national real estate sites. This would likely get more exposure than leaving your home on a regional page.
Finally, all plans come with some level of social media marketing, which isn't specified on FSBO Madison's page. The brokerage does have an active Facebook (with only 613 followers) and its Twitter page has not had a new tweet since 2019.
Customer experience
📊 Our rating: N/A
No customer reviews on Google or Trustpilot
No BBB complaints or reviews
Customer reviews on third-party sites can provide insight into how a brokerage treats its clients, navigates problems, and resolves conflicts. Unfortunately, there are currently no reviews for FSBO Madison, nor does the brokerage have a profile with the Better Business Bureau.
That's not totally a bad thing: most people will use third-party review sites to complain, rather than praise. But for a company that's been around since 1998, it's a bit odd that there's not a single review online, not even an old one.
Cost
📊 Our rating: 2.5/5
Too expensive
No MLS listing
Not enough value for the price
FSBO Madison has three pricing plans:
Plan 👉
Listing on 👇
Go Organic
($150)
Cast The Larger Net
($499)
Get More Help!
($2,399)
FSBO Madison
✅
✅
✅
MLS
❌
✅
✅
Real estate websites
❌
✅
✅
All plans allow up to 36 photos.
We think $150 is a lot of money for a basic listing on a website that gets roughly 2,200 visitors per month. At that price, you can get a listing on the MLS and more nationally recognized websites, such as Zillow, Trulia, and Realtor.com — plus, some extras.
The $150 does give you some useful features, such as 36 photos, the ability to edit your listing 24/7, and some social media marketing. But none of that matters if the obscurity of the page narrows your pool of buyers.
The other two pricing tiers are very expensive compared with other FSBO websites. You can find the same advanced features, along with listings on the MLS and Zillow, for under $299. The Get More Help! package is especially high priced: at $2,399, you're not far from spending what you would on a low-commision listing agent.
Note: If your buyer has an agent, you'll pay their commission rate. You can negotiate this up front, but it's usually 2–3% of the final sale price.
User friendliness
📊 Our rating: 4.0/5
Outdated website
Few payment options
We weren't too impressed with FSBO Madison's listing pages and website. While it's easy to navigate the site, the small fonts and gray colors make it hard to read the listing information.
Listing your home is fairly easy. At the top, hover over "Sell With FSBO," then click on "Start Selling Today." Once you select a plan, you'll be asked to create an account and pay.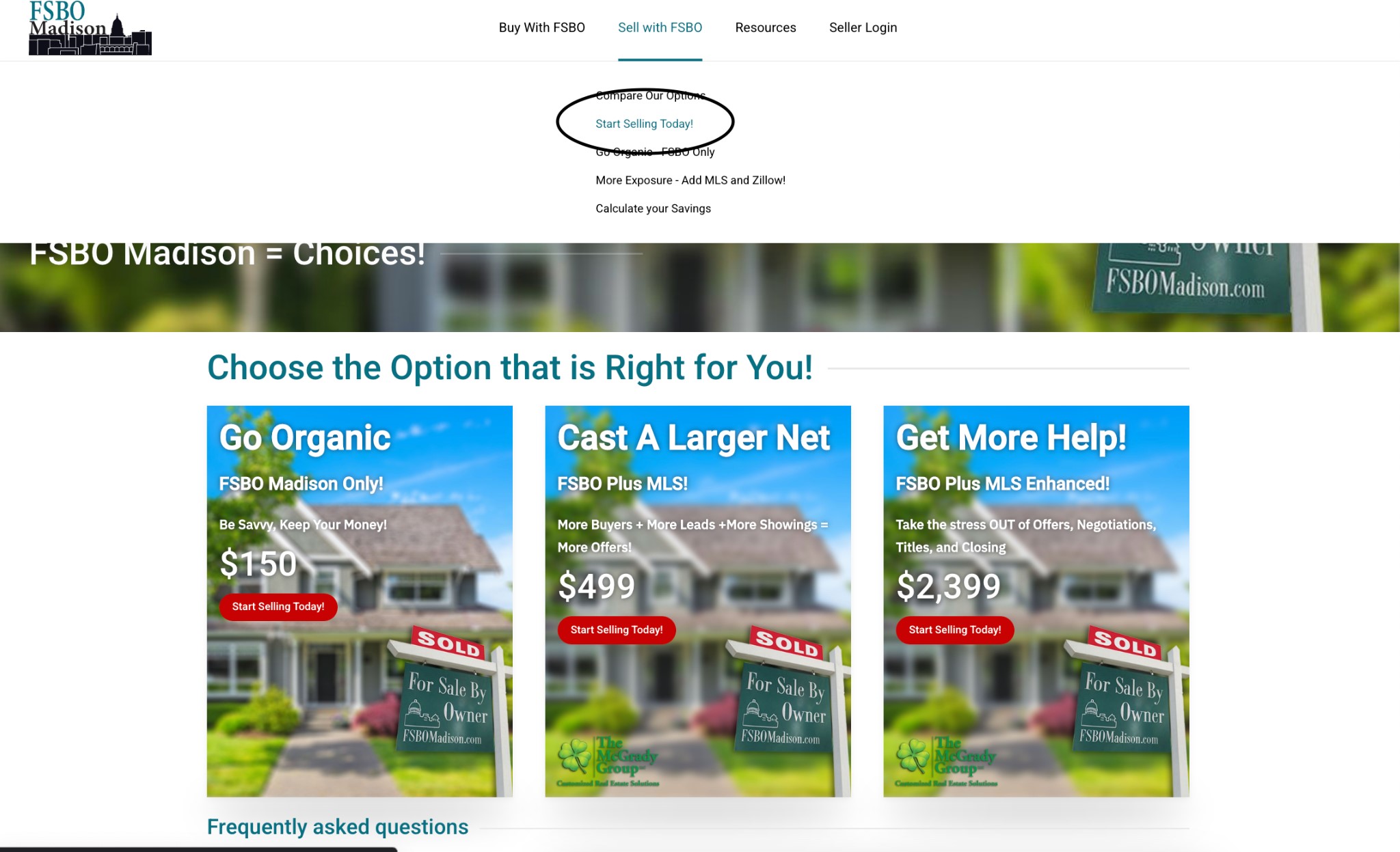 Unfortunately, FSBO Madison offers only two payment options: PayPal or mail order check. PayPal will require a processing fee, which is around 3% of the purchase price. Sending in a check, however, means you'll wait until the check clears to end your listing.
FSBO Madison contact info
| | |
| --- | --- |
| ☎️ Phone | (608) 276-8814 |
| 📱 Social media | Facebook |
Next steps
If you're serious about selling your home yourself, we don't recommend FSBO Madison. For the price of a basic plan ($150), you can find listing services of higher quality that'll expose you to more buyers. If you're considering the $2,000+ plan, compare it with a low commission real estate company first.
For a discounted rate, usually less than 2%, low commission realtors provide all the services you'd expect from a traditional real estate brokerage: pricing assistance, listing on a local MLS, help with negotiations and closing. Although you'll pay more in commission, you might also sell your home for more money, with less overall stress.
Methodology
We evaluated the value and quality of flat fee MLS (FFMLS) and for sale by owner (FSBO) listing services based on five core criteria:
Quality and range of services
Brand recognition and marketing methods
Customer reviews and experience
Cost value
User friendliness
Quality of service
FFMLS companies should provide basic services, including:
Listing to your local MLS
Pushing listings to sites like Zillow and Trulia
Maximum allowable photos
Unlimited free listing changes
Keeping an listing active until you cancel or close on your home
We noted add-on services that actually help you sell and manage your sale, like professional photography or an online dashboard. We didn't give credit for fluffy offerings, such as video tours that are just photo montages or listings on Craigslist.
Marketing
We assessed how each company's services actually makes your listing visible to buyers, compared with the MLS, which is the baseline. Additional marketing services (via social media, digital ads, etc.) count to higher visibility, as does the company's website traffic.
Customer experience
Our evaluation:
Aggregated customer reviews from across the web and created a weighted average rating
Ran reviews through a sentiment analysis program to identify key themes
Checked for complaints with the Better Business Bureau
Cost
We checked the actual costs of the company's services and compared them with other brands and national averages.
User friendliness
We checked how easy the company app or portal was to use, and how easy it was to upload and manage the listing.