Do you need one? | Potential problems | How to choose | What to say | Placement | Purchase
If you want to sell a home without an agent, using a for sale by owner (FSBO) sign can help by:
Showing people passing by that your home's for sale
Giving information about the property
Telling people how to schedule a showing
Guiding people to either an online or a print listing with more information.
In 2001, yard signs were the second most common way buyers found their new homes (behind real estate agents).[1] But in the years since, the internet has made yard signs less effective. Buyers no longer canvass neighborhoods looking for properties for sale. Instead, they scroll through Zillow, Redfin, and other real estate websites.
In 2019, 52% of buyers first saw their homes online, while only 6% found them because of a yard sign — and that's out of every real estate sale, not just FSBO deals.[2]
Putting a for sale by owner sign in your front yard used to be a no-brainer, but do you still need one today? This guide walks you through when you should use a sign and how to choose and use the best FSBO signs.
» MORE: How to Sell Your House For Sale by Owner
Do you need a for sale by owner sign?
If your property's in a busy area, you should use a for sale by owner sign to draw attention to your home. But sellers in quieter areas may be better off skipping the sign and focusing on other ways to advertise their properties.
» READ: 5 Websites That Let You Sell Your House "For Sale By Owner"
You can decide if you need a for sale by owner sign based on your buyer, location, and other advertising options.
Who's your buyer?
You don't need a FSBO sign if you already know your buyer. Many people (62% in 2019) choose FSBO because they're selling to a family member, friend, or neighbor.[3]
If you already know who's going to buy your property, advertising is unnecessary. Putting a sign in your front yard will only attract unwanted phone calls with no benefits.
Where's your property located?
You need to live on a street with either a lot of foot or vehicle traffic for a FSBO yard sign to have any benefit.
If you live on a not-so-busy street, you can also put up directional signs on a nearby busy street to point people to your home.
But real estate yard signs don't do much good on quieter roads without direct access to high-traffic areas. If you're in a gated community, rural area, or quiet cul-de-sac, you'll have more success using online listings, local ads, and other methods to advertise your property.
» MORE: How Does Your Neighborhood Affect Your Home's Value?
How else can you advertise your property?
Selling your home for sale by owner has fewer advertising options than listing with a real estate agent.
Agents have connections with other agents who might know buyers looking for a house in your area and price range.
They also have access to the local multiple listing service (MLS), a database of all the homes for sale in your area. The MLS aggregates to popular real estate sites like Zillow, Redfin, and Trulia.
Talk to an agent about advertising your FSBO
An experienced real estate agent knows all the best ways to advertise a home. Even if you don't hire a full-service agent, talking to one in your area can spark some great ideas for how to get your home in front of more potential buyers.
Clever can match you with top local agents in your area for free advice and guidance. Our matching service is free with no obligation. You can walk away at any time.
If you do decide to list with one of our matches, you'll get full service for a low 1.5% listing fee (half the usual rate), which can save you thousands at closing.
You do have a few options for advertising your FSBO property besides yard signs, including:
Talking to your friends and family
Posting your home on social media
Listing on Craigslist, Nextdoor, and other local marketplaces
Listing on FSBO sites like FSBO.com or ForSaleByOwner.com
Adding your property to listing sites yourself
Using a flat fee MLS listing service
Many of these options have their own limitations for properties listed for sale by owner.
If you use a flat fee MLS listing service, for instance, you may not be able to put a FSBO sign in your yard.
The National Association of REALTORS® (NAR) manages many of the MLSs in the United States. If you list your property in a NAR MLS, you'll have to follow its advertising rules, which say you can only put a for sale sign from the listing broker on your property.[4]
Also, 10 states restrict for sale by owner signs to properties listed on the MLS. Those states are:
Iowa
Kentucky
Louisiana
Minnesota
Nebraska
North Carolina
Ohio
South Carolina
Utah
Virginia
If your property is in one of these states, you'll need to use a sign from the broker who listed your property on the MLS instead of a FSBO sign. Many flat fee MLS companies will either give you signs or sell them to you when you use them to list your home.
» LEARN: What You Need to Know About Flat Fee MLS Listings
Why you might want to avoid FSBO signs
Putting a for sale by owner sign in your front yard can bring a lot of unwanted phone calls and negative attention to your property.
Constant calls from real estate agents
Listing agents see FSBO properties as an easy opportunity for new business. You're ready to sell and have already done some of the work. They'll see your sign and call you, hoping to convince you to list with them.
Little attention from buyers' agents
While FSBO sellers save money by not paying a listing agent's commission, they can attract more quality buyers by offering a commission (typically 2.49-2.88%) to a selling agent.
» READ: Selling vs Listing Agent: What's The Difference?
Unfortunately, FSBO sellers have a reputation for not paying selling agent commissions. Many agents will see that a home is for sale by owner and either drop it to the bottom of their priority list or steer their clients away from it.
Unqualified buyers wanting to see the property
Buyers who either aren't pre-qualified or can't qualify for a mortgage will notice your sign and want to see your property.
Unqualified buyers can cause a lot of headaches for FSBO sellers. Showing them your property is a waste of time since they can't actually make an offer right then and there. If you accept a preliminary offer from an unqualified buyer, the sale could fall through because they may not get approved for a mortgage.
Real estate agents usually filter out people who aren't actually ready to buy before bringing them to a showing by asking for either a pre-qualification or a pre-approval letter.
When you sell FSBO, you have to determine if people are qualified when they call or show up at your door.
» READ: How to Tell If a Prospective Buyer Is Serious: 6 Tips
People knocking on your door for a showing
Many people will see a FSBO sign in your front yard and come right up to your door to talk to you about the property. They could catch you during dinner, while you're working, or when your home is messy and not staged for a showing.
Pros and cons of using a FSBO sign
| Pros | Cons |
| --- | --- |
| Shows people your property's for sale | Constant calls from listing agents |
| Gives more information about your property | Many buyer's agents ignore FSBO properties |
| Tells people how to schedule an appointment | Interest from unqualified buyers |
| Directs people to full listing information | Having to manage your own showings |
How to choose the best for sale by owner signs
The best for sale by owner signs are durable, visible, and professional.
Should you make your own FSBO sign?
You should avoid DIY for sale by owner signs unless you're a professional designer.
It's tempting to make your own sign — you can save a few bucks while trying to stand out and grab people's attention. But a homemade FSBO sign could give people the impression that you're not serious about selling your property.
It could also make agents less likely to show your house to qualified buyers. FSBOs already have a reputation for not paying buyer's agent commissions. A homemade sign reinforces that stigma since they'll assume that you weren't even willing to pay for a standard yard sign.
What are FSBO signs made out of?
Most FSBO and other real estate signs are made out of either corrugated plastic or aluminum.
Corrugated plastic is the most popular material for any yard sign — not just real estate signs. They're usually cheap and easy to find, costing as little as $2 for a generic one at Home Depot, Lowes, or Menards. They tend to be less durable in tough weather conditions. Heavy storms, strong wind, and harsh sunlight can cause them to bend, fade, or even blow away.
Aluminum signs are more durable and usually cost at least $20 for a generic option — although you could pay $75 or more for a custom aluminum FSBO sign. They're often custom ordered with your phone number and other info professionally printed on the sign. You can also order reflective aluminum, making your sign more visible after sunset.
What color should your FSBO yard sign be?
A red sign with white lettering is the best color combination on for sale by owner signs.
While it may seem over-used, there's a good reason people use this combination on for sale signs in both real estate and retail. Studies show that people react more urgently and forcefully when they see the color red.[5]
On top of inciting action, red is also easier to see than other colors. Higher visibility will help people notice and read your sign quickly as they're driving by your property.[6]
» READ: 7 Creative Real Estate Signs Idea to Sell Your Home
How big should your for sale by owner sign be?
Your sign needs to be big enough for people in a passing car to see and read but not so big that it distracts from the property itself.
The most common size for real estate signs is 24x18 inches. Think of this as the minimum for selling a house. Any smaller and you risk it being overlooked.
Varying your sign's shape and style can help grab people's attention. While they might ignore the classic red rectangle design, they could pay more attention to one that's shaped like a house or one that's tall instead of wide.
You can also add sign riders above or below your sign to make it more visible. These add-on signs make announcements about your property. Sign riders that could help you sell your FSBO might say:
Coming soon
Open house
Price reduced
Appointment only
We pay agent fees
Under contract
What should hold your FSBO sign?
The sign holder you choose needs to be strong and compatible with your FSBO sign's material. You'll usually have three options:
H-stakes
Sign frames
Sign posts
For most properties, a sign frame will give you the best mix of quality, durability, and price.
H-stakes — best for selling on a budget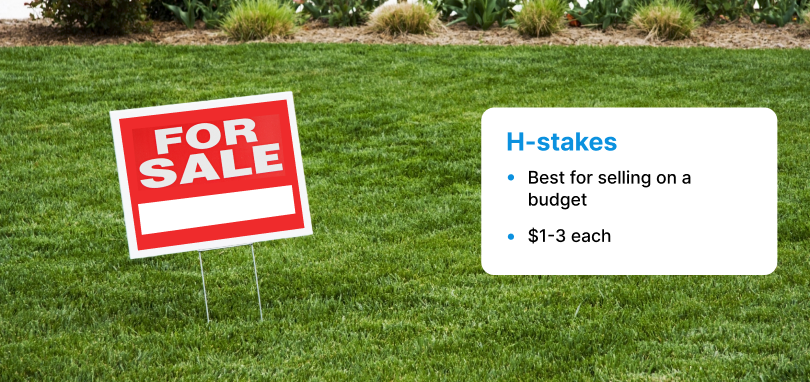 H-stakes are thin metal frames that slide into a plastic sign's corrugation. H-stakes are affordable, but also thin and easy to bend. They sit low to the ground, making them difficult to see. They also don't support sign riders.
While they are extremely common, we recommend avoiding H-stakes for your FSBO sign.
Sign frames — best combination of durability and price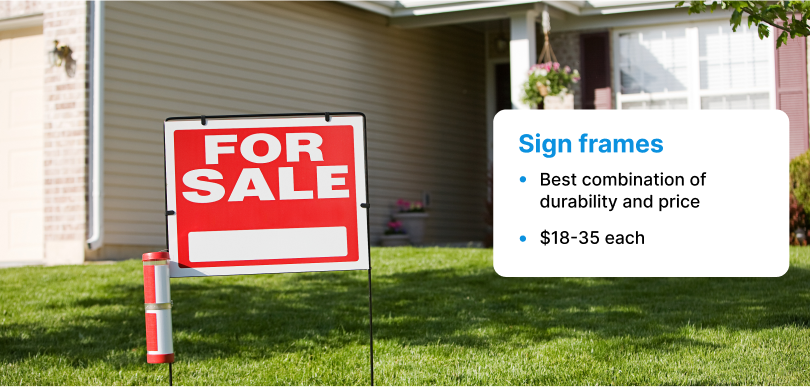 Sign frames are metal or hard plastic that wraps around your FSBO yard sign. They work with both aluminum and plastic signs, but you'll need to make sure the sign and frame are the same sizes.
You can stake the frame into the ground or use a stand if you want to put it on your driveway or sidewalk. Sign frames are rigid structures that won't usually bend or twist, making them more durable and professional looking. You can also find frames with slots for sign riders.
Sign posts — best for pricey neighborhoods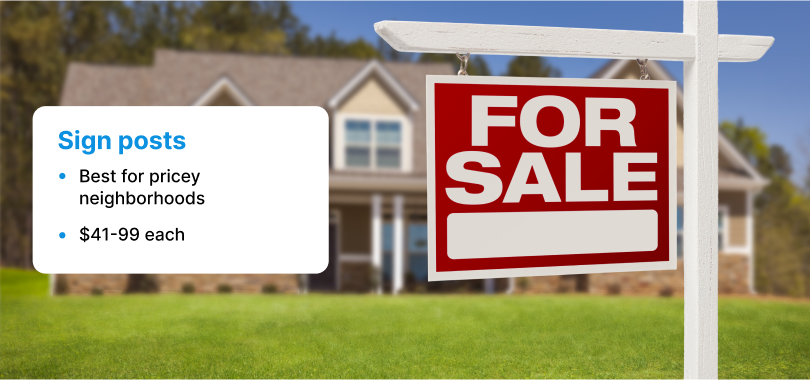 Real estate sign posts are often taller and more elegant than frames or H-stakes. Your FSBO sign will hang from the post's arm, which is usually made of either PVC or wood.
While this option is pricier than the other two, sign posts can help your property look more put together and valuable, especially in more expensive neighborhoods.
What should a for sale by owner sign say?
Your FSBO sign should include a phone number for people to contact you and the words "appointment only."
Why your FSBO sign should say "appointment only"
Putting "appointment only" or a similar statement on your sign lets people know that they can't just pop in for a showing at any time.
Instead, they need to call first and set up an appointment to see the property. Making this clear on your sign sets expectations for potential buyers and allows you to screen people before inviting them into your home.
It also gives you a chance to prepare for a showing. You want your property to look its best before you show it to prospective buyers.
» MORE: How to Stage a House for Sale While You're Still Living in It
Other info you can include on your for sale by owner sign
Adding more information about the property can make it easier for buyers to know if it's a good option for them — but it's a balancing act. If you put too much on your sign, it will be cluttered and hard to read.
Here are some other items you might want to put on your sign:
The property address. With it, people don't have to search for the house number and cross-street if they want to find the property again.
An email address. You can field questions and schedule showings via email instead of (or in addition to) taking phone calls.
Online listing information. Share a link to your online listing or the website where someone can find it. You can even buy signs with a QR code (like this one) that people can scan with their phone and pull up the listing. QR codes are great for areas with a lot of foot traffic.
A brochure box or flyer tube. Both are safe places to put flyers with details about the house including property characteristics and your asking price.
Where should you place for sale by owner signs?
Your FSBO signs should be visible to as many people as possible.
You'll want to place a sign near the street in front of your property. Placing it too close to your house will make the sign difficult to see for people passing by. It could also make your yard look messy and less appealing.
If your property's on a corner lot, you should put signs on both streets so people going in all directions can read them.
You can also use directional signs at nearby busy intersections to point people to your FSBO property. This is a great strategy if you live at the end of a street or in a quiet neighborhood. Just get permission from the property owner at the corner before putting a sign in their yard.
Where can you buy for sale by owner signs?
You can buy for sale by owner signs from home improvement stores, online retailers, and custom sign companies.
While they may cost a bit more, we recommend buying custom signs for your FSBO property. These signs are easier to read and more professional than writing your phone number in black Sharpie on a generic FSBO sign.
Custom signs give you a lot of options for material, design, and information. You can choose exactly what you want to include on your sign and ensure it looks professional and is easy to read.
Best custom FSBO sign websites
Download a free for sale by owner sign template
We made a clear and simple for sale by owner sign template that you can download for free. You can upload this design to one of the custom FSBO sign sites to create a personalized yard sign for your listing. Simply use the site's sign editor to add your phone number.
» DOWNLOAD: Free For Sale by Owner Sign Template
Final thoughts
For sale by owner signs are helpful tools for marketing your house, but you shouldn't rely on them as your only strategy. Here are some other advertising options you should consider.
Combine FSBO signs with online listings.
» READ: 5 Websites That Let You Sell Your House "For Sale By Owner"
Invest in a flat fee MLS listing service.
» READ: What You Need to Know About Flat-Fee MLS Listings
Offer to pay the commissions of the buyer's real estate agent (and advertise it).
» READ: Do Sellers Pay Buyer's Agent Commission?
Talk to a real estate agent (even if you don't hire one).
Even having a conversation with an agent about your property can give you some ideas to better market your listing.