Atlanta's economy and housing market have been red hot for the past several years. But does it make a difference during which time of year you sell your home, even in a seller's market? Here's our guide to the best time to sell a house in Atlanta.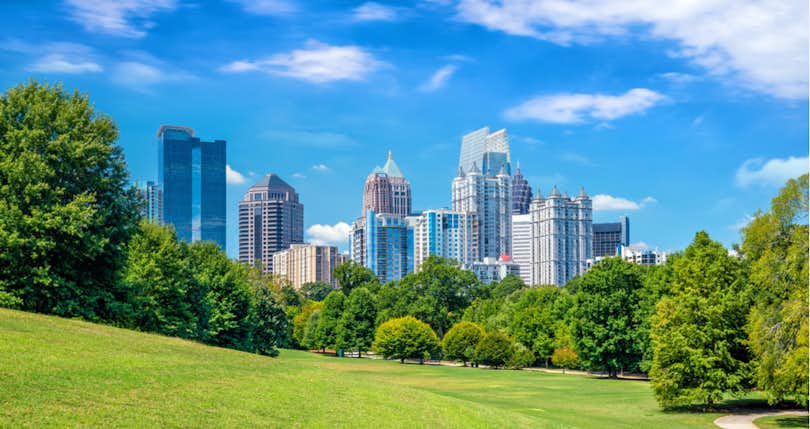 Atlanta has been a seller's market for years. But this robust market tightened slightly last year, so homesellers need to take every step to make their listing as competitive as possible. One of the factors that can help your home sell more quickly and for a bigger profit is through timing.
Analysts say some times of year are better than others to sell a home. What's more, the peak period to sell differs from town to town and state to state. But when exactly is the best time to sell in Atlanta?
In many parts of the U.S., it's not uncommon for homes to sell faster and at a premium price in spring. In fact, some analysts have crunched the numbers and found the first two weeks of May are the peak selling season in much of the U.S.
But Atlanta doesn't follow the national trend. Its peak season is in June. And there are two other times of year that also can be considered "peak times" to sell. Read on to find out more.
Ultimately, what time of year that you decide to sell your property is not the only factor that determines what you will get for it. That's why it's always best to find a professional agent who knows the local market conditions and has a solid strategy to help you sell your home as quickly as possible for the highest price possible.
Here's more on what you need to know about the best time to sell a house in Atlanta.
Best Time to Sell a Home in Atlanta
As noted above, Atlanta's real estate market doesn't follow the national pattern when it comes to the best time to sell. In most of the country that's in the first part of May.
Atlanta's peak season is about a month later in June. It's important to note, however, that May and August are close behind when it comes to property sales. And even if you don't list your home during those peak periods, it's still a seller's market in the city, though there are indications it is drifting into "neutral" territory.
Another difference between Atlanta's market than most others in the U.S. is that homes typically sell fastest (though not necessarily at their premium price) in July. The market also tends to slow down only slightly in the fall. Last year, prices were about 3% lower in the fall than in the previous months. 2018, however, was not a typical year. The year before, prices only dipped by 0.7% in the fall.
Fall also slows down the time that is required to sell your home. But there's really no need to be overly concerned. The increase in time to complete the sale only goes up by 10 days.
Key Factors That Help Atlanta Homes Sell Faster
Price It Right
Atlanta is still a seller's market. But it's important for sellers to understand that the overall trend in the market is now toward buyers. That means pricing is becoming more and more important.
Sellers can no longer count on bidding wars for their properties. That's not to say that the booming economy in the city hasn't sustained the city's housing demand. But homesellers should be keenly aware that they need to price their listing competitively.
Highlight The Best of Your Neighborhood
Home buyers aren't necessarily just looking to buy a house or a condo. They want to live in a nice community that has good schools, restaurants, or shopping. Usually, they want all three.
That's why homesellers should always highlight these features when marketing their sale property. You want to give the buyer as many incentives to buy as possible.
Stage Your House
As Atlanta's housing market moves into neutral territory, homesellers should begin to widen their marketing options. One way to make your home stand apart from the competition is through "staging" methods. The reason: homes that are displayed with furniture end up selling for a higher price and faster than homes that are displayed empty.
Tips for Maximizing Your Profits When Selling a Home in Atlanta
1. Consider Your Specific Market
The inventory of homes available in Atlanta still lags behind demand. That's keeping the city's real estate market relatively hot. An influx of new residents due to a thriving economy is expected to keep demand high until at least 2020.
Furthermore, strong demand is pushing home prices higher and higher. The median home value in Atlanta is $255,000 and that's expected to jump again this year by more than 7%.
Learn More: Understanding a Comparative Market Analysis
2. Make Impactful Repairs and Renovations
How much should you put into repairs before putting up the "For Sale" sign? There's no firm rule. But it's recommended that you make as many repairs as you can within reason. Not all repairs are necessary and not all of them will pay off for the seller. Carefully calculate your potential return on investment when considering which repairs to make.
One thing all homesellers should consider is giving the walls a new coat of paint. If the outside looks like it's in bad shape, paint that too. Painting is one of the easiest and least expensive ways to update your home's look.
Also, make any minor repairs in the kitchen and fix any broken appliances. And you'll want to check that all the lights work. You may also want to refinish scratched hardwood floors or give the carpet a good clean.
Learn More: 5 High-Value, Low-Cost Repairs for Home Sellers
3. Find a Great Real Estate Agent
If you're thinking of selling a home in Atlanta, the good news is that the city is booming. New workers are moving to the city every day. And the demand for housing continues to outstrip the supply. The concerning news for homesellers is that the market is turning.
It's been a seller's market for years, but now it's moving toward buyers. To maximize what you get on the sale of your property, it's always best to work with a real estate agent who knows the local market conditions. A professional Clever Partner Agent will be able to assess the value of your home so that you have the confidence that you will get the highest return for your home at any time of year.
Related Articles
You May Also Like