The Missouri housing market is currently in favor of the buyer. With median house prices below the national average and appreciation continuing to grow strongly, buyers can obtain a good deal. Here we explore the best time to buy.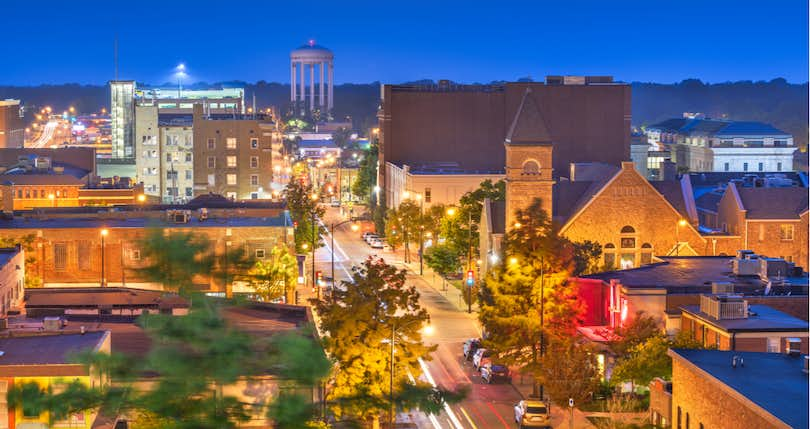 Buying a house is a stressful and emotional process. You'll likely have to spend weeks touring properties, fill out hundreds of forms, and invest a large chunk of your savings to secure the right house.
One way to make buying a house easier is starting the process at the right time. In Missouri, housing inventory, mortgage rates, and market trends vary from month to month.
For example, this year listing prices for homes in Missouri were lowest in January. On average, homes were $29,269 less expensive. While in September — the month with the highest prices — the listing prices were $19,700 more than the annual average.
In truth, the best time to buy a house really depends on your priorities and situation. Read on to find out which time of year will give you the most options and the biggest savings when buying a house in Missouri.
If you're interested in buying a home, the first step in your home buying journey is to find an experienced realtor who's an expert in your local market. The right agent can help you find the best house for your budget and priorities — and negotiate a winning offer so you don't lose out on your dream home.
The easiest way to find a great local realtor is to use a free service like Clever Real Estate. Clever matches home buyers like you with top agents in your area so you can compare your options and choose a realtor who's the right fit for you.
You can interview multiple agents until you find the perfect fit, or walk away at any time - Clever's service is 100% free with no obligation. Fill out the form below to instantly request hand-picked agent matches now!
👋 Find your perfect agent now!
Finding a great local realtor is the first step in making your home buying dreams a reality. Our free service matches you with top agents from trusted brands like Keller Williams and RE/MAX.
Enter your zip code to request hand-picked agent matches in minutes. Compare your options until you find the perfect fit, or walk away with no obligation. Try Clever's free service today!
Best Time of Year to Buy in Missouri
Missouri is currently a very strong buyer's market for a number of reasons. With median property prices averaging $161,400, this is much lower than the national average of $226,300. This makes it an attractive real estate market for those on low incomes.
Secondly, houses prices are growing at a faster rate against the nationwide average. While U.S. median home values grew by 7.2% last year, Missouri grew by 8.5%. This trend is expected to continue over the coming year, with Missouri and nationwide property values forecasted to grow by 5.6% and 5.1%, respectively.
What this means for you as the buyer is that the Missouri housing market is in your favor and that seasonal timing is potentially not an important factor when making a purchase.
However, when aggregating data on the number of days that property's in Missouri took to sell from the initial listing date, a notable trend has remained constant. In the vast majority of cases, it appears that homes listed in February require the longest time before they sell.
At the other end of the spectrum, July is the best month for homeowners looking to sell their property in Missouri, as homes are sold much faster.
For example, in February 2017 and 2018, it took an average of 100 and 85 days for Missouri homes to sell, respectively. While in July 2017 and 2018 it took just 63 and 59 days, respectively. When the time between listing and closing increases, this can often lead to sellers accepting a slightly lower offer.
Ultimately, although the Missouri real estate space is a buyers market throughout the year, purchasing a property in February is potentially the optimal time. It is still a wise idea to use an experienced real estate agent that is based in Missouri, as they'll have extensive knowledge of market timing in your specific region.
The Best Places to Buy a Home in Missouri
Glendale: Glendale seems to strike the perfect balance between average income and job prospects. While on the one hand the unemployment rate is super low at just 1.7%, and households make an average of just over $128,000, median home prices amount to $392,400. Although property prices are a lot higher than the state average, the overall quality of life in Glendale is very good.
Carl Junction: If you're a low-income buyer looking to get on the property ladder, then you might want to check out Carl Junction. Median property prices amount to just $130,400, and median household incomes rose by a remarkable 16.8% last year. The only drawback is that house prices grew by just 0.23% over the previous 12 months, which is a slight concern.
Savannah: If you thought that Carl Junction was affordable, then you should take a look at Savannah. The Andrew County-based city has a median home value of just $112,300, which makes it perfect for those on a low-income. If you're looking to buy a house in Missouri to rent out, then Savannah has a median monthly rental rate of $726.
Grain Valley: If you're looking for an area in Missouri that has a strong jobs market and affordable housing, then Grain Valley might be suitable. Unemployment rates are just 2.7%, and with median property values amounting to $151,600, this falls below the state average. Grain Valley is also an area that is attracting a younger demographic, with the median age at just 33.2 years.
University City: Although median house prices are more expensive than the state average, University City grew by 7.45% last year, and median incomes grew by 8.37%. University City is also only a 10.5-mile drive to St. Louis, which makes it a perfect location for those that need to commute.
4 Ways to Get a Great Deal On a Home in Missouri
1. Find a Great Missouri Real Estate Agent
Before you start searching for a home to buy in Missouri, you should employ the services of a Missouri real estate agent. They will have extensive knowledge of the local housing space, meaning that they'll be able to time the market to get you the best deal possible.
A local real estate agent will also be able to guide you through the entire buying process. This will include your financing options, your property tax obligations, and whether your desired home is likely to have a lower offer accepted.
Read more: What can a real estate agent do for you as the buyer?
2. Assess Your Needs and Lay Out Your Goals
When you initially sit down with your real estate agent, it is important to explain what your needs are. By laying out your goals clearly, your agent will be able to find a Missouri home that best suits your needs.
Think about factors such as budget, size, and location, as well as whether you need to be situated close to certain amenities (such as schools or public transport links).
3. Find a Lender and Secure Financing
Unless you plan to buy your home with cash, you'll need to apply for a mortgage. For most home buyers in Missouri, interest rates are among the biggest factors when choosing a lender. Doing a little upfront research and comparing options to find the best rates could save you tens of thousands of dollars over the life of your loan.
For example, in Missouri a typical house is worth $174,000. Assuming a 20% down payment, if you took out a 30-year mortgage for 3.5%, your monthly payment would be $621. But if you shopped around and found a 3% mortgage, your monthly payment would drop to about $587.
Getting a mortgage is a big decision – and it pays to shop around! Keep shopping until you find a lender with competitive rates who also understands your goals. Don't get pressured into taking on a bigger loan than you're comfortable with – work with a lender who explains what you're really signing up for.» Get instantly matched with a lender who works in your area.
4. Negotiate for the Best Possible Price
It's always a good idea to instruct your real estate agent to negotiate a better price on the property you want to buy. This is especially true in Missouri, as the housing market is currently in favor of the buyer.
Read more: Tips on how to find a buyer's agent that's a good negotiator.
If you would like to find out more about how Clever can connect you with an experienced Missouri based real estate agent, simply fill out our online form. A Clever representative will get back to you to discuss your individual requirements.
You May Also Like