Idaho has a booming economy and a rapidly-climbing housing market. Timing the market can be tricky when looking to purchase a home, but plenty of options can be found during the spring buying season throughout the state. In winter there are deals to be found.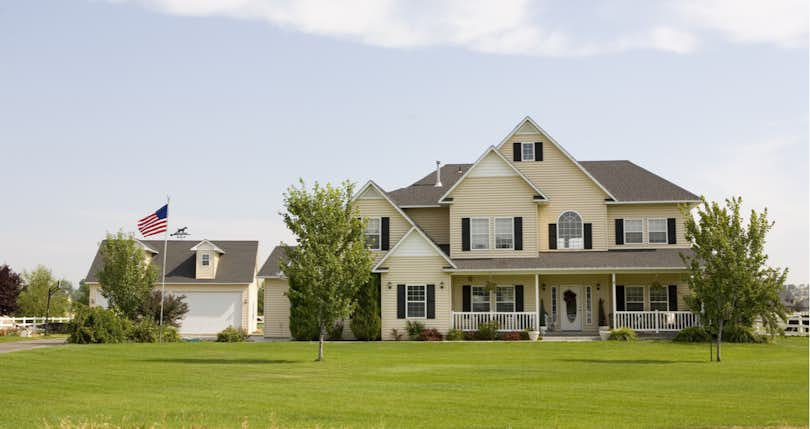 Buying a house is a stressful and emotional process. You'll likely have to spend weeks touring properties, fill out hundreds of forms, and invest a large chunk of your savings to secure the right house.
One way to make buying a house easier is starting the process at the right time. In Idaho, housing inventory, mortgage rates, and market trends vary from month to month.
For example, this year listing prices for homes in Idaho were lowest in April. On average, homes were $72,812 less expensive. While in November — the month with the highest prices — the listing prices were $156,096 more than the annual average.
In truth, the best time to buy a house really depends on your priorities and situation. Read on to find out which time of year will give you the most options and the biggest savings when buying a house in Idaho.
If you're interested in buying a home, the first step in the home buying journey is to find an experienced realtor who's an expert in your local market. The right agent can help you find the best house for your budget and priorities - and negotiate a winning offer so you don't miss out on your dream home.
The easiest way to find a great local realtor is to use a free service like Clever Real Estate. Clever matches home buyers like you with top agents in your area so you can compare your options and choose a realtor who's the right fit for you.
You can interview multiple agents until you find the perfect fit, or walk away at any time - Clever's service is 100% free with no obligation. Fill out the form below to instantly request hand-picked agent matches now!
💰 Buy with a top agent, earn cash back!
Buy your dream home with a top local realtor from a trusted brand like Keller Williams or RE/MAX. Keep more money in your pocket by earning cash back on eligible purchases.
Enter your zip code to request hand-picked agent matches in minutes. Compare your options until you find the perfect fit, or walk away with no obligation. Try Clever's free service today!
Seasonal Fluctuations When Buying in Idaho
Home values in Idaho really shot up in 2018, and are expected to be strong again in 2019. The state saw an increase of 13% last year, and its capital Boise was one of the hottest markets in the country with over 15% increase in prices according to an FHFA report. Zillow data saw home values rise even faster, 17% across the state and predicts another 9% increase in values for 2019.
On a seasonal basis, list prices tend to shoot up in May and June by several thousand dollars over the preceding months. However, the housing market has been so strong over the past five years that only a few months actually see a decline in listing price.
Where seasonality does show up clearly in the data is when looking at the number of days listed. Days on market drops an average of 44% from February highs to late spring lows, which lasted only 48 days in May of 2018.
Keep in mind the spring buying season can differ throughout the state. Housing markets in more remote locations, or farther north, such as in Coeur D'Alene, can behave much differently. The rapidly increasing market can also be quite regional as well. For example, homes in Kellogg, a more remote and rural community, only saw a .8% increase in value over the past year.
The bottom line is that buying during the peak spring season will bring more options to the market, but prices will be higher. If you wait until later summer or even the winter months you will have more purchasing power, but less options.
Top Markets to Consider When Purchasing in Idaho
Boise
The state capital and largest city has seen incredible growth in its housing market over the past year. Even better is the livability of Boise. Crime is now, nature is close, the schools are great, and Boise is the fastest growing metro in the U.S.
Idaho Falls
The third largest city in Idaho, it has over 60,000 residents who have access to some of the most gorgeous country and outdoor amenities there are. Yellowstone National Park is close and the Grand Tetons are even closer. Wages are growing quickly and the cost of living is about 10% lower than the national average. It is no wonder home values rose 15% in Idaho Falls over the past year.
Coeur d'Alene
While known more as an escape for Californians and others looking to flee expensive west coast cities, Coeur d'Alene has something for everyone. It is a tight-knit community located in the far north of Idaho, but with close proximity to Spokane, there are nearby options for city life. Because of its desirability, the housing market has climbed 15% in value over the past year.
Moscow
Not the capital of Russia, but home to the University of Idaho. Moscow is a thriving town that burst with energy from students at several nearby colleges and universities. Median home prices are strong because of the demand-driven from university professionals and the commerce it provides. With Washington State University only 15 minutes away, sports fans will also find plenty of opportunities to partake in the rivalry.
4 Ways to Get a Great Deal on a Home Anywhere in Idaho
1. Find a Great Real Estate Agent
Many different factors can influence local real estate markets, so it is important to work with a local expert. An experienced real estate agent will keep you apprised of local inventory conditions, help you locate the ideal neighborhood, and uncover deals and opportunities that may not even be on the market.
A great agent will also walk you through the entire purchasing process and help recommend local movers, renovators, or anything else you may need to make moving into the home of your dreams a smooth process.
2. Assess Your Needs and Layout Your Goals
You will need to take time to come up with a purchasing plan that keeps in mind what type of home, the type of neighborhood, and in what price range you are looking to purchase. Have your agent check local zoning codes if you want to make modifications, look into school districts if you have children, and check comparables sales to get an idea of what realistically meets your needs and price range.
3. Find a Lender and Secure Financing
Unless you plan to buy your home with cash, you'll need to apply for a mortgage. For most home buyers in Idaho, interest rates are among the biggest factors when choosing a lender. Doing a little upfront research and comparing options to find the best rates could save you tens of thousands of dollars over the life of your loan.
For example, in Idaho a typical house is worth $323,000. Assuming a 20% down payment, if you took out a 30-year mortgage for 3.5%, your monthly payment would be $1,152. But if you shopped around and found a 3% mortgage, your monthly payment would drop to about $1,089.
Getting a mortgage is a big decision – and it pays to shop around! Keep shopping until you find a lender with competitive rates who also understands your goals. Don't get pressured into taking on a bigger loan than you're comfortable with – work with a lender who explains what you're really signing up for.It's easy to start your home buying journey – answer a few questions to get instantly matched with a lender who works in your area.
4. Negotiate the Best Possible Price
Once you've found the right property, your agent will help you submit an offer and then negotiate following inspections to ensure you're getting the best deal possible. A good agent will have knowledge of the local market, know what repairs are still necessary, and be aware of any other limiting factors that could impact the final price.
If you are looking for a home in Idaho and need a quality local real estate agent by your side, a Clever Partner Agent can help you. Clever connects you with the top agents in your area, and guides you through every step of the home search, negotiation, and closing process.
You May Also Like