Idaho has seen stunning growth over the last few years and is a top destination for young professionals and those fleeing expensive west coast cities. The economy is strong, nature is close, and the cost of living makes it a highly desirable investment market.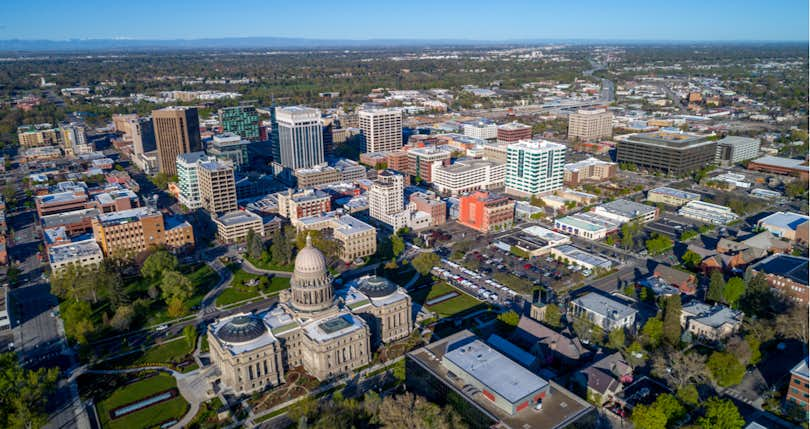 Idaho, with a strong state economy and growing population, is a great place to consider acquiring an investment property. Whether you are looking for single-family homes in the capital city of Boise, or student housing in one of several college towns, there are opportunities to make a profit for all kinds of investors.
Statewide, home values in Idaho shot up in 2018, and are expected to be strong again in 2019. The state saw an increase of 13% last year, and Boise was one of the hottest markets in the country with over a 15% increase in prices according to an FHFA report. Zillow data saw home values rise even faster, 17% across the state, and predicts another 9% increase in values for 2019.
Keep in mind though that housing markets are regional and in more rural communities can behave much differently. For example, homes in Kellogg, a more remote and rural community, only saw a 0.8% increase in value over the past year.
These regional differences highlight the importance of working with an experienced, local real estate agent, who can keep you updated with the latest inventory reports and market trends. A good agent will know how to help you identify investment opportunities, value them appropriately, and help you through the purchasing process.
»FIND: Top Real Estate Agents in Idaho
Boise
The state capital and largest city has seen incredible growth in its housing market over the past year. Crime is low, nature is close, schools are great, and Boise is the fastest growing metro in the U.S.
Boise's population increased by 3% in 2017 and continues to go up at a steady pace. This influx of new residents will continue putting upward pressure on home prices.
Boise residents are also highly educated and make a median income of over $50,000, and job growth exceeding 3.5% over the past year. In fact, Boise is expected to see future job growth of over 50%, much higher than the U.S. expected growth rate of 30%.
This just shows that Boise's best days are ahead of it. A return can be made on an investment in single-family homes, rental properties for students, and anything in between. Young professionals continue to make up a thriving part of the downtown community, and retirees pour in from out of state. There truly are opportunities of all types in Boise.
---
Looking to invest in real estate? You need a realtor who specializes in investment properties.
The first step in your real estate investing journey is to find a top local realtor with experience helping real estate investors find great deals. The right agent can help you find the best property for your goals and budget — and craft a winning offer so you can stop looking at houses on Zillow and start building wealth.
If you need help finding a realtor who specializes in investment properties, Clever Real Estate can match you with an experienced local agent so you can find the right property and get a great deal. You can also earn cash back when you close on your purchase!
Requesting agent matches is free, and there's no obligation. Just fill out the form below to get agent recommendations sent straight to your inbox!
💰 Buy an investment property, earn cash back!
Buy your investment property with a top local realtor from a trusted brand like Keller Williams or RE/MAX. Get cash back on eligible purchases.
Enter your zip code to get personalized agent matches sent straight to your inbox. Compare your options until you find the perfect fit, or walk away with no obligation
Twin Falls
To see how quickly the state of Idaho is growing one should visit Twin Falls. In 2010 the city's population was around 41,000 and now is pushing 50,000. It has been named the 4th fastest-growing small city in the country, but if it grows anymore it will outgrow the "small city" designation.
Southern Idaho is known for its beautiful countryside, and especially Shoshone Falls. However, adventure seekers have also found a home here with plenty of places for rock climbing, base jumping, and other outdoor activities.
The low cost of living has also attracted retirees and others fleeing high cost, west coast cities looking for a slower pace of life. However, it is not all retirees and adventure seekers. Southern Idaho University has over 7,000 students on campus and contributes to a strong local workforce.
Home prices have reflected these trends, and have gone up 11.5% over the past year and are expected to see another 6.3% growth in 2019. The median listing price is currently around $234,000, but during peak buying season are staying on market for just over a month.
Eagle
This city on the northern periphery of the Boise metro area is growing fast. Last year, Eagle saw over 650 new residential building permits signed off on, and the city grew by over 12%.
Even with new construction coming to market home sales have increased by over 10%. The median listing value now exceeds $530,000 according to Zillow and should increase by another 6% in the coming year.
What draws people to Eagle is its access to the Boise job center, while still being suburban enough to provide open space and outdoor amenities. You can easily find homes and vacant lots well over an acre in Eagle, or live in a traditional suburban cul-de-sac.
Eagle will continue to be a strong destination for years to come. Consider connecting with an expert local agent who can help you find the right investment opportunities in Eagle.
Coeur d'Alene
While known more as an escape for Californians and others looking to flee expensive west coast cities, Coeur d'Alene has something for everyone. It is a tight-knit community located in the far north of Idaho, but even as one of the more rural destinations the housing market climbed 15% in value over the past year.
Furthermore, what makes Coeur d'Alene attractive for investors is the different type of investments it offers. Specifically, Coeur d'Alene is known for having many vacation rental properties. These can be lucrative opportunities that generate substantial income in the right markets. However, short-term rental regulations vary from city to city, so be sure to properly research them before investing.
Overall prices in Coeur d'Alene are much higher than elsewhere in the state. The current median list price is at $370,000, but there are many estates in the area going for $1 million or more. This can present a high-value opportunity for those good at flipping homes, or adding high-value upgrades to existing modest homes.
Idaho Falls
The third largest city in Idaho, it has over 60,000 residents who have access to some of the most gorgeous country and outdoor amenities there are. Yellowstone National Park is close and the Grand Tetons are even closer. Wages are growing quickly and the cost of living is about 10% lower than the national average.
Home values rose 15% in Idaho Falls over the past year, and are expected to grow another 8% over the next year. The median listing price exceeds $250,000 and homes are listed for barely over a month in the current market.
This rise in home values is driven by Idaho Falls' strong economic growth and diverse economy. Unemployment is 2.5%, and job growth is increasing. This growth is quickly attracting folks who value being so close to nature and still want access to a high-quality job market.
Wherever you are considering investing in Idaho an expert, local real estate agent can help you uncover the best properties and time to buy in your market. Clever Partner Agents are from major real estate brands and brokerages (e.g., Keller Williams, Century 21, RE/MAX, etc.)
The only difference is that our Partner Agents have agreed to sell our clients' homes for a fraction of the traditionally associated cost — a flat fee of 1.5%.
👋 Find your perfect agent now!
Finding a great local realtor is the first step in making your home buying dreams a reality. Our free service matches you with top agents from trusted brands like Keller Williams and RE/MAX.
Enter your zip code to request hand-picked agent matches in minutes. Compare your options until you find the perfect fit, or walk away with no obligation. Try Clever's free service today!
Related Articles
You May Also Like