If you're looking to buy a home in Delaware, you might be wondering which months or seasons are the most fruitful. The answer depends on your priorities, but there are some facts and statistics to consider along the way.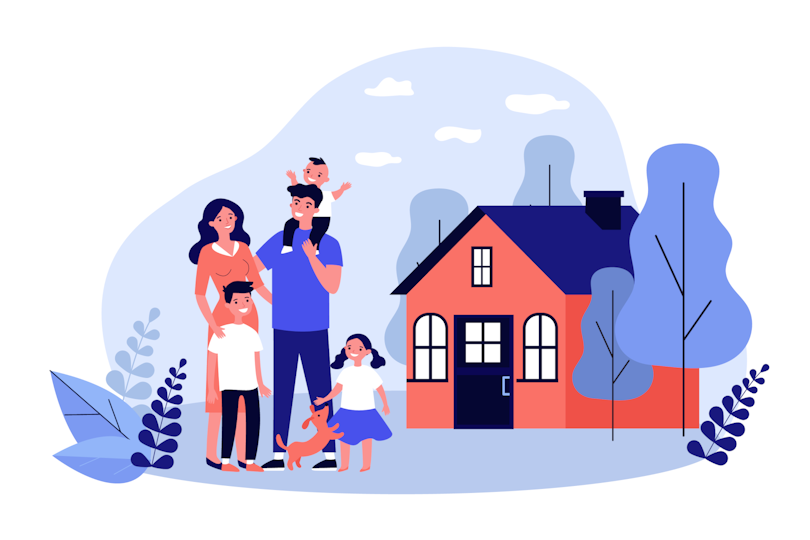 Buying a house is a stressful and emotional process. You'll likely have to spend weeks touring properties, fill out hundreds of forms, and invest a large chunk of your savings to secure the right house.
One way to make buying a house easier is starting the process at the right time. In Delaware, housing inventory, mortgage rates, and market trends vary from month to month.
For example, this year listing prices for homes in Delaware were lowest in January. On average, homes were $26,916 less expensive. While in October — the month with the highest prices — the listing prices were $24,041 more than the annual average.
In truth, the best time to buy a house really depends on your priorities and situation. Read on to find out which time of year will give you the most options and the biggest savings when buying a house in Delaware.
If you're interested in buying a home, the first step in the home buying journey is to find an experienced realtor who's an expert in your local market. The right agent can help you find the best house for your budget and priorities - and negotiate a winning offer so you don't miss out on your dream home.
The easiest way to find a great local realtor is to use a free service like Clever Real Estate. Clever matches home buyers like you with top agents in your area so you can compare your options and choose a realtor who's the right fit for you.
You can interview multiple agents until you find the perfect fit, or walk away at any time - Clever's service is 100% free with no obligation. Fill out the form below to instantly request hand-picked agent matches now!
💰 Buy with a top agent, earn cash back!
Buy your dream home with a top local realtor from a trusted brand like Keller Williams or RE/MAX. Keep more money in your pocket by earning cash back on eligible purchases.
Enter your zip code to request hand-picked agent matches in minutes. Compare your options until you find the perfect fit, or walk away with no obligation. Try Clever's free service today!
Best Time of Year to Buy in Delaware
The best time of year to buy in Delaware depends on your priorities. Is it most important to you that you have the largest selection? That the prices are lowest? Or something somewhere in the middle?
Luckily, no matter what your priorities, there's a right time for you to look.
Biggest Selection of Homes
If you're more concerned about finding your dream home than finding the right price, spring is for you. April has the most listings of any month, and April, May, and June are far and away the three most popular months for sellers to list new homes.
Unfortunately for buyers, spring is also the most expensive time to buy. With the most availability comes the most competition. From March through May, one in every four houses sells above its list price.
Lowest Prices
For the lowest prices, generally, you'll want to start looking in the fall with a goal of buying in the late fall or early winter. In fall and winter, there are fewer homes on the market but also fewer people looking to buy.
Homeowners selling from November through February are often selling because they have to, not because they want to — and that can lead to large discounts.
Good Selection and Good Prices
If you're looking for a good middle ground between blazing hot spring and desolate winter, home shopping towards the end of summer just might be for you. There's a larger selection of homes available than in the fall and winter, and unlike in spring, houses will be priced to move.
Homeowners who hoped to sell in the spring boom, but didn't, will start to offer discounts towards the end of summer. Sellers still living in their homes want to move before the weather gets cold. Parents want to move before the school year starts. And because the season attracts fewer buyers, good deals are still to be had.
These considerations are especially true for people looking to buy beachfront property — sale prices tend to plummet after beach season comes to an end.
The Best Places to Buy a Home in Delaware
If you're looking to buy a home in Delaware but aren't sure exactly where you'd like to be, consider some of these great options.
North Star
North Star ranks towards the top of every list of where to live in Delaware, and for good reason. The small yet suburban town is known for its good schools, nightlife, and job opportunities — and it's only an hour from Philadelphia.
Middletown
Middletown, one of the fastest growing places in Delaware, is a great place for a family. It has the best public schools in Delaware and also boasts a charming array of restaurants, shops, and entertainment spaces. Even better, it's one of the more affordable places in Delaware, with a median home price around $200,000.
Greenville
Greenville, a suburb of Philadelphia, is a hot spot for Millenials. Due to its increasing popularity, Greenville is expected to keep growing in the coming years. It offers a busy nightlife and easy commutes.
Rehoboth Beach
Rehoboth Beach is an idyllic town on the Atlantic, offering residents summer beach access and year-round oceanic sunrises. Rehoboth Beach is not for everyone and is priced out of range for most families, with a median home value of $583,600. But believe it or not, this is the lowest prices Rehoboth Beach has seen in a long time — so if you've always wanted a beachfront property, now just may be the time to look!
Newark
Newark is a small city of around 34,000 people, home to the University of Delaware and Rittenhouse Park. Known for its green spaces and good schools, Newark is a popular spot for families and young people. With its 15-minute commute to Wilmington and a 45-minute commute to Philadelphia, Newark is a great place for commuters to reside.
4 Ways to Get a Great Deal On a Home in Delaware
1. Find a Great Delaware Real Estate Agent
Finding the right real estate agent is an important step in the home buying process. The right agent will know the area inside and out and can advise you on the best time to buy in your locale.
Real estate agents are experts in their fields and cities and can help advise you on what time of the year to buy to fit your family's needs.
Learn More: What Does a Real Estate Agent Do for a Buyer?
2. Assess Your Needs and Lay Out Your Goals
Every decision in the home buying process is a personal one, and the timing of your purchase is no different. Some families care most about the budget, while others are more interested in having the best selection to choose from. Some are tied to a specific location, while others don't have a particular place in mind.
Sit down and make a plan about what your needs are. From there, you'll be able to get a better idea of when you should plan to buy your home.
3. Find a Lender and Secure Financing.
Unless you plan to buy your home with cash, you'll need to apply for a mortgage. For most home buyers in Delaware, interest rates are among the biggest factors when choosing a lender. Doing a little upfront research and comparing options to find the best rates could save you tens of thousands of dollars over the life of your loan.
For example, in Delaware a typical house is worth $274,000. Assuming a 20% down payment, if you took out a 30-year mortgage for 3.5%, your monthly payment would be $978. But if you shopped around and found a 3% mortgage, your monthly payment would drop to about $924.
Getting a mortgage is a big decision – and it pays to shop around! Keep shopping until you find a lender with competitive rates who also understands your goals. Don't get pressured into taking on a bigger loan than you're comfortable with – work with a lender who explains what you're really signing up for.It's easy to start your home buying journey – answer a few questions to get instantly matched with a lender who works in your area.
4. Negotiate for the Best Possible Price
Once you've found your dream home, it's time to negotiate. Your agent will help you make and submit your offer. It's important to choose an agent who is an expert negotiator and will try to save you money every step of the way.
Learn More: How to Find a Buyer's Agent That's a Good Negotiator
Next Steps
If you're looking to buy a home in Delaware, get in touch with a Clever Partner Agent. Clever Partner Agents are all top-rated in their field and can help you with every step of the purchase process.
Fill out our online form and we will put you in touch with a Clever Partner Agent in Delaware for a no-obligation consultation.
You May Also Like