Getting ready to sell your house in Maine? Our in-depth guide breaks the entire process down into 8 simple steps. Learn how to find a great agent, price your home, negotiate with buyers, breeze through closing, and more!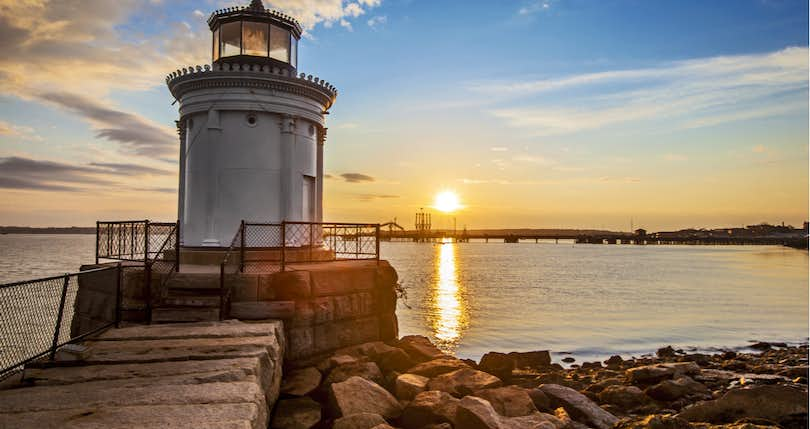 Now is a good time to be selling a house in Maine! According to Zillow Research, property values in the Pine Tree State rose 4.74% in 2019, and are projected to rise a further 3.75% over the next year.
Of course, even the best Maine properties will struggle to sell if you don't price the home properly, do a poor job of marketing it, or don't know how to handle the negotiations.
Read on to learn the eight steps to successfully selling your home in Maine!
» MORE: Get a free, instant home value estimate now!
JUMP TO SECTION
1. Finding a Maine realtor
Selling a home isn't easy. It's a high-stakes, complex transaction and requires a considerable amount of time and expertise to get a good outcome. If you're looking to sell your Maine home for the best price — and minimize stress along the way — you need to find a top-rated real estate agent in your area.
The best Maine listing agents know exactly what local buyers want and how to reach them. They'll offer expert advice, guidance, and support every step of the way, from the initial listing all the way through closing.
In fact, sellers who work with real estate agents net 33% more, on average, than those who list on their own. For a $235,689 home — the median home value in Maine, according to Zillow — that's a premium of $77,777. In other words, hiring an agent is well worth the investment.
2. Deciding when to sell
Housing prices fluctuate over the years and throughout the seasons. These fluctuations are often caused by a number of different factors. Larger economic factors will impact your home's value and how quickly it sells, as will local trends.
When interest rates rise, people are less likely to buy homes because they don't want to pay a higher mortgage rate. Home prices typically drop when this happens. If an area is growing, adding population and jobs, there is likely increased demand for houses, which drives up prices. Increases in property or sales taxes impact values, though its impact is less immediate and more over time.
The seasons impact demand in the housing market. Families prefer to move in the spring and summer rather than uproot their children mid-year. Fall and winter are slower selling months due to weather conditions and lower inventory on the market.
Best time to sell a house across the U.S.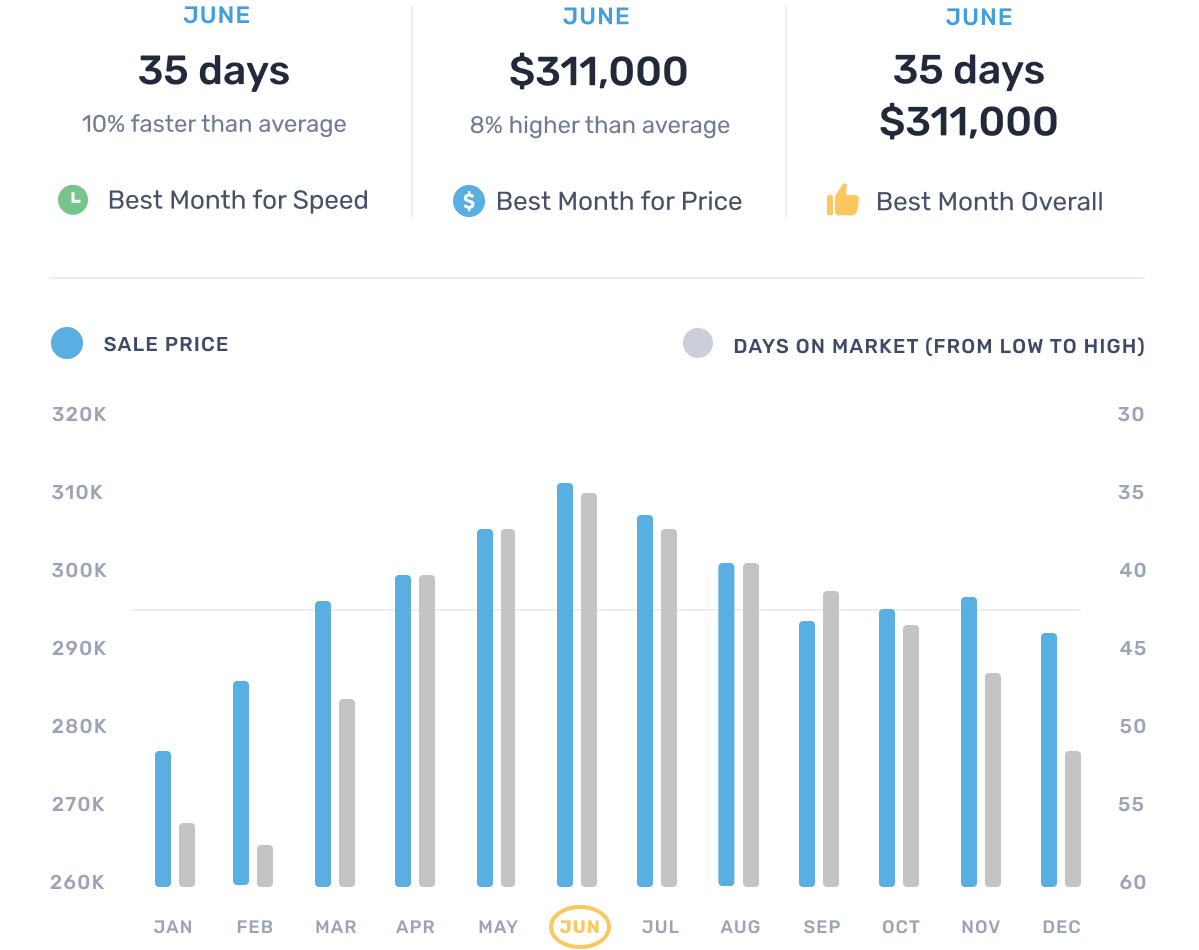 Source: 2019 Redfin Data Center
Best time to sell a house in Maine
| | | | |
| --- | --- | --- | --- |
| Best Month to Sell for Speed in Maine | August | 31 days on market | 24 days faster than average |
| Best Month to Sell for Price in Maine | June & August | $228,000 median sale price | 5% more than average |
If you're shooting for the fastest sale possible, listing in August is your best option. Homes listed in this month spend 31 days on market — significantly quicker than the Maine average of 55 days on market.
To get the highest sales price, put your house on the market in June or August. The median sale price of homes listed then is $228,000, which is almost $11,000 more than average.
Learn More: The Best Time to Sell a Home in Maine
3. Pricing your home
Pricing your property correctly is a crucial component of a quick sale. No one wants their property to sit on the market for too long. Potential buyers might think there is something wrong with it and you might be forced to lower the price.
Setting a competitive market price ensures that interested buyers will put your property on their showing list with your competitors. If you're out of line with local market conditions, they might not even tour your home. Recent sales and performance of properties in your area guide a pricing decision
A comparative market analysis (CMA) summarizes and analyzes all this data. It includes recent sales in your neighborhood but also information on how quickly they sold and if the sellers had to cut their asking price.
But if you're earlier in the process and just want a general idea of what your house is worth, a free online home value estimator is a great place to start. Enter your address below to see your estimated sale price, as well as useful local real estate market trends. Find out how much your house is worth now!
💰 How much is your home worth?
Discover the true value of your home with our Home Value Estimator!
Find My Home's Value
4. Preparing, marketing, and showing your home
On average it can take up to two months to prepare a house to go on the market. Your agent can give you some pointers on what you should repair after a walk-through. They'll also point out where you can make updates and repairs that would increase your home's odds of selling quickly and for maximum value.
Marketing a home properly is more than just cleaning and fixing a leaking faucet, however. Your agent might recommend hiring a professional stager and will have a professional photographer to come in and photograph the results.
The listing description should emphasize items that matter to your target buyer, whether it's the great local schools for families or the walkability of your neighborhood for retirees. If you'd had any upgrades done to the roof, windows, or heating system so they'll handle cold Maine winters, make sure that makes it into the listing.
Online listings, both in the MLS but also on social media, listing portals and realtor websites, maximizes your home's visibility. Technology has become a major part of selling homes.
Once you reach the open house and showing stage of the process, remember some basic rules. Keep your home clean and tidy at all times. Make sure that there's a lockbox on the front door with a key that works. Ask your realtor for advice and listen to what they tell you.
Learn More: The Best Paint Colors For Selling A House
5. Fielding offers and negotiations
Once a buyer has decided to make an offer on your home, their agent will call your agent. The first few negotiations typically happen over the phone while the buyer's agent is drawing up the paperwork for their offer. Once the written offer and earnest money check arrive, you and your realtor will sit down to discuss.
There is more to an offer than a dollar amount. Items included in the offer may specify which appliances are to be included with the house or a move-out date. You and the buyer may negotiate back and forth, or if it's a lowball offer you may reject it out-of-hand.
Once everything has been nailed down it'll be drawn up in a formal purchase agreement and you'll move to the next step.
Learn More: Real Estate Counter Offer Etiquette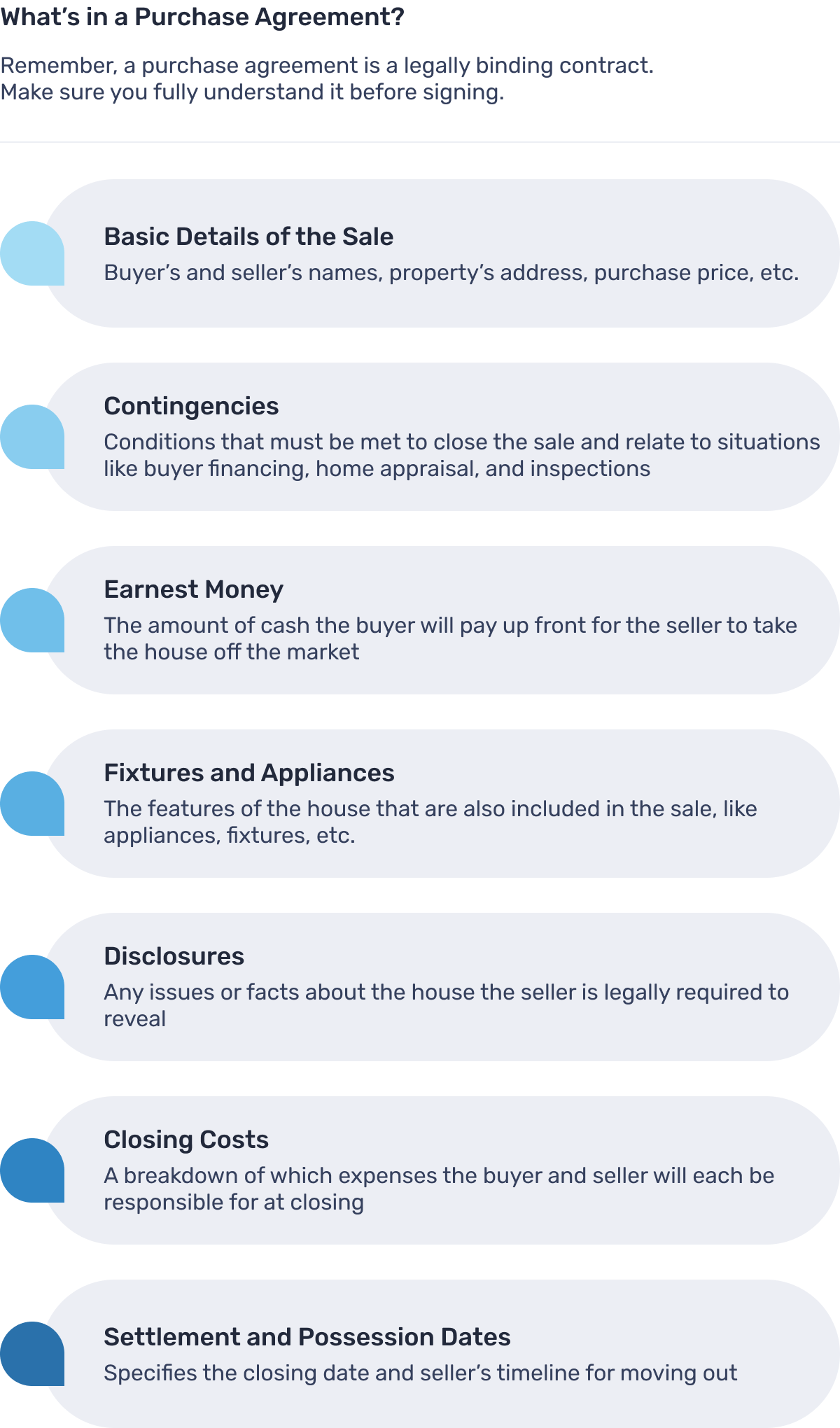 6. Appraisal and inspections
It's extremely rare to receive an offer without an inspection contingency. Buyers hire a home inspector to examine your property for any defects or items which could become a problem in the future. They want to be able to either back out of the offer or revise it after the inspection.
In Maine, buried oil tanks can be an issue. At one point, oil tanks heated many homes in Maine. These tanks can become an environmental hazard if not properly decommissioned, especially if they're under the house. If a home inspection finds one, expect to pay the significant costs to have it removed or to reduce your selling price accordingly.
While Maine doesn't require well testing, some buyers will put water quality in as a condition of sale. Unfortunately, arsenic in well water is a hazard, but less than half the households in Maine test for it in their wells.
Lead-based paint in older homes can also become an issue. Maine has a significant amount of older housing stock. Buyers may want to test for lead-based paint, particularly if they have younger children. If you've already had the testing done or the paint remediated be sure to include the certificate in your documents.
After the home inspection, the buyer will have a set period of time, specified in their offer, to come back to you with negotiations. They may want certain items repaired before the closing, or just request you to lower your price to cover those repairs. While it helps to prepare for a home inspection, you're almost guaranteed that there will be some negotiations involved.
Learn More: Can the Seller Back Out of Contract Before Closing?
7. Paperwork and required Maine disclosures
Seller disclosures inform buyers of any known issues and problems with your home. Legally, you have to disclose information about the water quality, heating and waste systems, the type of insulation in your home, etc. Failing to disclose a material problem could lead to a lot of problems, including lawsuits, down the line.
Disclosures aren't the only document you'll need to prepare before closing on your home. Always consult your agent or attorney before signing or filing paperwork. A licensed professional should walk you through all the paperwork and ensure you have everything you need for your situation.
Forms and Documents for Selling a House in Maine
Required for All Real Estate Sales in Maine
2 Forms of ID
Copy of Purchase Agreement and Any Addendums
Closing Statement
Signed Deed
Bill of Sale
Affidavit of Title
Possible Additional Documents
Loan Payoff Information
HOA Forms and Guidelines
Survey Results or Survey Affidavits
Home Inspection Results
Proof of Repairs or Renovations
Home Warranty Information
Copies of Relevant Wills, Trusts, or Power of Attorney Letters
Relevant Affidavits (Name Affidavits, Non-Foreign Affidavit Under IRC 1445, etc.)
Closing Disclosure (for certain seller concessions)
Correction Statement and Agreement
Maine Disclosure Forms
Seller's Property Disclosure Statement
Flood Zone Statement
Lead-Based Paint Disclosure
8. The closing process
After the home inspection and any subsequent negotiations, you'll set a closing date. Closing dates can be flexible, depending on the title company's availability. If you sell during the busy season, expect the process to take longer.
Shortly before the closing day, the buyer will do a final walk-through and confirm that you've fixed all the items they requested.
Typical costs that you can expect to pay in Maine include the realtor's commission, a home warranty if that was part of the negotiated contract, any outstanding judgments or liens, and any overdue homeowner's dues. Some buyers might have asked you to pay loan fees or accrued interest to their lender during the negotiations, too.
Closing on a home involves a lot of paperwork. If something isn't signed or turned in by a deadline, the whole process can stall. Your realtor will oversee everything up to closing to make sure that it all stays on track.
Learn More: How Much Are Seller Closing Costs in Maine
Next steps: Sell your Maine home and save thousands
Whether you're looking to list your Maine home immediately or 6-12 months from now, it's never too early to start looking for an agent, getting advice, and making a plan.
Clever is here to help guide you through the home selling process — and save money along the way!
💰 Get a lower rate with a top local agent!
Want to find a top local agent without overpaying on realtor fees? Clever negotiates 1.5% listing fees with top-rated realtors from trusted brokerages like Keller Williams, RE/MAX, and Berkshire Hathaway.
Get guaranteed full service for a fraction of the 3% rate agents typically charge. Schedule a free, no obligation consultation with a top local agent today!
Top ways to sell your home in Maine
Additional resources for Maine home sellers
Related links