Upgrading your kitchen countertops can add great resale value to your home. However, depending on your home's style, your budget, and the latest trends, it can be difficult to know which countertop to choose. To help, here are five of the best and most popular countertop materials and styles.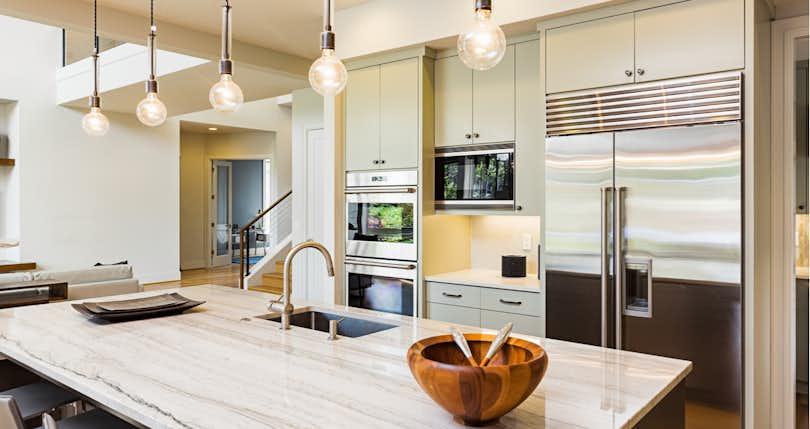 Over the years, you've become accustomed to your old countertop with its faded stains, small cracks along the edge, and scratches on the surface. You may not see these small imperfections anymore, but when buyers come through your home, they will definitely notice.
When selling your home, the kitchen is one of the major players that either helps or hinders your home's value and potential buyer offers. Considered the heart of the home, you'll want your kitchen in top shape in order to sell your home fast and at a higher price.
Certainly, full kitchen remodels can be expensive, but replacing your countertops can be an affordable alternative that breathes new life into the space and gives your kitchen a fresh, polished look.
The tough part is choosing the right material for your countertops that adds both value to your home without costing you a ton out of pocket. Do you go with marble? Glass? Wood? To help you decide, here are the five best countertops that will add resale value to your home.
Thinking about new countertops?
Talk to a Clever Partner Agent to make the best changes for max ROI.
1. Soapstone
Rising in popularity, soapstone is a natural, dark gray or black stone with thin, white streaks running through the material. This natural stone has a soft, velvety feel that is also surprisingly quite durable.
Soapstone is nonporous, resistant to stains, and requires no sealers making maintenance considerably easier than many other natural stone materials.
Over time, the natural soapstone tends to darken in color and is prone to scratches, though the scratches have a tendency to actually add to the overall character and antique look of the countertops. However, you can opt to sand out the scratches and return it to the original look.
The dark, rich color and texture of soapstone is usually found in older rustic and historic homes though this natural stone works great in modern and contemporary homes as well.
The cost for soapstone countertops is typically between $50 to $100 per square foot. Indeed, many homeowners are now opting for soapstone over granite.
2. Quartz
Potential buyers will be happy to hear you have quartz countertops. While quartz countertops are "engineered stone," created in a factory and not mined out of the ground like natural stone, this actually plays to the material's advantage in terms of durability and style.
Because quartz is created, the stone can be easily installed and fit perfectly for your space without any noticeable seams or imperfections that form in natural stones. Truly, you can choose the "imperfections" and pick the color and style of marble veining to your liking.
Quartz is also tougher than natural stone with a nonporous surface making it resistant to staining and scratching. The stone is a popular choice and adds substantial resale value due to its low-maintenance care — the stone doesn't require annual sealers.
Quartz will run you about $75 to $100 per square foot and works best in modern and contemporary style homes that want to add a bit of luxury and polish.
3. Butcher Block
The butcher block countertop is created from natural, reclaimed wood with maple and oak as the most common choices of material. Between the types of wood, stains, and finishes, butcher block counters can be extraordinarily beautiful and add a warm, homey touch to your kitchen.
Butcher block countertops are easy to clean and any scratches or damage can be sanded out and resealed. If properly taken care of, the wood countertops can last a long time.
While upkeep is necessary in order to prevent staining and potential bacteria, many potential buyers can look past that in favor of the beauty and more importantly, the use of sustainable and renewable resources utilized in sourcing the wood.
Many buyers are looking to go green and butcher block countertops are a great option.
Butcher blocks cost around $45 to $100 per square foot and are perfect for country-style homes though the natural wood adds warmth and rustic feel to modern homes by breaking up the stark, white and gray monotony.
4. Concrete
One of the hottest trends in decor, concrete is making its way into people's kitchens. Not to worry, you won't have a slab of sidewalk for a countertop. Rather, concrete is cast right in your kitchen made out of highly polished slabs that can have added texture or be stained for color.
Concrete countertops are extremely durable and resistant to chips and scratches though you will need to have it sealed to prevent cracks and staining as concrete is a porous material.
The cost of concrete countertops ranges from $65 to $130 per square foot but will certainly make your home stand out to buyers with this unique look and durability.
Concrete countertops are perfect for industrial-style homes as well as ultra-modern homes, ranch-style, or homes with large, open kitchen spaces as the heavy material certainly makes a statement.
5. Granite
Tried and true, granite is still one of the most popular and desirable countertops for home buyers. This beautiful, natural stone is extremely durable. Granite is hard, scratch resistant, and does well with heat.
The material is porous and subject to staining if the countertop isn't sealed. Other than sealer, granite countertops are virtually maintenance free. They also come in thousands of different natural colors and styles so it's easy to fit in with your kitchen's style.
Indeed, granite countertops go well in most styles of homes from traditional and modern designs, to Colonial and Tudor architecture. Granite always adds a bit of elegance and luxury to any kitchen.
The price tag for granite countertops ranges from $60 to $100 per square foot and has become more affordable in recent years with an increase in supply due to its popularity.
Before You Sell
Revamping your countertops can add significant value to your home and help draw in more buyer offers.
But, before you start any remodels, work with a local Clever Partner Agent who knows your market and can suggest the best and most sought-after countertop upgrades and styles that will work in your home and market.
Get in touch with Clever to be connected with an experienced Partner Agent who will use their expertise to increase your home's resale value and help sell your home for a listing fee of 1.5% ($3,000 minimum).
Related Articles
You May Also Like