Kitchen upgrades are one of the most popular renovations homeowners make before selling their home. But when it comes to granite countertops, does the cost justify the expense? Find out when it's best to upgrade to granite countertops and when you should just leave your kitchen as is.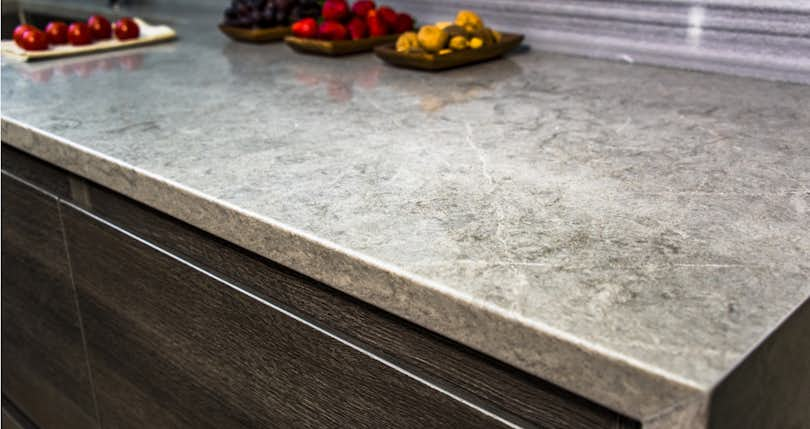 If you're a homeowner living in a property you know you'll eventually sell, it's important to consider every renovation decision carefully. While a renovation might be appealing, not all upgrades improve a home's value as much as you might think.
One room many homeowners often improve and renovate is the kitchen. Countertops are one of the first areas in the kitchen where upgrades are considered. Granite countertops have become popular recently, but many homeowners are wondering if the value added justifies the upgrade expense.
We'll walk you through everything you need to know about kitchen countertop upgrades so you can determine if granite countertops are worth the expense.
A Quick History Countertop Upgrades
Countertops may seem like a small issue, but your home's kitchen can make or break your home sale. Laminate countertops used to be the coveted style, due to the wide array of colors and styles and inexpensive price tag when it came time to upgrade.
While laminate countertops were common through the late 90s, over the last twenty years, luxury countertops have become a hot commodity, catching the eyes of many new buyers.
As granite began being produced more often in the US, granite countertops become more common as a way to complement large, designer kitchens. In fact, some home buyers won't even consider a home without granite countertops.
Are Granite Countertops Worth the Expense?
If you're looking to upgrade your kitchen but don't want to fully remodel the entire room, upgrading countertops could be a great start. Typical kitchen remodels cost just under $23,000, while the average price of buying and installing granite countertops is approximately $3,100. The actual price of granite can range from $40 to $100 per square foot, depending on the grade of granite.
In 2017, more than 50% of homeowners were encouraged to upgrade their kitchens before selling their homes. This is important to note, especially because generally when selling a home only 57% of the kitchen remodel cost is recovered.
So when do you know if it's wise to install granite countertops or just leave them alone? The answer is complex and depends entirely on your local market.
For instance, if other homes in your area have granite countertops and are comparable to your home, you might want to install granite countertops in order to stay competitive in the market. Likewise, this shows the style of home buyers in your area are interested in, so making this upgrade could help your home sell faster.
However, if comparable homes near you do not have granite countertops, installing them likely won't get you the bump in price you're hoping for. It's best to understand the local market and buyers in your area before making any decisions.
It's also important to decide if granite will look good in your home. If your home is not modern and the countertops will be the most updated part of the house, you might want to skip them. Even if your house has a lot of character and charm, this upgrade might really stand out in a negative way when compared to the rest of your house.
While granite might not be the best option for your local market, that doesn't mean you shouldn't upgrade the laminate in your counter if it's out-of-date or in poor condition.
Additional Insights on Granite Countertops
If you do decide to install granite countertops in your kitchen, it's important to choose a color and style that will remain neutral and help your space look more polished and pulled together.
The worst thing to do is select a rich granite that clashes against your cabinets or flooring, causing you to have to install new cabinets or tile. Opt for a neutral white, gray, beige, or black, depending on your kitchen's existing design scheme.
Further Help on Whether You Should Upgrade To Granite Countertops
Still unsure about whether adding granite countertops would be helpful to your home? Partnering with a qualified real estate agent is a great next step. Your agent can offer advice based on their local market knowledge and help you better understand what other homeowners in your area are doing.
Your agent can also help answer any other renovation questions you might have and help you get started on the home selling process with confidence. Let Clever connect you with a local agent to answer your questions today.
Related Articles
You May Also Like