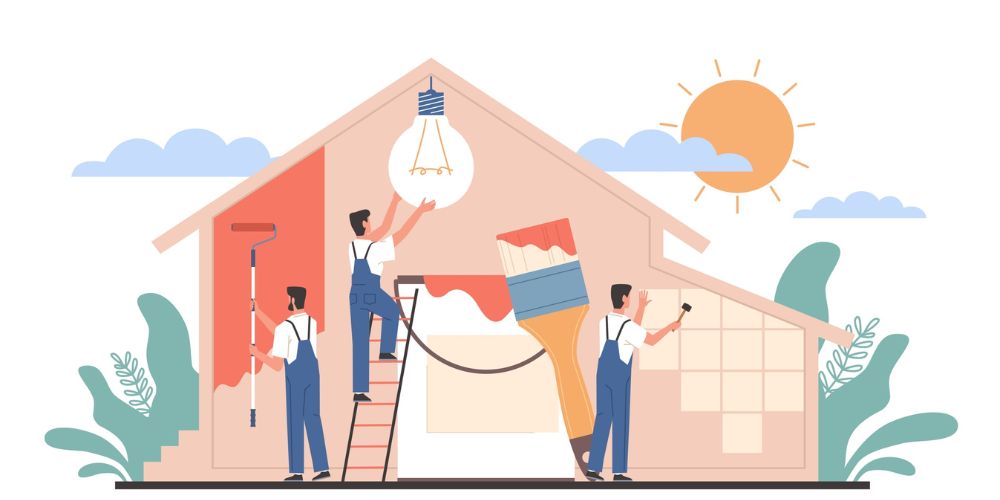 Minor plumbing and wiring issues | Paint | Windows | Outdated styles | Unfinished projects | Superficial stains and cracks | Appliances
In 2022, 71% of homeowners reported finishing at least one improvement project before selling their homes. Even though home repairs are a popular way to add value to a home, they are not all created equal. Many repairs cost more than the value they add to your home.
Before you make any costly repairs, you need to know what not to fix when selling a house. We'll help you avoid making expensive repairs that won't add much value (or even cost you) when you sell.
You can work with your realtor to determine which projects you should prioritize and what you can skip. The new owner may redo your aesthetic projects anyway, making your efforts a waste of time and money.
🔎Find the perfect agent to sell your house
Clever matches you with top local agents. Compare great options, choose the best fit. Free with no obligation.
What not to fix when selling a house
Minor issues with plumbing or wiring
Unless you plan to sell your house "as is," you should fix major issues in plumbing and electrical wiring. You can leave minor flaws alone. Don't worry about repairing that leaky faucet or a faulty light switch.
When in doubt, you can consult with a professional to assess the situation. They can tell you the major and minor issues and help you decide what's worth tackling.
Paint
Painting isn't always necessary. Look at your walls. If the paint is a particularly bright color, you might want to paint with a neutral color. If not, you're probably fine to leave it as it is.
Chances are good the new owners will repaint the walls a color they like anyway. So, if your home's interior is crying out for a paint job, consider offering a seller concession. A concession is essentially a discount on the house to help pay for repairs. That way the buyer can choose their own paint colors when they buy the house.
Windows
Don't spend thousands of dollars to install new windows if you're planning to sell. New windows can make your home look more appealing, but homeowners typically only recover 63–67% of the cost to replace windows.
Windows are also rarely the deciding factor when buyers are looking at a home. Instead, make sure the windows are clean, functioning, and free of cracks.
Outdated styles
Out-of-style flooring, hardware, and house fixtures may scream "dated" to you. But replacing them with the latest trend could cost you a lot and still not be what the buyer wants. It's better to save your money and have a clean slate for the buyer.
Let the buyer choose the patterns, styles, colors, and décor once the house is theirs. Instead, concentrate on scrubbing, polishing, and keeping those existing features clean for showings.
Unfinished remodeling projects
Now is not the time to tackle a renovation project you never got to. If you've put it off this long, you're probably not going to finish before you list the home. Besides, buyers can picture redesigning a room that needs work, but they might not want to finish a project someone else began. So, skip that DIY room addition or bathroom remodel.
Superficial cracks or stains
Minor cracks, floor scuffs, and carpet stains are typical. There's no need to fix every minor mark, but be careful of mistaking a major issue for everyday wear and tear. For example, don't assume a huge crack in the basement wall or a large carpet stain is minor. They may be a sign of foundation issues.
An experienced, knowledgeable realtor can help. Ask your agent whether to bring in an expert to assess any potential problems.
🏡 Talk to a top local agent in your area.Clever's free agent matching service has helped thousands of homeowners find the perfect real estate agent to sell their homes.
No cost. No pressure. Just good, helpful advice.
Appliances
If your appliances work, don't replace them. Change out any broken appliances, but don't go overboard. There's no need to buy a high-dollar appliance that won't add any value to the home. In fact, you may be better off purchasing a used appliance.
» MORE How to sell a home in poor condition
What to fix up when selling a house
When selling your home, the goal is to present a welcoming, livable space with no major problems or issues. Normal wear and tear are acceptable and expected. Also, the buyer should be able to personalize the home with their own colors, designs, and style. So, neutral choices are preferable when determining what to fix or update.
Data from the National Association of REALTORS® shows that sellers get the best return-on-investment by installing wood flooring, upgrading insulation, and putting in a new roof and garage doors. When in doubt, discuss the issue with your realtor to determine the most strategic move. An experienced agent can help you assess how buyers might feel about a proposed repair.
FAQ
What renovations are worth doing before selling?
Wood flooring, new roofing and garage doors, and upgraded insulation are the renovations worth doing before selling, according to data from the National Association of REALTORS®. We recommend consulting a real estate agent to decide the best options for you. Learn more about what not to fix when selling a house.
Is it worth replacing flooring before selling a house?
Yes, if you pick the right material, it's worth it to replace old floors before you sell a house. Adding new hardwood flooring or refinishing an existing wood floor is a solid investment, with a 118–147% return in home value. But something cheaper like new carpet or linoleum won't be worth it.
Is it better to sell a house as is or fix it up?
If you want to get the most money out of your home when you sell, then it's best to fix major issues. Even in a hot seller's market, selling a home as is will earn a lower price. If buyers have the market advantage, they may not consider fixer-uppers at all.
Related Articles