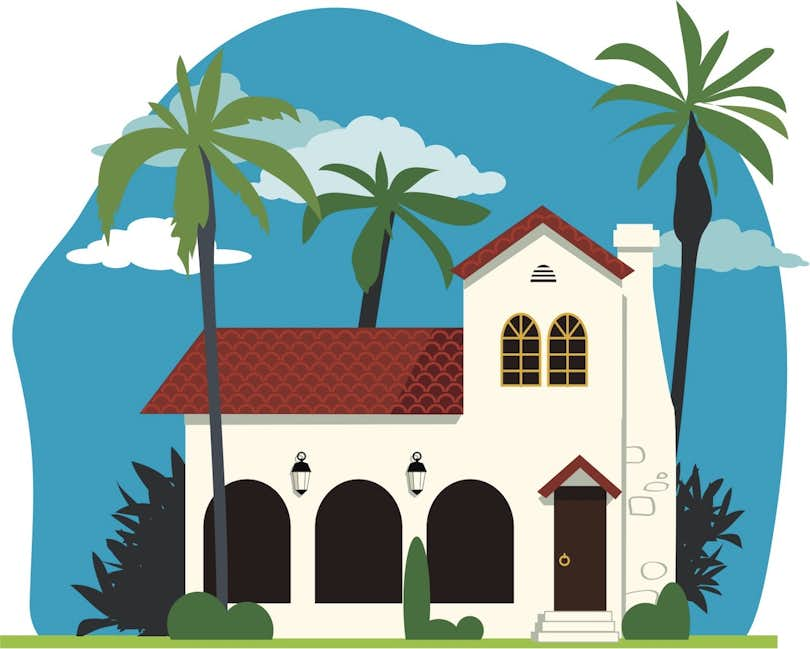 Colonial homes are one of the oldest and most loved architectural styles found in America. They typically feature two to three stories, a fireplace, a chimney, and a brick or wood exterior.
The architectural inspiration for colonial-style homes dates back hundreds of years. During the 1600s to mid-1700s, settlers from across Europe brought new construction techniques and styles that would evolve into the several different types of colonial architecture we see today.
Colonial Revival homes first appeared in the late 19th century. They draw from previous colonial architecture types but add a modern flare. These diverse and unique homes can be found all over the United States.
So, just how loved are colonial-style homes? A recent survey shows colonial homes are the third most favored type of home after craftsman homes and ranch homes, with 36% of the vote. [1]
JUMP TO SECTION
Colonial architecture characteristics
Characteristics of colonial-style architecture:
Symmetry
Two to three stories
Windows
Chimneys
Pitched roof
Today, there are many different colonial-style homes ranging from British colonials to Revivals that each have their own identity and style. However, some characteristics are widespread amongst them all.
Homes are symmetrical
One of the most noticeable features of colonial architecture is its symmetry. Colonial-style homes are either square or rectangular.
The front door opens directly to the stairway, located in the center of the home, and is usually made of wood.
Georgian colonials typically have a central hall on both floors with two rooms on either side for symmetry.
Two to three stories tall
All colonials are two to three stories tall, no matter the style. Older colonials used to have one room per floor, with the downstairs being used as a living area and the upstairs being used as a bedroom.
Today, most colonial floor plans, especially in Revivals, feature the standard four by four — meaning there are four rooms per floor. Common spaces like the living room, family room, dining room, and kitchen are located on the first floor. Bedrooms are on the second floor.
Lots of windows
Windows play an essential role in the overall look and feel of colonial homes.
Most colonials have two windows on either side of the front door and five windows on the second story.
Pitched roof
A pitched roof slopes downward at an angle, typically in two parts from a central ridge. Most colonials, including Revivals, feature these kinds of roofs.
Pitched roofs are a common feature of these homes since they provide easy drainage during rainy and snowy weather.
>>READ: How Much Does a Roof Inspection Cost?
Chimneys
Colonials, like Cape Cod homes, are known for having chimneys. They typically link to multiple fireplaces placed throughout the home.
Older colonials can have two or more fireplaces per floor that were once used to heat the entire home.
>>READ: Chimney Inspection Costs: How Much Does It Cost to Clean and Inspect Your Chimney?
Types of colonial homes
Understanding the different types of colonial homes
British (or American) colonial
Homes are known for their wood-frame construction featuring two stories with a fireplace located in the center of the home
German colonial
Homes are known for their symmetrically placed windows on the sides of the house and thick stone walls used for insulation
Dutch colonial
Homes are known for their gambrel roofs and chimneys that are placed at the gable end of the roof
French colonial
Homes are known for their rectangular layout and skinny double doors that give each room access to the outdoors
Spanish colonial
Homes are known for having one-level of living with stucco walls, wrought-iron accents, red roof tiles, and arched windows and doorways
Georgian colonial
Symmetrical homes known for having a brick or stone exterior with extra wings located on each side of the home
Colonial Revival
Homes known for drawing inspiration from other colonial styles and are grander in appearance
Neoclassical colonial
Homestyle created 20 years ago that features two stories, a square shape, side-gable roofs, and few decorative features
Several different types of homes were created during and after the colonial period. Many of these homes were built based on existing materials in the areas in which they were located.
Revival and neoclassical colonials came to popularity during the 20th and 21st centuries. They pull together elements of the various styles creating unique and exquisite homes.
British colonial homes
British colonial homes are among the most common types of colonial architecture found in the United States. They were abundant because the original 13 colonies were part of the British Empire for nearly 200 years.
British colonials are mainly found in New England. They are known for their simple design featuring two stories with a centrally located chimney and wood-frame exterior.
These colonials have a pitched roof built with overlapping shingles and diamond-shaped, lead-paned windows.
German colonial homes
German colonials began appearing in the Northeast regions of the United States during the late 1600s. These colonials are known for their steeply-pitched roofs with side gables and a centrally located chimney. The interior of the house is mainly built of stone, which was both thick and sturdy enough to insulate the entire home.
These colonials differ from British colonials due to their window placement. Windows on German colonials are symmetrical and placed on the sides of the home, with small eclipse arches over each window. British colonials have two windows on either side of the front door and five windows on the second floor.
Dutch colonial homes
The easiest way to identify a Dutch colonial home is by their gambrel roofs. Gambrel roofs are symmetrical, two-sided roofs with two slopes on each side. Chimneys are usually placed at the gable end — meaning they are located on one end of the roof.
Some Dutch colonials also feature a single dormer with two or three windows.
Other prominent features of Dutch colonials include:
Pillars on the porch
Shingle siding
Round windows
Most Dutch colonials can be found in the Northeastern United States.
French colonial homes
French colonial homes are found in the deep south of the United States, especially in Louisiana and Mississippi. They often incorporate a rectangular layout with a second story primarily used for living space.
French colonials have skinny double doors rather than paned windows that give each room access to the outdoors.
They are also known for their large covered porches, which shade the home's interior from the sun during humid summers.
Spanish colonial homes
Spanish colonials take their inspiration from homes found in Spain and Mexico. These homes differ from other colonials because they feature only one story and have vast architectural differences.
Spanish colonial homes have:
Stucco walls
Wrought-iron accents
Red roof tiles
Arched windows and doorways
Windows on Spanish colonial properties were designed to stay open because of the hot, humid climate found in the Southeastern portion of the United States.
Georgian colonial homes
Georgian colonial homes are mainly located in Northeastern America and draw inspiration from English-style architecture.
Georgian colonials are customarily built of brick or stone with a red, white, or tan exterior. They are consistent in proportion and usually have wings — which are smaller buildings attached to the main house with a low-pitched roof. Fireplaces are located on the home's outer walls rather than in the center of the home.
These colonials have central panel doors adorned with pillars on each side inspired by the Greek and Roman periods.
>>MORE: Old Houses for Sale: What to Know When Buying a Historic Home
Colonial Revival homes
Colonial Revival homes made their first appearance in the late 1800s around the nation's first centennial anniversary. However, these homes have never disappeared or slowed down in popularity. They were continuously built during the 1930s and 1940s and remain the most widely-available colonial home type today.
Revivals are a mish-mash of previous colonial styles and drew inspiration from each. They are typically two- to two-and-a-half stories with a side-gabled roof. The front door is typically grander in appearance than other colonials, and columns are often used to accent the entrance.
These colonials also feature more decorations than other types, such as molding along the top exterior walls and overhangs that project out from the roof. Chimneys were moved to the outside walls since centralized placement wasn't necessary due to modernized kitchens.
Neoclassical colonial homes
Neoclassical colonial homes were introduced at the beginning of the 21st century. They draw inspiration from original colonial homes but use modern materials like vinyl siding.
They have a similar structure to their traditional counterparts and feature:
Two stories
Square shape
Side gable roofs
Decorative features on the outside
>>READ: What Is an iBuyer? (A Comprehensive Guide)
Who should buy a colonial home?
| ✅ Pros of buying a colonial home | ❌ Cons of buying a colonial home |
| --- | --- |
| Perfect for entertaining | Smaller rooms can cause heating and cooling issues |
| Easy to expand | Low ceilings |
| Functional features | Upkeep and maintenance |
Colonials are bigger homes that offer a spacious layout. They are great for growing families with little ones or those that love to entertain.
Colonial Revivals require less upkeep than older colonials, which can be several hundred years old. If you're looking to purchase a historic colonial, it's important to note that they are not for the faint of heart and those not committed to their upkeep.
>>READ: What Does Active Mean in Real Estate?
🏡 Sell or Buy a Home with Clever and Save Thousands!
Enter your zip code to see if Clever has a partner agent in your area!
Pros of buying a colonial home
1. Perfect for entertaining
Looking for a home that's perfect for entertaining? Colonial-style homes feature an open floor plan between 2,500-3,500 square feet.
Most bedrooms are located upstairs, making the downstairs perfect for a party or family get-together with a large living and family room, dining room, and kitchen area.
2. Rectangular and square-shape makes it easy to expand
Adding on to a colonial house is easier than adding on to a ranch house or Cape-Cod style house since there is more room to build. It's possible to expand the home from its side or the rear of the home.
3. Functional features
While colonial homes may boast a grand entryway with eye-catching symmetry to boot, everything is also made to be functional.
The roof's steep slope allows snow and rain to drain off quickly and helps promote better ventilation during the summer months.
Cons of buying a colonial home
1. Smaller rooms can cause flow and heating and cooling issues
Older colonial homes do not boast an open floor plan. The interior often features several small rooms divided by walls that can sometimes make the flow of the house feel inconvenient.
Due to the smaller rooms, there can be heating and cooling issues since the air has a hard time circulating throughout the house.
2. Low ceilings
Low ceilings are an important feature to consider whether you're buying a Colonial Revival or an older colonial-style home. These homes tend to have lower ceilings which can impact the placement of lighting fixtures or fans on both floors of the house.
3. Centrally located staircase
The central staircase often makes a significant statement in colonial architecture but can cause major renovation pains depending on how you want to modify the interior. Builders recommend keeping the stairs in the middle of the house if possible during renovation since it allows for better storage and traffic flow.
Stairs also won't appeal to those who are elderly or have disabilities.
4. Upkeep
Whether you're looking to buy a British colonial or Colonial Revival, understanding the upkeep and maintenance of a home is important. An older home, no matter the age, will require more work due to the constant wear and tear on materials.
If you purchase a colonial, remember to keep an eye out for cracks in the brick and to paint or stain any wood or clapboard periodically.
>>READ: Find a Top Real Estate Agent
Updating a colonial
Ways to upgrade your colonial home:
Add new siding, trim, or replacement windows
Replace your standard doors with a patio or French doors
Knockdown walls to create a more open space
Remodeling a colonial home doesn't need to be difficult, but there's a few things to keep in mind before starting a project.
It's important for colonial homes to retain their traditional style
When updating your colonial home, it's important to keep the aesthetic of the house in mind. Colonials, whether old or new, are reminiscent of a time gone by and deserve to be properly preserved.
New siding, trim, and replacement windows can all be added without introducing a significant redesign. The national average cost of installing trim in a home is $1,200, with a typical range between $600-1,900.
It's all about light
Modern homes usually take advantage of natural light, which is something that's sorely lacking in colonial homes.
It's possible to add replacement vinyl windows on some areas of the home to allow more light to enter. Window replacements cost about $650 per window or between $200-1,800 on average.
Homeowners can also replace traditional doors with patio or French doors to allow more natural light inside. Installing a patio door costs $2,500 on average while French patio doors range anywhere from $500-4,000.
Open space
If there are any areas of your colonial home that are cramped, you can knock out walls to create a more open layout.
Expect to pay between $300-1,000 to remove a non-load-bearing wall. Removing a load-bearing wall costs between $3,200-10,000 since colonial homes have more than one story.
Ways to finance a colonial-style home
| Type of Loan | Pros of Loan | Cons of Loan |
| --- | --- | --- |
| Conventional mortgages | Good for borrowers who cannot make a down payment larger than 3% | Borrowers are required to pay private mortgage insurance |
| Jumbo mortgages | Non-conforming loan limits | Require more documentation than other types of loans |
| Government-insured mortgages | Great for first-time homebuyers with little to no down payment | There are specific requirements for each type of government-insured mortgage |
| Fixed-rate mortgages | Gives homebuyers stability with the same monthly payments | Interest rates may be higher due to fixed monthly payments |
| Adjustable-rate mortgages | Offers a cheaper way for borrowers who don't plan on being in their home long term | Interest rates fluctuate based on market conditions |
There are several ways to finance your purchase of a colonial-style home. You just have to find the mortgage that's perfect for you and fits all of your needs.
Conventional mortgages
Conventional mortgages are a type of loan that the government does not secure. Two types of conventional mortgages exist — conforming and non-conforming loans.
A conforming loan means the loan falls within maximum limits set by the Federal Housing Finance Agency (FHFA). Mortgage loans that don't meet FHFA requirements are considered non-conforming loans.
Lenders require borrowers to pay private mortgage insurance when putting down less than a 20% downpayment.
These mortgages are ideal for borrowers with:
Strong credit
Stable income
An employment history
Jumbo mortgages
Jumbo mortgages have non-conforming limits — this means the home price exceeds federal loan limits. The maximum conforming loan limit for single-family homes in 2021 is $548,250.
These mortgages are more common in higher-cost areas and require more in-depth documentation to qualify. Lenders will ask for employment history, credit scores, debt to income ratios, and cash reserve statements.
Jumbo mortgages are meant for buyers purchasing high-end homes who have:
Excellent credit
High income
A substantial downpayment
Government-insured mortgages
The Federal Housing Administration (FHA), the United States Department of Agriculture (USDA), and the Department of Veterans Affairs (VA) all back mortgages with certain stipulations and requirements.
Loans backed by the federal government are ideal for buyers who have low cash savings and credit.
FHA loans
Loans backed by the FHA are best for borrowers who don't have a large down payment or pristine credit.
Borrowers of FHA-backed loans need a minimum credit score of 580 to get the FHA maximum of 96.5% financing with a 3.5% down payment.
USDA loans
USDA loans help moderate- to low-income borrowers looking for homes in rural areas. The home must be located in a USDA-eligible area and meet specific income requirements.
A down payment is not needed for eligible borrowers who have low incomes.
VA loans
VA loans are flexible, low-interest mortgages for current military service members and veterans.
They do not require down payments or private mortgage insurance. Closing costs are typically capped.
Fixed-rate mortgages
Fixed-rate mortgages keep the same interest rate over the life of the loan. This means the monthly mortgage payment always stays the same.
Fixed-rate mortgages come in 15-year, 20-year, or 30-year terms.
They are best for buyers who plan to stay in their home long-term and are looking for stability with monthly payments.
Adjustable-rate mortgages (ARMs)
Adjustable-rate mortgages (ARMs) fluctuate interest rates based on current market conditions. Some ARM loans have a fixed interest rate for a few years before the loan changes to variable interest rates for the remainder of the term.
ARMs are best for homebuyers who don't plan on staying in their home long-term and are comfortable with some degree of risk.
So, what's next?
If you're looking to buy or sell a colonial home and are weighing your options, Clever can help! Our fully licensed Concierge Team is standing by to answer your questions and provide free, objective advice on how to get the best outcome with your sale or purchase.
Related articles