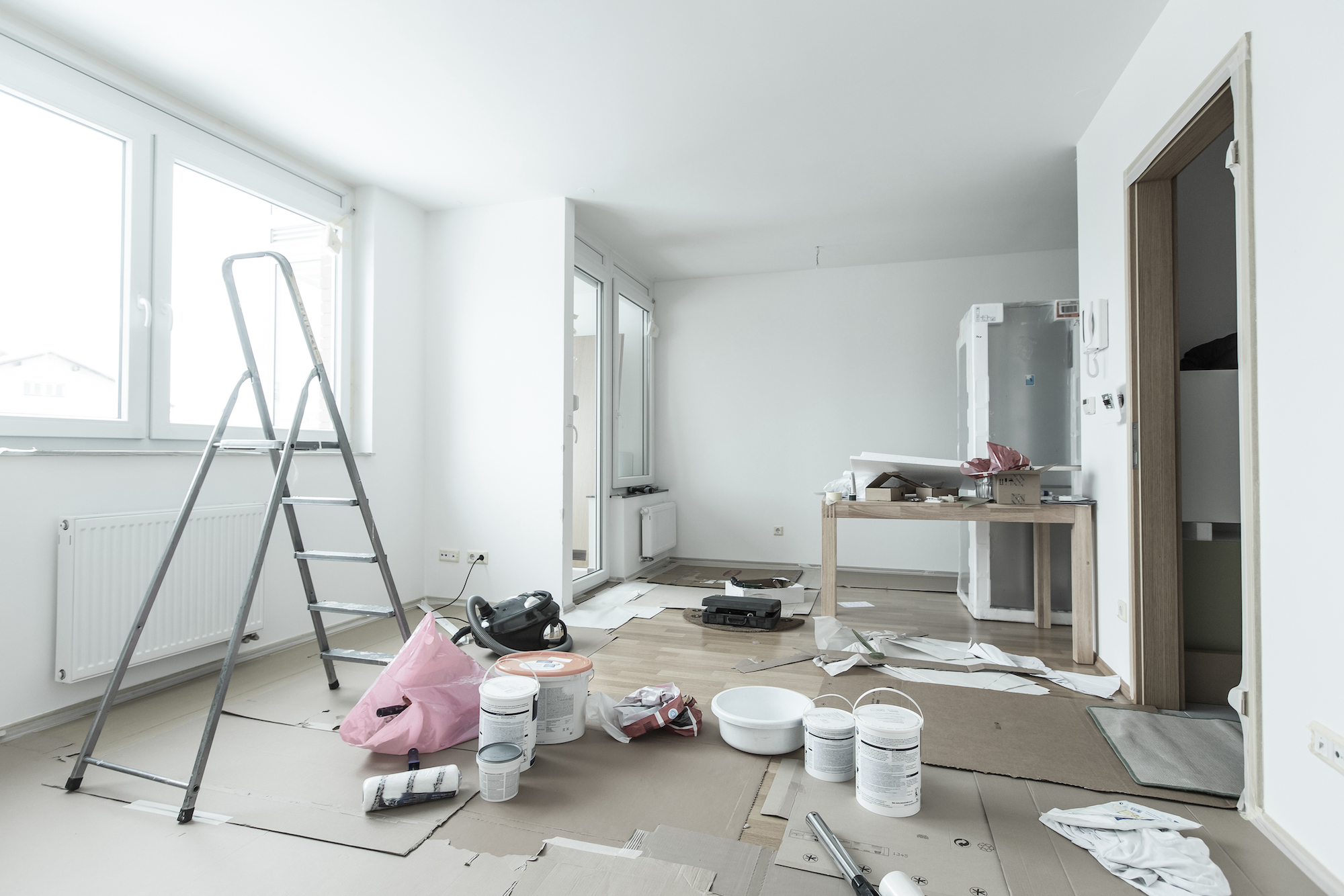 Who among us hasn't thrown on a flannel button down, strapped on a tool belt, looked in the mirror, and said, "Yup, I could be a Property Brother"?

Whether you're preparing to sell your home or simply walk through your house every day wishing you had a magic Joanna Gaines wand, home renovation projects are always on our to-do lists. But, unfortunately for those of us without a design show, most dream renovations can be too pricey to achieve.

But that's not to say that you have to resign yourself to never updating your space.

With some planning and creativity, your home renovation wish list can come to life within your budget. Following these 15 tips for better budgeting will have you loving your house in no time.
1. Do your research
When budgeting for your home renovation, knowing how much everything costs, understanding permits, and having a rough timeline are essential. Putting in the extra time and effort at the beginning of your project will help save time and money in the long run.
While doing your online research is a great starting point, you should also make it a point to compare prices at your local hardware stores. By doing so, you can gain valuable insight into the pricing of materials like stone and flooring, helping you make informed decisions and keep your renovation costs under control.
2. Estimate the cost
Understanding the cost of materials such as appliances, countertops, and flooring will enable you to create an accurate and comprehensive renovation budget. Major home upgrades, such as a bathroom or kitchen renovation, typically cost between $100 and $200+ per square foot. You should consult with a remodeling contractor or design professional to obtain a detailed cost estimate.
3. Set your limit
We could all afford to turn our design dreams into reality in a perfect world. Unfortunately, most people don't have an unlimited budget, so knowing the maximum amount you're able to spend will keep you in line and ensure you don't bust your budget.
4. Prepare for unexpected costs
For any large-scale project, be prepared to run into hidden costs. You could open up a wall and find you need to replace dry rot or discover you need to update plumbing or electrical. The potential for added costs during a remodel is through the roof. According to experts, once you have an idea of your renovation budget, you should add 10% to 20% to account for unexpected expenditures — and up to 25% for older homes.
5. Create a list of your wants and needs for contractor bids
Unless you're going the DIY route, you'll want to hire a contractor to oversee your project. To make life easier, create a clear list of renovation wants and needs to share with potential contractors. You'll want to include significant structural and cosmetic changes to the home and any specific brands of appliances or fixtures you plan on using. By providing a detailed checklist, you'll be able to get the most accurate bid possible.
6. Factor in labor costs
Although materials will account for approximately two-thirds of your expenses in a home improvement project, the remaining funds used for labor costs are just as vital. The cost of labor can fluctuate based on factors such as location, season, and accessibility. It's essential to do your research and hire skilled professionals with a proven track record. The extra investment will be well worth it in the end.
In addition to offering their services, a dependable professional can serve as a consultant for design decisions and assist in choosing suitable materials for your home and climate.
7. Do some of the work yourself
If you have the skills and the right equipment, consider doing the demolition work independently. Doing your own demolition work will not only save you a ton on labor costs, but it's also the perfect way to release any bit of stress you might feel while living in a construction zone.
8. Set your priorities
Has all that Pinterest inspo busted your budget? If your design dreams and budget aren't matching up, it might be time to scale back and decide which parts of the renovation are most important to you. Reach out to your contractor and ask for advice on reducing renovation costs so that they can be a valuable ally in ensuring that you stay within your budget.
Possible ways to save:
Downsizing the project: Cut the bedroom addition from 300 square feet to 200 square feet.

Low-cost alternatives: For example, use vinyl flooring instead of natural wood.

Keeping older items still in working condition: Appliances, furnaces, and lighting fixtures can be upgraded later.

Buy it yourself. You'll save up to 20% on your project costs if you buy materials and appliances yourself.
9. Obtain bids from general contractors
The general rule of thumb is obtaining bids from at least three contractors. Provide each one with a list of your wants and needs and request an itemized proposal. When deciding which contractor is right for your project, ask to see their recent work, speak to their references, and check online reviews from past clients.
Most general contractors charge between 10% to 20% percent of the total cost of the job. That total cost includes expenses such as materials, supplies, labor, and permits.
Also, watch out for contractors who provide an estimate that seems too cheap to be true. For instance, if three different contractors give you an estimated cost of between $20,000 and $30,000 for the project, but one contractor offers to do it for $8,000, it may indicate that the contractor lacks experience or isn't being transparent. You want to choose a bid with the most detail, and you'll be more likely to come in on budget.
10. Discuss the ROI of your renovation project
Renovation projects ultimately need to accomplish a couple of things. First, the project should help you enjoy your home to the fullest while living there. Second, it should serve as a long-term investment in the resale value of your property. Often, homeowners overlook the ROI of a renovation because they're focused on their shorter-term wants.
When prioritizing what renovation projects to tackle, discussing the anticipated return on investment should be part of your process. Utilize online tools that show you the cost recoupment estimates of popular home improvement projects.
11. Consider obtaining builder's risk insurance
Builder's risk insurance is something most people have never heard of before. What is it? Let's say that during your renovation project, your property becomes damaged by a fire or an act of theft. Builders' insurance provides coverage for incidents like this and other catastrophes. Often, this policy is purchased by your general contractor, but other times it may be left to the homeowner. Still, it's a critical consideration when starting a construction project.
12. Utilize a mix of materials
To keep costs down, consider using a combination of affordable and high-end materials in your home renovation project. For instance, you can opt for hardwood flooring in the living room and kitchen, while using less expensive alternatives such as tile or vinyl in other areas like the bathroom or mudroom. This approach can help you maintain your budget while still achieving the desired look and feel for your home.
13. Talk to others who have finished similar renovations
It never hurts to crowdsource your renovation project before you start. Perhaps your neighbor or friend has completed a similar project and knows a reputable contractor they can refer you to. Or maybe someone you know can lend you tools or materials. Getting resourceful can provide you with tips and tricks to streamline your project while saving you money.
14. Decide how you will finance your renovation
Home renovations can be EXPENSIVE! Popular projects like a kitchen remodel can cost anywhere from $10,000 to $50,000, depending on scope. A bathroom renovation can run you anywhere from $9,000 to $20,000. Paying out of pocket for these high-ticket projects isn't an option for most people, so exploring different financing options is crucial to your budgeting success.
There are a couple of directions you can go when it comes to financing. One way is to borrow against the equity in your home with either a Home Equity Line of Credit (HELOC) or a home equity loan. Another way is to take a personal loan or utilize credit cards without borrowing against home equity. Research the pros and cons of all options before diving into your project.
15. Be prepared to compromise
Most people don't have an unlimited budget, so be willing to compromise to stay under budget. Think about your renovation in stages. Get the "must-haves" done first and save the "nice-to-haves" for later when you have saved up to make additions.